Commercial Plone Themes
Quintagroup offers premium Responsive Plone Themes to the community. The themes are all designed following the latest trends in web design to provide you with the up-to-date, user-friendly solutions for your Plone. You can order any of Responsive Plone Themes listed on this page (see links below). Apart from a superb Premium Responsive Plone Theme you can order Theme Customization. All our Responsive Plone Themes look great right after installation, but some small changes can really make them fit perfectly to your project. It's amazing how some simple tweaks like changing the background colour, top images, column width can instantly change the overall look and feel of your website.
If you are new to Plone and still unsure whether you will manage to successfully personalize the theme by yourself - let us do that for you. Whatever you need customized, order Responsive Plone Theme Customization together with our Responsive Plone Theme. For this, select one of the available Responsive Plone Theme Customization options (basic or advanced) during theme purchase process.
Domino Responsive Plone Theme
Demo: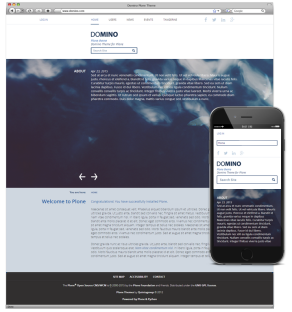 http://themes.quintagroup.com/product/domino
Compatibility: Plone 4.3, Plone 4.2
Tutorial: Domino Theme Customization
Diazo theme for Plone 4.3, Plone 4.2
Responsive web design
Replaceable theme logo and editable footer
Three color schemes
Customizable main colors
Social Media buttons
Drop down or Mega drop down menu
Custom slider and carousel for collection portlet
Customizable panels
Sliced Responsive Plone Theme
Demo:
http://themes.quintagroup.com/product/sliced
Compatibility: Plone 4.3, Plone 4.2
Tutorial: Sliced Theme Customization
Diazo theme for Plone 4.3, Plone 4.2
Responsive web design
Replaceable theme logo and editable footer
Customizable text colors
Top image with slogan
Customizable panels
Two columns format
"Featured image" portlets
Social Media buttons
Drop down or Mega drop down menu
Custom slider for collection portlet
Custom hover effects
Publisher's Responsive Plone Theme
Demo:
http://themes.quintagroup.com/product/publishers
Compatibility: Plone 4.3, Plone 4.2
Tutorial: Publisher's Theme Customization
Diazo theme for Plone 4.3, Plone 4.2
Responsive web design
Replaceable theme logo and editable footer
Customizable main color
Social Media buttons
Drop down or Mega drop down menu
Custom slider for collection portlet
"Newspaper look" with columns and illustrations
Pacific Responsive Plone Theme
Demo: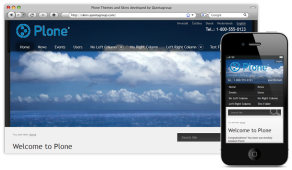 http://themes.quintagroup.com/product/pacific
Compatibility: Plone 4.3, Plone 4.2, Plone 4.1, Plone 4.0
Tutorial: Pacific Theme Customization
Diazo theme for Plone 4.3, Plone 4.2
Responsive web design
Styles for header area
Replaceable theme logo and editable footer
Customizable columns width
Find Us on portlet with five subscription options : Twitter, Facebook, Linkedin, Google Plus and RSS
Grey-background style for static portlet images
Diverse styles for portlets
Special styles to display multi-level navigation menu
Chaste Responsive Plone Theme
Demo: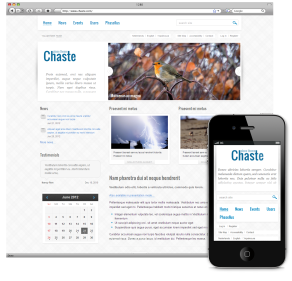 http://themes.quintagroup.com/product/chaste
Compatibility: Plone 4.3, Plone 4.2, Plone 4.1, Plone 4.0
Tutorial: Chaste Theme Customization
Diazo theme for Plone 4.3, Plone 4.2
Responsive web design
Customizable logo
New Typography
Customizable columns width
Testimonials
Footer with Social Media
Diverse styles for portlets
Special styles to display multi-level navigation menu
Top Button
Wink Responsive Plone Theme
Demo: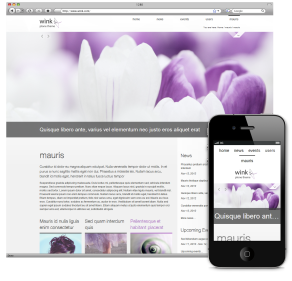 http://themes.quintagroup.com/product/wink
Compatibility: Plone 4.3, Plone 4.2
Tutorial: Wink Theme Customization
Diazo theme for Plone 4.3, Plone 4.2
Responsive web design
Customizable logo
New Typography
Fixed header with two designs
Three styles for portlets
Customizable columns width
Theme Color Options
Footer with Social Media
Special styles to display multi-level navigation menu
Berry Responsive Plone Theme
Demo: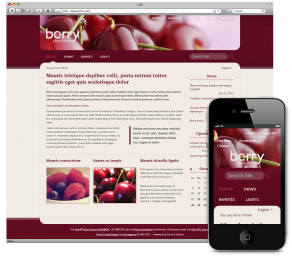 http://themes.quintagroup.com/product/berry
Compatibility: Plone 4.3, Plone 4.2
Tutorial: Berry Theme Customization
Diazo theme for Plone 4.3, Plone 4.2
Responsive web design
Customizable logo and top image
New Typography
Customizable columns width
Theme Color Options
Special styles to display multi-level navigation menu
Text'n'Roll Responsive Plone Theme
Demo: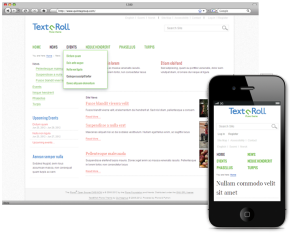 http://themes.quintagroup.com/product/textnroll
Compatibility: Plone 4.3, Plone 4.2, Plone 4.1, Plone 4.0
Tutorial: Text'n'Roll Theme Customization
Diazo theme for Plone 4.3, Plone 4.2
Responsive web design
Customizable logo
New magazine-style Typography
Customizable columns width
Unique Search box
Improved Thumbnail view
Special styles to display multi-level navigation menu
Editable Footer
Uni Responsive Plone Theme
Demo: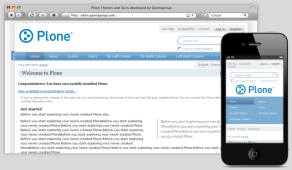 http://themes.quintagroup.com/product/uni
Compatibility: Plone 4.3, Plone 4.2, Plone 4.1, Plone 4.0
Tutorial: Uni Theme Customization
Diazo theme for Plone 4.3, Plone 4.2
Replaceable theme logo and editable footer
Customizable columns width
Custom icons for news and events portlets items
Grey-background style for static portlet images
Blue-coloured static stylish portlet
Special styles to display multilevel navigation menu
All footer portlets share one header background
Up to 6 footer portlet columns
SkyCream Responsive Plone Theme
Demo: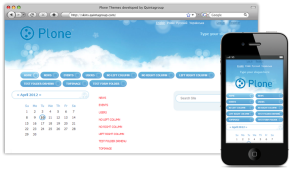 http://themes.quintagroup.com/product/skycream
Compatibility: Plone 4.3, Plone 4.2, Plone 4.1, Plone 4.0, Plone 3
Tutorial: SkyCream Theme Customization
Diazo theme for Plone 4.3, Plone 4.2
Replaceable theme logo
Customizable site slogan
Configurable columns width
Replaceable top image and customizable top background color
Editable footer
Styles to display image carousel on front page or inner site pages with rounded corners
Styles to display multilevel navigation menu
GreenJet Responsive Plone Theme
Demo: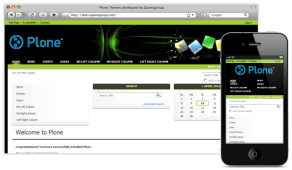 http://themes.quintagroup.com/product/greenjet
Compatibility: Plone 4.3, Plone 4.2, Plone 4.1, Plone 4.0, Plone 3
Tutorial: GreenJet Theme Customization
Diazo theme for Plone 4.3, Plone 4.2
Replaceable top background image for front page and inner site sections
Two demo header background images included
Easy change of GreenJet Theme colors
'Summary view' new look
Replaceable logo and editable footer
Additional styling for static portlet without header and footer
Styles to display multilevel navigation menu
Twirl Plone Theme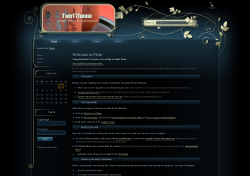 Demo: http://themes.quintagroup.com/product/twirl
Compatibility: Plone 4.3, Plone 4.2, Plone 4.1, Plone 4.0, Plone 3
Tutorial: Twirl Theme Customization
Replaceable Twirl Theme transparent logo
Replaceable site logo background images with rounded corners
Rotating logo background images - 4 images included
New approach to site search display - searchSection is hidden during usual page view. Simply hover the cursor to the search box area and the searchSection appears
Document Actions icons are displayed above the Site Actions area
Site Actions moved to the upper part of the right column, standing out against the given background
Configurable columns width
Semantic mark-up & tableless layout
BrendA Responsive Plone Theme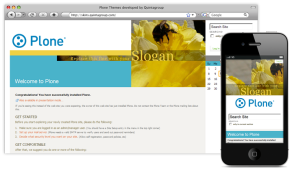 Demo: http://themes.quintagroup.com/product/brenda
Compatibility: Plone 4.3, Plone 4.2, Plone 4.1, Plone 4.0, Plone 3
Tutorial: BrendA Theme Customization
Diazo theme for Plone 4.3
Replaceable header image on theme's front page and inner pages
Styles to display image carousel instead of default image
Editable site slogan
Styles for structuring content into two columns
Configurable theme colors
Editable footer
Chameleon Responsive Plone Theme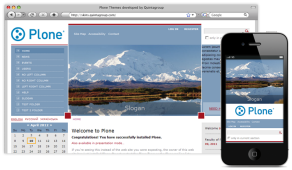 Demo: http://themes.quintagroup.com/product/chameleon
Compatibility: Plone 4.3, Plone 4.2, Plone 4.1, Plone 4.0, Plone 3
Tutorial: Chameleon Theme Customization
Diazo theme for Plone 4.3
Header picture height depends on number of global navigation entries
Changeable theme's pictures - main picture and subfolder's pictures
Styles to display image carousel instead of the default image
Customizable Theme's colors: 11 bonus color schemes included
Configurable 'Need Help' link
Special styles for Static text portlet above the content
Replaceable Chameleon Responsive Plone Theme logo & editable slogan
Customizable footer & telephone number
Special styles to display multilevel navigation menu
Configurable columns width
Estate Responsive Plone Theme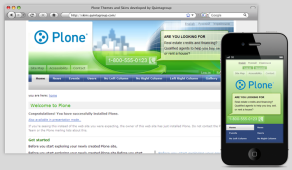 Demo: http://themes.quintagroup.com/product/estate
Compatibility: Plone 4.3, Plone 4.2, Plone 4.1, Plone 4.0, Plone 3
Tutorial: Estate Theme Customization
Diazo theme for Plone 4.3
Different views for front and inner pages
Replaceable top image (2 additional images for site sections)
Styles to display image carousel instead of default image
Horizontal multi-level global navigation
New gallery view for effective estate property display
Editable site's slogan & telephone number at the top of site
Replaceable site logo
Special styles to display multilevel navigation menu
Brio Responsive Plone Theme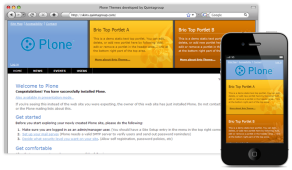 Demo: http://themes.quintagroup.com/product/brio
Compatibility: Plone 4.3, Plone 4.2, Plone 4.1, Plone 4.0, Plone 3, Plone 2
Tutorial: Brio Theme Customization
Diazo theme for Plone 4.3
Replaceable theme logo and editable footer
Additional top, below content and footer portlet managers
Top portlet manager allows assigning two small or one big portlet. Different top portlets can be assigned for different site sections.
Replaceable default top portlet background images
Possibility to display image, text on custom background image, carousel with images, carousel with Newsitems containing images as a top portlet
Possibility to add carousel banner(s) to any portlet managers
Special view for News carousel in a portlet, displaying newsitem on the corresponding newsitem image
Configurable portlets columns width
Portlets below content can be assigned by 2 or 3 in a row
Footer portlets manager allows adding any portlet into four predefined portlet columns
Special styles for login, news, events, and recent items portlets.
Styles to display multilevel navigation menu
Flow Responsive Plone Theme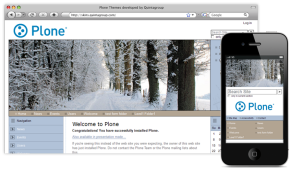 Demo: http://themes.quintagroup.com/product/flow
Compatibility: Plone 4.3, Plone 4.2, Plone 4.1, Plone 4.0, Plone 3, Plone 2
Tutorial: Flow Theme Customization
Diazo theme for Plone 4.3
Replaceable theme logo and editable footer
Customizable color scheme: global and on context
Replaceable top images on front and inner site pages
Customizable columns width
Styles to display image carousel instead of the default image (works with Products.Carousel) on front page or inner site pages
Styles to display multi-level navigation menu (works with quintagroup.dropdownmenu)
Business4 Responsive Plone Theme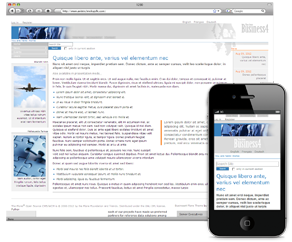 Demo: http://themes.quintagroup.com/product/business4
Compatibility: Plone 4.3, Plone 4.2, Plone 4.1, Plone 4.0, Plone 3, Plone 2
Tutorial: Business4 Theme Customization
Diazo theme for Plone 4.3
Replaceable logo and editable footer
Convenient changes of color schemes
Customizable theme's header images
Configurable columns width
Styles to display multi-level navigation menu