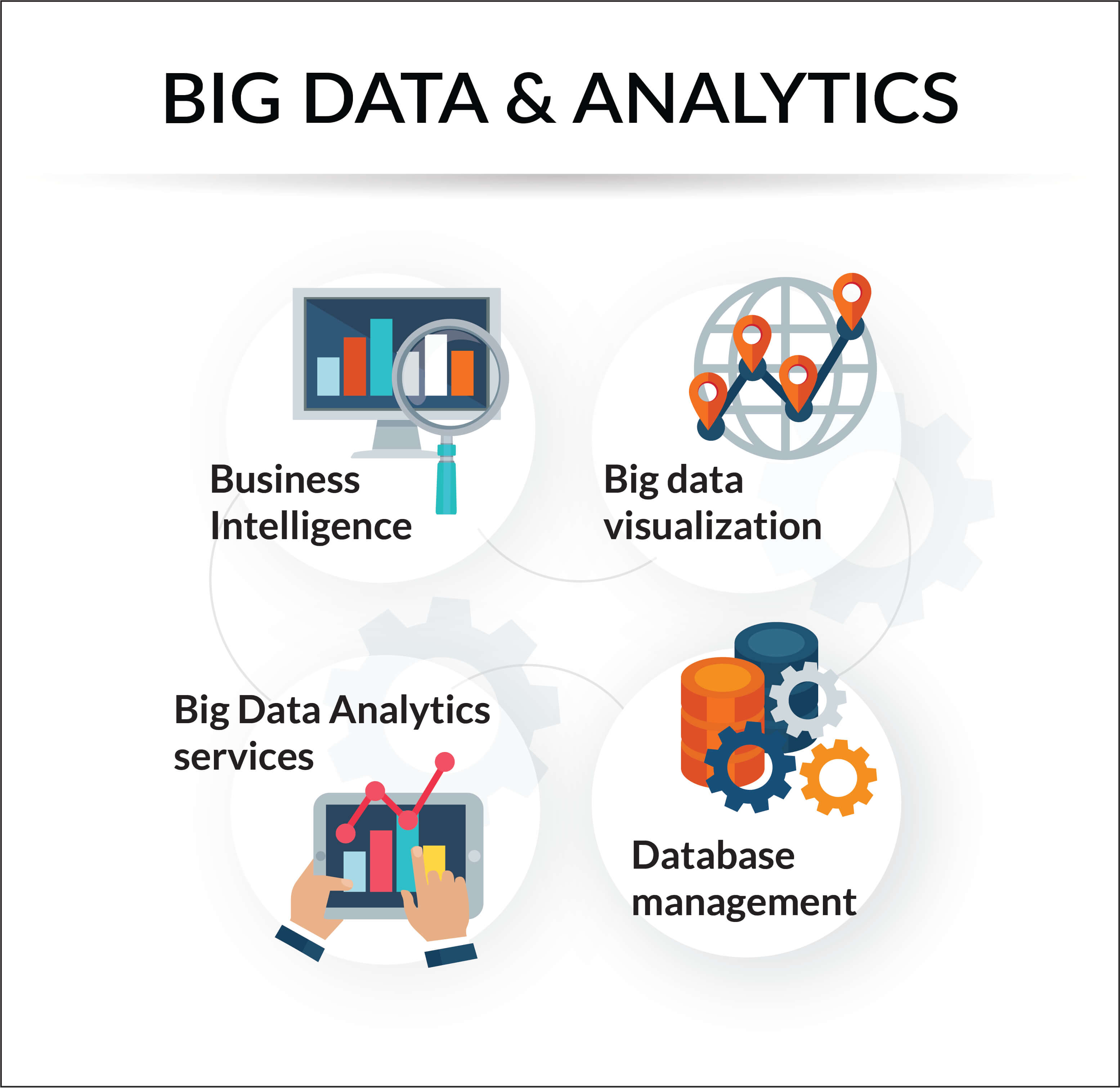 At Quintagroup, our R&D team fosters the efforts to develop clear software solutions capable of handling, organizing and analyzing big data. Big Data Analytics offers a powerful source of business and informational insight, that aimed at improvement and discovering new opportunities for companies across every industry.  
We create robust software to process data in different fields: Healthcare, FinTech, GovTech, CivicTech, E-commerce etc.
With our Big Data & Analytics services, you'll manage to make your enterprise data-driven and generate more value.
OUR BIG DATA & ANALYTICS SERVICES
With the progress of technologies and a flow of information, big data prone to become much bigger. Companies, businesses and organizations of various sizes want to track and keep up with their data. With our services, we help them to find the most suitable approaches to store, manage and integrate big data.
Big Data Analytics services
We offer our service of Big Data Analytics for you to be able to see further progress and business prospects. To gain an insight into marketing trends and always be one step ahead of your business rivals, we resort to the following tools:
Data mining.
We make your data meaningful to predict future outcomes.
Statistics
We use statistics to measure the quality of data, define uncertainties and extract only accurate data.
Data modeling
We structure data in order so that it can feet the needs of application
Machine learning
We use machine learning to gather, integrate and process huge volumes of data.
Database management
Our services also include database management, which allows to collect, track and store stream of data, build data warehouses and make a data processing efficient. More than that, you can also receive support and maintenance of your database software, if there is such a need.
Big data visualization
Big data visualization promotes better understanding of the whole data, by breaking it into pieces with the help of colors, graphs, symbols etc.
Business Intelligence
Use Business Intelligence services to receive the assessment and summary of current situations from the point of view of market trends, financial reporting, budget planning, customer analysis and many more.
OUR EXPERTISE
Cloud-based big data solutions
Data discovery
Data science solutions for big data
Data preparation
Data modeling & analysis
Big data architecture design
APPROACH TO THE DEVELOPMENT OF BIG DATA SOLUTIONS
Everyone is worried about security, reliability and dependability of solutions they will receive in the end. Our software engineers make the best of their knowledge and skills to come up to your requirements. Сustomers' satisfaction, as well as the proper functionality of the solution that we deliver, is an overriding priority for us.
WE SECURE YOUR DATA
Security of both personal and business information is of high necessity. As a software development company that has been creating solutions for clients all around the world, we know how to protect data and prevent your business from undesired events.
WE ADJUST DATA
Working on requests of our clients, we pay close heed to their needs. Our team grasps the concept of your business and adjust big data to fit in.
WE CREATE ORDER FROM CHAOS
We know how to achieve ordered data sets from data chaos. Let us take this task upon ourselves.
WE KNOW THE IMPORTANCE OF DEPENDABILITY
With proficient knowledge, our software engineers create solutions that can be trusted with good reason.
WE HOLD SUFFICIENT EXPERTISE
Dealing with big data requires extended knowledge of AI and a set of superficial both technical and analytical skills.
OCDS BIG DATA ANALYSIS
ProZorro is one of the biggest projects Quintagroup has been working on. It's aim, then and now, is to shed light on procurement procedures as well as promote transparency and openness in all the processes that concern procurement. The development of ProZorro solutions and OCDS Analytics system has given us an opportunity to gain unrivalled experience in OCDS Big Data analysis. Imagine what a powerful and sophisticated system we've built in order to process hundreds and thousands of procedures with big volume data.

If you feel that big data get right in the hair, simply contact us, and we'll tackle this problem.