Quintagroup is an experienced Theme provider for Plone. We consider Theme one of the most powerful tools that can be used to customize any web site, especially in Plone. Quintagroup offers many ready-to-use Themes for Plone - free and commercial. We also have great experience in developing custom Plone themes, designed individually for particular clients. With Quintagroup Plone Theming services you will be able to get flexible, powerful, and professional theme for your Plone web site. Theme delivery process is conducted in several stages in order to be on time and satisfy all the client's requirements.

Custom Plone Themes
Quintagroup has considerable experience in developing custom Plone Themes for our clients. You can find examples of the custom Plone Themes we developed for particular clients in the Plone Themes Gallery. We suggest different ways of dealing with custom themes: we can develop both site design and its implementation into Plone, or we can take your design (graphics) and make a Plone Theme on its basis. We also offer converting any existing site design to Plone.
Mobile & Responsive Plone Themes
Quintagroup is a seasoned provider of mobile device-native solutions.
Apart from great collection of responsive Plone themes (Premium and Free) we are known for developing custom responsive web design for a number of our clients. We recommend investing in responsive solutions to your website. As many of you may know in today's market not catering for mobile customers is literally cutting in half your profits. Quintagroup will ensure your website can handle itself on mobile devices and tablets. For more information on how responsive web design actually works, as well as related articles visit:
Plone Themes with plone.app.theming and Diazo Approach
Quintagroup uses different approaches to developing themes for Plone sites. We have been actively using standard Plone approach to theming/skinning for several years and produced many custom Plone filesystem themes in the past.
After diazo approach introduction to the Plone theming world we have started producing our themes using plone.app.theming. Our quintagroup.com website itself uses plone.app.theming (former collective.xdv) as a base for its theme. Quintagroup supports diazo approach to Plone theming and offers custom diazo themes development on the basis of plone.app.theming package. We take any website design PSD files and create XHTML/CSS template on its basis. Then we write diazo rules that map this look into a ready-to-use Plone theme.

Currently Quintagroup is producing diazo themes for Plone (based on plone.app.theming) as well as classic Plone themes.
Subsite Theming
What is meant by Subsite Theming is the ability to apply a different theme (colors, fonts, logos, navigation, portlets etc.) to a section of a Plone site. Subsite theming might be useful for projects that want to have one site containing several subsites rather than having many sites. This enables easy sharing of material between subsites, e.g. when several projects share one set of people and events, it would be easier to have them all on one website, but each one has its own subsite designed differently, with certain logo and navigation.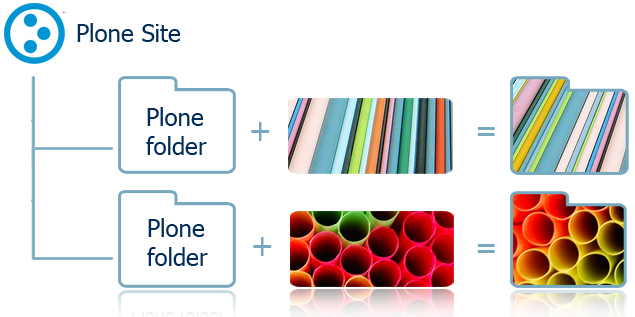 For those who can't use different Plone sites (even on the same instance) because they need to be able to do some operation that only a single Plone site can do - subsite theming can be a good solution. Not only does subsite theming allow for easy information sharing, but it also potentially allows users to have access to new site sections (other subsites).
If you want to have a number of subsites within a Plone instance, each subsite looking and acting like an independent portal, having some design customizations (colors, logo, banner, css) - Plone Subsite Theming is right for you.
Subsite Theming Project Examples
Quintagroup has done several projects over the years with subsite themes. Here are some bright examples: Baker Institute.
James A. Baker III Institute for Public Policy website contains two subsites: The Americas Project and Energy Forum.
These are examples of Baker Institute programs, but in contrast to all other programs being pages with several reference fields (key people, program description, associated publications, and associated events), these two are developed as independent subsites. They have their own designs, different from the root Baker Institute's, possess their own navigation, and contain a number of documents and subfolders.
Example: DIS Denmark. DIS Denmark website includes several subsites: DIS-Sydfyn, DIS-Faxe, DIS-Helsingør, DIS-Odense, and more.
Subsite support on DIS Denmark website was enabled with the help of collective.lineage package that allows site's subfolders to behave as autonomous Plone sites. The package was extended with the ability to set color scheme and add logo for each subsite.
Free Plone Themes
Quintagroup provides many ready-to-use Plone Themes. Consider our Free Plone Themes if you want your Plone site to look different from the default Plone absolutely free of charge!
Recent versions of our Plone themes are released as diazo themes for Plone 4.1, while previous themes versions were released as file system Plone products. They are very easy to install/uninstall. You can use them on buildout-based instances or traditional Zope instances. Plone themes from Quintagroup are up to date, there are versions for all releases of Plone: Plone 4, Plone 3, and Plone 2.
Premium Plone Themes
Quintagroup offers a variety of Premium Plone Themes for Plone 4 and Plone 3. They are high-quality, professional Plone products for a decent price. Our premium Plone Themes are very flexible, customizable and up-to-date. Recent versions of our premium Plone themes are released as diazo themes for Plone 4.1, while previous themes versions were released as file system Plone products. Apart from our superb premium Plone Themes products, we also offer their customization. Some simple tweaks like changing the background color, top images, column width, or adding a border can drastically change the overall design of a site. These are not very difficult things to do, but if you are a Plone novice and not sure whether you will manage to successfully personalize our premium Plone Theme by yourself - consider our customization services. For that fill in our contact form
We could not have found a more technically competent or reliable partner for Plone development and maintenance than Quintagroup.

K. K. Arora
President, Eogogics Inc (Washington D.C., USA)
How to get started
You can get affordable Theme for your Plone website by ordering Plone Theme development from Quintagroup!