We have skilled mobile app developers and UI/UX experts who will integrate your ideas into the mobile ecosystem effectively and precisely. Robust technology and interactive UI/UX design - this is what makes a top-notch mobile application. And you can get all of that! Our team of professionals also provides consultations and gives useful advice on app development in case you're not sure what will fit your ideas more. To get practical tips from experts on what tool or framework will fit your requirements for mobile applications better, contact us. And now let's take a detailed look at what you'll get from working with Quintagroup.
Tech stack for mobile app development 
Quintagroup's mobile app developers offer you a wide range of technologies for every taste. From native apps to cross-platform apps and PWA - it's all in here, waiting to be tailored to your requirements and delivered in no time! 
Cross-platform app development
React Native - a framework for making native applications using React
Flutter - Google UI toolkit for making mobile, web, and desktop applications
Ionic - a platform for developing cross-platform mobile, desktop, and web applications
You also have a chance to find out which cross-platform mobile app development tool will fit your project more.
What do you get after choosing a cross-platform app for your project?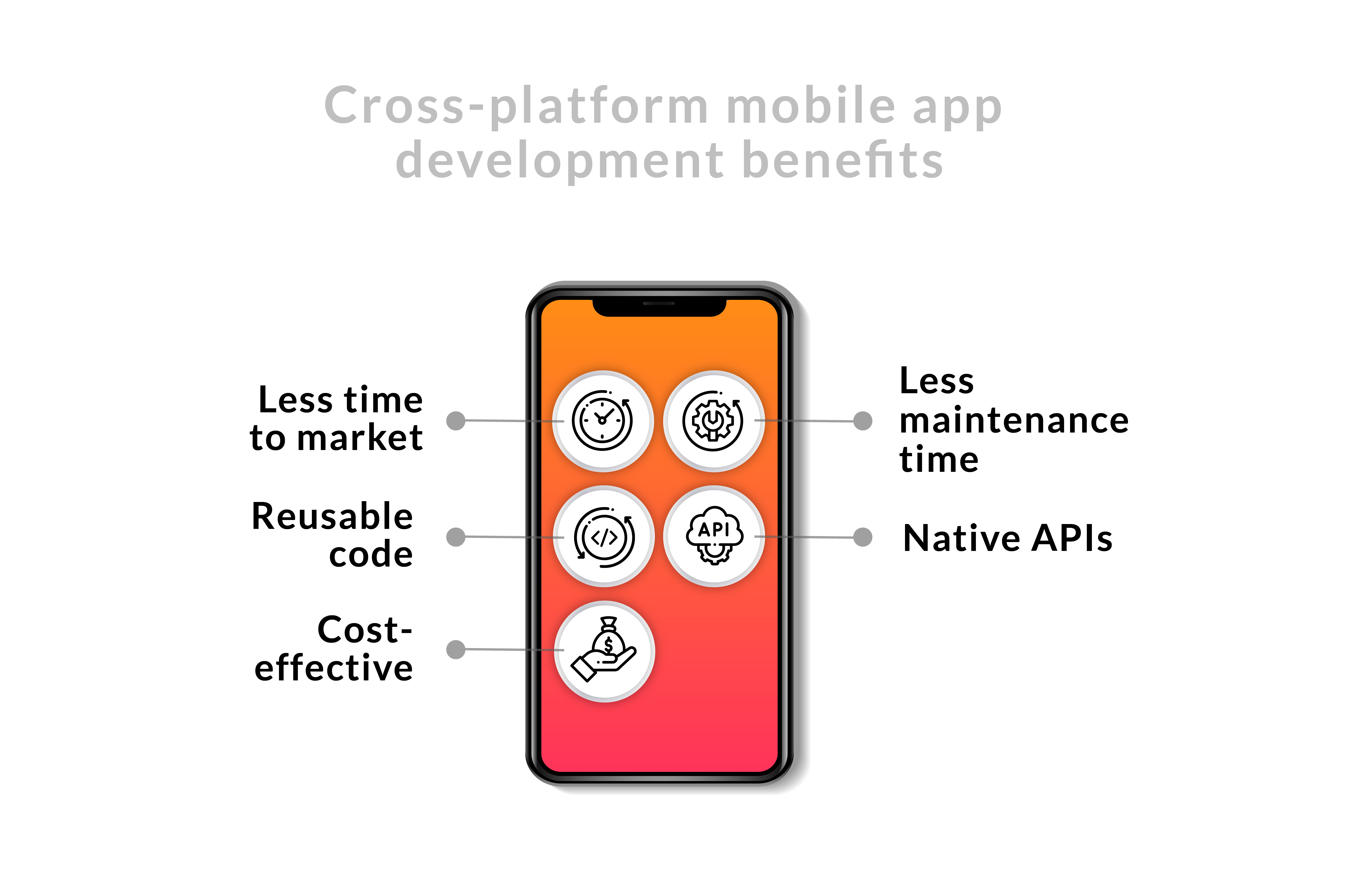 Native app development
Kotlin - a framework for Android app development
Swift and Objective-C - are used for iOS app development 
What do you get if you pick a native app for development?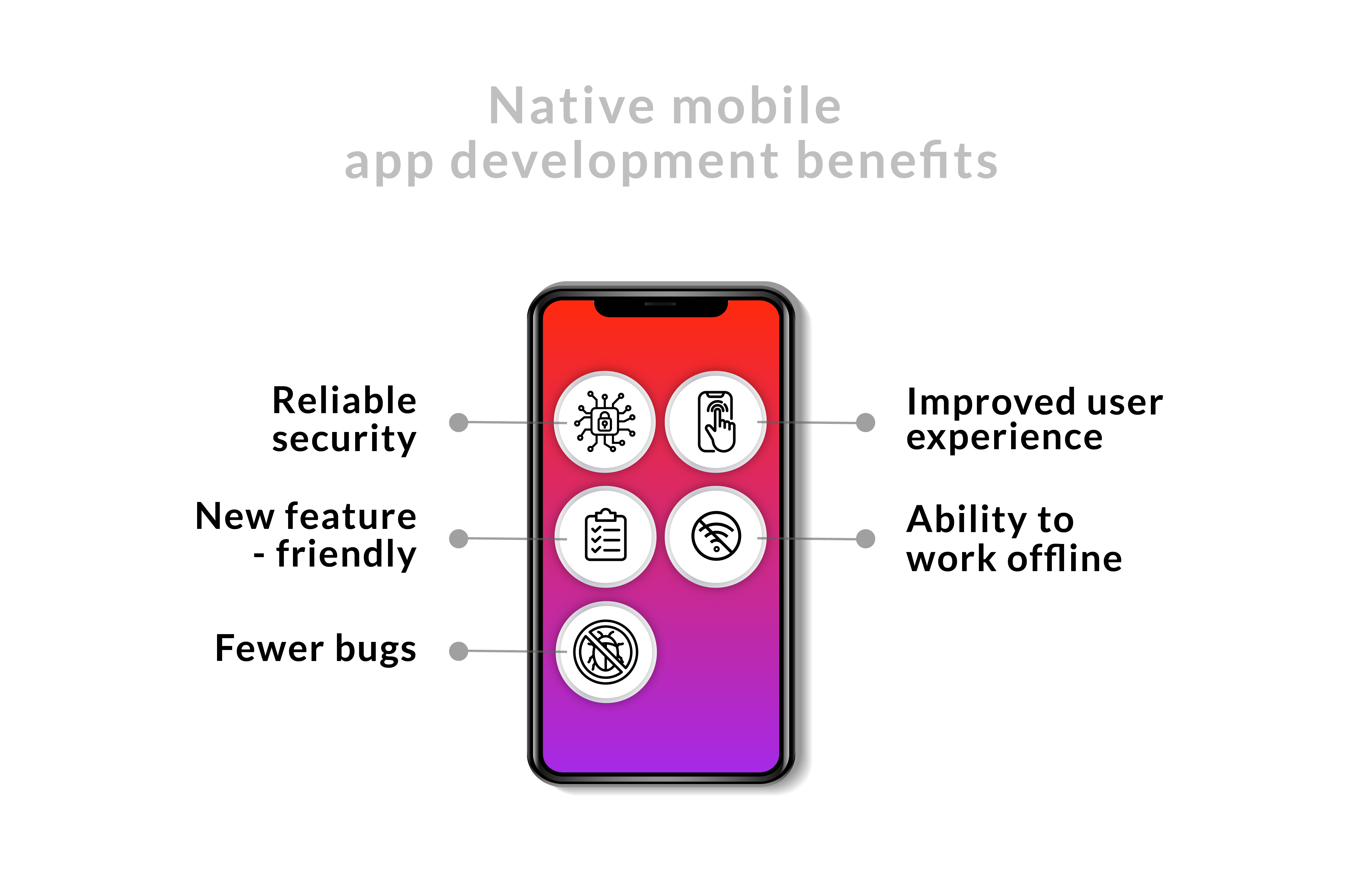 PWA
You might also be interested in PWAs for your project. Progressive web apps (PWAs) carry all the technology and features of native mobile apps to a mobile browser. Users can get a better experience browsing a mobile website as it feels like an app. Our developers use React and Vue.js for building effective PWAs for you. Did you know that progressive web apps are a cost-effective solution for boosting online presence and lead to your business appearing higher in the rank in google search results? Read more about Progressive web apps solutions. 
Why mobile app development?
Recently mobile applications became more and more popular among the owners of mobile devices. Originally they were used for data storage and retrieval. Calendar, contacts, weather forecast, email. Apps were simpler and the most basic. But they proved to be helpful and interesting for users.
Now there are applications for anything from banking and accounting to games and design. The largest issue now is the diversity of devices. Arrays of phones and tablets with different sizes, platforms, configurations, and capabilities make it difficult to find a universal solution. Despite that, app developers continue to create new and more fascinating apps. A lot of companies and businesses can advertise their services or share information with help of mobile applications. 
As you can see, mobile applications have become an integral part of modern society. As technology keeps advancing, why not keep up with it? Knowing that now more and more people use their smartphones daily for purchases, search, news, and communication, we can certainly state that apps are what will help your business grow. Don't hesitate and start creating your app with our expert developers now. But mobile applications aren't the only solution we offer! Read about mobile web development if you think that web apps are also worth considering for your business. 
Creating apps since 2013
For generating outstanding results, the whole development process is divided into 4 steps:
Research: Defining strategy, planning, and analysis
Discovery phase: UI/UX design, Prototyping
Mobile app development
Deployment and support
These thought-out steps lead to creating unique and outstanding mobile apps with an interactive UI/UX design. Apps that will be popular with millions of users. Apps that will present you to this world.