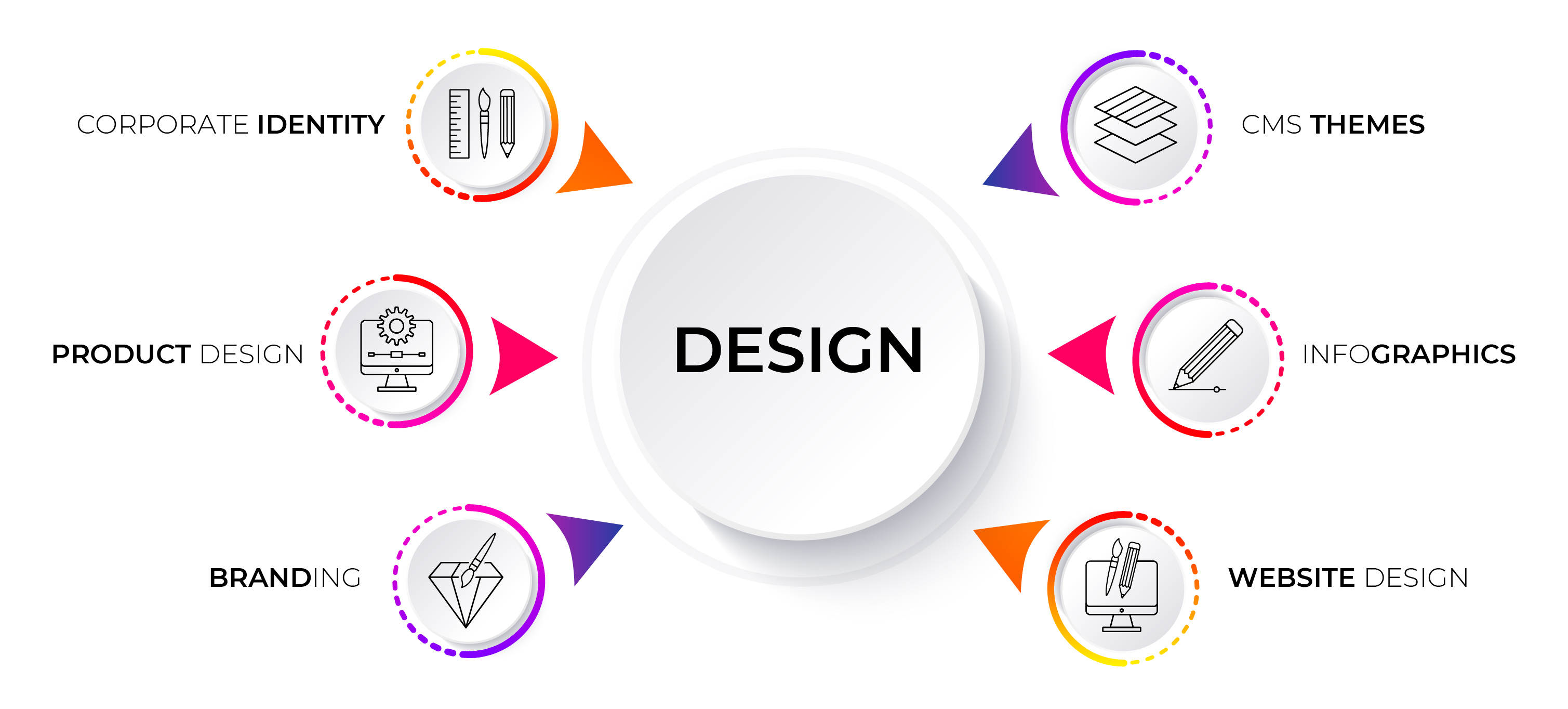 Quintagroup offers a variety of professional web design services, including product and website design, branding and corporate identity. Our creative, competent, and technically savvy web design specialists will help you to build and strengthen your online presence. We are committed to quality, high standard, and flexible solutions.
Branding and Corporate Identity
Corporate identity creates a visual image representing your services, business, and goals. It is the face of your company. Logos, corporate signatures, symbols, typography, color rendering, and iconography define your image.
We design elegant and powerful logos, promotional and marketing materials that will enhance your visibility and recognition. On every project, we conduct a thorough analysis to capture the company's character and visually articulate it in the best possible way. Our corporate identity solution will help you to send a strong message and stimulate interest in what you do or offer. 
Read more
Website design
Efficient website design starts with a deep understanding of user behavior and your company's unique needs. We focus not only on providing appealing website design but on the layout that communicates key messages and calls to action. Interaction is the key to standing out in a competitive digital environment. So we craft engaging experiences that drive conversations.
Our team includes graphic designers, user interface planners, SEO managers and software engineers who collaborate at every stage of a project to meet your requirements. We build websites with the perfect balance of excellent looks and state of the art technology. Many web production agencies will offer only half of this balance, but a successful business website needs both the technical and the creative.
Developing responsive web design eliminates the need for a mobile website, as the layout will adjust to the size and type of device it is viewed on. A mix of flexible grids, images and acute use of CSS media queries provide quality browsing well optimized for all screen sizes. We excel at making clean websites using a research-driven strategy and in-depth analysis. We take pride in creating a look and feel for your online presence.
Read more
Product design
Attractive, functional, and usable product design is fundamental to securing a market opportunity. We achieve viable results in several steps. At the start of the product design process understanding the environment, your product will be used in is critical. Our team will undertake in-depth research to analyze the target market for your product, identify trends and predict consumer behavior.
Users are always at the forefront of the design. Products should be logical and obvious to the user to reduce misuse and product failure chances. Usability and performance are the key product's features that ensure positive user experience and increase customer satisfaction.
Infographics
Infographics provides a graphic visual representation of information, data or knowledge that is the key to a deeper understanding of the topic. It combines information and graphics and transforms them into visual illustrations that are simple, easy to understand and enjoyable for viewers. Infographics is a very popular online marketing tool that allows simplification of complex data and captures viewers attention.
Our Infographic Design Services include the delivery of informative and attractive infographic designs that suit your online business needs and enhance your brand's awareness. Efficient and useful infographics (especially as a part of a wholesome internet marketing strategy) and positioning it on other websites with SEO friendly links increase traffic to the website, convert visitors to leads and ensure constant customers' interest. If you are searching for something definite, our experts are ready to create designs that will satisfy your requirements.
Read more
Plone Themes
We have extensive experience with the development of free, premium, and custom Plone themes, including web design services and/or skinning - converting a design into a live Plone theme. 
Read more
Web Design Features
With just visually appealing design you won't get far in today's web market. What you need is the web design that will call to action. Interaction is one of the keys to making a splash on the web. Devoted to your success, our services range from website design, custom graphic design, W3C Standard compliant and CSS programming to custom web application development with Python, AJAX, Javascript.
Engage Visitors with Good Web Design Features.
With mobile phones and tablets taking the lead it is in your interest to design a website that will fit in every resolution possible. A big no-no is making your visitors resize their web browser because some of the information is obscured. Neither should they zoom in just to see the text. Your website is the one that has to adjust itself based on the visitors' device, be it a mobile phone or a tablet.
Top navigation should be prominent and intuitive. Quintagroup designed and developed the extension that provides your website with better usability. On mobile phones, the select box takes up a minimum of that precious space. The site navigation menu then gradually enhances itself to present tablet users with a glorious multi-level menu.
Incorporated social media links or buttons to popular social networks like Facebook and Twitter are good action triggers. They ease your interaction with the existing customers and help gather valuable recommendations.
We design with flexibility in mind as we don't want to restrict our clients with just one-column design. You can easily create different page layouts in the same Plone site without the need for coding.
You might have a beautiful design but only a few customers are going to actually see it if it takes too long to load. While designing a website we always place a great effort into making our themes fast and optimized for mobile and tablet devices. 
Ultra-readable Typography
Elegant fonts, headings, text styles can say a lot about your brand name. When chosen right, typography improves overall site navigation and invites users to stick around and continue reading comfortably.
How to get started
Fill us in your needs and experience Quintagroup edge, intricate care for each customer and project, big or small, business or personal! Contact Quintagroup today.
Brochure & Portfolio
Examples
Find examples of UI/UX design in our Case Studies section. Feel free to contact us to get more information!
Here are a few featured cases: