| | |
| --- | --- |
| Wagtail is a Python-based CMS built on the Django web framework. We can create websites, APIs, and apps using its straightforward architecture and consistent patterns. Acquiring our Wagtail CMS Development Service, you will reap the benefits immediately. | |
Wagtail frees up our developers' time, so they can concentrate on developing new products rather than creating every app from the ground up. It is expandable, secure, and fast. It has an approachable interface and architecture and offers dependable, innovative solutions. Additional features include simple installation processes, user-friendly image publishing, and content editing tools. Moreover, it combines well with other Python and Django applications, giving you virtually endless versatility to add new features to your project. 
Why Choose Wagtail CMS Development Service?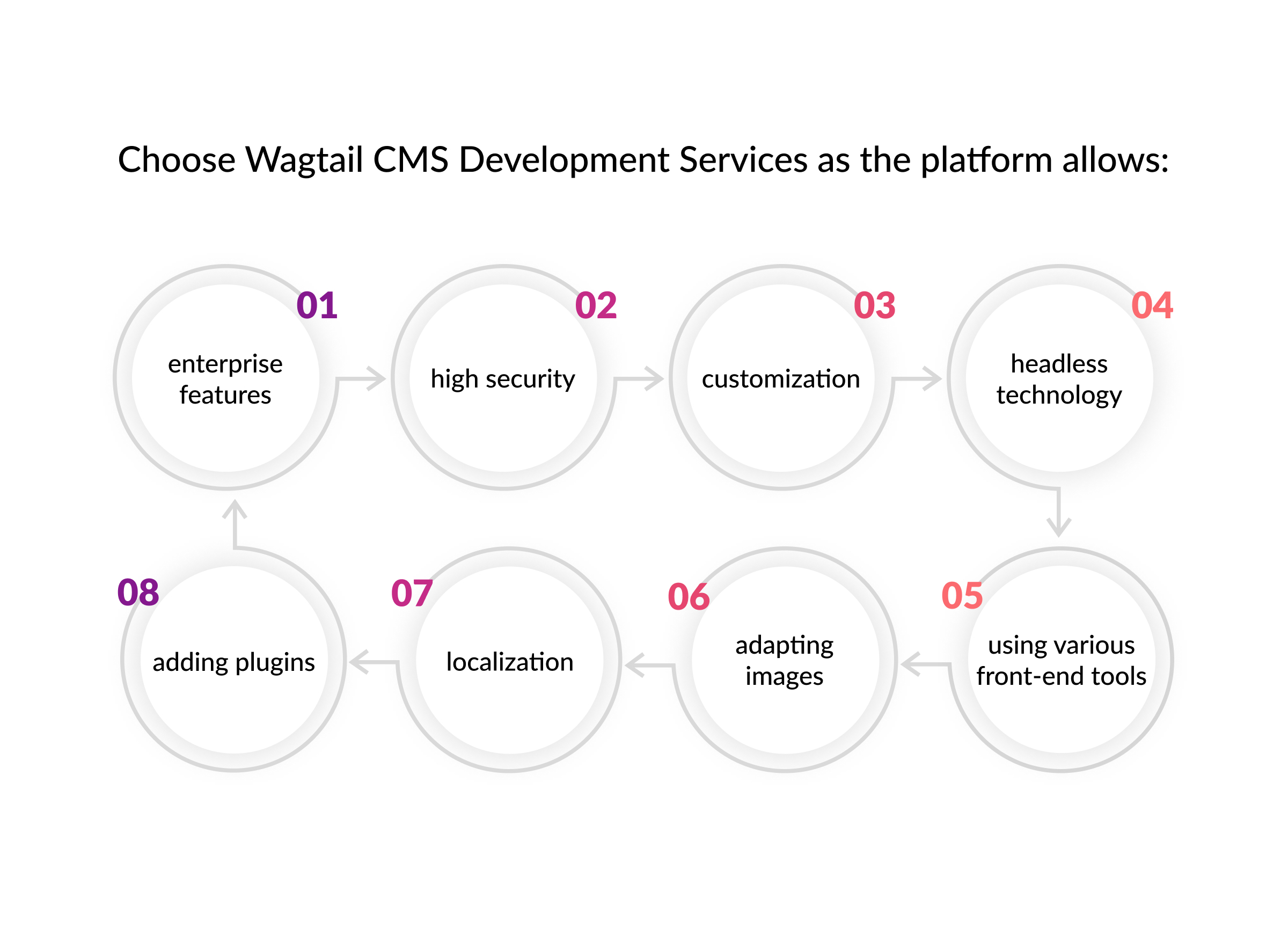 Enterprise features
Wagtail also includes enterprise-level features out of the box, and we can securely add more sophisticated features like site translation or custom reports with just several code lines. In addition, it incorporates integrated audit logging, site history, and various simple permissions to operate and handle.
Security
Because Wagtail CMS depends on Django, it offers top-notch reliability. We just need to type a code line to get the most recent security updates whenever a new security release is available.
Customize as You Like
With Wagtail's A/B testing and personalization capabilities, we have made it possible for our clients to deliver personalized experiences and increase conversions.
Drag-and-drop
You can create a web page section by section using the drag-and-drop functionality of Wagtail CMS' stream field feature. Moderators can reorganize blocks however they like.
Using Wagtail's integrated content API, we have enabled our clients to power apps, rich JavaScript front ends, and multimedia.
Work-simplifying Integrations
We have streamlined back-office procedures by integrating Wagtail with payment gateways like Stripe.
Localization
The admin enjoys the pre-built localization features with Wagtail. This feature enables your website to be displayed in numerous languages depending on the visitor's needs.
Adaptive Images
The built-in system makes it simple to edit the images so that your website appears organized, spotless, and lovely.
Compatible with Various Tools
Wagtail can be combined with such front-end tools as:
We make it simple for our customers to customize their websites with our Wagtail CMS Development Service. Our skilled developers can help you power applications, integrate with payment gateways, localize the website in various languages, build page sections using drag-and-drop tools, enhance the website's visual appeal with image editing, and more. Get in touch to learn more about how we can assist you in maximizing the use of Wagtail CMS and your website.
Why Choose Quintagroup for Wagtail CMS Development Service?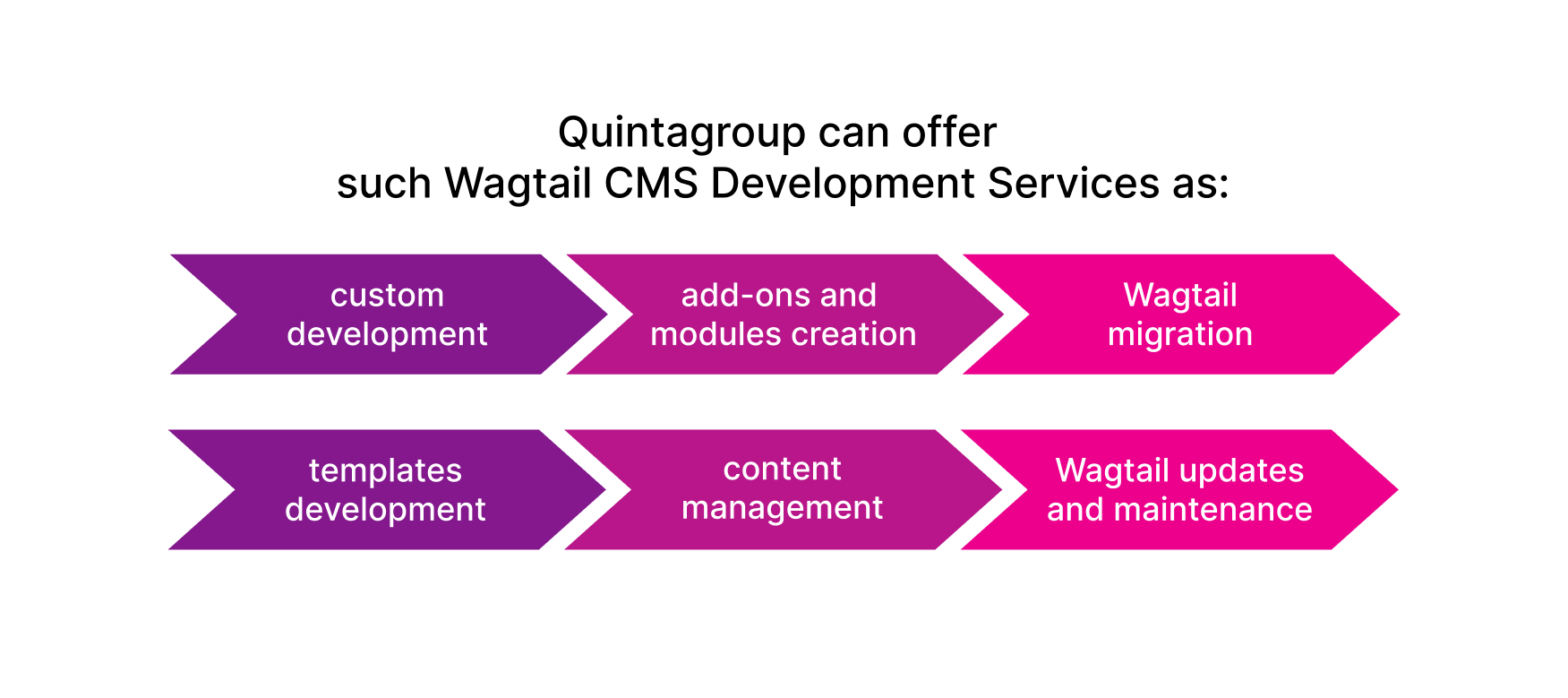 Quintagroup is a well-known web development business with years of experience creating intricate websites and web apps.
We are specialists in building Wagtail-based websites and applications, giving our customers a robust and adaptable framework for creating usable and exciting websites.
 Our team of Wagtail developers is highly skilled and committed to providing high-quality solutions specifically designed to meet the needs of our customers.
Wagtail services include custom development, add-ons and modules creation, themes and templates development, content management, Wagtail migration, and more.
Like all software programs, Wagtail must be updated with additional security and functionality. Wagtail has generally inherited Django's security philosophy, making it very secure. Wagtail will continue to require updates, and Quintagroup offers specialized support plans that update Wagtail, check for security flaws, and maintain your website.
For your upcoming Wagtail project, Quintagroup is the ideal partner, thanks to our experience and knowledge in the field. To learn more about our Wagtail CMS development services, get in touch with us right away.
To Conclude
Wagtail CMS Development Service is an excellent option for developing a dependable and user-friendly website, Application programming interface, or app. Wagtail's simple architecture and repeatable patterns make it easy for developers to produce robust applications.
Quintagroup is the perfect partner for your Wagtail project, offering custom development, add-ons and modules, themes and templates, content management, Wagtail migration, and more. 
Contact us immediately to learn more about our Wagtail CMS Development Service and begin working on your project.