Data has become an inseparable part of doing business digitally. Many enterprises rely on their insights to plan for the future or improve certain aspects of the present. When it comes to software testing, AB testing is quite a tangible way to enhance the UX of your web product, try out different marketing strategies, and drive more conversions.
Outsource your AB testing to Quintagroup and get incredible results. We will do our best for your project to flourish and for you to reap the benefits of it.
Let's Define AB Testing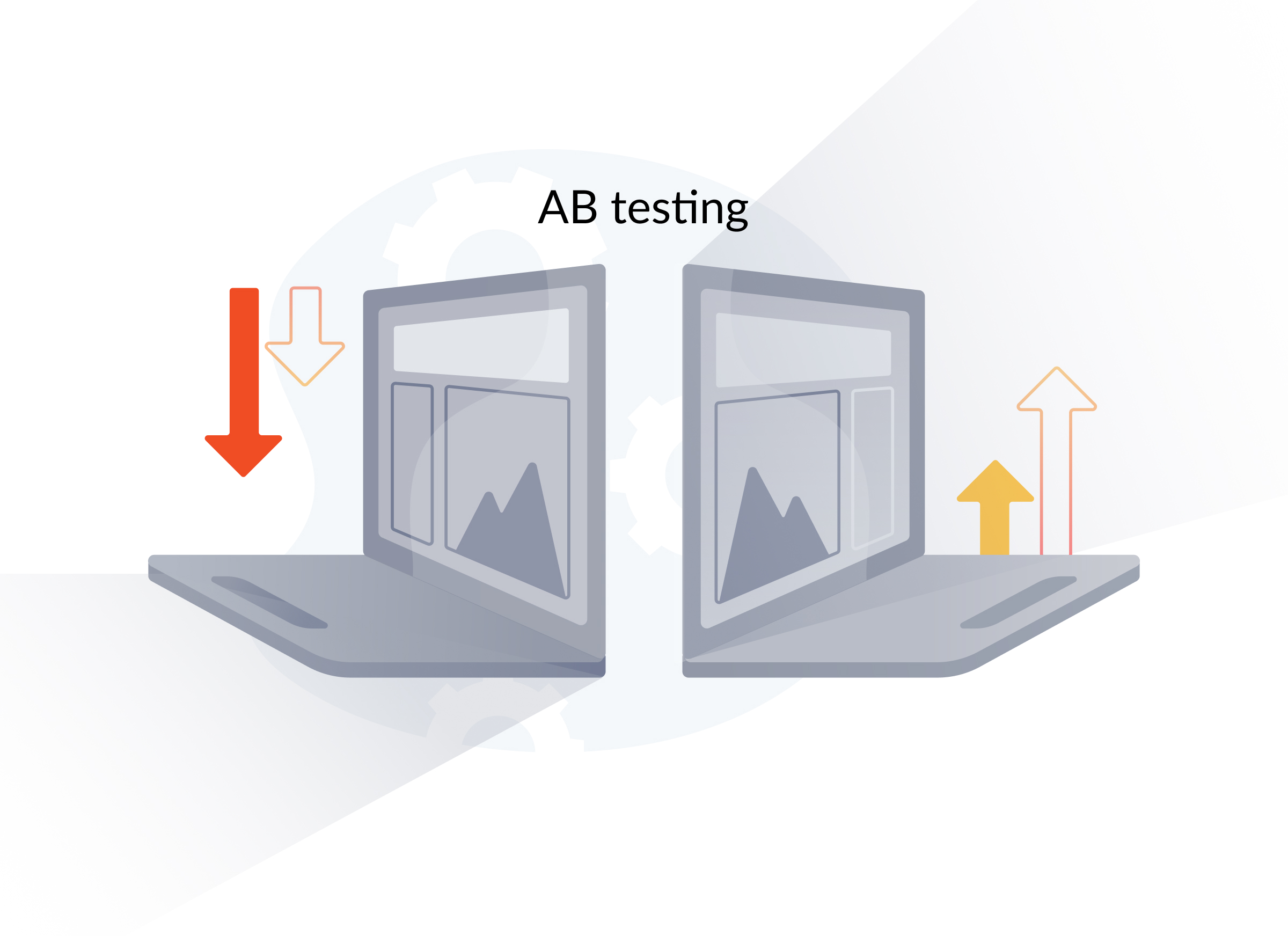 The notion of AB testing appears when there is a need for a website/app visual or even textual optimization. In a nutshell, AB testing is a process in which users are randomly presented with two or more pages that are slightly different. The content of the page or even its features can be a part of this change (a changed button, popup, headline, or even structure). The main aim is for us to conclude which one brings more conversions or encourages visitors to stay longer. Statistical data shows which kind works better for a certain conversion objective. The results may then be contrasted to determine a favorable, unfavorable, or neutral effect.
Let's think about a real-life example of when AB testing can come in handy. Supposing your web product has recently undergone redesigning. You've noticed your conversion rates dropping ever since. Now it's time to take advantage of Quintagroup's ab testing service. We will analyze what restrains your visitors from becoming customers (is your contact form out of sight?) and will provide you with the experiment outcomes.
Looking through AB Testing Types
Split testing
An entirely different alternative to a current website is tested in split testing to see which one produces better results. When the goal is to evaluate a page's complete design or text without altering the current page, split testing is the best option. 
MVT
In multivariate testing, various page versions are tried concurrently to see which arrangement works the best among all feasible variations. Experienced marketing, product, and development specialists would be ideal for this strategy because it is more difficult and requires the creation of several alternative sites.
Outsource your MVT testing to Quintagroup and accrue the benefit from it.
Multipage testing
Multipage testing presupposes changes of particular elements across multiple pages. Say you want to change the popup. Then you make, for example, three versions of it on three different websites. To identify the most successful variant, must monitor how visitors engage with it.
This is crucial for obtaining meaningful data and objective comparison of one variant to another.
What Is the Use of Google Analytics in AB Testing?
By offering insightful information and statistics to evaluate the effectiveness of web page or app iterations, Google Analytics plays a significant part in AB testing, also known as split testing or split URL testing. Using Google Analytics for AB testing has several benefits: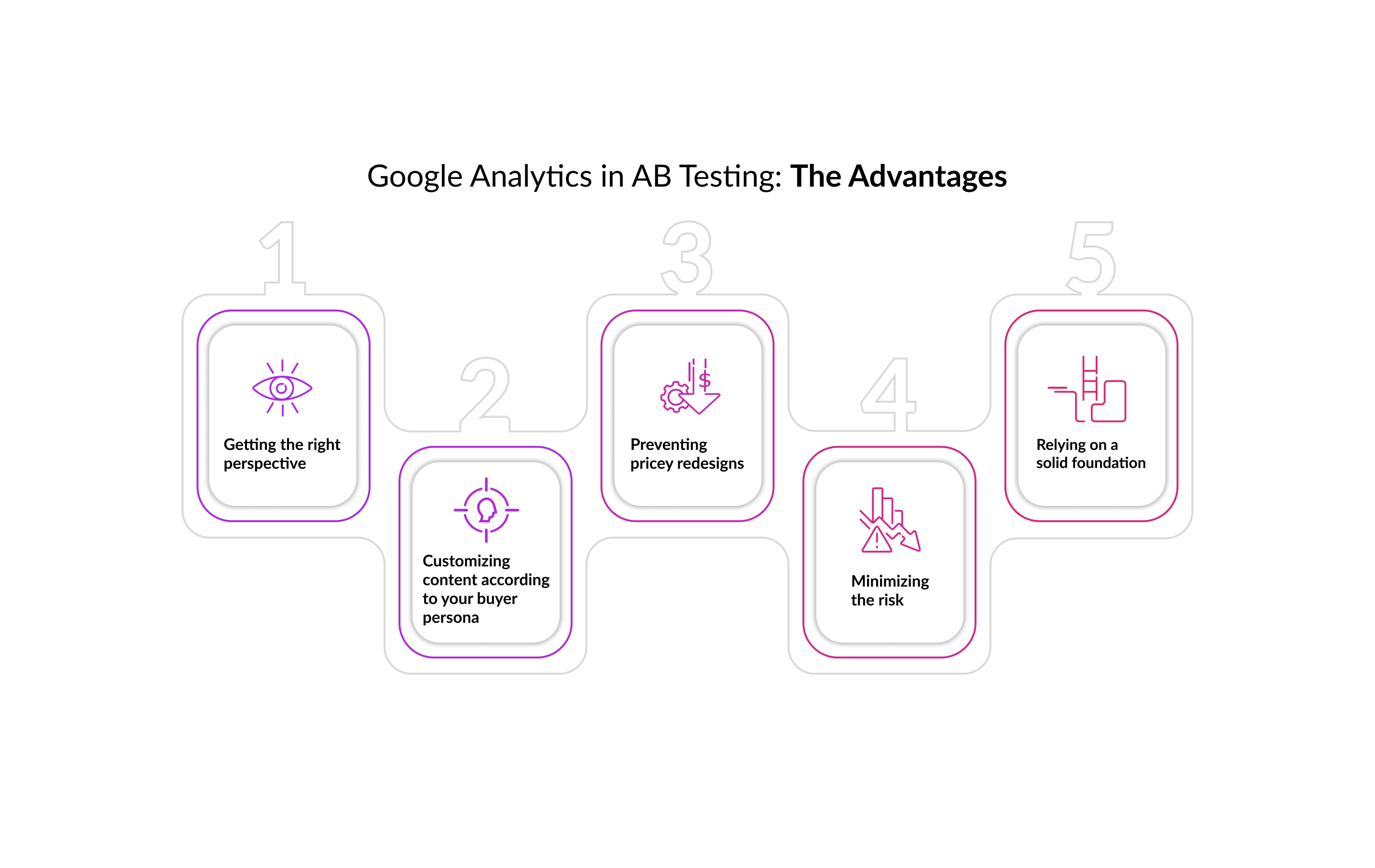 Getting the right perspective
Doing AB tests with Google Analytics will help you concentrate on the segments needing improvement. Using segmentation lets us focus on the pages that receive the most traffic or the sites that result in the most conversions. We will discover which pages buying customers visited with the segmentation's arranging option. As a result, there will be a better understanding of which pages and components to focus on when conducting A/B tests.
Customizing content according to your buyer persona
Thanks to segmentation, your visitors might receive customized content depending on their preferences. According to their demands or purchasing patterns, Google Analytics segmentation lets you develop customized email marketing campaigns and offer one-of-a-kind deals.
Forearmed is forewarned
By preventing pricey redesigns or unsuccessful marketing efforts, businesses may avoid additional expenses using Google Analytics AB testing. Finding the variants most likely to provide the desired effects is important for excellent UX.
Minimizing the risk
Sometimes, adding new features and making design adjustments may be risky for businesses. Google Analytics AB testing reduces this risk by letting us test our hypothesis before putting it into practice on a broader scale.
Relying on a solid foundation
Instead of depending on guesswork or feeling, organizations may make data-based choices using Google Analytics AB testing. It entails carrying out carefully monitored experiments that provide quantifiable outcomes and essential information about user behavior. These discoveries can be used to encourage positive changes.
AB Testing Process: What Does It Entail?
AB Testing can consist of many stages, we are going to generalize it for your convenience.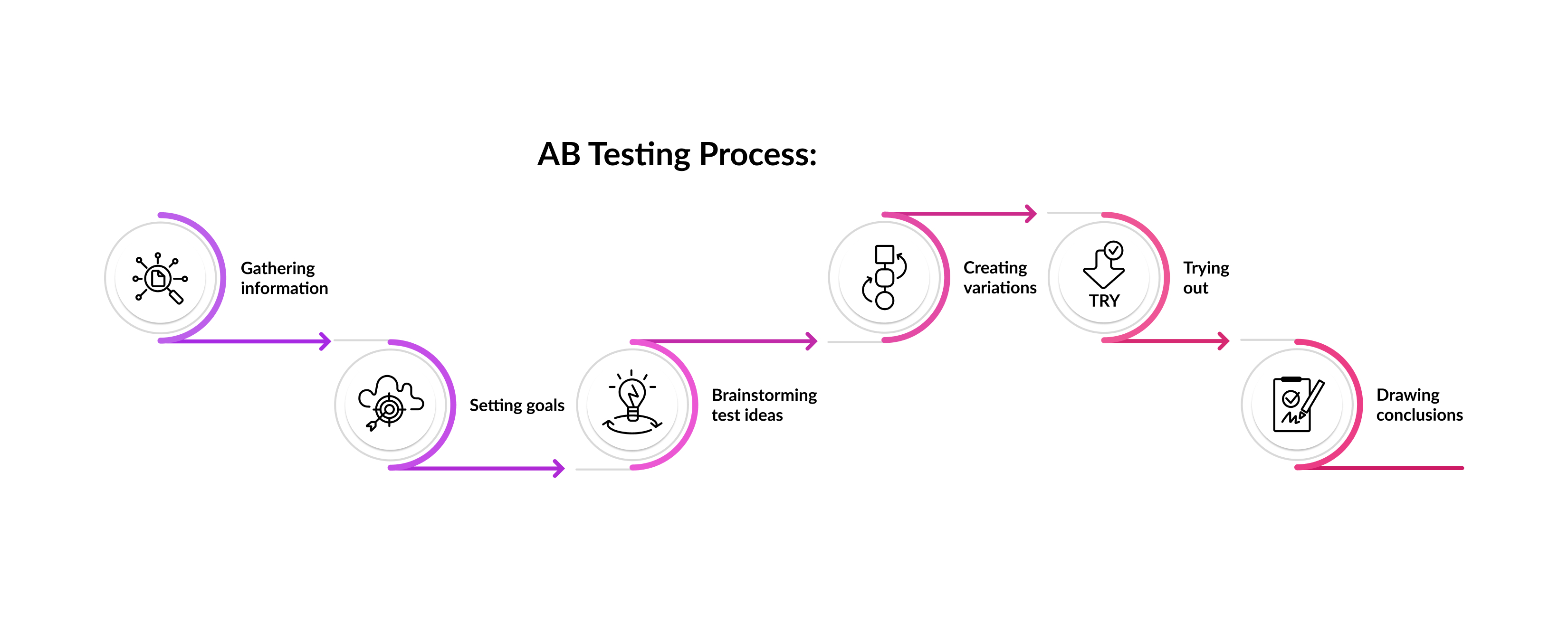 Gathering information
Google Analytics or a similar tool will frequently lead us to where to start testing. We will discover the ups and downs of your website. Let's check for pages with high bounce rates to optimize their conversions.
Setting goals 
Identifying your conversion objectives will be our first step. These measurements assess if the changes we make are more effective than the initial version. Little things like following a link to more significant achievements, like getting clients to buy goods, are all examples of goals.
Brainstorming test ideas 
We'll start formulating A/B testing ideas and assumptions after determining your goals. Basically, we'll develop justifications for why the proposed improvements will be preferable to the present version.
Creating variations 
Now, it's time to get hands-on. We'll make the changes to your website or app. Anything from changing colors to reordering website components is included. Then, we conduct a test run to ensure everything functions as intended.
Trying out 
We've now started the test and are waiting for your visitors to join in. Visitors to your website or application will randomly engage in the control (old) or variation (new) sessions. To outline a better UX, we log every user's action.
Drawing conclusions 
Once the test is over, it's time to evaluate the findings. The statistics of the control and variant versions will be laid out for us by our A/B testing tools, together with information on whether there was a significant difference between them. To be sure that changes are working, you need statistical certainty.
Quintagroup UI UX team, together with testers, do their best to ensure the best possible outcomes for your business. Constant growth is our main objective. Feel free to contact us to discover the details.