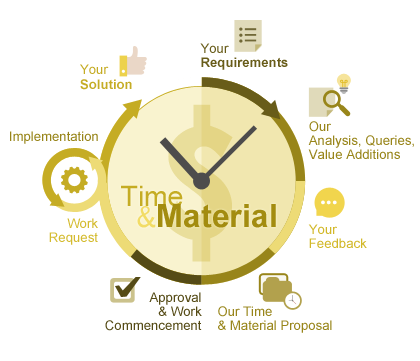 During the software development process there are situations and projects that demand flexibility from all the parties involved. Time and budget constraints can be impetus for the more mutually beneficial agreement than ordinary fixed price model.
Among the different engagement models Time & Material (T&M) is gaining more and more popularity, since it allows more control over the development progress and cost, instead of taking an educated guess at eventual expenses and high probability of additional overpriced changes.
The Time & Material model is used if there is no whole vision of the final product and its implementation specifics and if it is impossible to divide it into several smaller stages. This option is fully negotiable and can use an hourly, daily, weekly or monthly rate for the amount of work, tasks, resources, materials, or other expenses that were applied in the development process. There is opportunity to further clarify the pricing distribution, e.g. whether rate depends on the skillset needed to perform the task, or it is the same for all resources involved in the project. In order to prevent the uncontrolled price growth for support projects, client can discuss the upper limit for project budget beforehand.
One of the biggest benefits of this model is task prioritizing for development projects. Each project is divided into several separate tasks (involving features, use cases, tests, etc.). Provider's project manager gives advice on importance, level of complexity, way of implementation, and price of these tasks. As a result client can prioritize the order of features and use cases depending on their price and relevance to project solution. In this case the prototype of functioning system can be developed more quickly, client can decide when and how to implement more complicated and expensive features. Service provider and client will always counterpoise project requirements, their understanding and implementation.
Of course it sounds too good to be true and there is no ideal type of relations between customer and service provider. It's all about right timing and procedure. If at least one of the following situations applies to your project, you should consider T&M model:
When requirements are not precise or specifications can not be clearly defined.

When on the first stages project is still raw and there is no sufficient data to properly estimate the final cost.

When client has constant flow of tasks or enhancements but they are scattered in time and can not be predicted in advance.

When project scope is unknown or implementation spreads over months or even years.

When client requires high level of flexibility or change requests often appear during the development process.

When client wants more direct control over the process or provides certain resources that can influence the project implementation.

When project is connected with evolving markets, new technologies or untested facilities.
In this type of pricing model great responsibility lies on the clients. Project delivery time depends on the speed, professionalism, and accuracy of project requirements provided by the clients. Communication and mutual agreement greatly influence time and cost efficiency of the project. In case if client provides not detailed specifications or ill-timed instructions, it will result in extra cost and shift of delivery time. Constant supervision and coordination of efforts are the keys to successful project.
To apply the Time & Material model client has to be sure in accurate time management. Since clients pay only for the hours and accompanying expenses spent on the project, they must be provided with convenient and accessible way to track and control this time, expenses, and material. For this purpose different software is used - from spreadsheets to specialised web applications. Quintagroup uses Basecamphq and Asana that provide all the necessary data, time tracking and communication for a successful project management and reporting solution.
Quintagroup offers the Time & Material model for the following services:
FrontEnd Design, HTML5/CSS styling

Server setup

Technical writing (documentation)
The Time & Material model facilitates agile development process. It is simple to understand and provides the following advantages:
flexible and negotiable budget and low risk for both parties;
opportunity to pay in parts and only for the performed work;

perfect for large and long-term projects that can't predict the end product on the initial stages;

development process starts earlier, since there is no need in formulating the final requirements;

client has control over the project, approves or adds any task that will be implemented on demand;

specifications and enhancements can be negotiated during any project stage.
Among the main limitations of the said model are:
no strictly defined time limits or assurance in project completion;

budget estimate may differ from the final cost and is less controlled;

client's involvement demands time and human resources.
Under the Time and Material pricing model, Quintagroup ensures engagement of qualified and experienced team members, while services are billed at the end of every month basing on the pre-negotiated and mutually agreed rate. Client receives skilled services and pays only for the exact amount of time and resources used.
Quintagroup controls the work of the staff that is involved in current projects and makes sure that client is content with both quality of services and final result of the project. We are ready to provide any assistance and corrections in the process of interaction and development. The main aim is client's satisfaction with the final product and desire to work together in future projects.