We are thrilled to provide a broad spectrum of Netlify CMS development services. In addition to being hosted on Netlify's hosting platform, the Netlify CMS website can also be hosted in the cloud, for example, on Amazon Web Services. As a result, Netlify is growing in popularity, as evidenced by its recent acquisition of Gatsby. 
It is a cutting-edge automated platform that help businesses and enterprises scale contemporary applications and boost their efficiency as necessary. In addition, the corporate security requirements and scalability provided by its web architecture lets businesses increase operating speed and expand as necessary.
The Quintagroup team is prepared to quickly move your web-based projects from sneak peek to full development mode. Selecting a front end, database, and back end is necessary to complete the process. At Quintagroup, we offer services with frameworks like Node.js, React, Vue, Next.js, Nuxt, and Angular that are harmonious with Netlify. Moreover, Netlify allows our developers to add their own tool sets to the project and even incorporate their plugins at any stage of development. 
You can be sure that Quintagroup is handling your project expertly. Move your website to the Netlify platform to ensure lightning-fast development.
Why Consider Netlify CMS Development Services?
Netlify is the winner in the contest for the easiest, fastest, and most efficient web hosting platform. In addition, countless more advantages have helped Netlify grow well-liked among developers.
Here are some of them: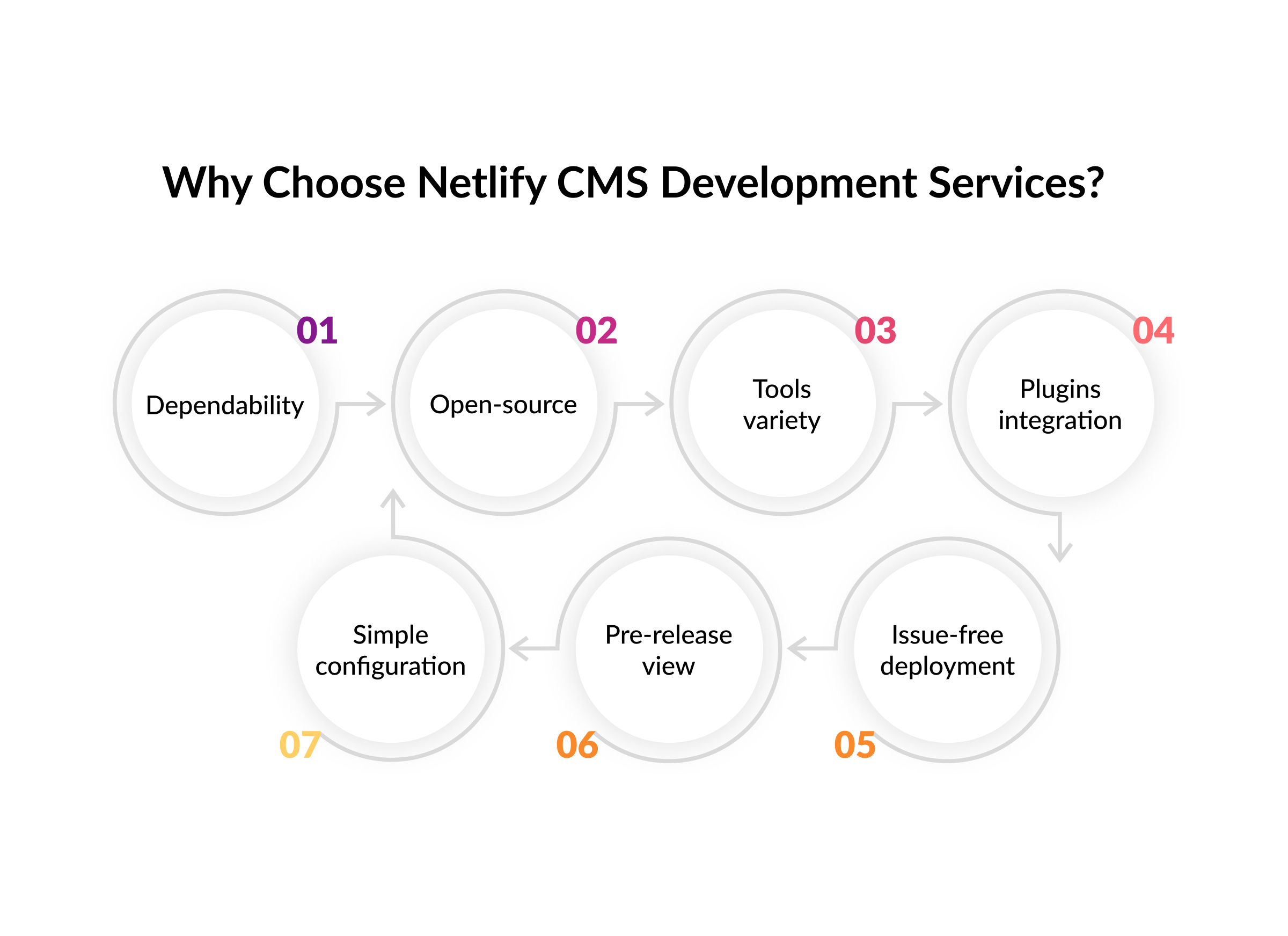 Secure Serverless
Compared to a server-side CMS like WordPress, Netlify is safer because of its structure. It is constructed using serverless, headless technology based on JavaScript client-side, repeatable Application Programming Interfaces (APIs), and a pre-built model. 
Netlify CMS is Free and Open-Source
The goal of Netlify CMS, an open-source, free content management system, is to make it simple for content authors to generate, handle, and post content. Developers can adapt the CMS to their needs because it is built on React and is expandable and adaptable. Additionally made to work with any static site generator, Netlify CMS enables content creators to quickly and easily generate and publish content straightforwardly.
Free Choice of Tools
Netlify is designed for current software development – a universe of platforms, tools, and information sources that must all be integrated into a single experience. At Quintagroup, we offer such Netlify-compatible frameworks as React, Vue, Next.js, Nuxt, and Angular. 
The Flexibility of Integrating Plugins
Quintagroup may integrate sophisticated features from a library of popular plugins or design a custom Netlify-compatible add-on for your project. Basically, Netlify can connect to almost any API.
We Make the Most of Netlify CLI
With the Netlify command line, our specialists can start a project quickly, configure your project's pre-release version, test cloud platform and edge operations, and deploy worldwide.
Pre-release View 
Netlify allows changing your website's filling or adding new features. It will help engineers generate numerous copies of their website using a unique URL, allowing them to test any change they make using various perspectives. In addition, it is possible to preview each update in settings.
Issue-free deployments
Said you don't need databases or the backend element. Yet, it will influence how well the project works. As the material will be immediately kept in Git, the development team will have access to all changes (including content updates). Push and deploy – rapid deployment for sites, shops, and applications, including all architecture and workflows.
Netlify CMS Development Services by Quintagroup
Because Netlify CMS interacts with so many static site generators (SSG), we have the benefit of developing online projects that are quick, adaptable, and secure. At Quintagroup, we work with a handful of the most well-liked Apps built with VueJS and NuxtJS, ReactJS, and NextJS.
Therefore, we offer the following services: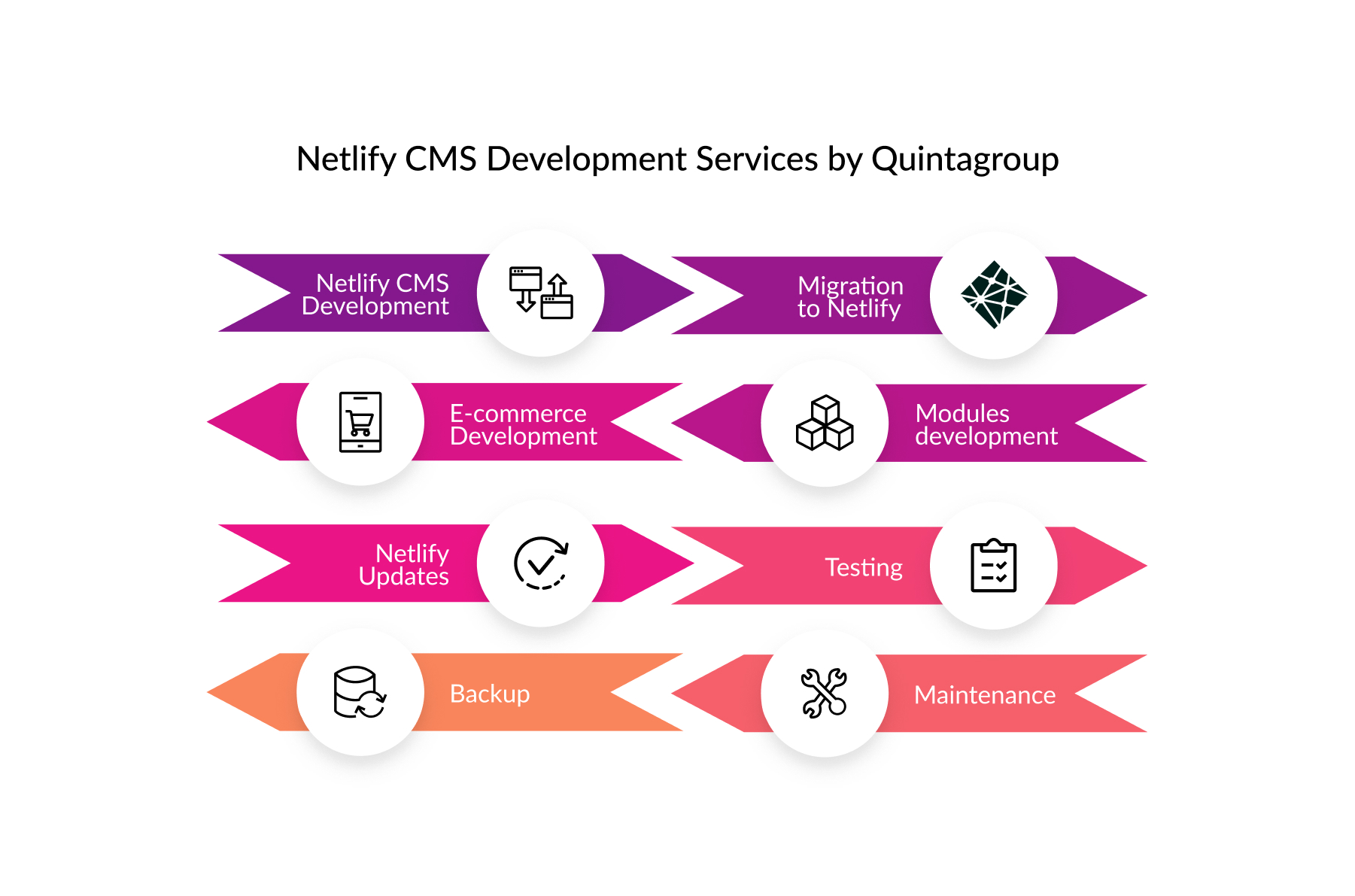 Netlify CMS Development
For websites that perform well and look good, use our Netlify CMS development services. We will create strong, secure, and speedy modern websites for your project.
Migration to Netlify
Migration is simple, especially if you have a trustworthy partner like Quintagroup. We have years of expertise in providing flawless migration services and addressing the ins and outs of migration challenges.
E-commerce Development: Netlify
You can create quick and appealing websites with the help of our Headless Netlify development services. We offer several benefits, from content to security to personalization, including reduced surface threats, elevated audience engagement, improved visitor experience, performance optimization, and more.
Developing Add-ons for Netlify
The best way to customize plugins for your company is with Quintagroup Netlify plugin development. From creating custom plugins to using external connectors, Netlify streamlines and speeds up every process.
Handling Netlify Upgrades 
We can manage essential to complicated upgrades since we have the necessary knowledge and experience. Our talented developers will handle technical concerns, and the finished product will be released seamlessly.
Testing
One of Netlify's standout features is its capacity to simplify multi-variant or A/B tests. A strong technical team at our company works hard to limit the impact of any outside JavaScript resources on the appearance of your website. In addition, we offer services to assist you in resolving performance issues with your website.
Backup
We have an attentive staff that conducts comprehensive backups of your project regularly. As a result, there will be no data loss if your data is damaged or corrupted when performing an update or during a security attack. Additionally, we return to the previous release with no information loss in an unanticipated emergency.
Maintenance
We will remain by your side even when the project has concluded. Support and your web app maintenance are on us. We will resolve any problems. Though, with Quintagroup, they are unlikely to occur.
Wrapping Up
Netlify CMS is a handy solution for quick content management and production, with multiple perks and specific features available. Using the correct content mapping techniques, you can make the consumer journey easy and exciting.
We recognize the need for a dependable and effective platform to manage your online projects. That is why Quintagroup is pleased to provide Netlify CMS development services. Our professional developers can assist you in rapidly creating cutting-edge web projects. Please make the most of the Netlify platform by using our expertise.
Contact us now to get started!