Migrations are an essential part of a software-evolving process, as there are numerous scenarios in which migration may be required. Quintagroup Django migration services offer a dependable way to carry out migrations smoothly and effectively.
Django has you covered when it comes to managing your database. It provides integrated tools to help you create the tables you need to store your models. Anytime you develop a new model in Django, you can also generate a migration to build the related table in the database.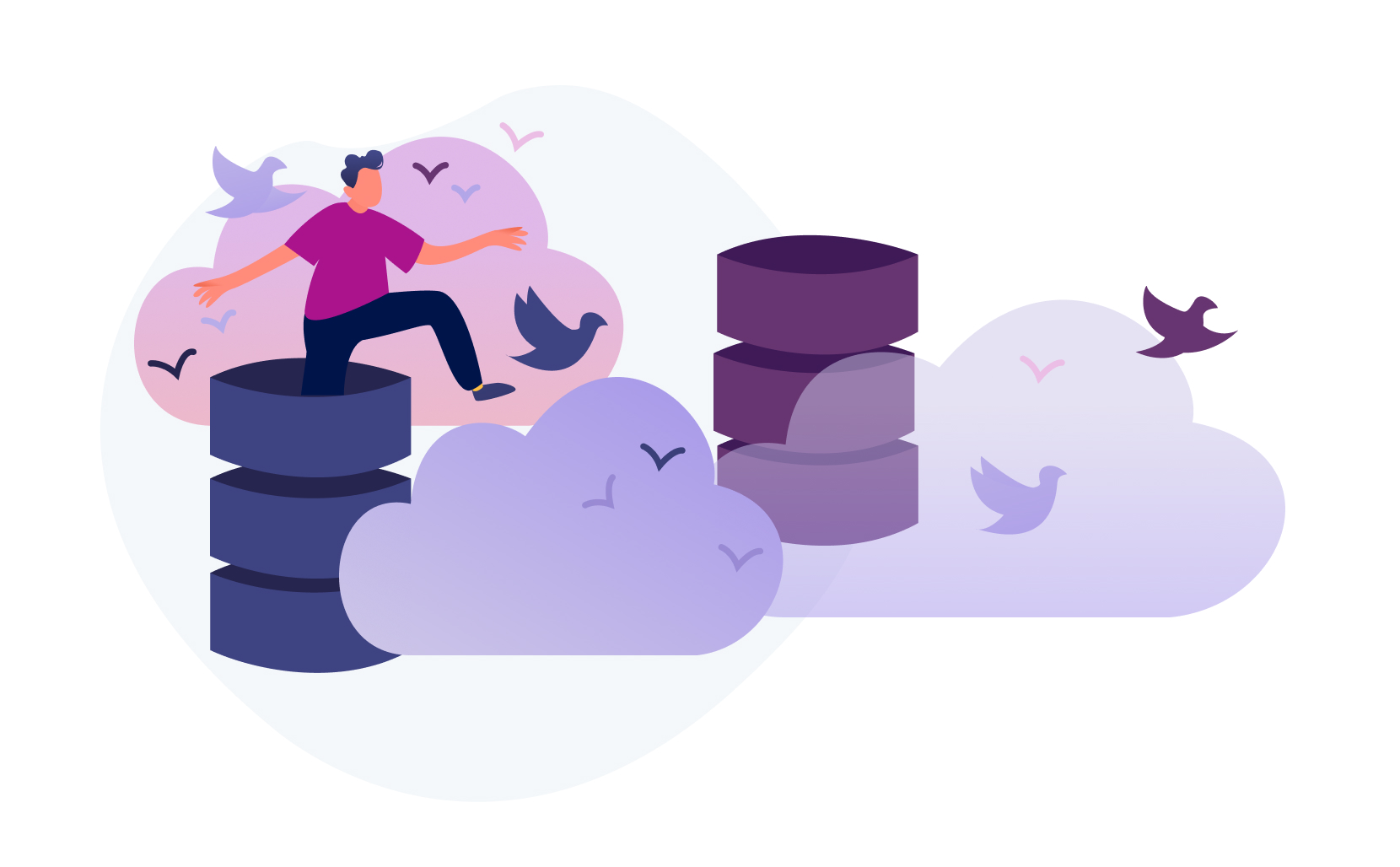 Django Migration Solutions
Let us help you migrate safely and smoothly from your current tech stack to Django. We guarantee to cause no disruption or loss of data.
1. Why Migrate to the Latest Django?
Consider upgrading to the most recent Django version with LTS (long-term support) from the Django website if you want to ensure your applications' security and lower the risk of potential vulnerabilities. We at Quintagroup can support you during this migration process and see that the deadlines are met.
2. WordPress to Django Migration
If you want to transition from another CMS, such as WordPress, to a Django-based CMS, such as Wagtail, we can help you make the migration smooth and successful. With our expertise, you can make the switch easily and ensure the transition is successful. 
3. Migrate from PHP software to Django-based App
Quintagroup has the expertise and know-how to convert existing applications to Django to provide a secure and affordable solution.
4. Django and React/Django and VueJs: Headless
Quintagroup can assist you in making the switch to the most recent React or Vue technology if you're looking for a cutting-edge, headless Django solution. We provide secure, dependable, and intuitive Django products to ensure your website is always running at its most technologically advanced. 
The Possible Scenarios for Django Migrations
There are many scenarios for which migration may be necessary. 
The most common scenarios include:
Moving from one hosting provider to another
Migration to cloud
Upgrading from an older version of Django to a newer version
Moving from one database to another
Adding new features or updating existing features
 Integrating a new third-party service
Why Exactly is Quintagroup for Django Migrations Services? 
We can assist you in expanding and maintaining value with our Django expertise.
Our Django Migration process incorporates the following stages: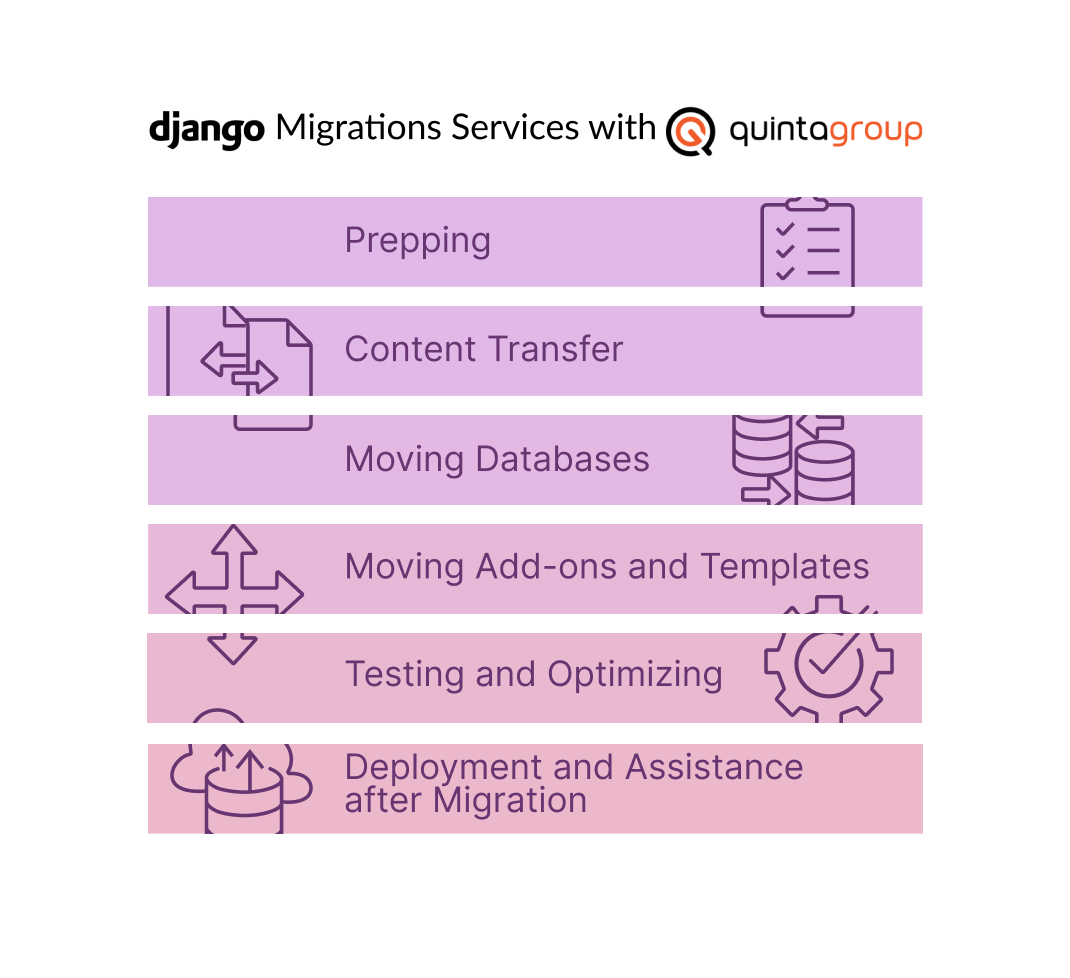 Prepping
We will determine your unique demands and create a migration strategy that fulfills them. Before starting the migration process, we'll ensure your website has a full backup.
Content Transfer
Sections, posts, visuals, and other files, will be transferred to the Django framework, preserving every little detail. To lead visitors to the appropriate pages on your new website, we guarantee that all the URLs and links are accurately relocated.
Moving Databases
Your site's info should be perfectly transferred, and the new website has to operate smoothly. So, we will migrate your website database to Django.
Moving Add-ons and Templates 
We will transfer the theme and add-ons from your website to the Django platform. They should be fully compliant, and the look and feel of the page are to be maintained.
Testing and Optimizing
We will carefully test your new Django website to ensure it operates flawlessly. Additionally, we will strengthen the safety and efficiency of your web app.
Deployment and Assistance after Migration
Having done all the migration processes, we will plan the launch and do what's needed to guarantee your visitors can access the website. Maintenance and post-migration support are included, namely: recurring updates, data backup, safety, and performance enhancement.
Wrapping Up
Django migration services are a reliable way to carry out migrations quickly and effectively. Be sure that your systems are constantly updated and that the data for your business is protected if you choose this service by Quintagroup. We perform migrations accurately, securely, and swiftly. The services are also reasonably priced. 
Overall, Quintagroup's Django migration services are a great way to guarantee that your information stays safe and that your systems are updated. Fill in the form to get started.