What if we tell you that there is a way to shorten the development process for your products more than 4 times? What if the development team can deliver a prototype in 5 days instead of a couple of months? And what if there is a certain way to know whether your users will like your product or not without taking a lot of risks and relying only on guesswork? Sounds like something out of a fairy tale? Well, a design sprint is what makes all the magic happen! So, what is the purpose of a design sprint?
A design sprint is an intensive 5-day process where teams solve design problems, seek answers to crucial business questions, and test big ideas. Design sprints quickly coordinate teams under a common vision with clearly specified goals. Normally this process would take up to a few months to complete but the specific structure and strict rules of design sprints allow to shorten that stretch. It is a tried-and-true formula that guarantees a productive week with impressive outcomes. 
Originally created by Google Ventures, 5-day design sprints have already generated tons of ideal results for businesses with optimal use of the resources. Let's see how it works.
Design sprint process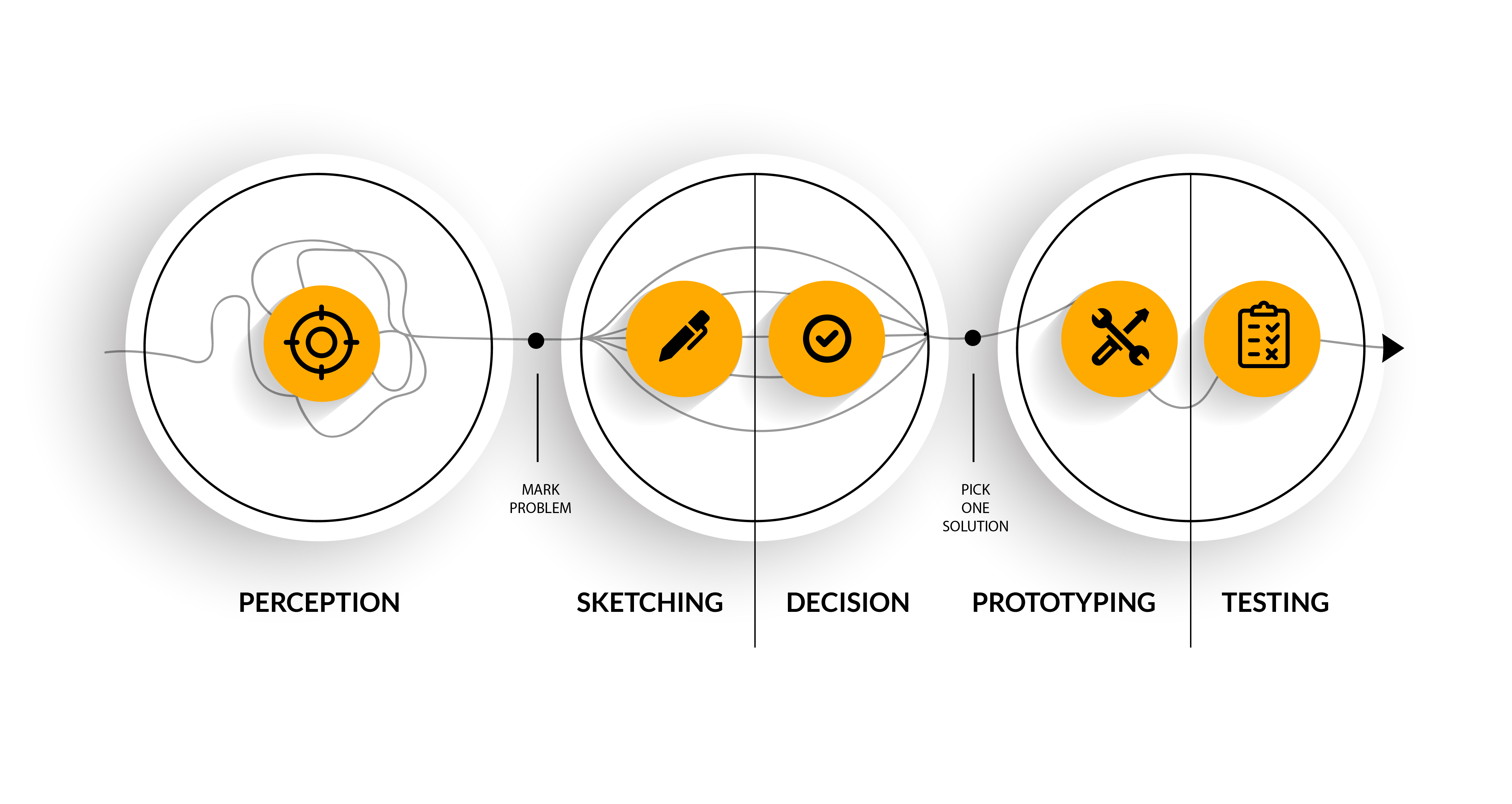 The original design sprint usually lasts 5 days. It can be shortened to last less, but we'll talk about it a bit later in this article. Let's see what happens in a design sprint week in detail. 
Monday
Feel it!
It's all about understanding the problem, getting the feel of it. The team gathers together for a discussion and maps out the problem. Then they pick a target of focus with the issue which they will figure out during a week.
Tuesday
Lay it out!
Now it's the time for turning the problem into a solution. Firstly, the team discusses some existing ideas out there to get inspiration. Then, team members work separately and put their ideas into sketches. It's also a good idea to start looking for people for a Friday prototype test.
Wednesday
Make a decision!
It's a difficult part of the process as the team has to choose one solution out of a bunch of ideas. Team members take their time going over various ideas one by one, contemplating about parts they like and don't like. Next comes the structured critique, after which the team makes the plan for the prototype.
Thursday
Prototype!
Time to turn the plan into a prototype. How does it take only one day to pull off? That's because the team builds only a realistic facade instead of an actual product that will take up a few months to build. This prototype is just enough to present to customers and get their feedback. 
Friday
Test it!
It's showtime! The prototype is now tested with real people. The team conducts one-on-one interviews with a few customers they chose on Tuesday and gets the answers they need from the feedback. Team members watch and consider things that went well and things that didn't go as expected. After all that, the team gathers back together and, depending on results, prepares a new plan of what to do next.  
At the end of the design sprint there are 3 different outcomes your team can reach:
A perfect win - your prototype fully met users expectations and you can proceed with your product;
A 50/50 win - you now know what parts of the prototype work and what don't. You go over some adjustments and run the half of the sprint again;
A profitable failure - your prototype didn't meet user expectations but you have gathered tons of helpful information without wasting months while building the wrong product. With fresh information, you launch a new design sprint and test new ideas.
Why design sprint?
Design sprints have proven to be an efficient solution to deal with complicated or emotional problems. It comes in handy when you launch something new, want to switch gears on a product you already have, explore innovative features for your product, or just have a lack of communication with users.
Another important thing about design sprints is that every opinion will be heard and every idea will be considered. It's not like the old-fashioned way where the team argues endlessly, churns decisions, builds bad roadmaps, and where extroverts overshadow other members during brainstorming sessions. Instead, your team will deliver high-quality, divergent ideas that will be later processed with silent voting.
Advantages and disadvantages of a design sprint
With the design sprint, your team can:
Minimize time wasted
Define the right problem
Lower risk
Save money
Get real data instead of guesswork
Use unleashed creativity
Experience dynamic and focused collaboration
Get solid user feedback
Explore a broad variety of ideas in less time
However, keep in mind that your team should:
Acknowledge the present intensity
Include the right people for the sprint, who can be fully engaged with the task
Keep in mind that a favorable outcome isn't promised and that's okay
Take the proper scope and expectations for smooth work
What do you need for a design sprint?
The key to a successful sprint is a properly selected team. It's best to gather a team of people with multi-disciplinary backgrounds to have expertise-based knowledge and ideas delivered. 
You'll need a decider to call the shots. It is usually the CEO or senior executive. A marketing expert with experience in making messages to the customers should be included too. You'll also need a design expert to help envision the idea and a tech expert to see and explain what the company can create and deliver. Customer service is here to communicate with customers and learn their needs. A financial expert will count the costs of the project and define the sum the company can get in return. And last but not least, a facilitator. This person will monitor the team's progress and make sure that everyone is engaged.
There's a challenge your team has to go through though. As it is often hard for a decider to be present during the whole design sprint, so he/she risks missing important milestones. In this case, there is no need to keep the decider present all the time, tearing him/her away from other duties. Just make sure to engage this person in crucial moments of the sprint: on Monday for setting the scope of the project, on Wednesday for picking a solution, and sometimes on Friday for testing (up for you to decide).
Okay, so the dream team is assembled, now what? You need to clear the team's schedule for the whole week to ensure that everyone will focus on the project. Post-it notes, whiteboards and colorful markers are more than welcome to have during the design sprint. They are very helpful for mapping the problem and noting ideas.
Eager to see who can be on your dream team? Assemble your team from our design sprint experts now!
Can the design sprint be shorter than 5 days?
Of course! 5 days is just a recommended timebox for a classic design sprint. But there is always a way to modify and compress the process to fit your needs. You can run your design sprint in 4 days, leaving Friday free for your team to celebrate! That can be achieved by combining 2 first days of the design sprint into one when you map the problem and sketch solutions in one go. 
You can even run a 3-day design sprint! On Monday your team gathers for discussion and specifies the scope. On Tuesday you get to sketching and prototyping. At the end of the day, you have a minimal lovable product that works with minimum features, just enough to present to customers. On Wednesday your team is ready to conduct tests with users and stakeholders. 
But keep in mind that shortening the design sprint usually brings the rush and requires the sacrifice of dropping something off the agenda. This can lead to a risk of losing a crucial stage! If a challenge is extensive, we advise you to stick to the original 5-day process. We prefer running 4-5-day sprints to make sure you don't miss anything important. If you want to get a glimpse of how a design sprint will look for your product, contact us to get a consultation.
Can only one design sprint solve the problem?
Yes and no.
In certain scenarios when you have just started the project and have it well defined, one design sprint is enough to reach the goal. It gives your project a powerful start and leads it on the right path. You plan, you prototype, you test, and wow everyone with brilliant results. 
Sometimes the product fails, but that never means the defeat of the sprint! A design sprint can detect a future breakdown fast without having you lose time and resources. In this case, you just analyze the problems that occurred during the first sprint and plan a second one to seek better solutions. If the second one doesn't have satisfactory results either, you start the third one with new ideas and repeat that until you get an ideal outcome.
Design thinking and design sprint
Many people often confuse these two terms. So what is the difference between design sprint and design thinking? Well, honestly, the first couldn't have existed without the second one. Design thinking is a philosophy to incorporate and a mindset to embrace. It deals with arranging thought processes to grasp and outline the problem, conceptualize, actualize and test results. On the other hand, a design sprint is a methodological "out of the box" method that derives from design thinking and aims at solving problems in an effective way during a short period of time. 
What companies use design sprints?
Design sprints are a roaring success of UX design and design thinking. Companies of all sizes across the globe try this method and create successful solutions. Here're 10 of the most popular ones we all know and love.
Design sprint online
With all the stuff that happens in the world lately, many got used to the new way of life - remote working. Here comes the need to try to run remote design sprints. A pretty enticing idea, we can say, because you can conduct a sprint without extra travel time, travel bans, unnecessary hotel reservations, and other restrictions. Everybody cooperates remotely from cozy homes. 
Is there a big difference between offline and online design sprints? Not really. The key principles remain the same while only some components will need to change. Attention span is much lower in virtual environments so make sure to adapt design sprint steps in a way that no one gets bored and unproductive. Also, don't forget to resemble offline interactions as much as possible to get work done well.
What do you need to run a remote design sprint? Being able to have a smooth conversation without any interruptions is key to recreate an offline workspace. Use platforms like Zoom, Microsoft Teams, etc. for high-quality video conferencing calls. Miro Mind Mapping Tool and Figma are great tools for visualizing and structuring your ideas. 
It would be nice to use some interactive digital workplaces for efficient teamwork. We know, that sticking to personal discipline online is much harder than at the office but that's another challenge you need to embrace. 
How can you run a design sprint? 
Now it's time for us to introduce ourselves. We are design sprint experts with broad experience in running offline and online design sprints for 3 years. And we're here to help! Throughout your design sprint, we will interact with each other face-to-face or via videoconferencing, taking you through the steps, letting you call the final shots, and making sure that we create an ideal solution together. Contact us and let's get started! 
Related topics
We're also experienced in running Discovery and customized Workshops for product development and design. Take a look at what we offer here!