Being an experienced Plone/Zope hosting provider, Quintagroup offers reliable, secure and fast VPS Plone Hosting solution to our clients. With our Virtual Server Plone Hosting packages multiple Zope Instances can be hosted on a single Virtual Server, each with its own domain name. This might be suitable for someone who manages many websites.
Plone Virtual Server

Economy

Plone Virtual Server

Deluxe

Plone Virtual Server

Premium

Plone Virtual Server

Ultimate

Order
Order
Order
Order
Monthly Price
$59
$99
$139
$179
Quaterly Price
$164
$274
$386
$496
Annual Price
$590
$990
$1390
$1790
RAM
512MB
1024MB
1536MB
2048MB
Diskspace
8GB
16GB
24GB
32GB
Plone version
Latest Plone version or any other upon request
Server Location
USA, Germany
Setup Fee
0
VPS Plone Hosting is one of the most popular hosting options for those customers who cannot afford the top-of-the-line dedicated web hosting server and its excellent professional features. Virtual Private Server is the next best choice that almost matches the dedicated web hosting server in many features. Virtual servers offer you almost all the benefits of having a full dedicated server, with full control and better performance than shared hosting, but without the high cost of a traditional dedicated server. This is an ideal solution for small, medium-size and high-traffic Plone sites.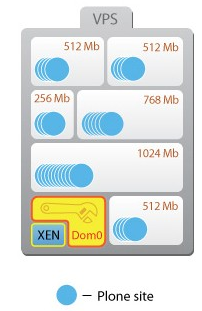 With plans ranging from $59 to $179 per month we have something that can fit your needs. We've got four VPS Plone Hosting packages for you. Remember we can customize our services to match your needs.
All our Plone Hosting VPS Packages have with the following features:
General Features : unlimited number of domains, squid, varnish, SSH&Root access, SSL, Apache, subdomains, FTP/WebDAV
E-Mail Features : unlimited number of E-mail accounts, SMTPS/POPS/IMAPS, IMAP Webmail
Support Features : tickets support, Zope error logs, Apache access logs, graphical stats, zexp import, Zope, Plone&Products pre-installed
Performance Features : weekly off-site backups, verifiable uptime
Growth Features : 1GB Data Transfer for 3$/month, 500MB Diskspace for 2$/month
Prices for hosting packages are normally per year, but you can also pay per month. Choose from our available packages or contact us for a quote if you require a custom package or if you have special needs such as load balancing or other content delivery options. We are happy to customize our VPS offerings to your exact requirements.
VPS Plone Hosting Package Advantages
Plone/Zope experts support. By using our Virtual Server Plone Hosting services you can rely on support from our Plone/Zope experts - people who have gained many years of experience in working with Zope&Plone.
Multiple Zope Instances. Virtual server can host several Plone Sites with different Plone&Zope versions. This is not possible with other Plone Hosting Packages .
Performance. Certain amount of random-access memory is provided for a particular package. With Virtual Server Plone Hosting Package you can be sure that multiple instances that share the same host will not take more system resources than it is allocated. Thus, other websites hosted on the same physical machine will not influence your websites performance.
Scalability. If your site is growing, you definitely need hosting that can scale up with you. Virtualization gives you an easy upgrade path on demand – in case your website requires more active memory for its fine performance than is provided with a package you purchased, you can always submit a ticket for upgrading your package to a suitable one. This provides secure, virtualized environment that is easy to scale and can be provisioned almost instantly as needs arise.
Root Access. Clients can get access to the virtual machine via SSH. This allows to install, delete or change Plone products used, and do the maintenance work on their own.
Latest Plone Installed. New accounts get the latest stable Zope/Plone versions installed, unless other is specified by our client.
Off-site Backups. Reliable, incremental, weekly off-site backups.
There are many other advantages of using the virtual web hosting server. The virtual web hosting server provides control, helps to make the web server secure, provides flexibility, reliability and stability.
Typical Virtual Environment (VE)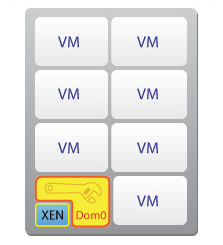 - Plenty of RAM
- 256Mb Virtual machines
- Tiny Dom0 (64Mb)
- XM
- IPtables
- Tinc VPN
- Munin
Resource management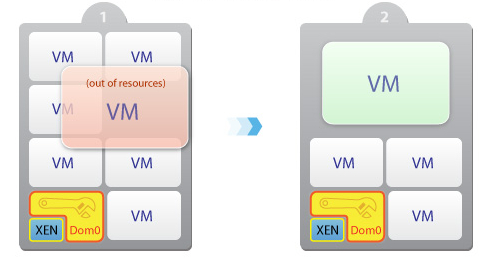 In the case we are running out of resources in VE, VM is migrated to new one that satisfies requirements (has enough RAM, HDD, CPU). Migration is either off-line or live.