High Availability hosting services refers to websites being hosted on two physical servers. Such services are becoming increasingly popular, and advantages of such clustered systems are difficult to underestimate. Consisting of two or several independent machines, each running a copy of application software, such systems can provide much more reliability than ever before.
High Availability hosting services assumes continuous availability even in cases of hardware/software failure: in case any of the servers gets broken, second one goes on keeping the site online. To cope with any soft- or hardware failure, such two machines are set up so that each machine is able to perform the same services to the end-user. As a result site users do not notice failure at all.
Quintagroup provides High Availability clustering services to ensure your site/application availability. We provide the platform for hosting your Plone/Zope application. We take whole responsibility for the systems administration of the hosting server and associated maintenance tasks. High-availability configuration is available for those clients that need hosting solution for websites that must always be running.
Typical VM cluster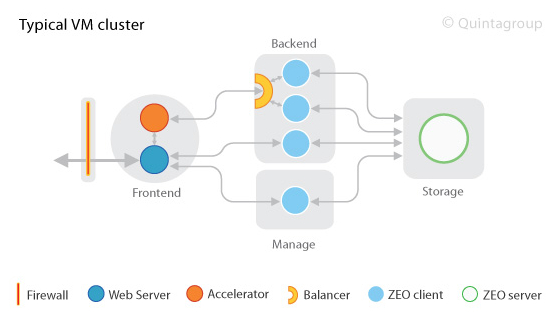 Highly Available VM cluster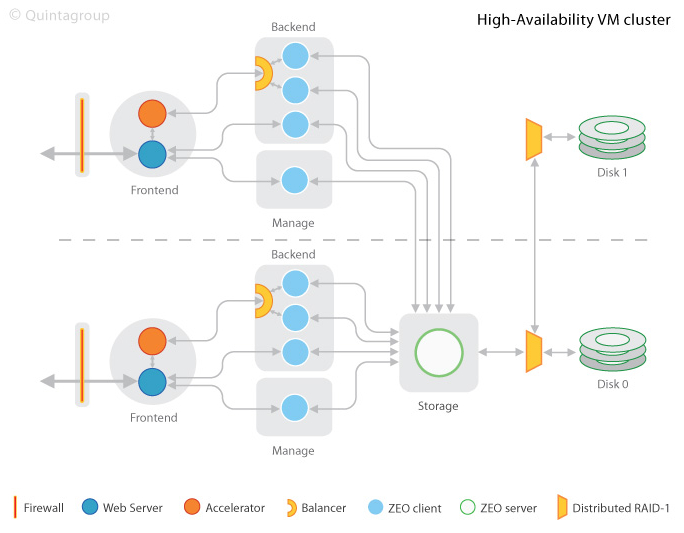 How To Get Started
If this is the option for you, you can order High Availability Plone Hosting.