Let's say you redesigned your website. After that, fewer people began taking action: filling out forms and placing orders. You don't understand the reasoning behind it. In that scenario, Quintagroup can analyze your website UI and come up with the most fruitful advice.
Do your visitors want to convert into customers? Does your website engage your target audience?
A UX audit is a beautiful method for assessing your website's performance and making it more user-friendly, which will help to maximize visits and sales.
At Quintagroup, we provide thorough UX audits to help companies find ways to enhance the user experience on their web applications.
Website UX Audit Service – The Ways We Do It
Quintagroup experts are here to help you improve user experience on your website so that visitors can get a positive and valuable experience. Our services include: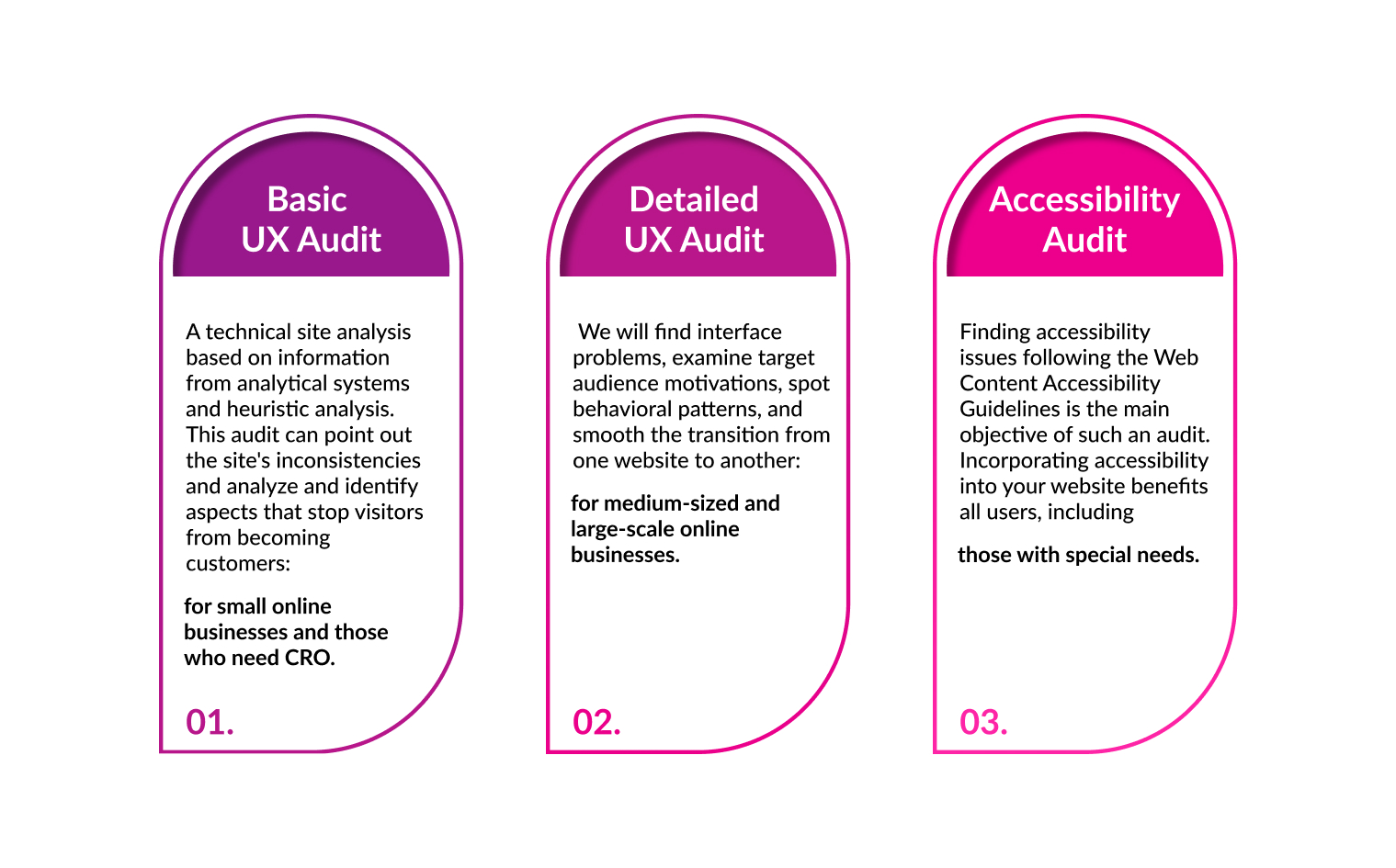 Basic UX Audit
UX audits, also known as UX reviews or UX design audits, are comprehensive evaluations of your customers' experiences.
This review version includes a technical site analysis based on information from analytical systems and heuristic analysis. This audit can point out the site's inconsistencies and analyze and identify aspects that stop visitors from becoming loyal customers.
One can use it for small online businesses or for those who want to invest in Conversion Rate Optimization CRO but have yet to decide on a preferred strategy or choose a provider. This choice is the best if you're looking for some short pointers on enhancing conversions on a website.
In this situation, the UX audit should outline the following subjects:
user engagement (user path, sales funnel);
issues and challenges with website performance;
interface imperfections;
the causes of money leakage;
a detailed plan for future corrective measures and site improvements.
The sites facing the following challenges may benefit from the audit:
poor conversion rates and a desire to raise them;
high bounce rates;
a willingness to research data about website user interaction (customer journey map);
intend to change the website design;
If your website has high traffic flow, we can perform A/B testing
The Quintagroup team presents a UX audit visually in the form of a UX audit report. In addition, it offers practical suggestions on improving your website's organization: UI, interaction design, and other crucial aspects of UX.
The process entails the following:
Customer Journey Map:  An illustration of the processes a customer takes when dealing with a business, from first visit to sale and after-purchase follow-up, is a customer journey map. We use it to improve the customer experience and guarantee the consumer a good experience.
Analysis of the Sales Funnel:  The sales funnel includes all the processes a consumer takes to discover, consider, and buy a good or service. It encompasses everything from contacts with customer support agents and website visits to online advertisements and purchasing choices.
Heuristic Analysis:  Heuristic analysis is a technique for assessing a product or service's usefulness. It entails having a group of users test the product or service and offer feedback.
Content Analysis:  A technique for examining a website's content is content analysis. Finding development areas entails assessing the website's usability, filling, and architecture.
Technical Analysis:  Technical analysis evaluates how quickly a website's pages and as a whole load. It's employed to spot potential obstructions and other technological problems affecting user interaction with a system.
Desktop and Mobile Site Analysis:  Analyzing desktop and mobile websites is the practice of assessing the user experience on various platforms. To ensure a website is optimized for multiple devices, it must be examined for its layout, content, and aesthetic.
Summary of the Structural Site and Basic Elements:  A concise synopsis of the structural site and essential parts provides an overview of the website. It is used to pinpoint difficult areas and guarantee that the website is user-friendly.
Detailed UX audit
This audit is a crucial step in the conversion rate optimization process and comprises detailed data on user activity on the website.
Such an audit's primary goals are to find interface problems, examine target audience motivations that divert people from doing the desired action, spot behavioral patterns, and smooth the transition from one website to another.
This audit is ideal for medium-sized and large-scale eCommerce initiatives that aim to expand without raising marketing expenses.
You will learn what visitors do on the site and why they don't make a purchase.
Tools we use:
1. Heat Maps 
2. User Behavior Analysis Based on Recorded Sessions 
3. User Surveys 
4. Analysis of Help Desk Support Chat 
5. User Testing 
6. Target Audience Analysis 
7. Production of User Portraits 
8. Form Analysis, and many more.
Accessibility Audit
An in-depth evaluation of your website is conducted as part of a web accessibility audit process to determine how accessible it is to disabled people. Finding accessibility issues following the Web Content Accessibility Guidelines is the main objective of such an audit. Incorporating accessibility into your website benefits all users and those with special needs.
Businesses can choose from a variety of web accessibility audit types. It depends on how things work and how accessible you want your website to be.
A risk audit would be appropriate if evaluation is the only priority initially. Finding the accessibility and usability barriers on your website is the main focus of this type of accessibility audit.
Quintagroup offers such accessibility audit types:
Semi-automated audit with a Wave Accessibility Tool
Application walkthrough using keyboard navigation
Application walkthrough using a screen reader (NVDA, ChromeVox, VoiceOver)
Our UX Consultant will review the test results and identify any significant issues with your website's accessibility. After the accessibility audit, you will receive a report with a roadmap outlining the following steps to make your website or software service accessible to everyone. This report is customized for managers and web developers.
A web accessibility audit aids businesses in starting the process of creating an inclusive website.
What our UX audit services entail
We strive to improve your project in the following ways with our UX design audit services: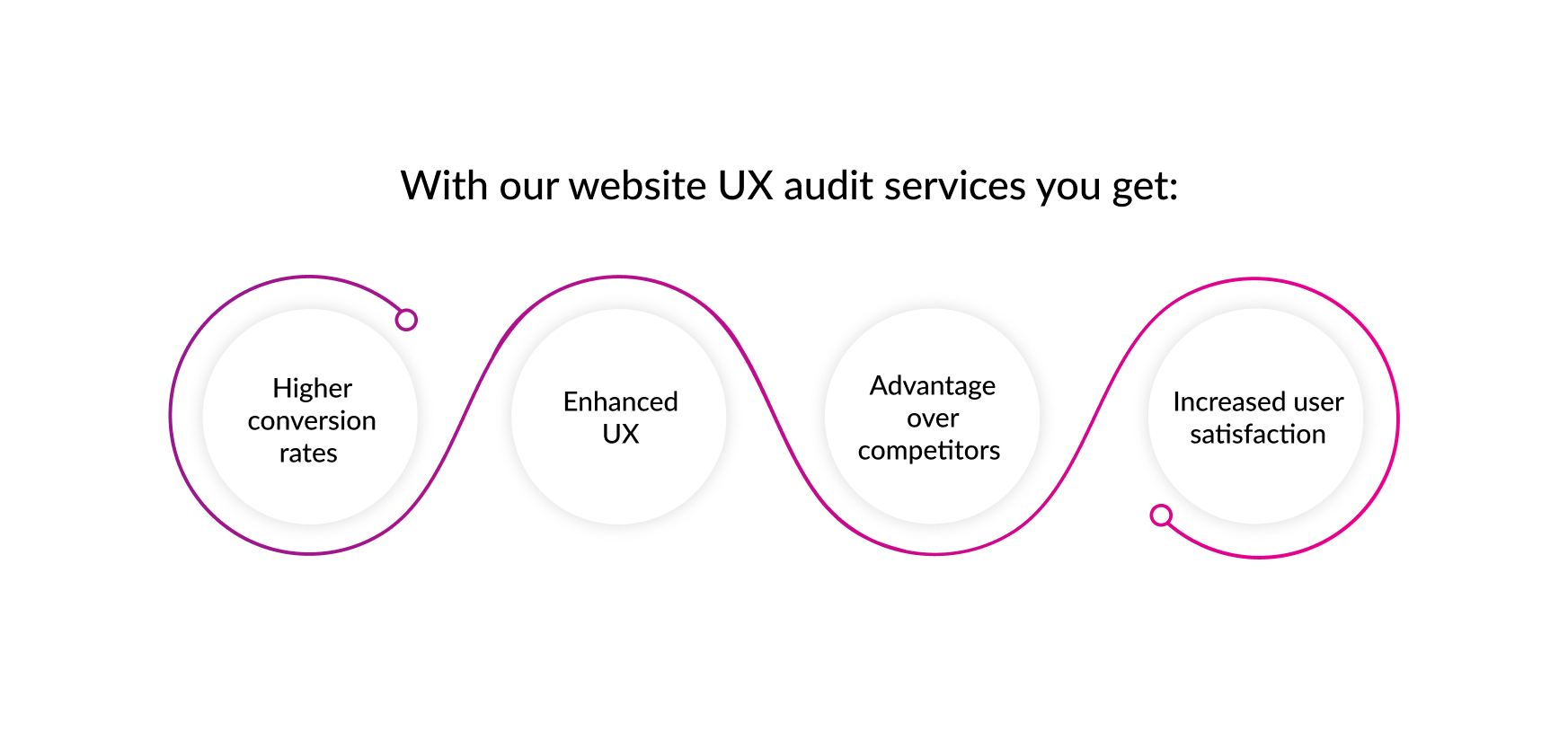 Conversions Raising
Our UX review team spots conversion-blocking factors and develops practical design solutions to eliminate them.
Enhancing UX
Using our UX review service, you can fix design-related user experience problems and create an intuitive product.
Acquiring a Competitive Edge
We figure out how to increase consumer appeal for the distinctive value of your product. For example, you may improve your user experience by doing a UX audit to outperform rivals.
Improving User Satisfaction
User happiness is directly related to engagement, retention, and loyalty. Therefore, we streamline the user experience of your product through a UX audit to encourage consumers to continue using your app.
​Current State Analysis​
Examining the current layout and style of a website, application, or other user experience is a technique called "current state analysis."
By using this analysis to identify the advantages and disadvantages of the present UX (user experience), designers may produce better styling. The user's demands and interactions with the website are the main points of emphasis. The present state analysis concentrates heavily on usability, visual design, navigation, content, and other elements influencing user experience. With its help, we can also identify potential issues or design improvement areas.
Designers may produce a more effective and efficient experience for the user by being mindful of their current situation.
Usability Testing – User Flows
Usability testing, often known as user testing, is a type of one-on-one user interview as part of observational user research. For example, we may ask some of your real users to perform tasks, or you may ask other target users from your target audience to share their thoughts and feelings as they navigate different user flows. Then, according to your company's objectives, the researcher will organize findings into theme groups with practical recommendations implemented and tested again.
A/B testing is an excellent way to assess how well a user experience (UX) design works. Running two variations of a website or product under A/B testing allows you to compare the outcomes. With one significant difference, such as a different color or design element, the two versions are typically very similar. By evaluating each version's performance, designers can determine which version yields the best results.
A/B testing offers valuable information for a UX audit that can be used to guide design choices. Through this testing, designers can determine which components best serve their users and produce a design that offers the best user experience.
Usability Heuristics
Usability heuristics are rules that Quintagroup specialists use to design user-friendly websites, programs, and apps. 
They include an easy-to-use checklist based on the concepts of UX design, which assist designers and developers in creating simple, practical, and fast products. By making a product simple to use and intuitive, heuristics help guarantee that people will have a good experience with it.
Our professionals take the most of the heuristics to make your project appealing to a customer's eye.
Improvements list
Quintagroup's improvements list service aids in task organization, prioritization, and tracking so that you can complete all the tasks necessary to achieve your UX goal.
With us, you will discover what stops your visitors from taking action in which way to change your web product design. Then, after a thorough analysis of the UX, you will receive a report and discover the space for improvement.
Do you want to get a well-structured improvement list? Then, contact us, and we will get to you as soon as possible.
Mental Modeling
A user's mental model of how to use a site, a smartphone, or any digital device is what they believe they already know. People employ mental models formed in their brains to facilitate their daily activities.
The user can expedite their relations with a new app by using what they know from their prior encounters with another app, for instance. With little brain power, they will know roughly where the "search" sign is when they enter the inquiry.
The user will soon become used to the new app if it closely resembles the interface styles and the known website design.
Quintagroup experts are well-acquainted with user behavior patterns regarding differently-purposed apps.
The Reasons for Hiring Website UX Audit Company
If you are pondering upon a decision on whether to hire a website UX audit company or not, we have some reasons up on the sleeve. Let's reveal a few of them.
You Want to Learn More About Your Users
In that scenario, a UX audit will be highly beneficial to you. Whether it's a UX or UI audit, beginning businesses that want to confirm their MVPs will also find it helpful.
UX audit as a Software Health Check
It can be carried out at any product development phase to pinpoint performance problems and potential development areas.
Redesigning a Website or App
A website UX audit company can assist you in analyzing current user flows and identifying issues, obstacles, or backlogs that make users bounce without converting into customers.
Developing and Launching New Features
A website UX audit company will clarify the new functionality's value to your product and whether visitors benefit from it. Additionally, you can tell whether users like your features and whether they have any navigational issues.
You Need Consulting on Different Stages
A UX audit can also be used when a digital product is in the pre-development phase. Then, you are still open to changes that won't result in sizable time and money losses. You can still conduct a UX audit even after creating prototypes or user interfaces.
Generally, companies of every size and web product at any stage of development can benefit from hiring a website UX audit company.  You can use it to determine what content your visitors like to consume, spot potential issues with your existing technology, fix them, and create new features that your customers will value. Before a product is made, it can also be used to ensure the design is good enough and satisfies user needs.
Wrapping Up
A complete website UX audit may significantly influence a digital product's success. With various UX services, the Quintagroup team of experts can help you boost conversions and enhance user experience on your website.
With our assistance, you may examine the present condition of your website, do usability testing and mental modeling, and develop a thorough list of improvements. However, determining the changes required to make your website more user-friendly might take time and effort. That's why we are here to help. 
Contact us immediately to maximize your website's effectiveness and increase conversion rates.