Collective.mobile.addtohomescreen is a Plone integrated product by Quintagroup.
The web application places a pop-up message asking the user to add your website to the home screen. Version 0.1 of the product takes advantage of iOS5 native fixed elements positioning and seamlessly degrades to a javascript only version on iOS4.
The following screenshots demonstrate how the web application works on the IPhones: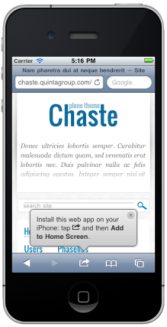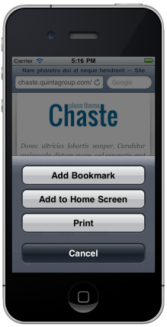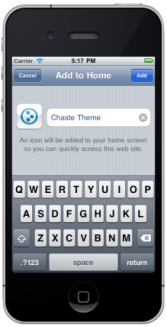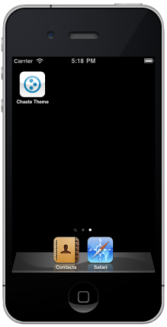 Following these simple steps your visitors can add an icon to their home screen that directly links to your mobile Plone website, the icon image is generated from a screenshot of your website,
Collective.mobile.addtohomescreen is supported by iPhone/iPod touch, iPhone4 and iPad. On older devices Add icon is a "+" while on iOS 4.2 it has been replaced with

. The web application detects the device OS version and displays the appropriate icon.
The message enters the screen, when the user visits your website the second time after 2 seconds (customizable) from page load, and exits after 15 seconds (also customizable). The script checks the user's locale and displays the default message in an appropriate language. The pop-up message can be closed any time by tapping the small "x" icon.