As technologies are evolving at a blistering pace, we should keep up with modern trends and perceive them as promising possibilities. Think positively. AI can vastly benefit your business in various ways: automation, predictive analytics, data analysis, customer experience enhancement, fraud detection, personalization, etc. Thus, consider OpenAI App Development an opportunity for your ideas to flourish.
This modern technology is revolutionizing the field of application development and enhancement. It implies that contemporary app developers use accessible and comprehensible artificial intelligence algorithms and models to improve app performance, UX, and user interactions. Quintagroup teams can build an advanced AI app for you. Discover more about our OpenAI app development services while reading further.
Creating an AI App with Open AI API: The Process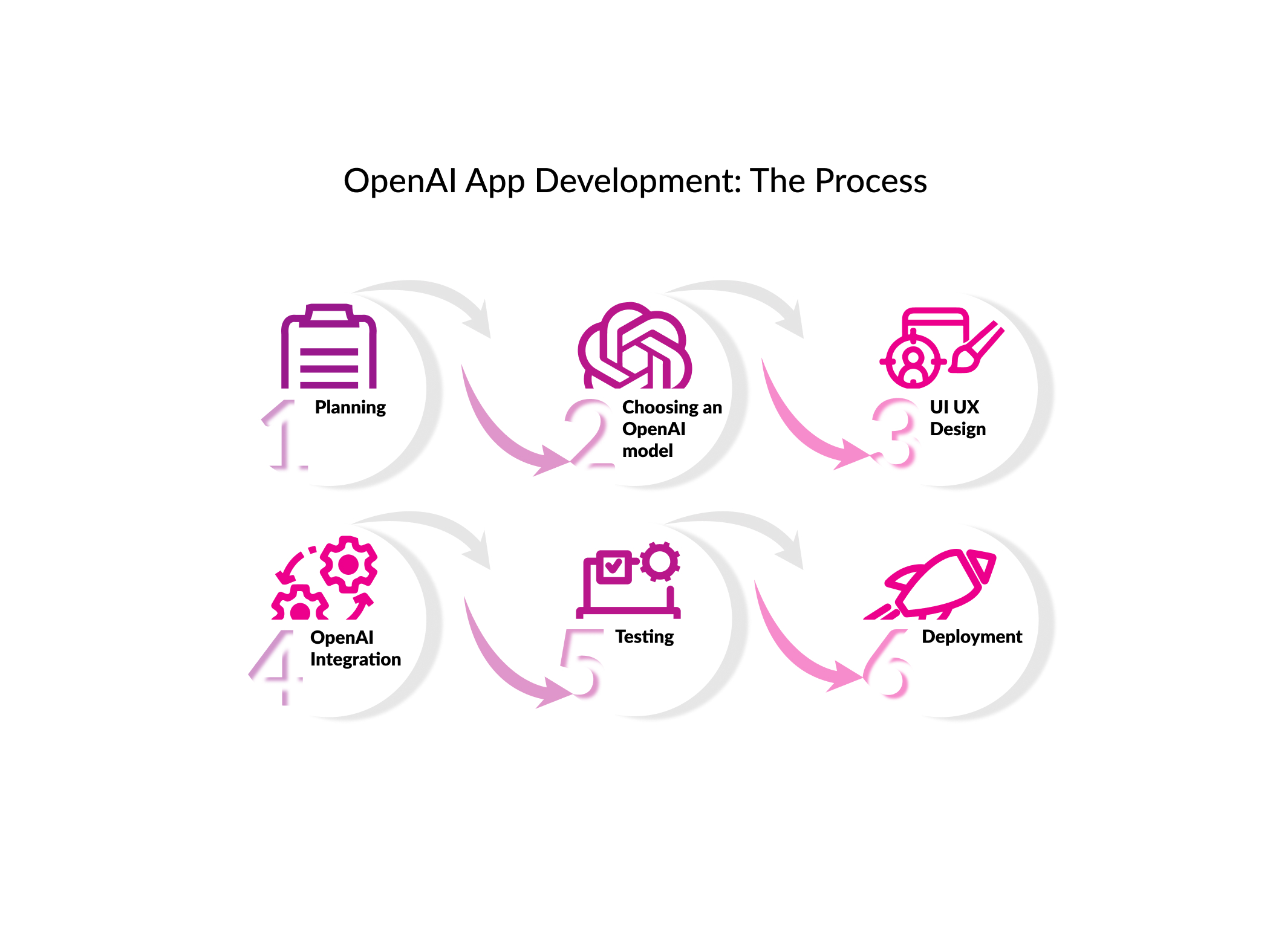 Making a thorough plan to embody your idea.
At this stage, we will gather your requirements and conduct research on how to make your app unique with AI app development. We'll discuss your business needs, make a competition analysis and get an overall picture of the future project. The process depends on whether you want to incorporate the AI into the existing app or build one from scratch. 
Now it's time to choose an OpenAI model.
Depending on your needs, we will decide on an AI model by consulting you, as each model has its peculiarities, features, and pricing. The choice will be based on your project requirements and budget.
UI UX Design in OpenAI App Development
It's essential for your app to be appealing and highly functional for end-users. Thus, our well-versed UI UX designers will do their best to make your app likable and serve its purpose well. In UI design, it's a must to put an emphasis on important features. At Quintagroup, we emphasize the quality of our products.
Integrating OpenAI, Testing, and Deployment
Then we integrate OpenAI API into the back end of your application based on the purpose. Each Quintagroup-developed application undergoes thorough testing,
OpenAI App Development Services by Quintagroup
Quintagroup can provide various services using OpenAI. Here are some suggestions: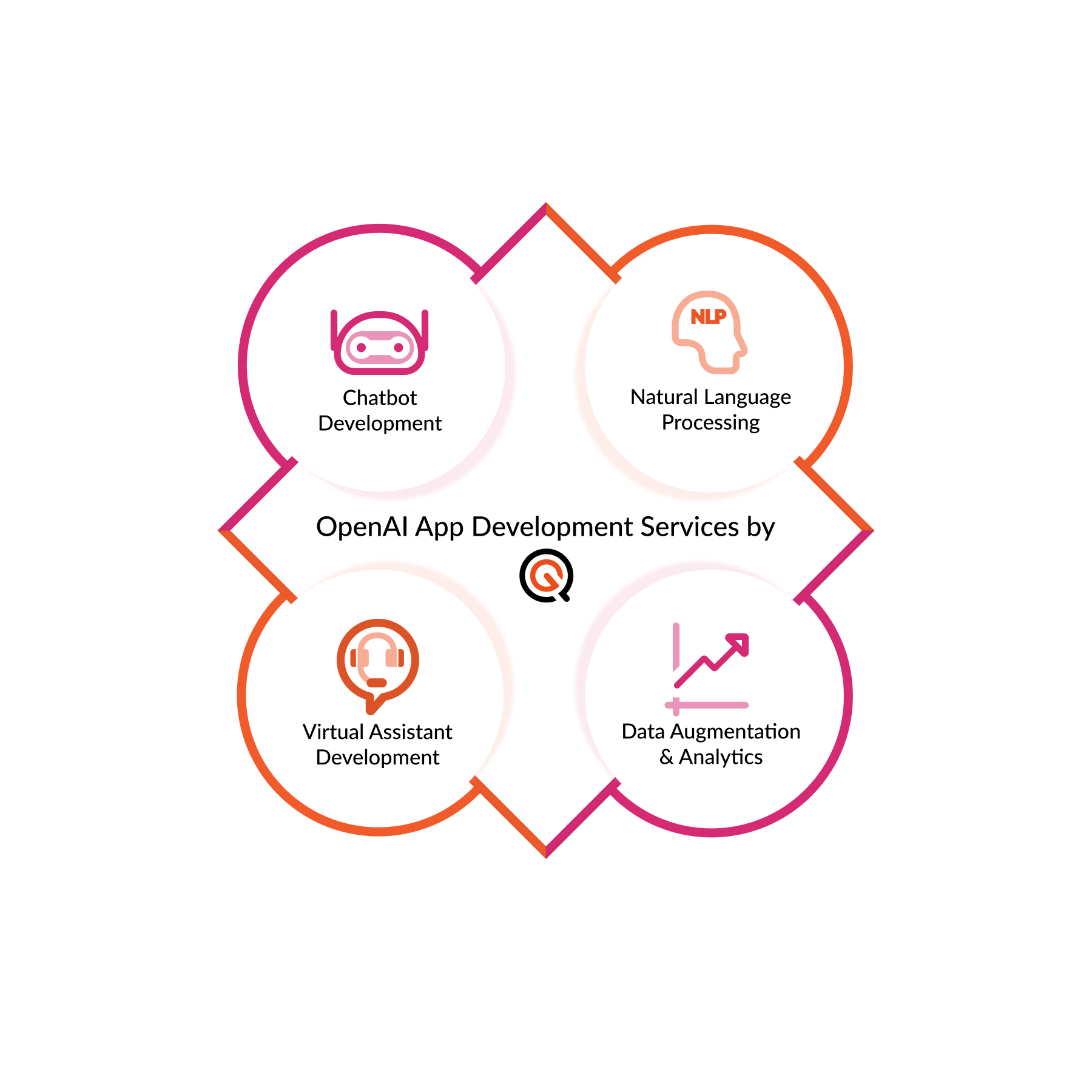 Chatbot Development
We will build intelligent chatbots that interact with people, respond to queries, offer support, and have natural conversations using OpenAI's language models. Integrating a self-learning chatbot into your website will save human effort and please your customer with 24/7 availability. Need more personalized UX? Consider our OpenAI app development services. 
Natural Language Processing
Quintagroup, empowered by OpenAI, crafts advanced NLP applications for many text-related tasks. With cutting-edge NLP technology, you can quickly comprehend and categorize text, easily translate languages, condense information, accurately identify entities, and evaluate sentiment.
Virtual Assistant Development
Developed with the help of OpenAI's language models, virtual assistants can engage with users via text or voice, provide personalized suggestions, set up appointments, respond to questions, and facilitate their routine.
Data Augmentation & Analytics
We offer data analytics services using OpenAI's language models. Our analytics involves processing and analyzing text data to gain insights, extract valuable information, and discover hidden patterns or correlations. To achieve this, we use statistical analysis, natural language processing techniques, and machine learning algorithms.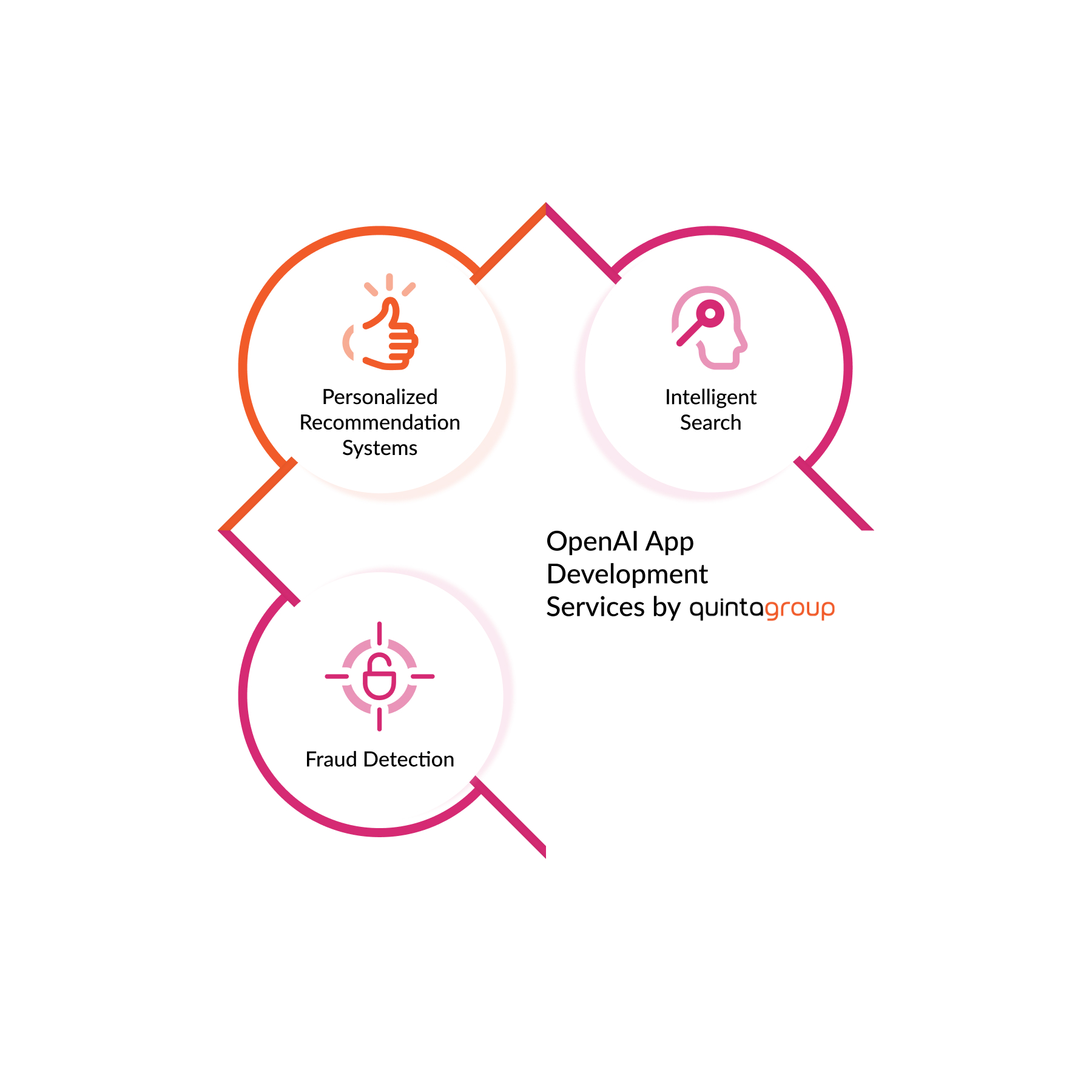 Personalized Recommendation Systems 
Our specialties include building and integrating personalized recommendation systems for e-commerce, content platforms, or other OpenAI application development. These recommendation systems offer tailored suggestions based on user choices, activity, and previous data. 
Intelligent Search
Let's incorporate OpenAI into search engines to improve search results. Search engines can now analyze enormous volumes of data with OpenAI and learn from user activity. This feature makes search results constantly enhanced and customized to the needs of specific users. Now we make potential buyers run into what they are looking for. 
Fraud Detection
Using OpenAI's advanced algorithms, businesses like financial institutions and e-commerce platforms can proactively prevent fraudulent transactions and safeguard customers' sensitive information. By identifying suspicious activities, fraud detection systems swiftly take necessary actions to mitigate risks, ultimately protecting businesses from financial losses and improving the security and trustworthiness of online platforms.
These are merely a few instances of the services Quintagroup can provide by leveraging OpenAI's models and technologies. The options can be customized to meet the needs of specific clients and industries.
OpenAI Models: The Types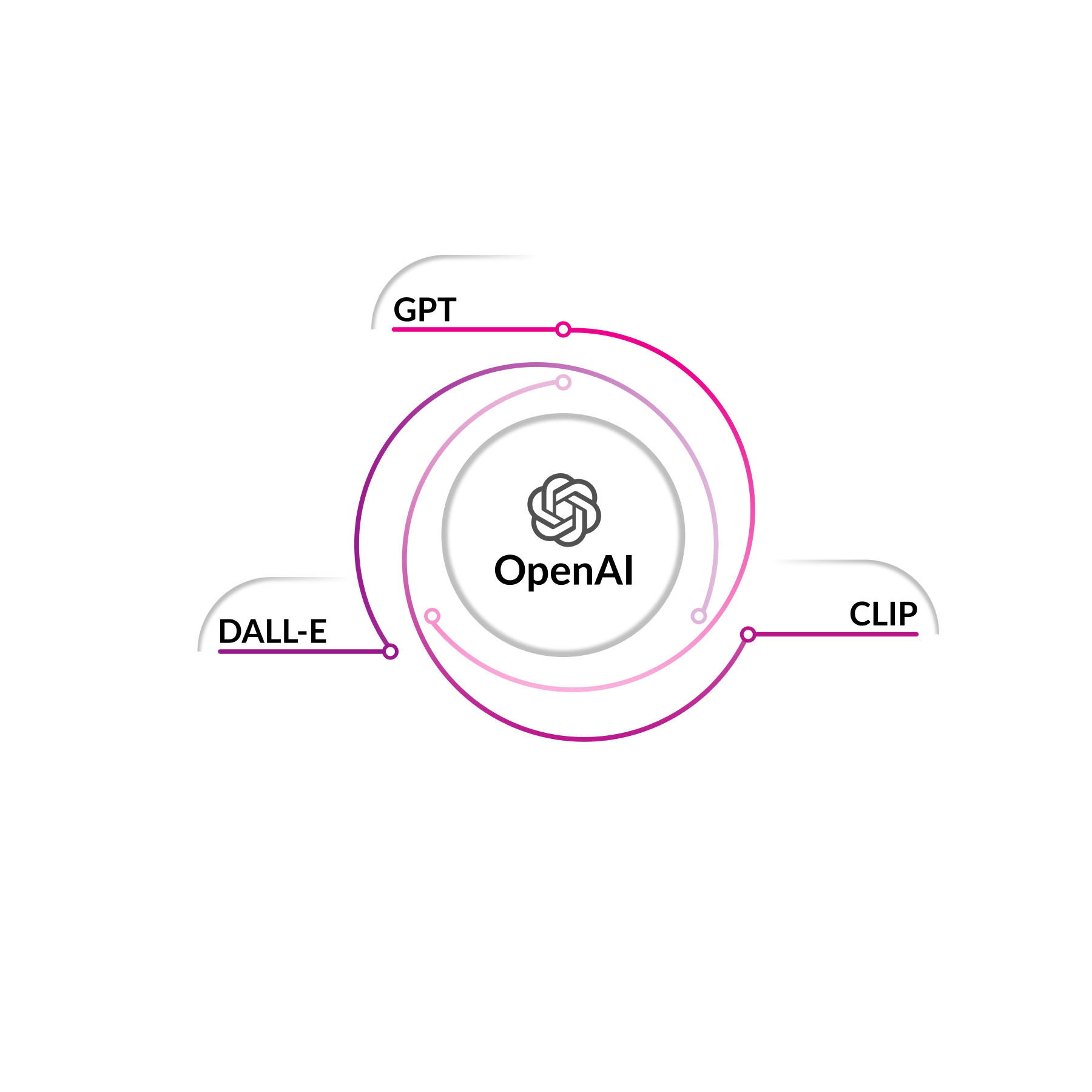 GPT
GPT (Generative Pre-trained Transformer) is a sophisticated AI model that gives natural responses to prompts using a lot of text data. It can participate in meaningful conversations and help with various tasks and has received training on a wide range of topics. It is used in OpenAI app development in the form of chatbots, virtual assistants, content generators, and more.
DALL-E
DALL-E is a ground-breaking artificial intelligence algorithm that generates original visuals from descriptions. It pushes the limits of computer-generated art by combining the strength of transformers and deep learning to produce highly creative and unique visuals. In OpenAI app development, DALL-E can conceptualize and visualize various ideas. 
CLIP 
CLIP (Contrastive Language-Image Pre-training) is an innovative AI model that understands images and text together. It can identify and describe objects, recognize complex relationships between visual components, and even determine the context and feelings an image tries to convey through text data. By bridging the gap between words and pictures, CLIP enables computers to understand both textual and visual content as a whole. We can use it in OpenAI app development for image analysis, content moderation, and visual search.
How can Quintagroup Help You with OpenAI App Development?
We assist you in developing custom mobile and web-based applications using OpenAI models, from idea to commercialization. Using the OpenAI API, we have competence in integrating several OpenAI models (DALL·E, CLIP, GPT) into apps.
Contact us if you have a project in mind and consider using OpenAI's models to resolve your business difficulties. We'll work with you to integrate OpenAI into your unique application, so your business can gain from it. Distinguish yourself from the competition with OpenAL app development.