Are you seeking software developers with a specific skill set? Depending on the current development needs, you can quickly grow or downsize your crew. Quintagroup IT staff augmentation company will help you avoid expensive, drawn-out hiring procedures and administrative hassle.
IT staff augmentation – adding talent to your current team through a third party. It involves anything: from a single developer with specialized knowledge to several engineers joining various groups.
Staff augmentation lets you spare costs on finding, hiring, and keeping talent. With more flexibility and immediate access to a talent pool of the highest caliber, it can assist you in achieving your short- and long-term goals.
Quintagroup as an IT Staff Augmentation Company
Let's discover the services for which Quintagroup may offer IT staff augmentation. Those include: 
With vast experience of many years, we clearly understand the peculiarities of various tech solutions. Our staff constantly keeps abreast of modern developments. Quintagroup software engineers are sure to become the soul of your company with their added knowledge and strong skills.
Let Us Introduce Types of IT Staff Augmentation
There are three IT staff augmentation models available on the market. We are happy to offer you a choice between the following: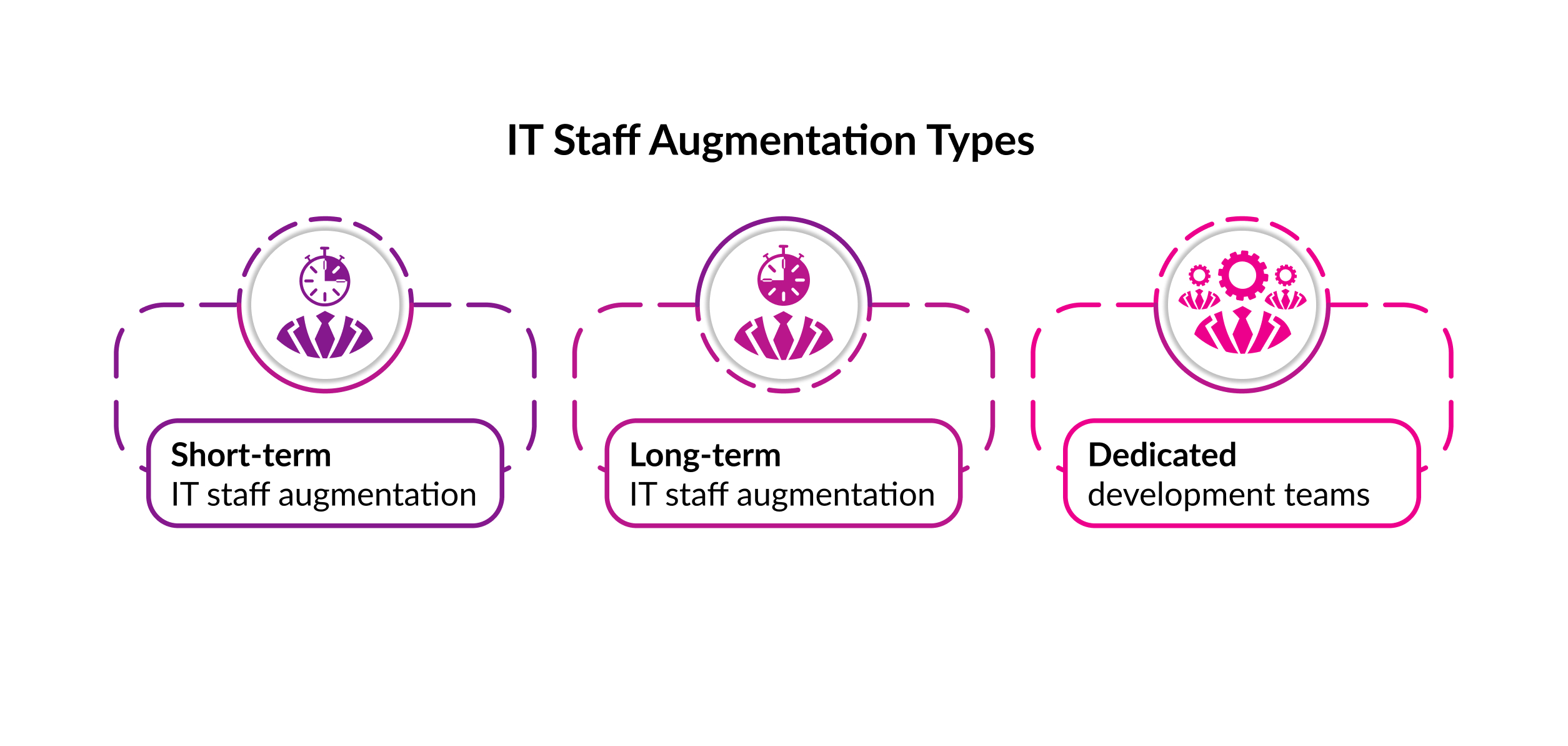 Short-term IT staff augmentation
It includes the employment of additional IT specialists for a short while. Quintagroup experts might strengthen your current team and bring a fresh perspective to your project. Short-term augmentation helps fill in skill deficiencies and usually lasts four to six months. This type of cooperation is beneficial when you need a talent for a specific task. We handle challenging tasks and boost overall productivity.
Long-term IT staff augmentation
Use long-term staff augmentation services for more extended projects when the necessity for personnel enhancement still needs to be satisfied. Quintagroup can provide experts on any stage of the development lifecycle. It can therefore be a project that lasts six months, nine months, twelve months, or longer.
Dedicated development teams
According to this concept, companies can outsource a team of developers, project managers, and other tech experts to focus solely on their projects for longer. With the Quintagroup IT staff augmentation service, internal and external teams can work together and easily handle tasks.
Benefits of IT Staff Augmentation Company Services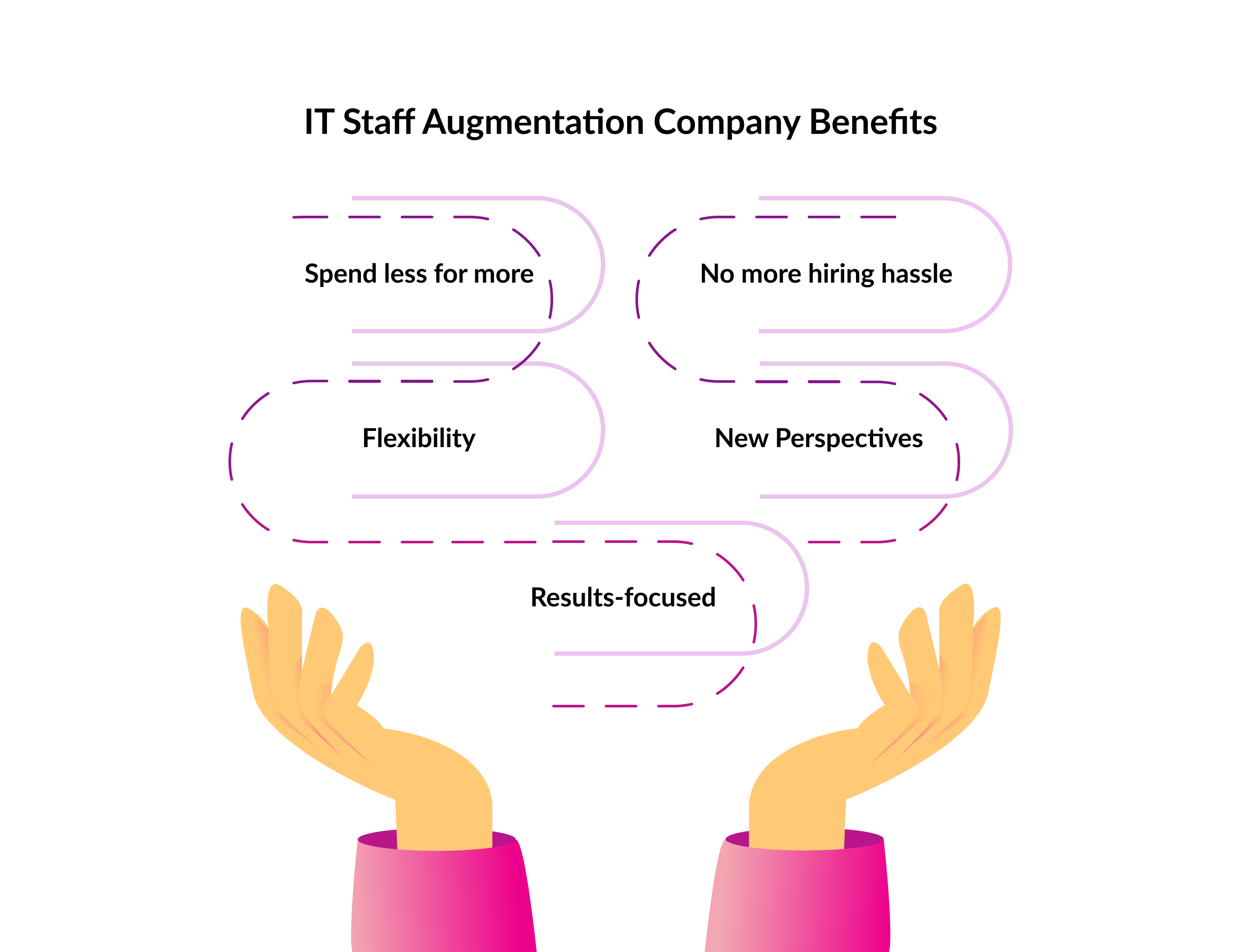 Spend less for more
Quintagroup gives you reasonably priced access to proficient developers in various fields. Short-term augmented employment allows you to significantly reduce hiring, training, and managing human resources costs. Furthermore, these experts don't require training because they are sufficiently knowledgeable in the area you need them for.
Hiring is not tiring
Our IT augmentation services spare your business the trouble of looking for and hiring qualified development expertise. Quintagroup is willing to take over the hiring and screening processes for a professional with specific knowledge. Moreover, we already have talented, thoroughly chosen people in our inventory.
Flexibility is your best friend
Staff augmentation services +positively impact your company's scalability. You can always manage to accept a request from a client, regardless of the project size. Adjust the size of your staff to meet the needs of IT staff augmentation services. With the knowledge acquired from the temporary personnel, broaden your services and offer excellent solutions.
New People – New Perspectives
Full-time staff may result in repeated work patterns. Given that you can only learn so much from the same group of people, it is challenging to develop new suggestions and solutions.
You may get hold of different programming expertise and viewpoints through staff augmentation. Diversity in backgrounds, ethnicities, and age groups can provide you with valuable opinions. Getting insightful feedback from many angles can boost inventiveness and originality for your initiatives.
A Focus on Results
Comparing staff augmentation to the other IT cooperation methods is the optimal result-centric solution. It could prove helpful if you need extra talent for a particular project, whether because of a skill gap or to fulfill a short deadline.
Also, it lowers risks because you are only partially reliant on the stale experience of your present personnel, but rather delegate responsibilities to an augmented team.
Quintagroup Staff Augmentation Services
A trustworthy provider is one of the key needs for effective staff augmentation. The success of our clients is what we at Quintagroup are centered on. And we hire only the best specialists. 
We can provide a Python/JS developer or an entire team, quality assurance testers, and DevOps experts for your project.
Our developers will fit in well with your team thanks to their excellent personal qualities. 
Check out how our staff augmentation process works. It's quite simple: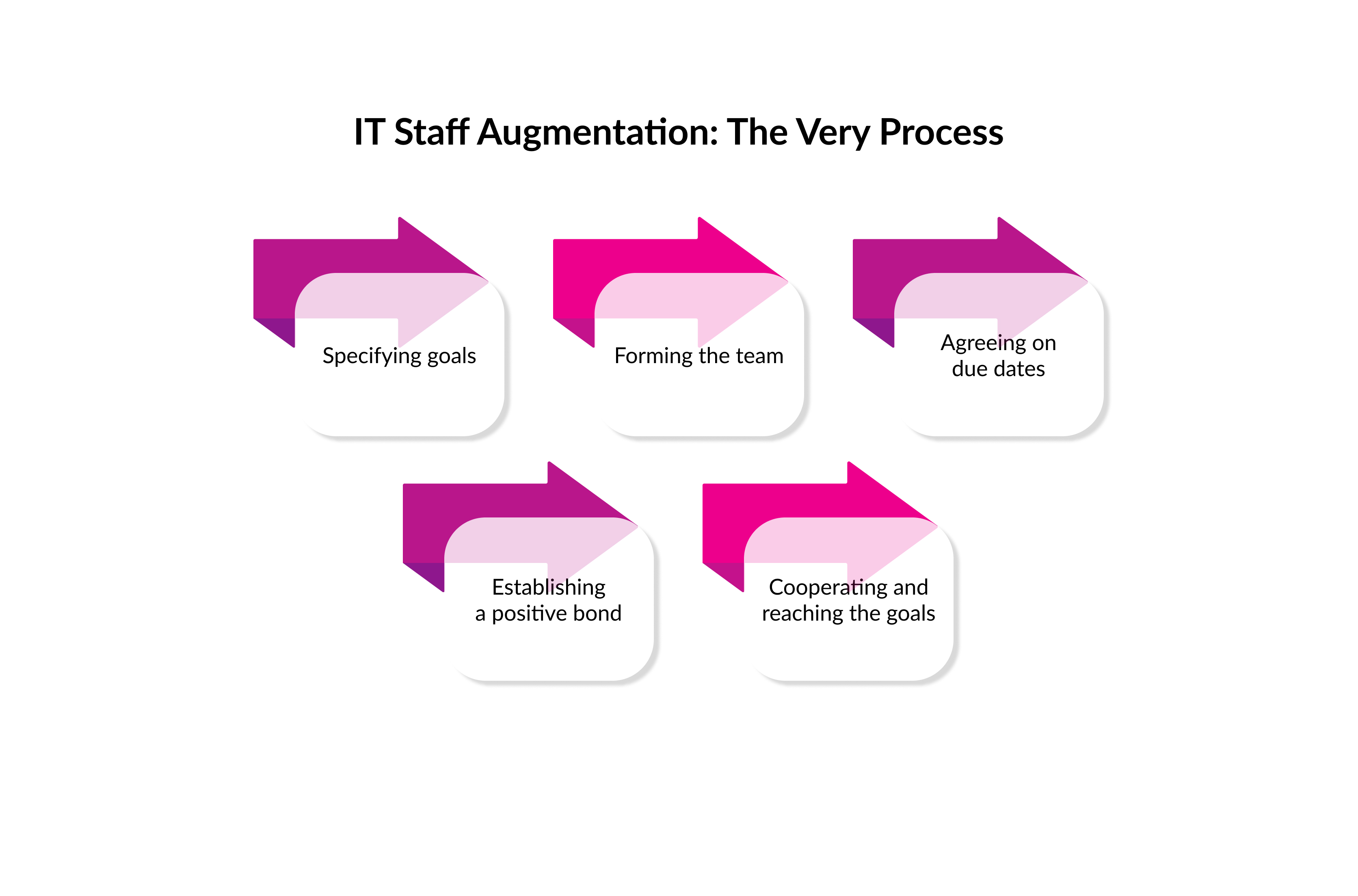 Specify your goals before hiring extra personnel, so we may understand which expertise you require.
We form our team and proceed, ensuring everyone agrees with the project's objectives and due dates.
Based on established criteria, our staff selects outstanding best-skilled candidates. It is up to you to interview them or not.
Among the finest applicants, you choose the one you believe would work best for your team. 
You are given a client manager who will assist you in establishing a positive bond with your augmented staff and who you can contact if you have any questions. 
Staff augmentation is an excellent way for your company to streamline operations, save time and money, and find skilled specialists. Contact us to discover the details.
Wrapping Up
Reap the benefits of IT staff augmentation and create adaptable, resourceful, and marketable teams that encourage business growth. Successfully build efficient teams and seize new opportunities in today's fast-paced tech environment by strongly emphasizing respect and collaboration.
A good staff augmentation partner will value open and frequent communication, be reputable, and have a caring and growth-oriented corporate culture.
To help our clients reap the benefits of nearshore and offshore development teams and build their solutions, Quintagroup has gathered dedicated development teams for them. We carefully choose each new project team member and ensure our clients are satisfied with the candidates' soft and hard skills.
Contact us to discover the details.