Plone content management system provides an outstanding intranet/extranet solution. Being a well-proven CMS, Plone allows secure and easy access to the stored data. Having intuitive interface and powerful features, Plone can be customized and extended to meet various business needs.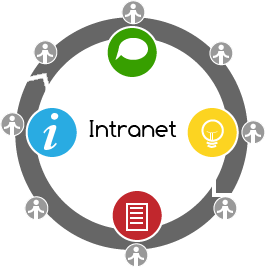 Intranet is one of the most widely used tools for modern companies. Many companies look for internal IT system to better manage their data, and at the same time reduce costs. Online place for storing important internal information can help company members do their daily tasks better and faster through effective communication and collaboration. But sharing knowledge within the organization or with customers can be a real challenge. Having no central place where employees and employers (and customers) could exchange information or collaborate can lead to the loss of valuable ideas and inefficient time use.
Every company has different goals and needs, so it requires a different intranet or extranet solution to manage their business effectively.
Your Plone Intranet or Extranet Portal
Need central corporate workspace to share files and manage projects within your company, with clients, customers, or partners? Looking for an effective way to organize information important to your company?
We suggest using Plone CMS as a base for your intranet or extranet solution. Plone can be the ideal answer to your company needs. Plone Intranet and Extranet capabilities give you everything required for today's sites:
Configurable user roles: users with different roles can add/publish information
Friendly and intuitive tool for creating content and presenting it effectively
Secure information sharing via limiting site access for individual users or user groups
Rich workflow enables controlled review process
Content versioning for auditing content lifecircle
Search in text of the uploaded files
Calendar
Content tagging for easy content structuring
Messages mass sending to individual users or user groups
Besides, Plone can also be integrated with a great variety of systems such as Active Directory, LDAP, Salesforce, SQL database, and many more.
We could not have found a more technically competent or reliable partner for Plone development and maintenance than Quintagroup.

K. K. Arora
President, Eogogics Inc (Washington D.C., USA)
How to Get Started
In case you are interested in Plone-based Intranet or Extranet solution, please contact us for more information.