Our DevOps teams use Azure DevOps services in setting up and controlling production environments. In addition, it helps manage, organize, and automate the delivery of applications and services, bringing direct benefit to any business.
Azure DevOps services help our experts optimize continuous delivery development, testing, and launching procedures, encouraging the application of DevOps techniques.
Our team specializes in creating and implementing software solutions on the Azure cloud platform, regardless of the framework utilized. This ensures a seamless and efficient workflow, enabling developers to streamline their processes and achieve optimal productivity.
This technology has introduced new methods to plan more intelligently with greater cooperation and achieve a faster delivery process supported by contemporary technology solutions.
Azure DevOps Services provided by Quintagroup: Benefits for Business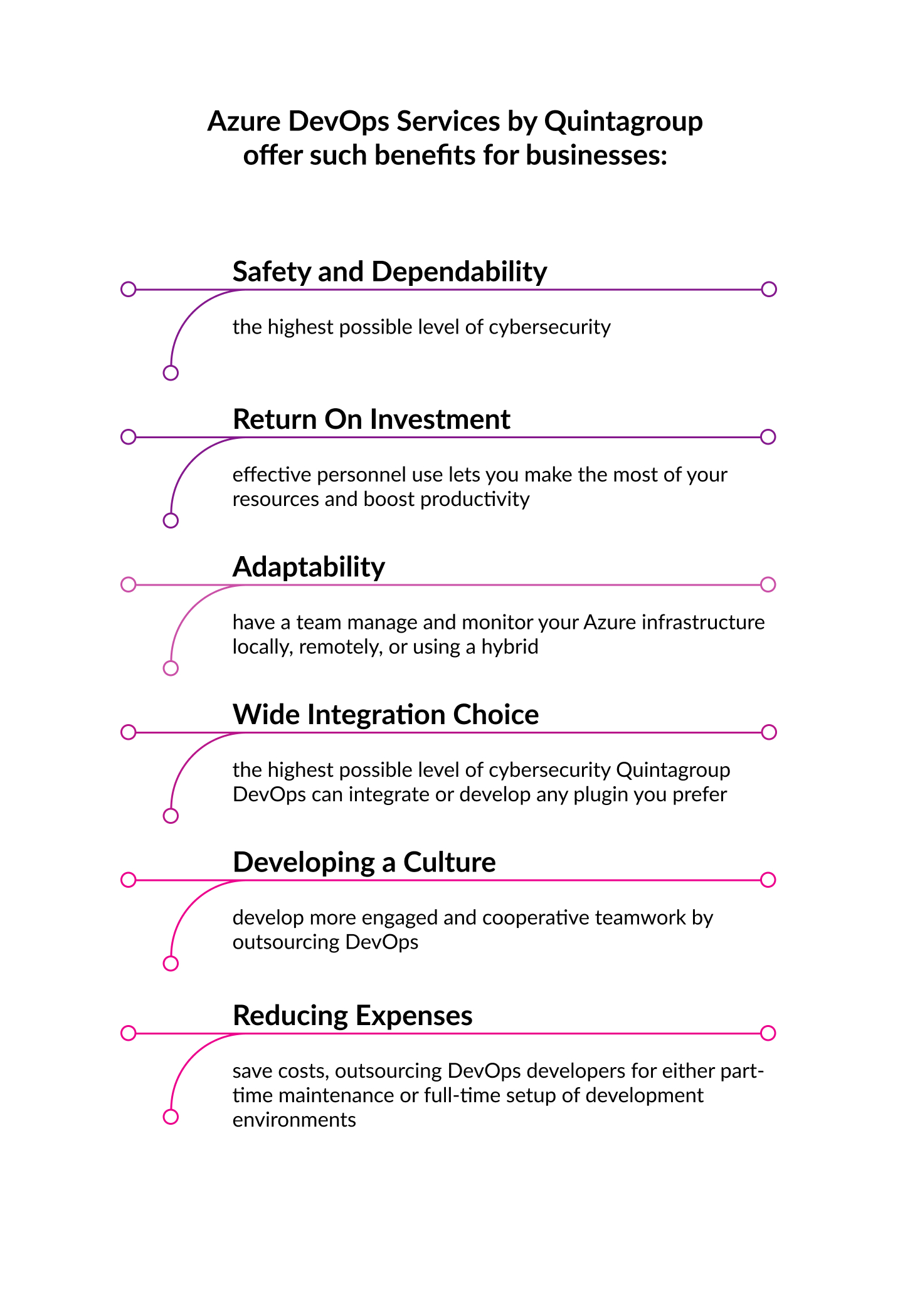 Safety and Dependability
Our teams can design solutions on a highly dependable and safe platform without sacrificing their ability to integrate open-source solutions. In addition, the IRAP credential of Microsoft's Azure data centers guarantees the highest possible level of cybersecurity. As a result, applications can be easily kept compliant, and Azure DevOps deployment can be handled across several servers. 
Return On Investment
You may spare your valuable time to concentrate on other aspects of your business, like your core strengths, by outsourcing a DevOps team to develop and run your application.
Also, a staff that has been outsourced can give you access to the newest equipment and software to boost productivity and finances.
This can result in more effective personnel use, enabling you to make the most of your resources and boost productivity.
Adaptability
You gain freedom in the way a Azure DevOps specialized team manages and maintains your cloud infrastructure when you outsource that team.
You can have a team manage and monitor your Azure infrastructure locally, remotely, or using a hybrid. Thanks to this agility, you may modify your Azure management and coverage according to your company's demands and the constantly shifting cloud landscape.
Wide Integration Choice
Even among its competitors, Microsoft has always been a groundbreaking leader in fostering collaboration. Azure DevOps is a champion of integrations. As a result, it provides flawless connectors and add-ons to commercial and open-source technologies.
A whole industry with numerous extensions and utilities is available to optimize and modify your processes completely. It is even better if Azure DevOps has not created the required connectivity solution. Our team can still use Azure DevOps without any significant hurdles, regardless of the platform, data provider, or apps you employ.
Therefore, using this tool, Quintagroup DevOps can integrate any plugin of your preference.
Developing a Culture
DevOps methodologies, which originated in Agile ideologies, promote more engaged and cooperative teamwork when implemented inside your organization using Quintagroup Azure DevOps. The comprehensive integration, adaptability, and customizability of Azure DevOps allow it to be tailored to any team's requirements and scope while enabling smooth collaboration. 
As a result, teams work more quickly, take on more responsibility, and produce better outcomes.
Reducing Expenses
Collaborating with a third-party supplier such as Quintagroup with their professional DevOps may prevent the expenses of employing an internal Azure DevOps team, such as rewards, perks, and other overhead costs.
If you're looking to save costs, consider outsourcing DevOps developers for either part-time maintenance or full-time setup of development environments. It's a great option to have!
Outsourcing helps you achieve scale savings since you can acquire a broader set of resources at a more affordable price.
 Quintagroup DevOps Services with Azure
These are a few of our most common DevOps Services with Azure: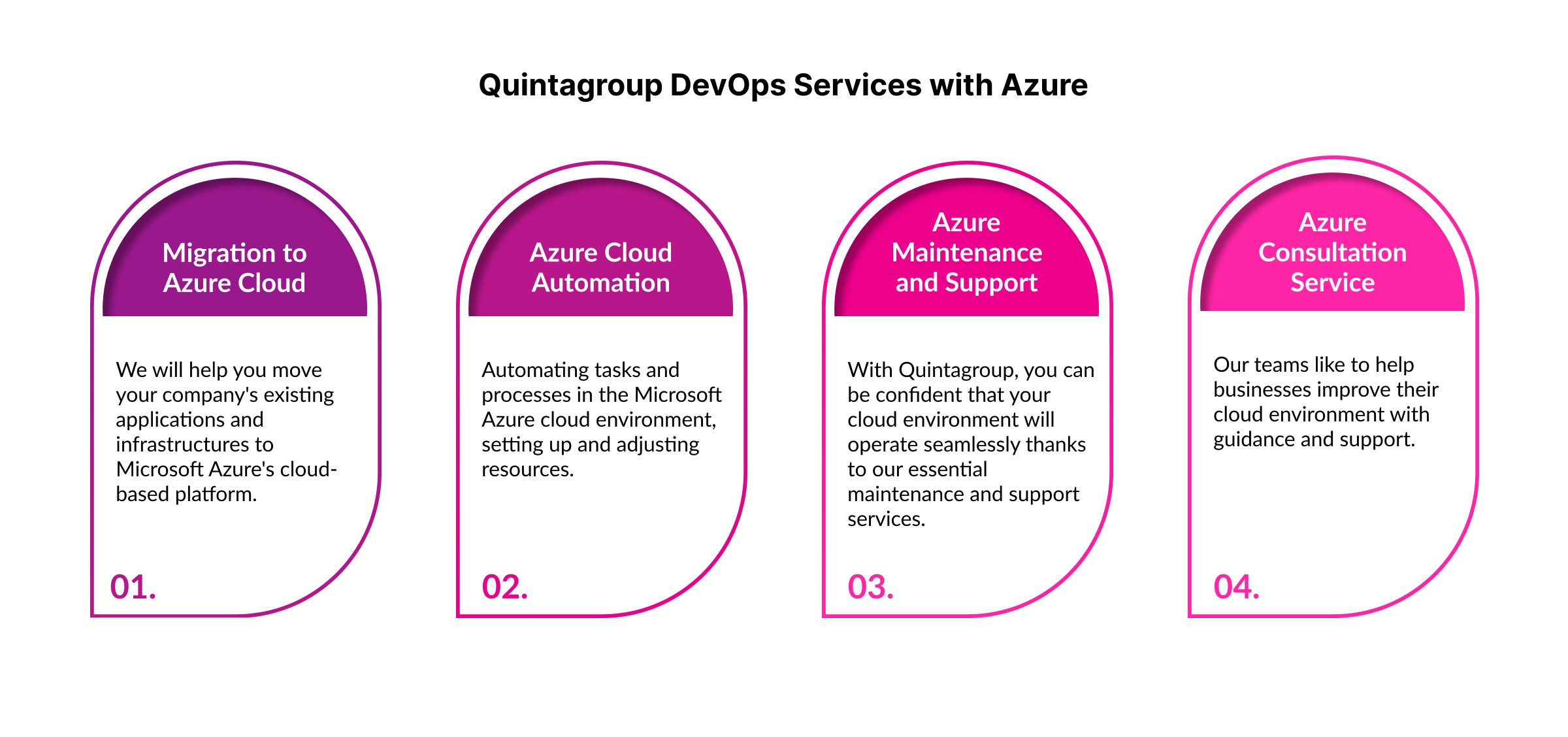 Migration to Azure Cloud: We will help you move your company's existing applications and infrastructures to Microsoft Azure's cloud-based platform. 
Azure Cloud Automation: Automating tasks and processes in the Microsoft Azure cloud environment, setting up and adjusting resources.
Azure Maintenance and Support: With Quintagroup, you can be confident that your cloud environment will operate seamlessly thanks to our essential maintenance and support services.
Azure Consultation Service: Our teams like to help businesses improve their cloud environment with guidance and support.
Azure App Containerization: Consolidating an application and its corresponding components into a single container to facilitate effortless deployment on the Azure cloud.
Hybrid Cloud Infrastructure Configuration: With this setup, organizations can efficiently and effortlessly integrate public and private cloud computing resources into a unified cloud environment.
Azure-based App Development: Building applications on the reliable and robust Microsoft Azure cloud platform.
Azure IoT Solutions: Microsoft Azure offers a range of products and services that allow us to easily connect, monitor, and manage devices that generate data through the Internet. 
Azure's Main Features are as follows: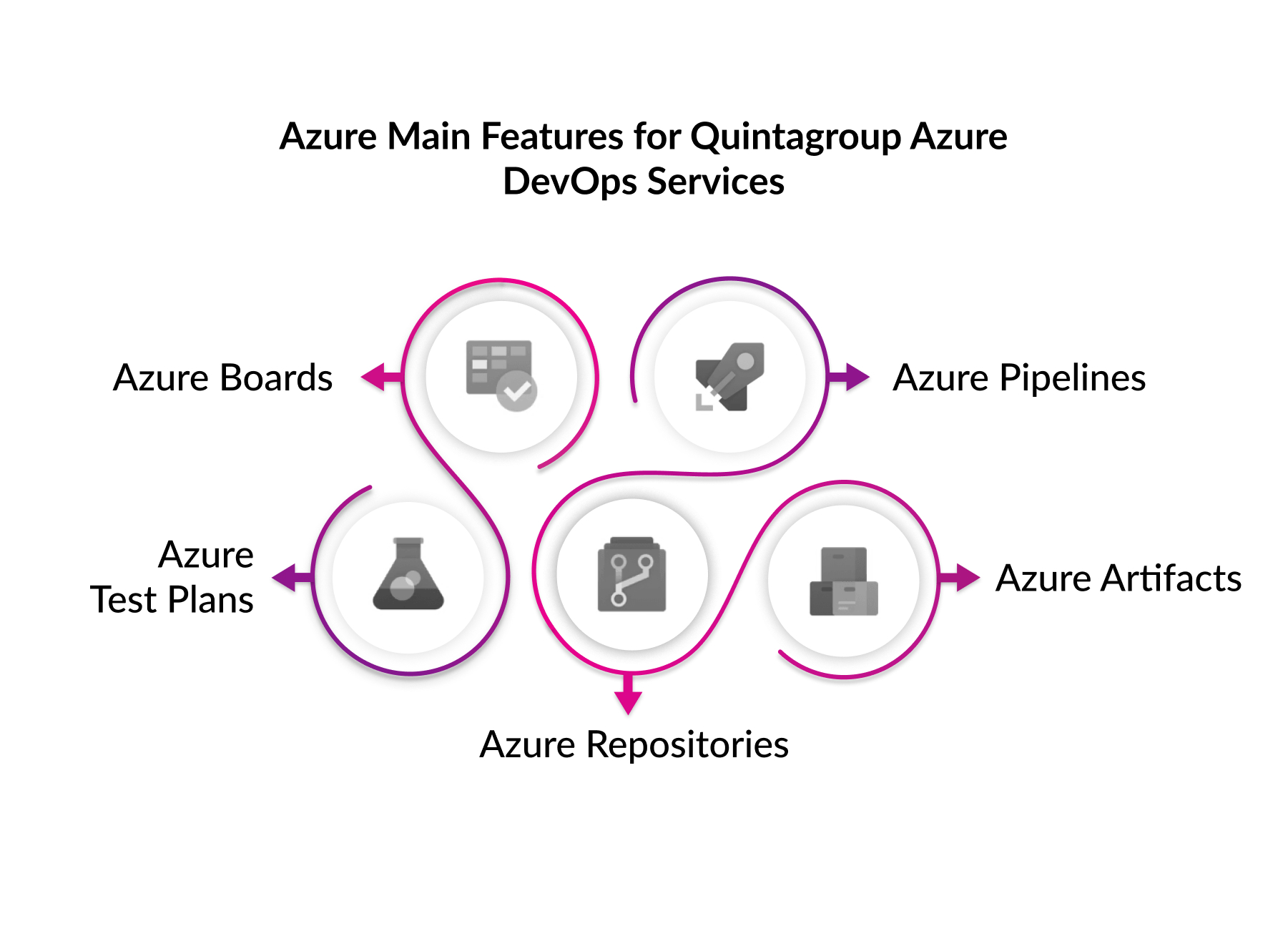 Azure DevOps offers DevOps techniques and tools for the entire software development process. In addition, Azure DevOps can integrate with most other market-leading DevOps solutions. As a result, it extends beyond internal technology. That is the reason the Quintagroup DevOps team uses this tool.
Azure Boards
We utilize the tried-and-true agile tools to efficiently plan, monitor, and discuss work between teams while providing excellent value to your clients. With it, we can create and manage sprints, backlogs, team dashboards, custom reports, and other tasks using proven advanced features.
Azure Pipelines
Let us create, test, and launch CI/CD processes that work with any tool. By automating builds and deploys, pipelines may free up time and encourage creativity.
Azure Test Plans
Quintagroup professionals might apply manual and exploratory testing techniques to test and go forward. Planned and experimental activities may raise apps' code quality.
Azure Artifacts
With only one click, fully integrated package management can be added to CI/CD processes. Our team can create, host, and share packages from public and private sources with great freedom.
Azure Repositories
Quintagroup team members collaborate to write better code by using merge requests and advanced data management systems.
Take advantage of having access to the most excellent repository on earth. Azure Repos offers free private Git repositories hosted in the cloud. 
Wrapping Up
Outsource your project to the Quintagroup DevOps team, and we will deliver it swiftly and with the highest quality by implementing Azure DevOps. Yet, making the switch to contemporary DevOps might be challenging. You will encounter an unfamiliar, complicated world.
Stay calm. Quintagroup will assist you in effectively leading the DevOps process.
We know the many components of Azure DevOps and which choice is ideal for your company. 
Contact us immediately for advice, instruction, implementation, and support for your Azure DevOps needs.