The Quintagroup teams gained deep knowledge of Astro since its early launch. It is a newcomer – web development tool specifically designed for creating websites with a lot of content. There are a variety of website categories, such as marketing sites, publishing sites, documentation sites, blogs, portfolios, and specific e-commerce sites we can create with Astro.

Our well-qualified developers can provide the best Astro Theme Development and Integration Service you have ever hoped for. 
Astro is a helpful tool for developers building and managing CMS applications. It includes commands and guidelines to help our developers quickly create, maintain, and deploy their apps. In addition, it is highly customizable to meet individual needs, whether your project needs a particular framework or tool, there is a high change and Astro supports it.
With Quintagroup, developing a high-speed top-notch web product or moving your existing project to Astro will be an enjoyable experience. We provide the best-quality fast-time-to-market services, taking into consideration your requirements. Moreover, you are sure to receive post-service support.
Why Quintagroup Offers Astro Theme Development and Integration Service?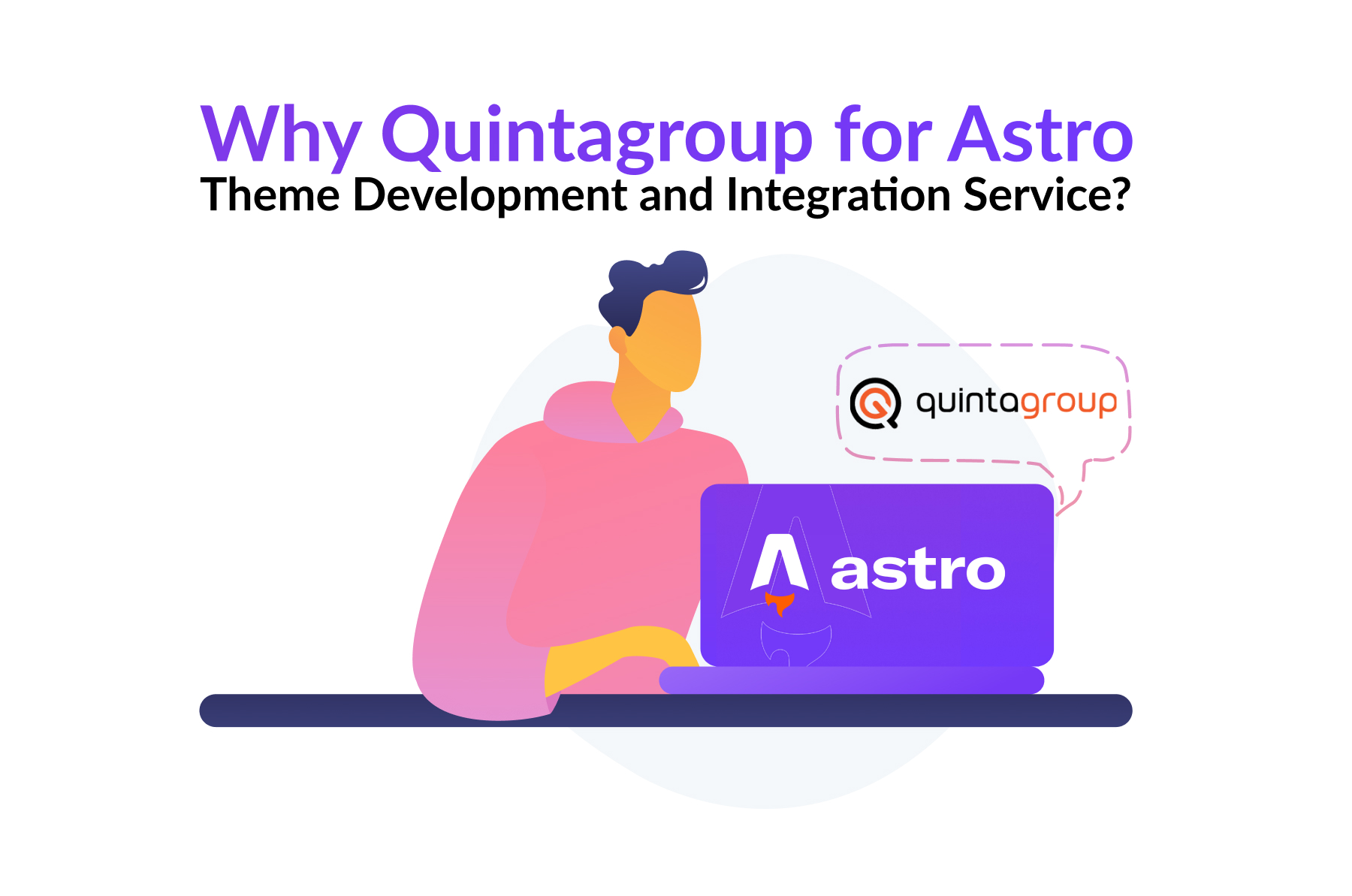 We choose to provide exceptional Astro theme development and integration services for several reasons: 
We Have High Expertise in JS Tools and Frameworks
Astro's default setting is to create websites that don't use client-side JavaScript. To make websites faster, we can use React or Vue for the frontend interface. This tool will pre-render it to HTML and remove unnecessary JavaScript, making all websites load faster.
Astro is the perfect framework for you if you want to have websites that are both speedy and content-rich. It's modern, based on JS, and designed to deliver top-notch performance.
Quintagroup developers possess vast expertise in delivering Javascript development solutions and excel in crafting Astro themes and integrating this tool. Our team consists of proficient and seasoned engineers who have honed their skills in JS tools and frameworks over the years. 
Flexibility: Any Service to Any Business
With Astro's flexibility, we get all we need to build a website:
Component syntax
File-based routing
Asset handling
Build process
Bundling
Optimizations
Data-fetching
Astro's core feature set allows us to create unique websites without additional tools.
At Quintagroup, we provide a comprehensive range of Astro Theme development and integration services. Our services include custom theme development, integration, bespoke design, maintenance, and support. In addition, our company offers comprehensive business solutions tailored to organizations of all sizes, from small to large enterprises.
Developing Unique Content-rich Solutions
Astro's content-focused approach prioritizes exceptional performance features, which is impractical for web frameworks with an application-focused approach.
Astro's platform is a valuable tool for our developers to build visually appealing websites optimized for search engines. In addition, this tool helps us to create unique and captivating websites that distinguish themselves from others.
Integrating Astro Add-ons
If you're looking to create complex websites, Astro has a range of helpful features that can come in handy. It easily integrates with CMSs, making connecting with other CMS modules and services simple, guaranteeing a smooth and efficient experience.
If you require a more customized solution, Astro offers a range of integrations, including React, Vue, Tailwind CSS, and more. As a result, we can easily link your project to a customized CMS and put it on the right host by giving one command.
Various Front-end Tools 
Astro is a framework that integrates with Angular, React, and Vue to offer a complete solution for creating interactive web applications. It is a powerful tool for developers. It has built-in and custom components and a library of UI components. With Astro, developers can quickly create high-performance web applications.
Astro lets you choose your favorite UI Framework and use it however you want without being limited by a specific UI. You can Bring Your Own UI Framework (BYOF). It is possible to use multiple frameworks on one page, simplifying future migrations and preventing being tied down to a single framework for a project.
MPA for Complex Projects
Astro is the best framework for Multipage Applications due to its server-side rendering, guaranteeing top-notch performance and functionality. We must skillfully develop multiple pages using CSS and JavaScript (or TypeScript) to make a website for MPA. SPA utilizes client-side rendering, whereas MPA employs an alternative method: server-side rendering directly in a browser.
Friendly Support and Maintenance
Quintagroup experts provide complete support and maintenance services for projects based on Astro. Our team of experts is available round the clock to assist you with any queries and ensure that your Astro Theme runs seamlessly, enabling you to maximize its potential.
Are you looking for a way to develop an information-packed but, at the same time, light web product? Then, let us help you with our Astro theme development and integration service. 
How Is Astro Different from Other Frameworks?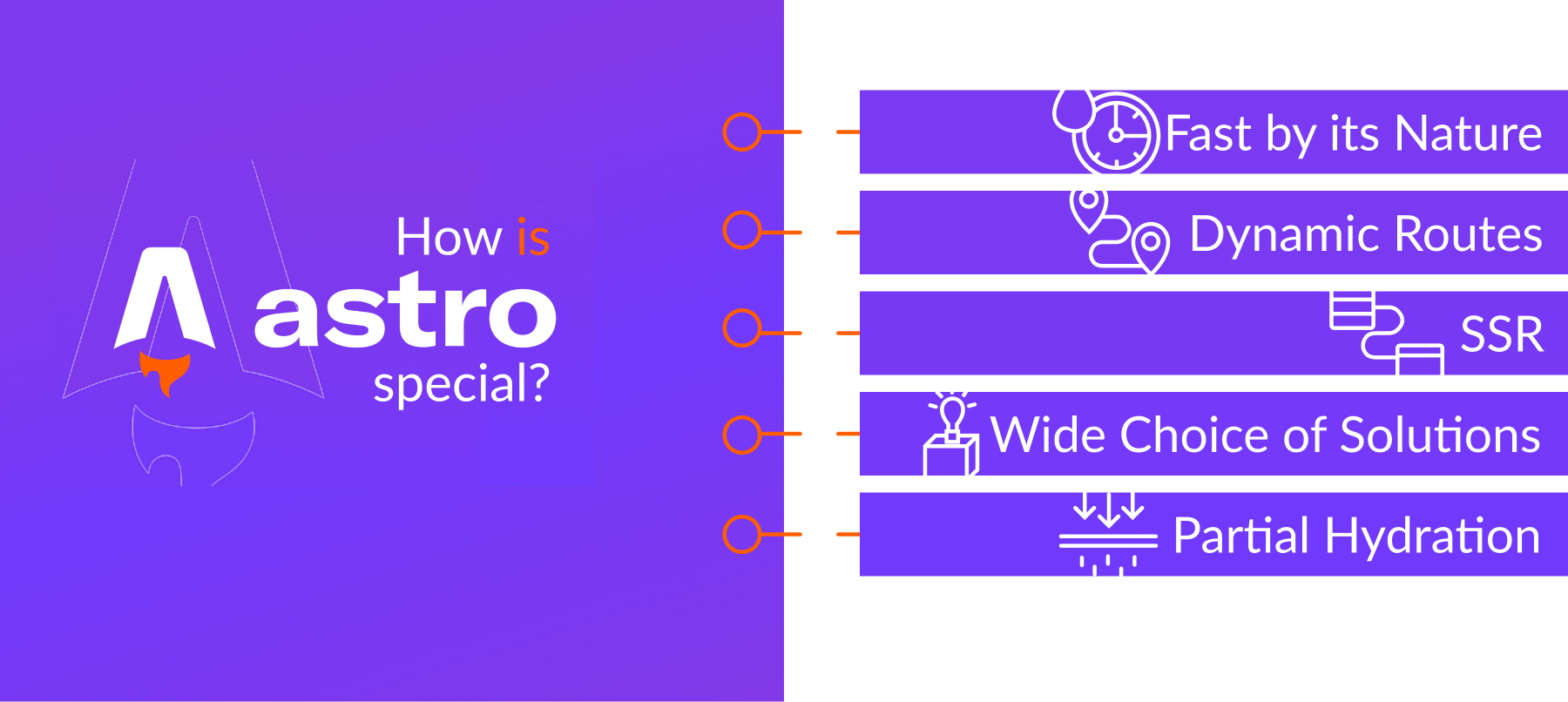 Fast by its Nature
It is essential to have excellent website performance, especially for websites that prioritize content. However, according to general observation, poor performance can lead to lower engagement, fewer sales, and financial loss.
Designing a visually pleasing website while working with different web frameworks is standard practice. However, once deployed, the loading time may take longer than expected. JavaScript is typically the cause of this issue, as users with older or less powerful devices may not match the speed of a developer's computer.
Websites built on Astro load 40% faster and use 90% less JavaScript than React ones.
Partial Hydration
Astro's partial hydration feature empowers developers to select the specific parts of their application to hydrate, thereby reducing server resource usage and cost. In addition, this feature facilitates the development of highly customized applications that cater to specific requirements. 
Dynamic Routes
This tool helps developers make dynamic routes based on user input. These routes match requests with actions using a template language, making them great for big apps. They also make it easy to create custom URLs.
SSR
Astro's SSR technology helps developers build web apps that perform and feel like native apps. It uses Node.js, React, Redux, and GraphQL to render HTML pages on the server and send them to the client. This reduces development time and cost.
This approach differentiates itself from popular JavaScript web frameworks like Next.js and Nuxt. These frameworks provide server-side rendering mainly to solve performance issues, but they still require client-side rendering of a website.
Wide Choice of Solutions 
Astro.js is a powerful tool for building web apps with interactive interfaces and managing complex data workflows. Written in JavaScript, it's efficient and scalable, compatible with Node.js, Edge, and cloud-hosted solutions like Cloudflare and Netlify.
Wrapping Up
Quintagroup developers can create high-performance web applications quickly using Astro, a powerful tool. Its built-in and custom components and a library of UI components make it the ideal framework for Multipage Applications.
We offer various services, such as creating custom themes, integrating themes, designing, maintenance, and support. This service suits businesses of all sizes due to our extensive knowledge of Astro, ensuring optimal performance and speed. You can trust us to take great care of your project. 
Contact us to discover more.