Without question, the most popular AWS service that enables customers to start and manage server instances whenever they need to is Amazon EC2. Therefore, many businesses are in deep need of Amazon EC2 Consulting Service.
All the services a computer device may provide you with, and the adaptability of a virtual environment are together referred to as computing. AWS's cloud platform offers EC2, a when-requested computing service.
It enables the user to set up their instances in accordance with their needs and distribute the necessary amounts of RAM and storage for the task in question.
If the virtual device has served its purpose and is no longer needed, even the general user can delete it. AWS issues a monthly bill with a calculated per-use amount to supply these flexible resources.
You can rent virtual computers with EC2. One of the simplest methods in EC2 is the setup of servers on the AWS Cloud. The capacity of EC2 can be adjusted. EC2 provides security, dependability, high performance, and reasonably priced infrastructure to satisfy demanding business objectives.
Quintagroup can help satisfy such a need by providing a detailed Amazon EC2 Consulting Service. Contact us to discover the details.
Why Quintagroup for EC2 Consulting Service?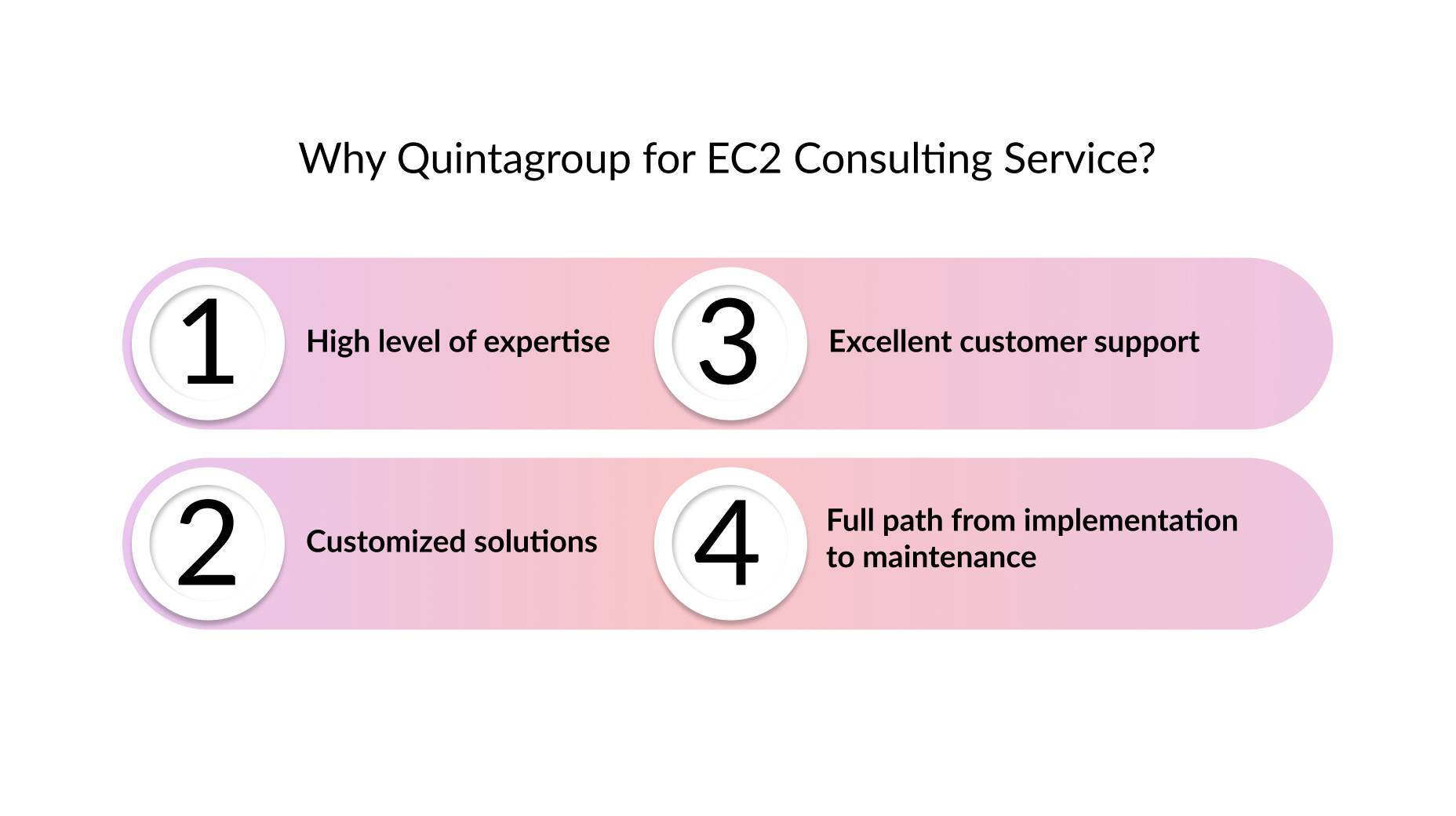 Choose us due to the following reasons:
Quintagroup is an exceptional Amazon EC2 Consulting Service provider, offering the highest level of service and knowledge. 
Our highly skilled teams of specialists deliver comprehensive and customized solutions to match your company's specific demands.
We are dedicated to offering the most excellent customer support and delivering dependable and reasonably priced solutions to assist you in leveraging the potential of Amazon EC2.
Our services include advice, implementation, monitoring, optimization, and maintenance, ensuring seamless and efficient operation of your cloud-based applications.
We are committed to helping you get the most out of your Amazon EC2 purchase and are always ready to answer any inquiries.
Why Are Amazon EC2 Consultants a Good Fit for Your Company?
With EC2 Consultancy, you won't have to worry about procuring servers or incurring additional fees for your apps and development. Quintagroup's mission is to help businesses and developers use these technologies in Amazon EC2. So, how is EC2 altering a company's' computing capacity? Besides lowering processing expenses, Amazon Web Services has increased developers' computing capability by providing reliable infrastructure.
Also, you will only be charged for the capacity used for application development. As a result, companies and businesses no longer have to be concerned about time delays and additional expenses associated with the construction of servers. When it comes to fault-free infrastructure and application development, this has always been a hurdle. Our EC2 Experts and Amazon EC2 Consultants will ensure that your critical resources and time are well-spent on server provisioning.
Regarding AWS and its many tools, Quintagroup has provided adaptable and scalable services to ensure our clients can fully utilize these resources, such as EC2. You will increase the productivity and security of your application creation and administration process by working with expert Amazon EC2 Consultants. 
Quintagroup, as an AWS EC2 Consulting business, has extensive expertise in the practical and easy conversion to cloud computing in Amazon Cloud and EC2.
How Does Amazon EC2 Works?
Amazon EC2 allows you to build a virtual computing environment using web service interfaces. Depending on how many computers you need to execute your image on, you may start instances with various operating systems, alter the environment in which your applications operate, manage network access rights, and modify all these things.
To utilize Amazon EC2, you need to:
Pick an already-prepared picture template to begin using instantaneously. Or else, create an Amazon Machine Image (AMI) that contains your applications, libraries, data, and associated configurations.
Pay for the resources you use, like per hour or data transfer. 
Set up network access and security to your Amazon EC2 instance. 
Decide if you want to run your instances in different locations, utilize static IP addresses, or connect permanent block storage. 
Choose the OS and instance type with the available control panel or web services APIs.
Start, pause, and control as many instances of your AMI as you need.
Types of EC2 Instances
On-Demand Instances
With On-Demand Instances, you may purchase computing power hourly without making a long-term obligation. By doing this, you are liberated from the high fixed costs and complicated planning, buying, and maintaining hardware requirements. Instead, you are left with significantly lower expenses. Moreover, using on-demand instances negates purchasing additional capacity to deal with sporadic traffic peaks.
Spot Instances
Spot Instances let users place bids on available Amazon EC2 capacity and launch the instances if their offer exceeds the present Spot Pricing. Customers whose bids reach or surpass the current Spot Price get access to the Spot Instances that are up for purchase. The Spot Pricing fluctuates frequently based on availability and request. Spot Instances may drastically reduce your Amazon EC2 expenses if you have freedom in the times that your applications can operate.
Reserved Instances
For each instance you want to reserve, there is a modest one-time price that you must pay, but you will receive a significant discount on the hourly use fee in return. You are only obligated to use the instance after you have paid the one-time fee; there is no ongoing obligation. If the instance isn't being used, you can continue to run it for the remainder of your term at the discounted use rate or choose not to pay any usage costs.
Amazon EC2 Features and Advantages
Features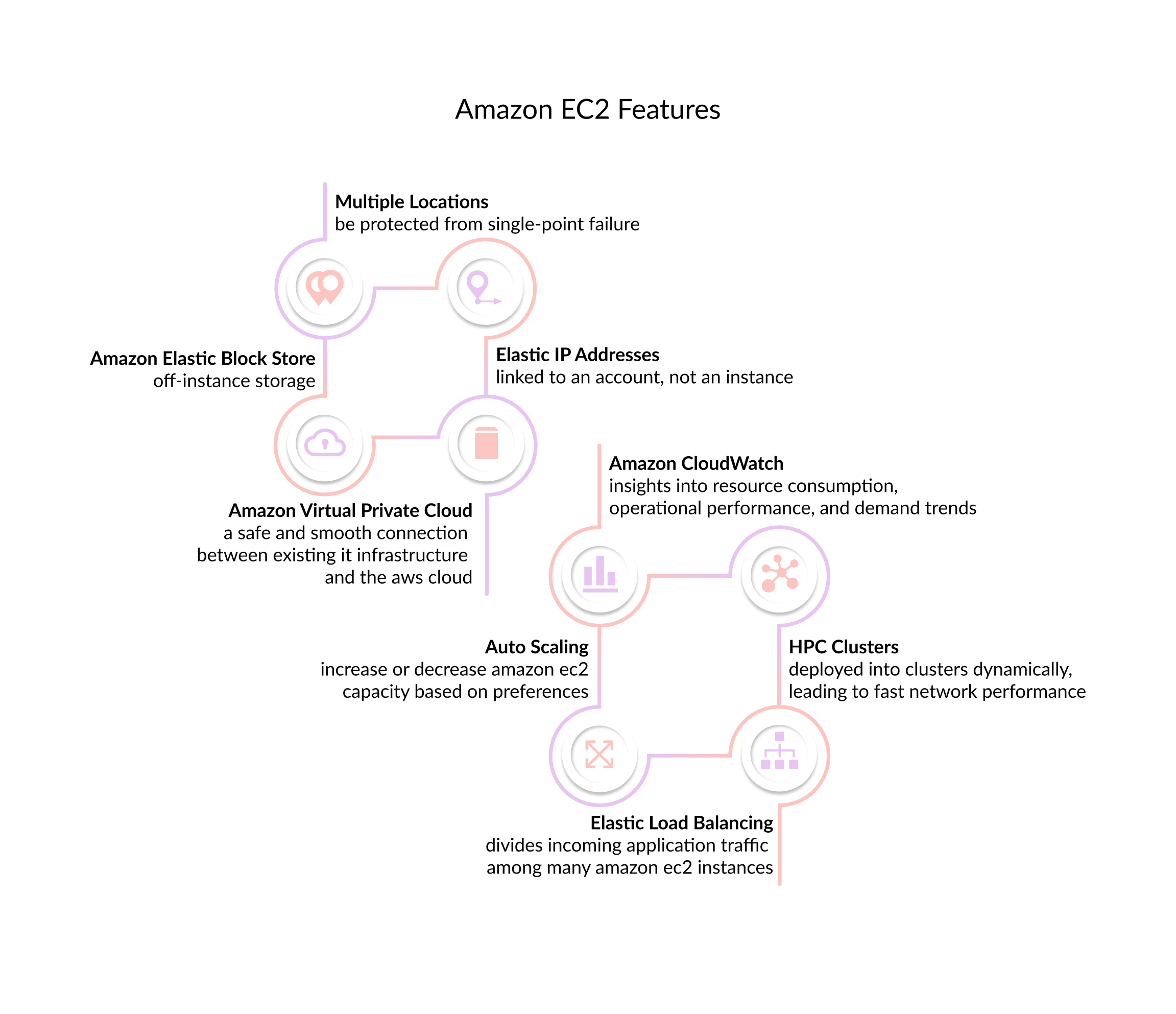 Multiple locations: Applications can be protected from single-point failure by using Amazon EC2's ability to deploy instances across many locations.
Elastic IP Addresses: Elastic IP addresses are static IP addresses linked to an account, not an instance, and may be used to reconfigure public IP addresses to any instance within the account to conceal instance or availability zone errors.
Amazon Elastic Block Store: For Amazon EC2 instances, Amazon EBS delivers persistent storage by offering off-instance storage that endures indefinitely. It is highly dependable and available and may be utilized as a block device or boot segment.
Amazon Virtual Private Cloud: With the help of Amazon VPC, businesses can link their current IT infrastructure to isolated AWS computing resources and expand their current management capabilities. Amazon VPC provides a safe and smooth connection between existing IT infrastructure and the AWS cloud.
Amazon CloudWatch: Beginning with Amazon EC2, Amazon CloudWatch offers insight into resource consumption, operational performance, and demand trends for AWS cloud resources.
Auto Scaling: You may use Auto Scaling to automatically increase or decrease Amazon EC2 capacity based on predefined criteria. Applications with variable consumption on an hourly, daily, or weekly basis will benefit the most from it. It is made possible by Amazon CloudWatch and is offered without cost.
HPC Clusters: Clients with complicated computational workloads or those who are price-sensitive about network performance can gain from Amazon EC2's cost, elasticity, and flexibility advantages. Cluster Compute Instances have high-performance network capabilities and may be deployed into clusters dynamically, leading to fast network performance and enhanced network speed for activities requiring a large amount of traffic.
Elastic Load Balancing: Elastic load balancing makes more fault tolerance possible, which divides incoming application traffic among many Amazon EC2 instances. Traffic is automatically sent to healthy cases when it finds unhealthy ones until they are fixed. In addition, operational data like request count and latency may be recorded using Amazon CloudWatch at no extra cost.
Advantages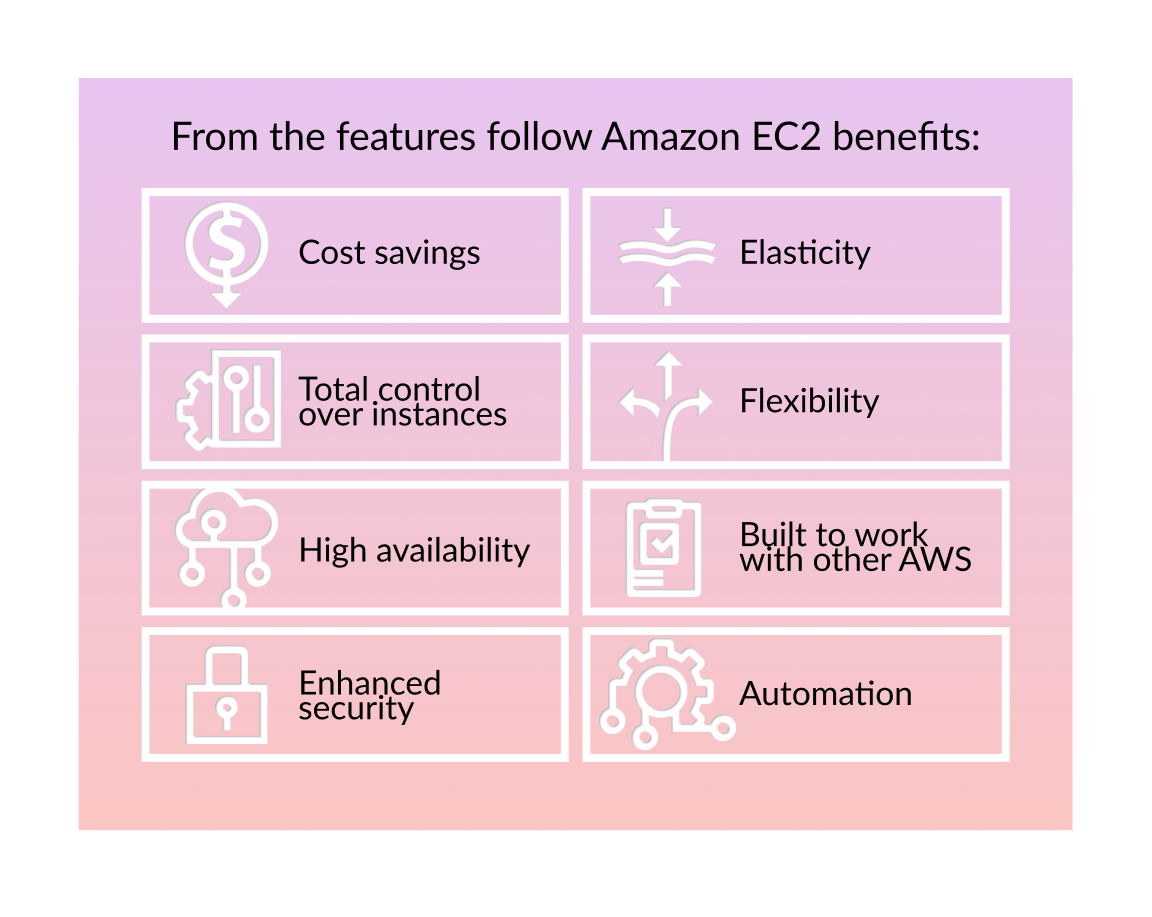 Cost Savings: Amazon EC2 offers cost reductions through spot and reserved instances, allowing users to bargain on excess computer resources to save expenses.
Total control: Your instances are entirely under your control. Each one is accessible as root, and you may use it just like any other system. Using web service APIs, you may halt your instance while preserving the information on your boot disk and then resume it. In addition, web service APIs can be used to reboot cases remotely. 
High availability and reliability: With numerous Availability Zones and a fault-tolerant design, Amazon EC2 guarantees high availability and dependability.
Security: Amazon EC2 delivers secure computing environments via Amazon Virtual Private Cloud (VPC), allowing customers to construct private networks for their applications.
Elasticity: EC2 also enables us to scale up or down dependent on our needs. EC2 can manage any dynamic situation with the help of these capabilities. Because of the adaptability of volumes and snapshots, it is also entirely trustworthy for its customers.
Flexibility: Amazon EC2 allows users to select the OS and software required to execute their applications.
Built to work with other AWS: With the help of Amazon EC2, Amazon S3, Amazon SimpleDB, and Amazon SQS, a comprehensive solution for processing, query management, and data storage across various applications is made possible.
Automation: Amazon EC2 customers may utilize Amazon Machine Images (AMIs) and Amazon CloudFormation templates to automate their computing activities.
Wrapping Up
Amazon Elastic Compute Cloud (EC2) allows you to run virtual machines within the AWS infrastructure. We can establish EC2 to give you scalable and secure computing resources in the cloud, making internet cloud computing more accessible. 
Amazon EC2 provides a wealth of capabilities and benefits for enterprises of all sizes, ranging from cost savings to security and reliability. 
Quintagroup is here to assist you in realizing the full potential of EC2 and making the most of your investment.
Get our expert Amazon EC2 Consultation Service to learn about all the features of this powerful cloud platform.