After the significant shift to working remotely, the corporate world has changed dramatically. Apparently, many in-house teams are being replaced by external workers in the field of software development.
More and more businesses of all sizes, when faced with a major project, opt to outsource their software development rather than hire corporate workers. There are various reasons for doing so, including cost-cutting. But is assembling a specialized development team the best approach?
We will explain the benefits of this partnership model, particularly with Python outsourcing. If you happen to have some questions or need a consultation, just contact us.
Why Would You Outsource Your Python project?
Yet, just because Python is straightforward doesn't mean that it requires no work or expertise. Many projects are also simply too big. You might require a large group of experts who not only know what they're doing but also how to work cohesively. You may occasionally require outside assistance to do any or all of those tasks.
There is no doubt that Python gives you a ton of flexibility, yet occasionally your goals may exceed your abilities. Outsourcing is the best option if your team is new, or the projects require more employees.
The Benefits of Outsourcing Python Development
Python outsourcing can help your business control costs, improve productivity, and create a safer project environment. Here are some ways it can benefit your organization: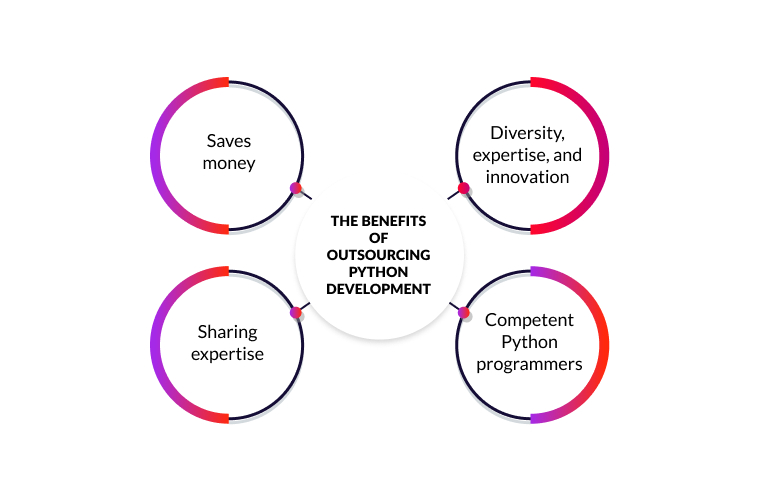 Python outsourcing saves you some money.
If you need to see a working prototype for software outsourcing, a group of professionals can use Python for quick prototyping. To do this, a free IDE and a free account on one of the alternative app engines, such as Google App Engine, are used. This might let you get your trial app up and running without paying any license or hosting fees.
Diversity, expertise, and innovation are all offered by python outsourcing.
The best part about outsourcing is that you get access to a wide range of skills and experiences because of extending your team with new people. This helps keep things fresh in an industry that has become increasingly monotonous over time, and offers a new perspective on the field.
Sharing expertise with Python outsourcing.
When you work with an outsourced development team, there's always someone available who has worked on similar projects before—and they're more than happy to share their knowledge with others! This means less time spent learning new things from scratch every single day.
Competent Python programmers with outsourcing.
Hiring Python developers with experience in the field is made easier by outsourcing. This facilitates the creation of extensible, interactive, and high-performance apps. Quintagroup is prepared to assist you in finding the most skilled Python developers who can significantly contribute to the expansion of your company.
Choosing the Top-notch Python Outsourced Team for Your Web App
It's time to delve into the specifics if you've already determined that you may need further support. It's not difficult to find Python coders, so you should really carefully consider your possibilities.
Mind that some outsourcing partners may be a bad fit for your project, or just contrast the culture of your business. Employing someone who may not be as qualified as they seem to be will only make your problems worse.
To put it simply, building the ideal team for your company is difficult. Therefore, while hiring Python dedicated development teams for you, Quintagroup experts review and advise the following aspects:
Do the Python Developers Have the Needed Expertise?
The main objective of engaging an outside team to manage your project is to receive assistance from someone who is knowledgeable in their field.
Check out their customer testimonials on reputable sources like Trust Pilot, Glassdoor, and Clutch.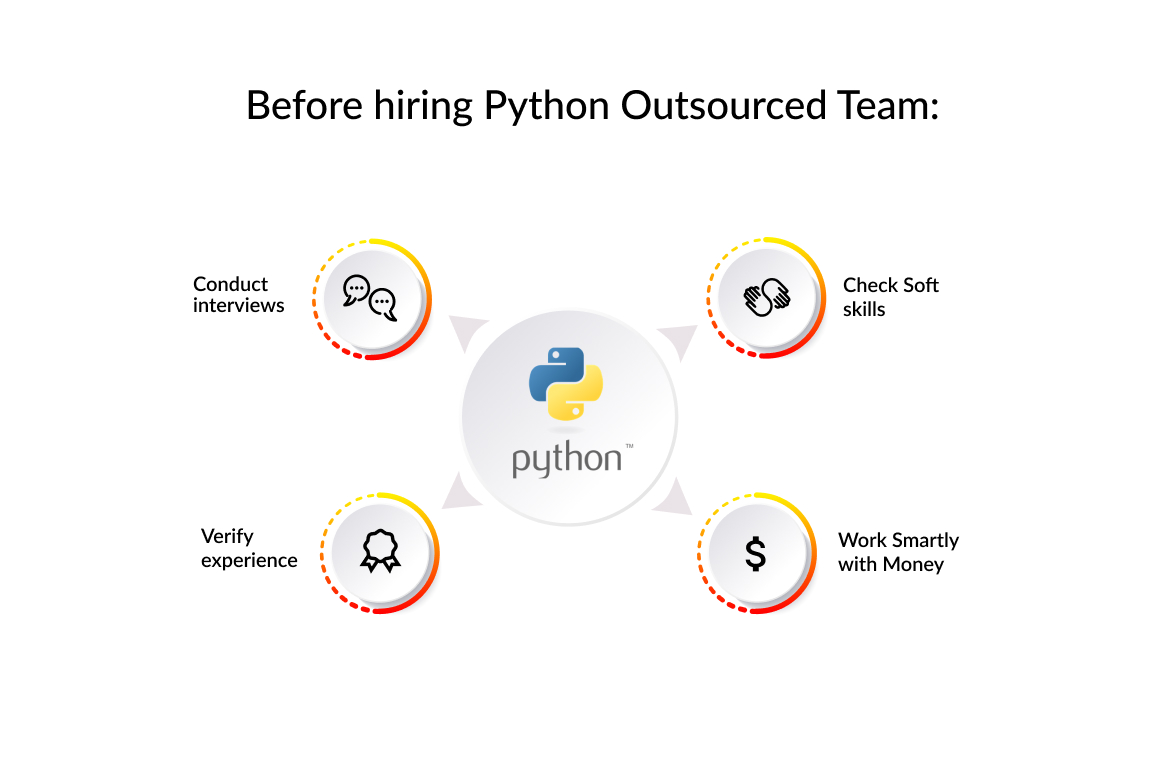 Thorough Interviewing
Python is a simple but vastly capable language. As a result, you must confirm that the outsourcing company's developers have the required qualifications. By speaking with the staff, you may learn more about that.
Developers must have a solid grasp of several Python frameworks, such as Django, Flask, etc. Additionally, they should be familiar with the syntax, and semantics of the code, fundamental python principles, testing, debugging, database integration, server templating languages, etc.
You must unquestionably test your outsourcing team's proficiency in these essential skills.
Communication and Cooperation
Technical proficiency is not the only requirement. Additionally, you must check the recently hired team's soft skills. This is something you can learn about from their communication abilities, how they approach you and your internal team, how quickly they complete tasks and offer high-quality results, etc.
If every one of these skills passes muster, the team is ready to join.

Work with money wisely.
The only factor that requires your focus is the price. It should go without saying that a company that succeeds in terms of quality, expertise, and punctuality would be reasonably priced.
If you are confident that you will receive good returns, paying more is not harmful. You must make a wise choice in this situation and manage your budget carefully. Quintagroup offers the best solutions for a good deal.
Wrapping Up
Although beginning a new software project is always thrilling, realizing you lack the necessary expertise to do it may be very discouraging. Even though Python is a straightforward technology, you frequently need more experts than in-house ones to effectively fulfil your idea.
If you're looking for dedicated Python web app developers, then you've come to the right place. We know that it can be hard to find the right team for your project, so we are always doing our best to meet our customers' requirements. Contact us to book a consultation.