The modern world faces global talent shortages, particularly in the IT industry. Estimates suggest that unless we reach a solution, businesses worldwide will lose up to $9 trillion by 2030. Most companies are relying on outsourcing to address the issue.
A nearshore development center is an answer to this problem. It refers to a physical organization established by a foreign country. The primary goal is to broaden a company's software engineering, information security, and other capabilities.
Dedicated development centers thrive in countries with large availability of qualified IT workers, a favorable business environment, and affordable living. However, these factors don't obscure the final products' steep price and exclusive quality. Such countries include:
Ukraine;
Hungary;
Poland;
Estonia;
Latvia;
Lithuania;
Romania;
Croatia;
Serbia;
Bulgaria;
The Czech Republic,
Moldova.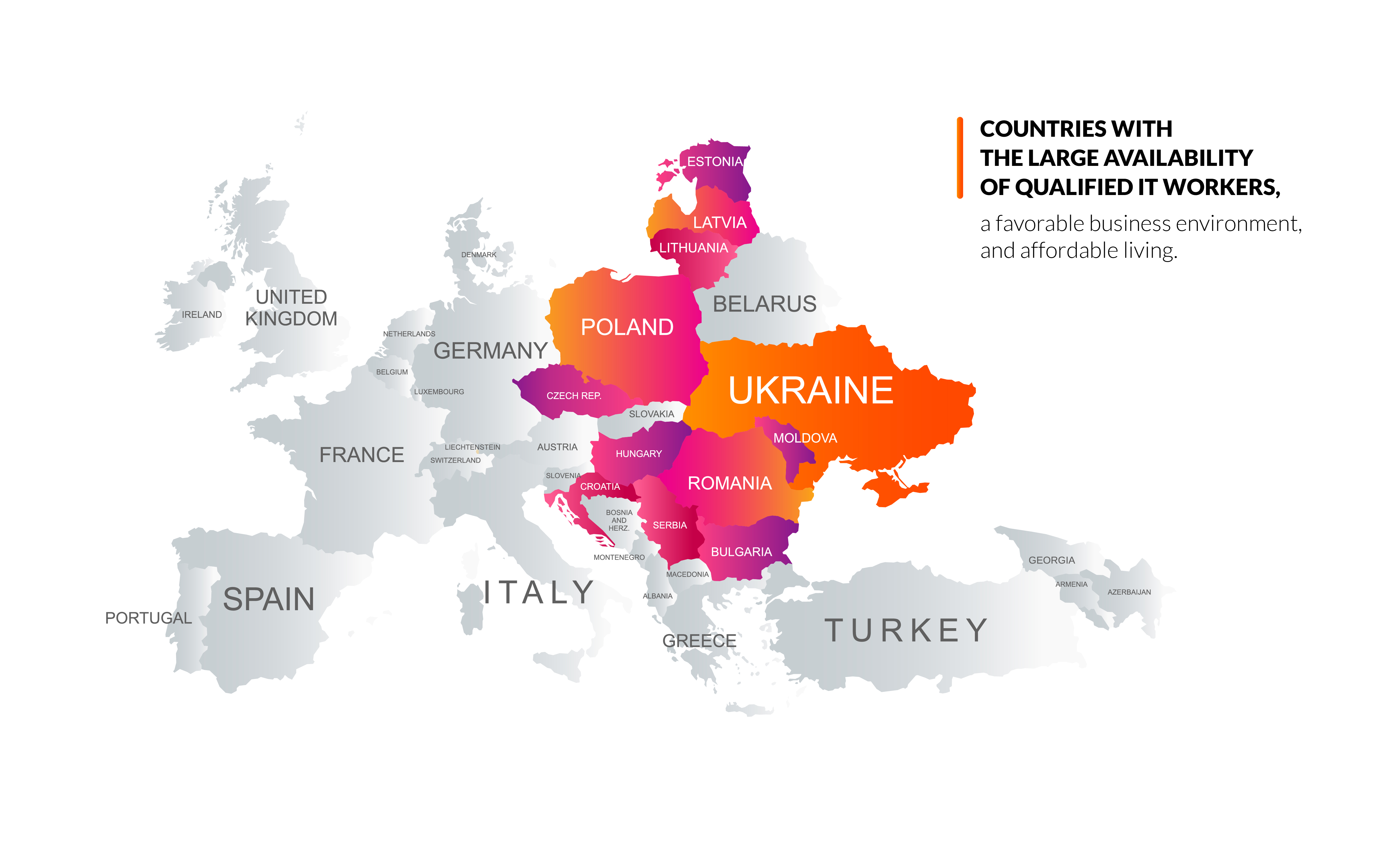 The programmers of the mentioned origin do excellent work for less time, and maintaining a business space in those regions is much cheaper than in the US and Europe.
The Benefits of establishing a Dedicated Development Center
There are numerous outstanding advantages of establishing a nearshore software development center, to name a few:
Talent Availability
Eastern Europe software engineering offshoring can provide your company with immense capabilities that are not available in the tech-scarce countries of the United States and Europe. For instance, innumerable dedicated developers in Ukraine, Poland, and Croatia have splendid knowledge of Python, JavaScript (React and Vue.js), and many other programming languages.
Gaining an Advantage over Competitors
The use of innovations is becoming increasingly important in today's world. IT trends such as Al, ESG, blended working, and others have emerged as the primary source of process streamlining for global businesses. However, putting these technologies into action can be difficult. As a result, in order to achieve a higher quality of work in their sphere, companies frequently entrust their development projects to nearshore software engineers with skills and understanding of these technologies.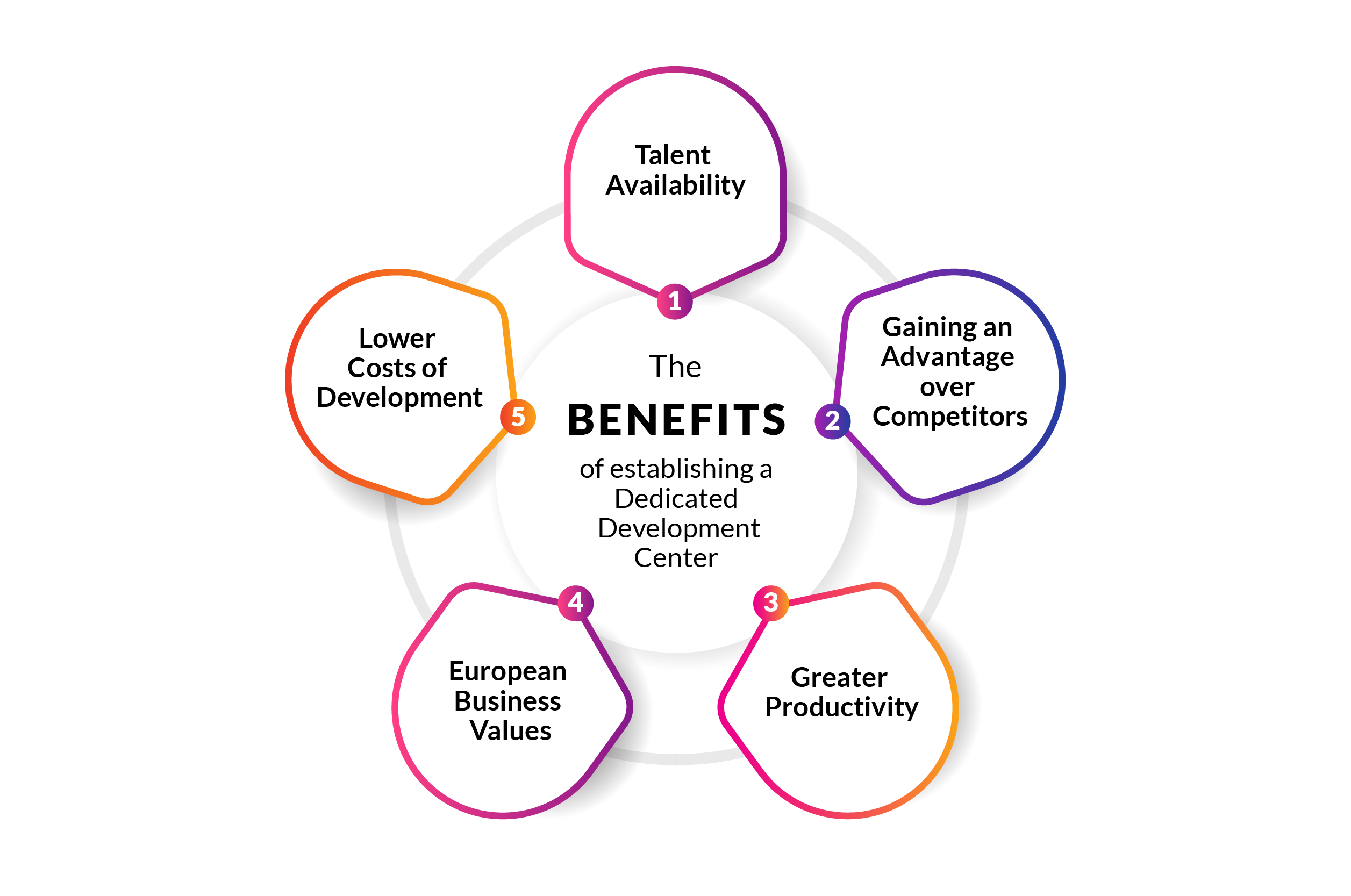 Greater Productivity
Numerous software specialists and good infrastructure allow your dedicated development centers to produce more products in less time. Their prices are reasonable, and their solutions are highly dependable.
European Business Values
Most Eastern European software development services recognize the importance of timeframes, efficient human interaction, and a well-managed paying system. Putting money in nearshore development, you make investments in devoted professionals.
Lower Costs of Development
An outsourced center is a great opportunity to save on infrastructure expenses while maintaining adequate service quality. Your project will be completed on time and within budget. A nearshore software development center can help you save half of your IT project execution costs because of its location. It is a secure place devoted entirely and tailored to the software development requirements.
Tips and Hints on setting up a Dedicated Software Development Center
Here are several important hints on starting an offshore web development company:
You should share your knowledge. A dedicated development center should accurately replicate a client's IT environment. As a result, you should stick to the client's requirements, develop supporting strategies and include cultural attitude in the knowledge transition process.
Hiring a lawyer for your nearshore dedicated development center is critical. You should consult with a local authority law professional to help you with managerial activities.   
Collaborate with a trustworthy partner to create a successful nearshore development center. Find a manager who understands your industry, is familiar with local regulations and rules, and can connect you with a talented team to achieve outstanding results.
Investigate the market and find the perfect place to establish your business. In terms of the most reasonable prices of living, establishing a company in Eastern Europe can bring you only the benefits.
Recruit a chief bookkeeper who is well-acknowledged in the local tax system. For your new nearshore team of developers, you'll need an organized finance reporting and payroll system.
HR personnel, recruiters, and a marketing team are essential for your project. A specialist should lead each department of your business in this particular field.
Showcase your high points and credibility. Initiate a promotion strategy to boost the company's image. Make a case for why your company is a nice place to work.
Begin hiring IT professionals. Your advancement is heavily dependent on the staff. As a result, recruitment is an essential part of the process. Hiring highly qualified experts will enable you to maintain a fantastic and long-lasting relationship with your partners. Create a unit of software developers with successful projects in their portfolio and good references.
An appropriate attitude is key to a friendly environment. It is fair to support the international team equally to your native software engineers. It doesn't matter whether the agency provides the programmers, offshore workers should be a part of the business once they embark on your project. Furthermore, workers' productivity will increase if they have a sense of belonging.
Closing Points
Eastern European software engineering could be the way to reach your company's full potential and ensure it always gains a lead with the right project analysis and preparation.
As you can see, establishing a nearshore development center in Eastern Europe is a good move if you want to locate many qualified IT workers while also saving money quickly. Finding a dependable partner who will manage all managerial and administrative duties to grow your company is an essential part of this process.
Quintagroup can help you assemble a team of dedicated programmers, web designers, testers, and other specialists. Contact us and get a free consultation.