Quintagroup is a company which deals with software development, focusing on work with Python, Django, AWS and many others, working in outsource and nearshoring as well as providing you with an ideal dedicated team able to make your projects or company scalable.
So, why do Quintagroup developers suit you best?
1. Profound Knowledge of Django.
Although, one of the most significant requirements for being an awesome Django developer is to be able to programme using Python, looking for a Django developer in Quinta, what you will get is an experienced Django developer. We may well brag about our developers because they are more than savvy in the sphere as the key requirements for getting hired in Quintagroup are the skills in Python.
As a company, Quintagroup has been working with this programming language since 2003, which makes its software developers experts in the sphere.
2. Utilization of Django Development Benefits.
Django is a framework which simplifies system maintenance for a savvy Django developer while amplifying system performance.
Our dedicated team involves people with perfect awareness of all these benefits which will definitely influence the quality and speed of the work done, i.e. Quintagroup developers are able to provide high-quality and test-driven code in minimum time.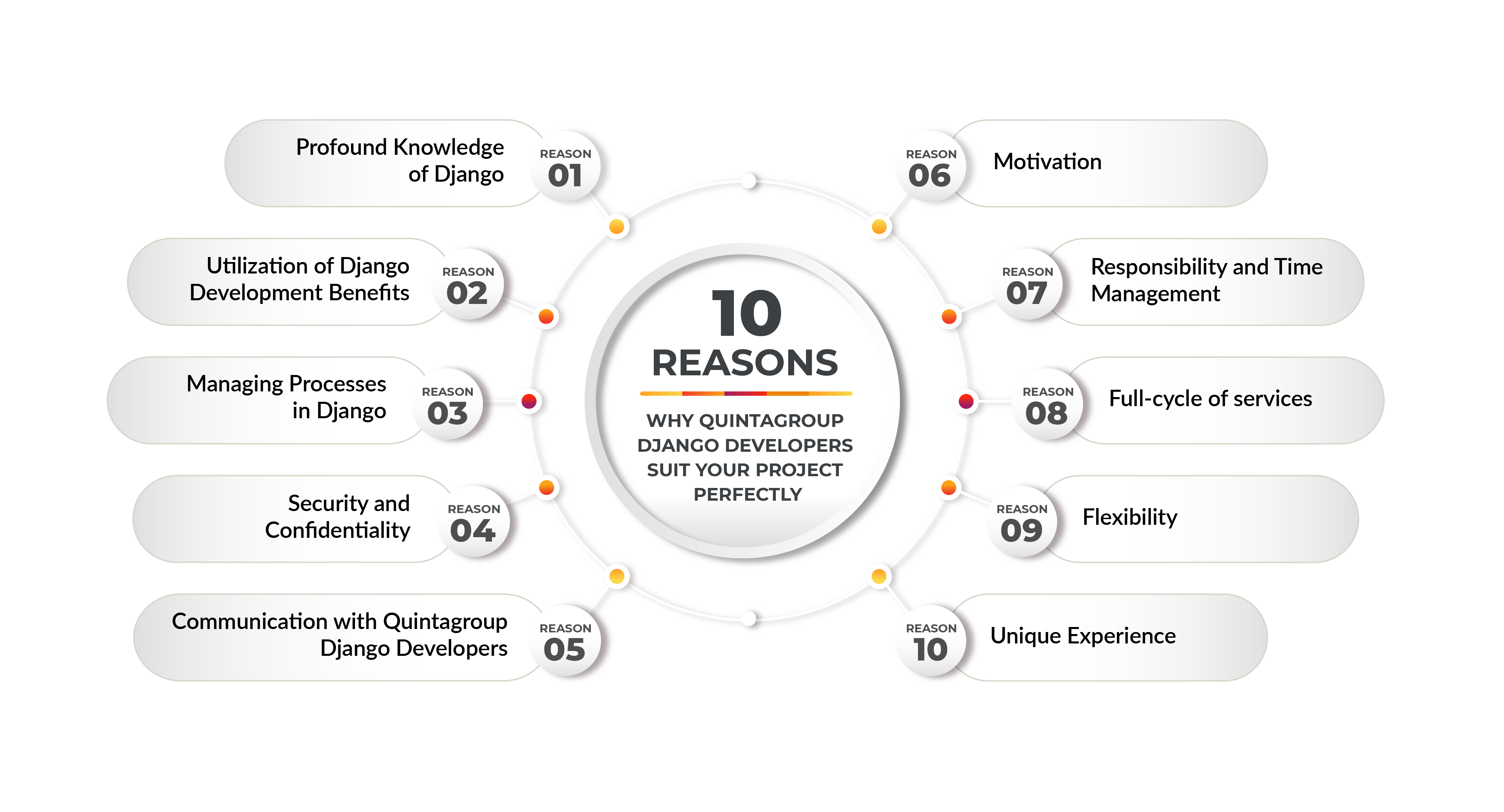 3. Managing Processes in Django.
Django framework requires the ability to write and manage threads and processes in order to create a high-performance application. Vast experience of our dedicated teams and Django developers have promoted not only the theoretical awareness of software developing using Python and Django, but also offered sufficient and invaluable hand-on experience, which will guarantee the quality which Quintagroup has to offer.
4. Security and Confidentiality.
Quintagroup takes into consideration not only the needs of every customer, but also we guarantee full security and confidentiality regarding information the customers share. Due to the concern, Quintagroup Django developers mostly operate on AWS, however in case another cloud is preferred, we are flexible and ready to work with any other.
5. Communication with Quintagroup Django Developers.
All Quintagroup developers are able to communicate in English, thus there won't be any inconveniences in understanding or communicating your ideas to the dedicated team. You will find interacting with the team absolutely comfortable and relaxing.
6. Motivation.
Quintagroup software developers are far more than just talented coders, they are the people who are truly dedicated to what they do and are enthusiastic while working with their projects.
7. Responsibility and Time Management.
Quintagroup takes pride in its developers following the regulations established, i.e. they are responsible, able to prioritise the tasks, manage their time and, therefore, meet the deadlines.
8. Full-cycle of services.
Quintagroup dedicated teams take responsibility for all the processes required, such as design, development and quality assurance.
9. Flexibility.
Even though Quintagroup is a company, we try to offer maximum flexibility to our customers. Our dedicated teams working in outsource and nearshoring are ready to adjust to the timetable which is comfortable specifically for you. Furthermore, inner issues within the company, e.g. hiring new employees or having somebody quitted, will never affect your project.
10. Unique Experience.
All Quintagroup developers can work in outsource efficiently and can boast of unique experience working with customers from the USA, Canada, the UK, and Germany.