The use of more advanced and effective development languages and frameworks by programmers has transformed the way web apps will be created in the future. Due to its numerous features that enhance website performance and user interaction, Vue.JS has made a significant step in revolutionizing the web. Because of its accessibility and user-friendly functions, Vue.JS has attracted the attention of frontend developers, and many of them are considering it for app development. Numerous businesses are prepared to engage Veu.JS developers as the demand for smart and interactive websites rises.
As a result of the pandemic events, numerous IT organizations have seen major developer resignations, so they are prepared to hire Vue.JS developers to make up for the lost resources through remote labor. It takes effort to find the best candidate who can complete the project's criteria. Make Quintagroup your first choice when hiring developers for your Vue.js projects. We are here to assist you with any scenario or need, including hiring Vue.js experts, consulting, automated testing, and more.
Vue.JS: Quick Overview
Vue.js is a dynamic JavaScript framework. E.You created it seven years ago, and since then it has become one of the most popular JavaScript frameworks in use all over the world. Vue.js's growing versatility ensures a flexible and adaptable approach to development. The view layer of the core library is easily incorporated with other libraries, materials, and initiatives.
Vue.js is much lighter and simple to learn than other well-known JavaScript frameworks. A programmer must be familiar with CSS, HTML, and basic JavaScript in order to understand Vue.js.
Due to this fact, a plethora of programmers and businesses have chosen this framework over the past few years, and this number is anticipated to increase in the years to come.
Why Does Your Business Require Vue.js Developers?
You should engage a Vue.js developer for a number of reasons, including:
To both entice new consumers and keep loyal ones, every business needs to have a good web presence. Vue.js front-end developers can boast competence in managing the visual user interface of complex websites and one-page apps. They typically have a strong understanding of HTML and CSS and are adept at integrating additional technologies with the framework.
Working in cooperation with a software company that utilized Vue.JS in its projects for many years, you can gain access to a broader pool of highly skilled Vue.JS developers.
Comparatively speaking, developers using Vue.js write easier code than those using React and Angular, two popular JavaScript frameworks.
Businesses can quickly launch their simple applications thanks to Vue.js.
Rapidly grow or establish a team of proven Vue.JS specialists while spending less on recruitment with Quintagroup.
Moreover, it reduces costs and time because Vue.js developers can utilize web components from already established websites and applications rather than having to start from scratch.
For developers with prior familiarity with JavaScript frameworks, Vue.js is rather simple to understand. However, if you have unique Vue.js-based initiatives, you should still give Vue.js experts top priority.
What Should I Take into Account Before Hiring A Vue.js Developer?
Before beginning the process of recruiting Vue.js developers, a lot of factors should be considered, such as: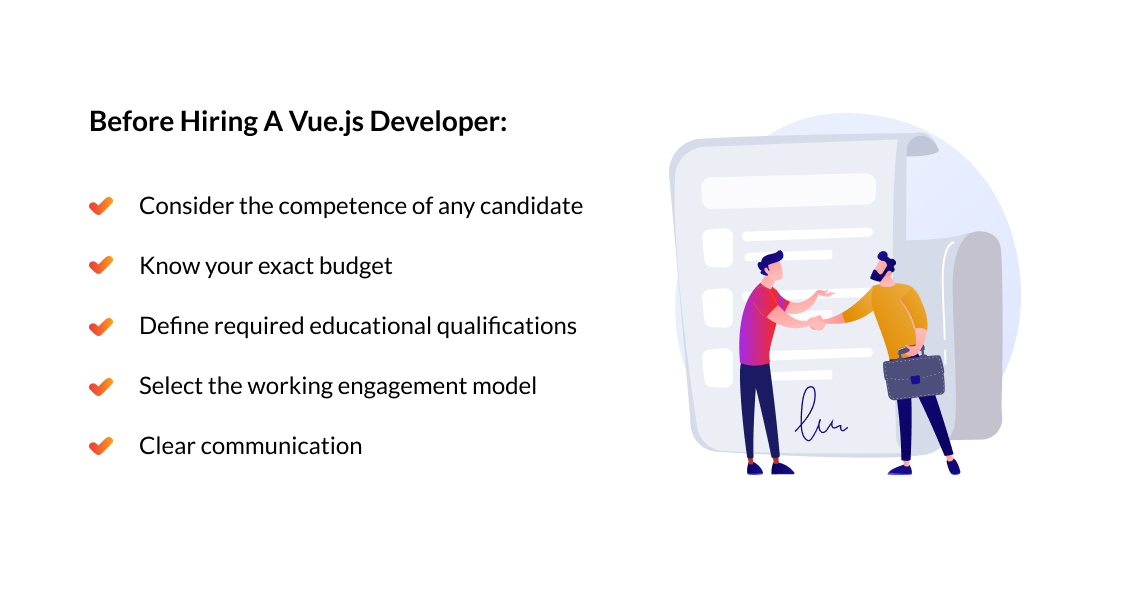 1. The competence of any candidate for Vue.JS programming is a vital factor. Examine the candidates' experience level, the problems they handled, the projects they took part in, and the outcomes they produced.
2. Know your exact budget: Prior to beginning the hiring process, it is crucial to establish a budget and adhere to it. Being impartial is beneficial when you start hiring.
3. Education: For the majority of developers, a degree in computer science can be useful in the development field. Although having it is not necessary to become a skilled programmer, a developer's ability to make decisions is increased by having a basic theoretical knowledge of processes, systems, and computers. However, even if there are no educational requirements, make sure the applicants are great at their occupation.
4. What kind of engagement model interests you: Select the working engagement model that seems to be the greatest fit for your company when hiring Vue JS developers (nearshoring, offshoring, onsite model, augmentation, freelance, dedicated team, t&m, DDC, etc.).
5. Assistance: You must employ Vue.js engineers from a company that provides first-rate technical support if you want to maintain complete control over your project. In other words, it gives you access to the developers working on your project directly, without the need for a mediator. Both parties should be able to communicate clearly and easily.
Position Description for a Vue.JS Developer
A business should constantly take into account knowing the requirements for their projects and should always be aware of the responsibilities of Vue.JS engineers.
Using the Vue.JS framework to create and implement user interfaces.
Producing project documentation that is well-organized.
Boosting web application functionality.
Creating modular, reusable parts.
Cooperation with QA or AQA to verify that the software is fault-free and functioning properly.
Participating in the development, testing, and other maintenance processes.
Fixing bugs.
Making suggestions for upgrades and modifications that keep up with contemporary security and development.
Applying security updates.
The capacity to write clean, extensible, and effective JavaScript code.
Perfect communication and cooperation skills.
Hiring Vue.js Developers: Summary
It's a significant decision to hire a developer. You must think about the competencies you require, the time you request them, and whether you need them in person or remotely. When selecting Vue.js developers, there are numerous elements to take into account, and each of them is crucial to the success of your project.
Do you currently employ Vue.js in your work? Do you intend to use Vue.js in your project? Making the change now is a wise move. Fast-moving modern online apps are increasingly using the Vue.js framework. Quintagroup is the perfect developer hiring team you should choose to embody your Vue.js projects. According to your needs and preferences, we can put together a full-fledged web development team with Vue.js experts and other professionals to work on your project under your supervision. Contact us, and we will make sure your company gets the best and most suitable Vue.js experts.