As Information Technologies have infiltrated not only the tech sphere but also pharmacy, agriculture, retail, and others, the world keeps changing rapidly. To keep up, a lot of successful companies try outsourcing that includes onshoring, offshoring, and nearshoring. In this article, we'll talk about nearshore outsourcing, its advantages, and where you can find good nearshoring companies for your projects.
People often mistake the terms "offshoring" and "nearshoring". Actually, the term "nearshoring" comes from the use of "offshoring". So, what's the difference?
Nearshoring and offshoring
Nearshoring is outsourcing to the neighboring countries while offshoring includes more distant countries. Let's say, if you're from Germany, you'll choose Ukraine or Romania for nearshoring and the Philippines or India for offshoring. Both outsourcing ways have their own advantages, all depending on your business needs. 
What benefits do you get if you choose nearshoring?
Advantages of nearshoring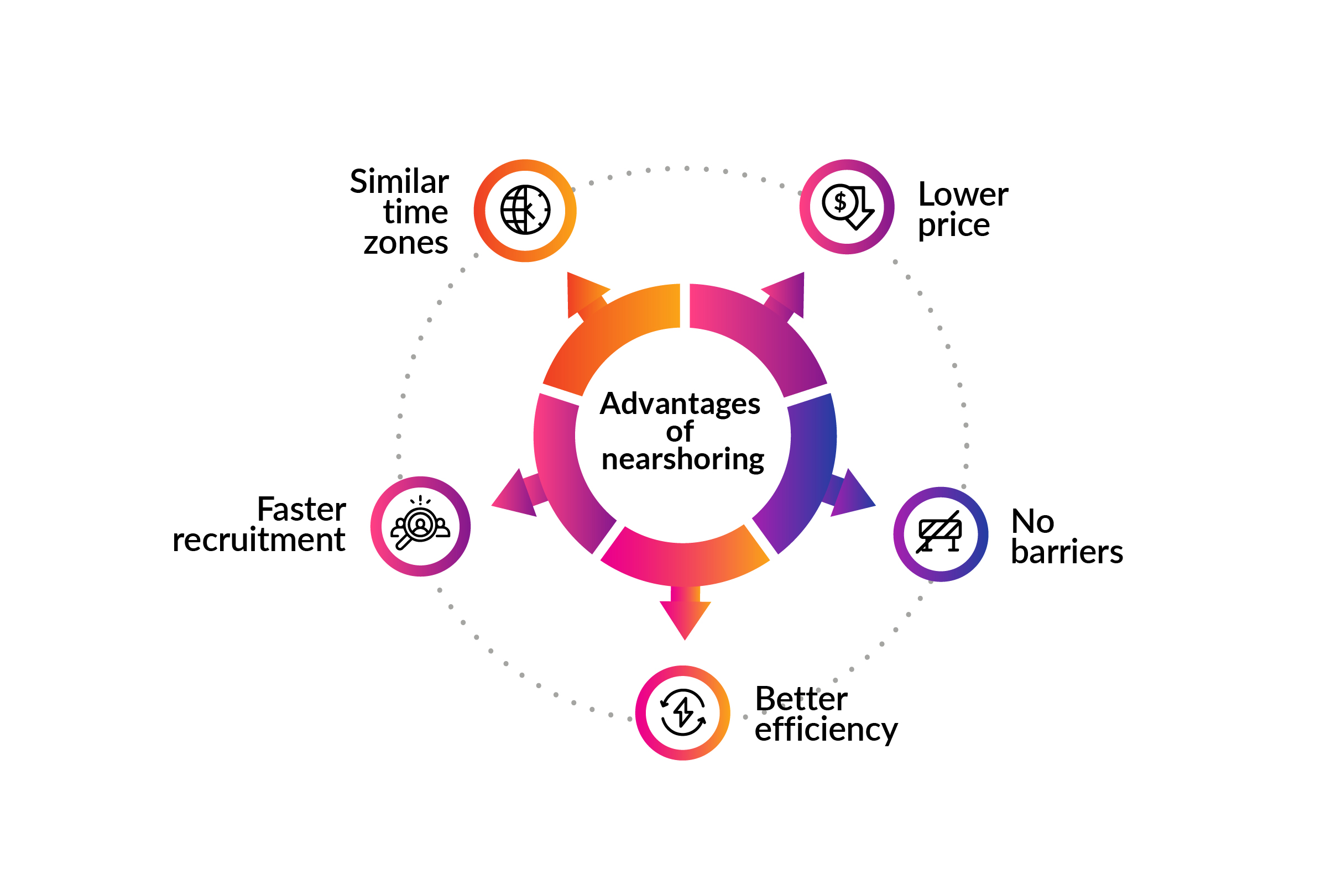 Similar time zones
Offshoring is mostly known for having different time zones between teams and the partner. Let's say, you want to schedule a meeting, but one party has just woken up while the other is finishing their shift. Quite troublesome, isn't it? This issue results in communication rifts that can be avoidable if you try nearshoring. And if your team is in the neighboring country, you won't have any problems with meeting people at a time, convenient for everybody.
Lower price
Because of salary differences and conditions in other countries, nearshoring is considered a perfect way to reduce your spending. Although development rates in Eastern Europe are higher than in other regions, development costs are lower there than in the rest of the world. 
No barriers 
As offshoring is associated with faraway countries, here come cultural and language barriers. This problem is minimized with nearshoring because most neighboring countries have quite a lot of things in common regarding work and general opinions.  
Better efficiency
Nearshoring lets you boost efficiency with your resources, letting the outsourcing team handle the workload while you focus on other matters. Improved efficiency and team flexibility also increase time-to-market which results in staying ahead of your competition.
Faster recruitment
Save time and resources on recruitment by letting a nearshore outsourcing company scout for you in their country. In Ukraine, for example, there is a huge tech talent pool, and therefore you can hire 10-20 developers in a nick of time. The same goes with firing or changing your outsourcing team. The firing process in Ukraine is faster and more convenient for outsourcing than in other European countries. 
Best Eastern European countries for nearshoring
Practice shows that hiring a development team from Eastern Europe is better than choosing other regions. And that's because Eastern Europe offers high standards to clients due to developers' proactive attitude, exceptional technical skills, and a high level of communication, and all of that for a lower price than in other regions like the UK or USA. 
What countries should you consider for nearshore outsourcing? According to Clutch.co and the division used by the Statistical Department of the United Nations, here's the top 5:
Ukraine (1001 companies)
Poland (658 companies)
Romania (249 companies)
Belarus (225 companies)
Bulgaria (156 companies)
Why Ukraine for software development?
Ukraine has been ranked multiple times among the top outsourcing countries over the past five years. In 2021, there are over 200,000 skilled IT specialists out there that speak fluent English and can provide you with any kind of software service. Ukraine has one of the 50 most innovative economies in the world and is home to a lot of research and development centers for global tech giants, like Ubisoft, Siemens, Ericsson, Samsung, Oracle, and others. Apart from that, numerous famous startups have their roots in Ukraine, like DepositPhotos, GitLab, Ring (bought by Amazon), Viewdle (bought by Google), PetCube, Readdle, Looksery (bought by Snapchat), Preply, Grammarly, Reface, Netpeak, MacPaw, TemplateMonster, etc. 
In addition, 13 software developers (both Ukrainian IT companies and international ones, having R&D offices there) made it to the annual list of the world's 100 best IT outsourcers in 2017. As for 2020, 63 Ukrainian firms are named in the Exclusive 1000 List of best service providers by Clutch.
Why Quintagroup?
Quintagroup is among experienced Ukrainian IT companies and practices successful outsourcing for over 17 years, including both nearshoring and offshoring. We scout for talented developers and create a 100% dedicated tailor-made team with skills that match your requirements. As a result, you build your products and develop your projects way faster than your competitors, and get new perspectives. Nearshoring with Quintagroup will also give you positive perks, like faster time to market, seamless software delivery, and reduced development costs (much cheaper than having your own development team).
Our tech expertise 
We deliver nearshore outsourcing services in 4 major areas.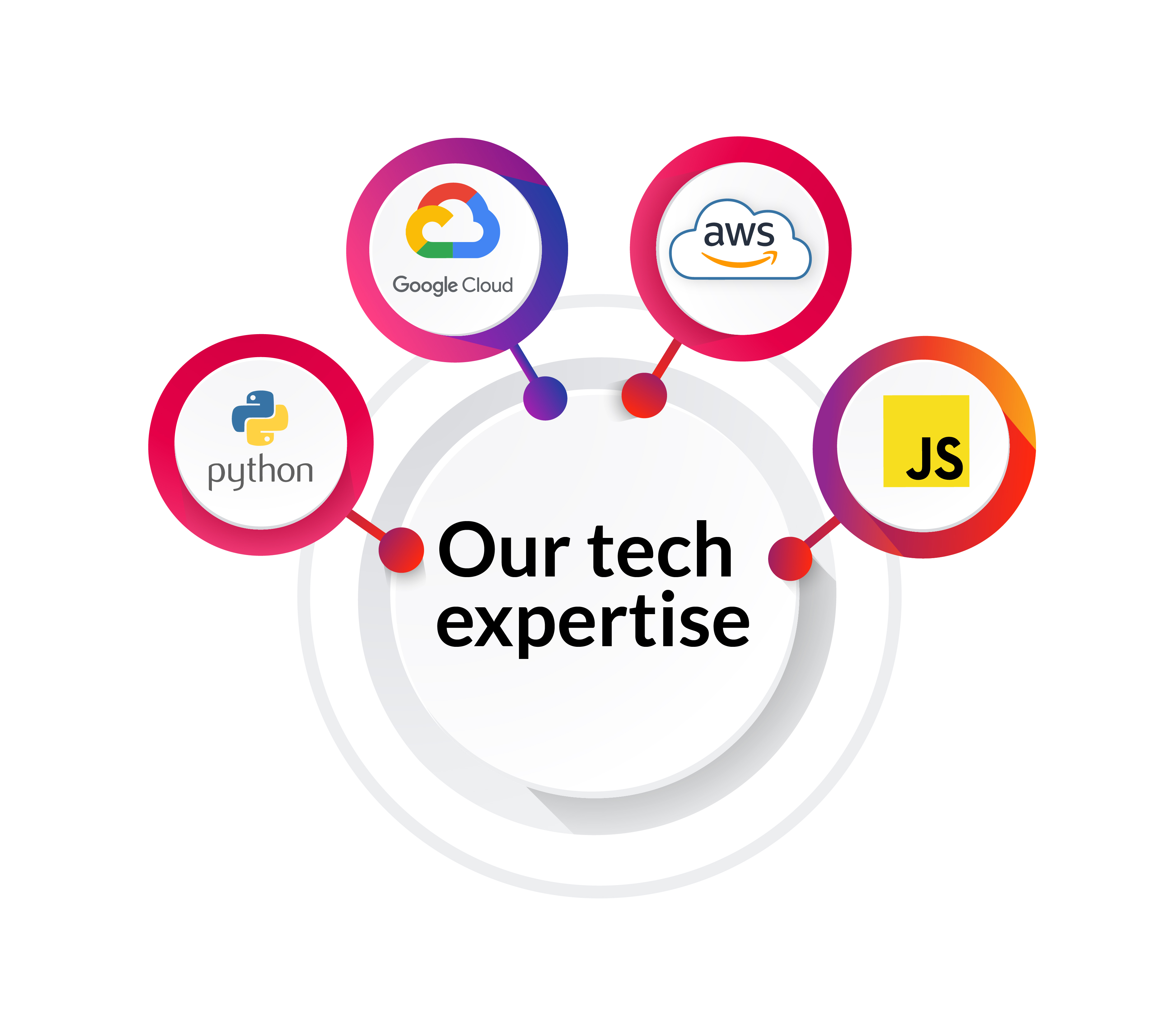 Get started
We have 50+ software developers and engineers ready to join your team and help in building a prosperous product. Contact us to get a consultation and start building your dream team now!