The global pandemic has turned the world upside down. Nowadays, more and more entrepreneurs are trying to change their businesses by integrating digital technology. However, as it turns out, going online can be a difficult pill to swallow. As the demand for seasoned software engineers is growing faster than ever, software development companies and IT departments have difficulty hiring an in-house development team. It takes a lot of time and money to find an expert with the required skills, deep expertise, and with affordable rates. In such cases, the following models of cooperation may come in handy. 
WHAT IS STAFF AUGMENTATION AND HOW DOES IT WORK?
For starters, let's answer the question - what does staff augmentation stand for? 
Staff augmentation is one of the outsourcing models which implies the extension of your current in-house team with the third-party professionals holding expertise that covers your business requirements. If you are planning to expand your software development team, but have limited resources, then staff augmentation might be the thing for you.
This model of cooperation requires you to define the capability of your existing team and determine the skills that are lacking. Having analyzed your current team and identified the staffing shortage, you contact an outsourcing company and present a project description along with the tech gaps. 
At Quintagroup, we strive to provide our clients with the highest quality and deep expertise. As soon as you contact us, we offer you a solution that matches your needs. With the staff augmentation, also call it team extension, you can quickly add the following IT experts to your crew:
QA Experts
UI/UX Designers
Business analysts
From now on, the outsourced specialists are a part of your internal team and work directly with you and your employees. However, the outsourced engineers remain paid by the outsourcing company, and the last one also takes care of all HR, recruitment, legal and contract-related matters allowing a client to keep these procedures lean. Though, you have to keep in mind that onboarding and accommodating an "out staffer" into an in-house team is on you.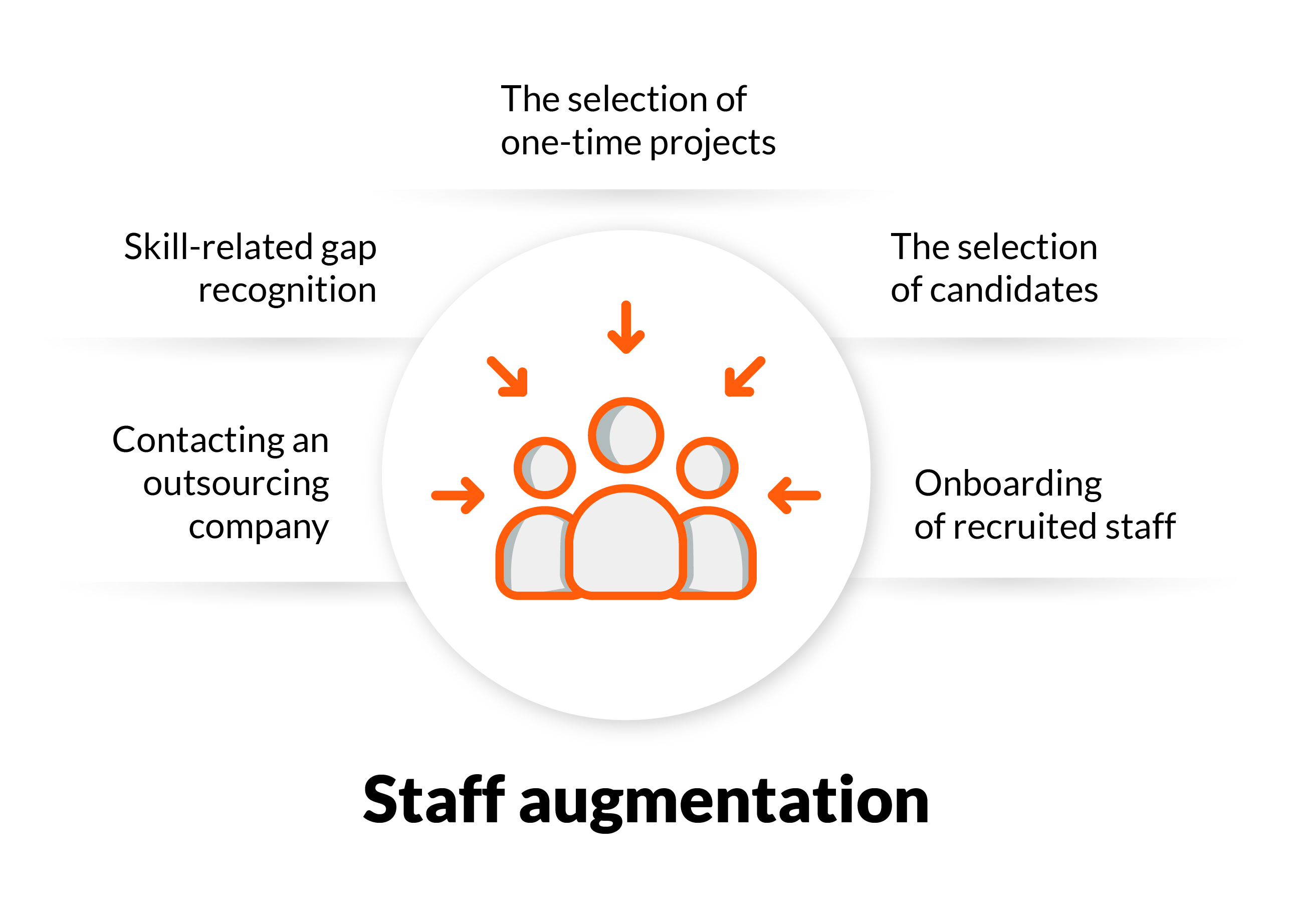 Before we proceed to the benefits of the staff augmentation model, one more important thing is that team extension works best for short-time or one-time projects. Imagine that your skilled Python Engineer or DevOps decides to go on an extended vacation, and you are landing a project, which means you need to fill the gap as quickly as possible, that is when manpower augmentation comes into play as well.
WHY IS STAFF AUGMENTATION SO ATTRACTIVE?
At Quintagroup, we do practise staff augmentation model of cooperation and based on our experience and observation we've managed to find out why many businesses choose team extension service.
First of all, it offers you flexibility. Hiring an in-house employee is lengthy, burdensome, and involves a lot of paperwork. Team extension service allows you to quickly add and remove specialists from the augmented team when such a need arises. 
Staff augmentation, as an outsourcing service, is a great time- and cost-saver. Quintagroup, as a software development company specializing in team extension, takes care of finding the specialists according to your needs within the required time limits, which means that you don't have to spend your time and money on recruitment.
You can single-mindedly turn your thoughts, energy, and efforts to your business and its development while Quintagroup takes over the staffing routine and responsibility of maintaining in-house employees, paying taxes, etc.
Another feature of the staff augmentation model is that it offers a vast pool of talented and skilled specialists that you can hire on a per-project basis from all around the world. 
DEDICATED TEAM AS A MODEL OF COOPERATION: WHAT IS IT, WHEN TO USE, ADVANTAGES AND CHALLENGES
One of the approaches of cooperation that businesses often use is a dedicated team. The dedicated development engagement model involves a remote software development team working on a full-time basis on your project with an outsourcing company as a mediator.
Usually, such a team consists of the following specialists:
Software Engineers, who are involved in full-cycle software development, write code and analyze user's needs;
QA Specialists, who help to achieve the end-product of high quality;
UI/UX Designer, who creates user-friendly and easy-to-navigate interfaces;
Business Analyst, who monitors the processes, communicates with a client, produces user stories, analyzes data, gathers technical and non-technical information in order to deliver recommendations to stakeholders;
Project Manager is responsible for the entire scope of a project;
DevOps Engineer

, who is in charge of deployment, staging, and production environment.
We can scale up or down the team according to a customer's objectives and needs as well as the complexity of a project. More than that, thanks to flexibility, which is one of the advantages of this cooperation model, some specialists can be scheduled to work part-time on your project. For example, a DevOps Engineer may work 10 hours per week or, put it simply 0.25 FTE, when a full-time workweek is 40 hours.
Let's now edge towards the advantages of a dedicated team as a partnering model.
Complete team management. You are in charge of a dedicated team. You define duties, responsibilities, and working schedules. Each member of a dedicated team plays the game according to your rules. Dedicated team members usually use task management solutions and time tracking, which allows a customer to check when necessary in order to be on the same page with a team. 
No additional expenses. The DT model entails a predictable and defined budget, which is economically beneficial. Besides, you don't have to spend your resources on recruitment, as hiring a dedicated team in Eastern Europe is cheaper than recruiting in-house employees, especially if you are in the US, let's say.      
Scalability. Another benefit of a dedicated team is that you can easily ramp up or down the number of specialists. If the workload becomes enormous, a customer can add some specialists to handle additional tasks. And also the other way around is building a team down after the important milestones have been achieved.  
Full control over processes. Transparency is for sure an important part of cooperation. You, as a customer, work closely with team members to achieve set goals and get visible and desired results. Daily reports, brainstorming sessions, and open communication with each other on a daily basis - all that allows you to keep abreast of the nuances. 
Flexibility. A dedicated team model will work for you if you have a clear development plan. Such a cooperation model makes it possible to add or remove engineers when needed or make some iterations to the processes or project scope.
You may be wondering when to use this kind of cooperation model. Let us get all this straightened out.
Usually, a customer-company chooses this model of cooperation when they lack expertise or their employees don't have the required experience to embark on the project.
The project is large. When the project is large, it often happens that in-house employees need help from the outside irrespective of their expertise and professionalism.
Take into consideration a project timeline and the availability of engineers. No matter whether you are a big enterprise or a startup, you won't be working on one project only. For engineers, it's hardly possible to work on several projects simultaneously and stay efficient. So, in this case, a dedicated team steps in.
You need to scale quickly. You don't have time or resources for HR and recruiting stuff. And, you need a decent team of developers right now.
These are the main things to consider before choosing the cooperation model. But, if you are still unsure, you can always consult our specialists and we'll handle it together.
When it comes to outsourcing, customers often have some concerns and fears. The biggest challenge for our clients, before we started cooperation, was to find a trustworthy, reliable, and flexible partner. First of all, ask an outsourcing company to provide a portfolio. You have to find a company that puts all their efforts into developing your product. It's very important to be on the same page with your vendor.
STAFF AUGMENTATION VS DEDICATED TEAM: CHOOSE THE RIGHT APPROACH 
Both staff augmentation and dedicated team models have their particular use and value when chosen according to the needs of the business. To choose the right engagement model, you have to understand what the goals, requirements, and deadlines of your project are. What cooperation model will strengthen your in-house team and facilitate the development of a product. 
The best option for a short-term project, with tight deadlines and a shoestring budget, would be a staff augmentation model. However, if the project is large and complex, then you should choose a dedicated development team.
At Quintagroup, we practise both models of cooperation. If you have concerns about the right approach, just contact us and we will immediately identify the best solution for you.