Instead of wasting effort and money on several freelancers, today's IT companies use modern outsourcing models, primarily staff augmentation. This hiring approach allows businesses to meet their increasing work demands without too much haste and endeavor. It's a fantastic opportunity for companies that want to hire talented people in a short time.
With the help of a leading staffing firm, you can find the exact computer programmers you require. Set up a core IT staff augmentation team that would otherwise take months to employ in-house personnel in just a few weeks. Quintagroup dedicated teams will fit in with your company's culture and work as an extension of your current staff. You'll have immediate contact with them, and you can monitor the work as with your office team.
What is the Process of Staff Augmentation?
Imagine you already have a team of programmers in the office, but you need two more software engineers with the specific skill to finish a project on time. You can hire a programmer through a staff augmentation service to avoid wasting weeks on hiring issues and finding a suitable worker.
You can choose to enlarge your corporation with reputable programmers from a record of profiles maintained by hiring agencies such as Quintagroup. Scaling your teams is simple and quick, thanks to their talented professionals. This is especially useful for businesses that need to hire IT engineers with varying skills and competencies on a project-by-project basis.
When Should You Apply to the Staff Augmentation Model?
The staff augmentation model is suitable for you in the following cases:
The already established team is overburdened, and you lack a skilled person for a new project.
You're launching a project requiring an expertise that no one in your team possesses, and hiring a permanent staff member would be costly and challenging.
There is a need to expand your team with specific experts rapidly. Due to increased competition, it might take a long time while looking for a full-stack developer or somebody with unique expertise.
Your project is quite large, and you will require more programmers to complete it by the deadline. As a result, you can choose to augment your IT team to ensure that you deliver on time.
You want to outsource a project, but you also want more power over the dedicated team, including direct communication with them. This way, the team consistently works effectively, and the results are consistent with the internal policies.
Staff Augmentation: Which Model Is Suitable?
You can choose from three different staff augmentation models:
External and in-house teams are both based in the same country for in-country staff augmentation. The advantage of such a model is that it allows for clear communication among employees. 
Nearshore Staff Augmentation refers to a team that is based in the same time zone as the client. Because your peers are in the same time zone, you don't have to hold online meetings late at night. 
Offshore Staff Augmentation is when an external team is based in a different country and time zone than the company. You can turn it into a benefit for your company, for instance when the task is completed by an offshore worker during the night because of the different time zone so that you have the result in the morning. This way, your company is active around-the-clock. 
Why Choose Staff Augmentation Model?
This model is most suitable for short-term projects. Staff augmentation solutions are inherently complex and vibrant. They are highly adaptable and are primarily determined by your company's expectations and objectives. Characterizing your corporate goals is the first step in choosing the best model for your IT augmentation.
Consider the following benefits of this hiring approach:
Safe adaptability.
If you have a large approaching project, staff augmentation, which is adaptable to the company's requirements but secured by a talent supplying vendor, becomes the best solution. This team extension model allows you to add people with the necessary skill set at any time, so an unexpected workload should not be a concern.
Concentrate on people rather than vendors.
When looking for an IT staffing company, business people search for one with a lot of experience and knowledge. Unfortunately, these factors cannot ensure the good standard of work provided by their outsourced resources. In that case, the best strategy would be to focus on the project's needed competencies before selecting a vendor.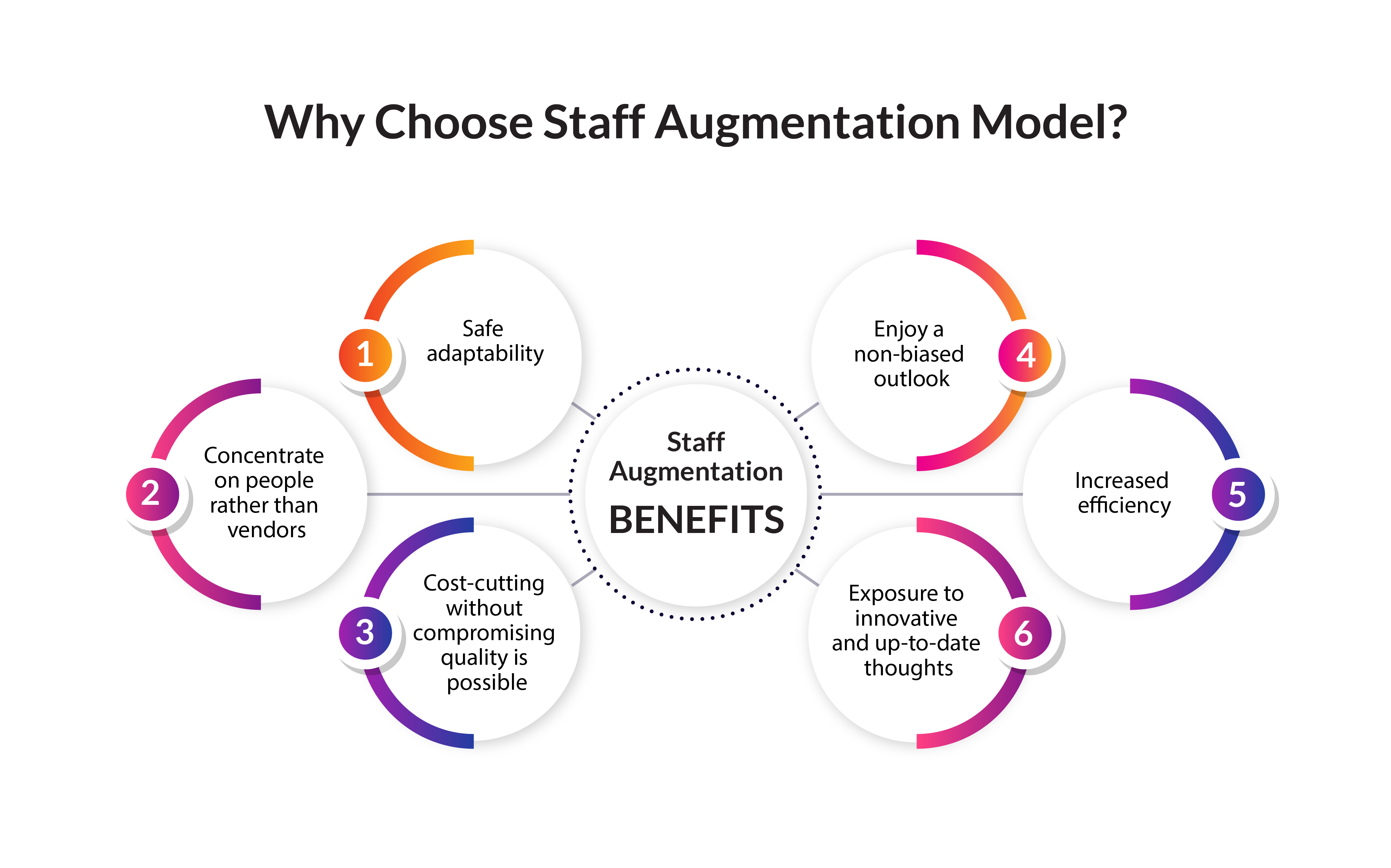 Cost-cutting without compromising quality is possible.
If you require a person for a one-time project, a lasting hire is probably not the most cost-effective option. Even a single full-time employee costs you a lot in pay, perks, and taxes. With the staff augmentation, you will spare some money.
Enjoy a non-biased outlook.
Bringing in a temporary employee to your initiative allows you to have a fresh perspective on the process. A person who is only staying for a short time is much less likely to become involved in corporate life and quarrels, and have no bonds to one of the in-house colleagues.
Increased efficiency.
One of the most important staff augmentation pros is extending your staff. Your augmentation provider ensures that you get the best representatives of the specific field.
Staff effectiveness will rise due to more expert hands focusing on a single task.
Exposure to innovative and up-to-date thoughts.
While experience comes with age, the younger generation also has a wide range of current worldviews. Having a fixed employee network can slow down thoughts and perspectives for business growth and profit growth. Nontraditional and innovative delivery methods are frequently required by rapidly developing companies' needs.
The Myths About Staff Augmentation
Myth 1: Staff augmentation is a cost-cutting measure.
Some hiring managers believe that they can save money on benefits by hiring augmented staff instead of full-time employees. This is an erroneous statement. Eventually, the staffing company will pay benefit costs, and the rate given to the requiring company will increase. This misunderstanding can increase out-of-pocket expenses for additional staff when full-time employment would have been a better option.
Myth 2: Managed Services vs. Staff Augmentation.
A company might hire an augmented employee to code for a unique application, and they'd be paid by the hour. A managed service approach is concerned with a specific deliverable, possibly with a particular quality rating; staff augmentation engages a detailed job description and is paid on a time and materials basis.
Myth 3: The quality isn't the same.
Staff augmentation improves operational efficiency by allowing for more flexibility in work. Employers who work on a project remotely are also more reliant and engaged at work. Companies that provide offshore services work in different shifts because of the various time zones. It can give a fresher and alternative perspective on the way, allowing team members to achieve impeccable quality in the end.
How to Choose Your Staff Augmentation Model?
Here are some things to consider as you make your decision:
Buildup time: the time it takes for a dedicated development team to fully comprehend the complexities of a project before it is implemented. Staff augmentation is not appropriate for complex operations with a long buildup time.
Safety: If you're working on a project requiring a high level of secrecy or security, such as financial services or very confidential documents, you should proceed with caution before bringing in an augmented team.
It is dependent on the duration of the project. Short-term projects benefit from professional staff augmentation. This model might be more expensive in the long run.
Examine the experience and capabilities of your staffing partner.
You'll be able to contract a vendor that can provide your company with the additional IT staff it requires by validating a prospective staffing partner's expertise in your specific field.
Analyze the different contract types and delivery schedules. Suppose your staffing partner can only offer standardized contracts. In that case, it indicates they don't have the resources or skills for the project and the specific staffing solutions you require.
Take into account cultural and social diversity. Except for onshore operations, any company with a remote development team must ensure an intercultural fit between in-house team members and outsourced software developers from diverse ethnic backgrounds.
Dedicated Development Team or Staff Augmentation?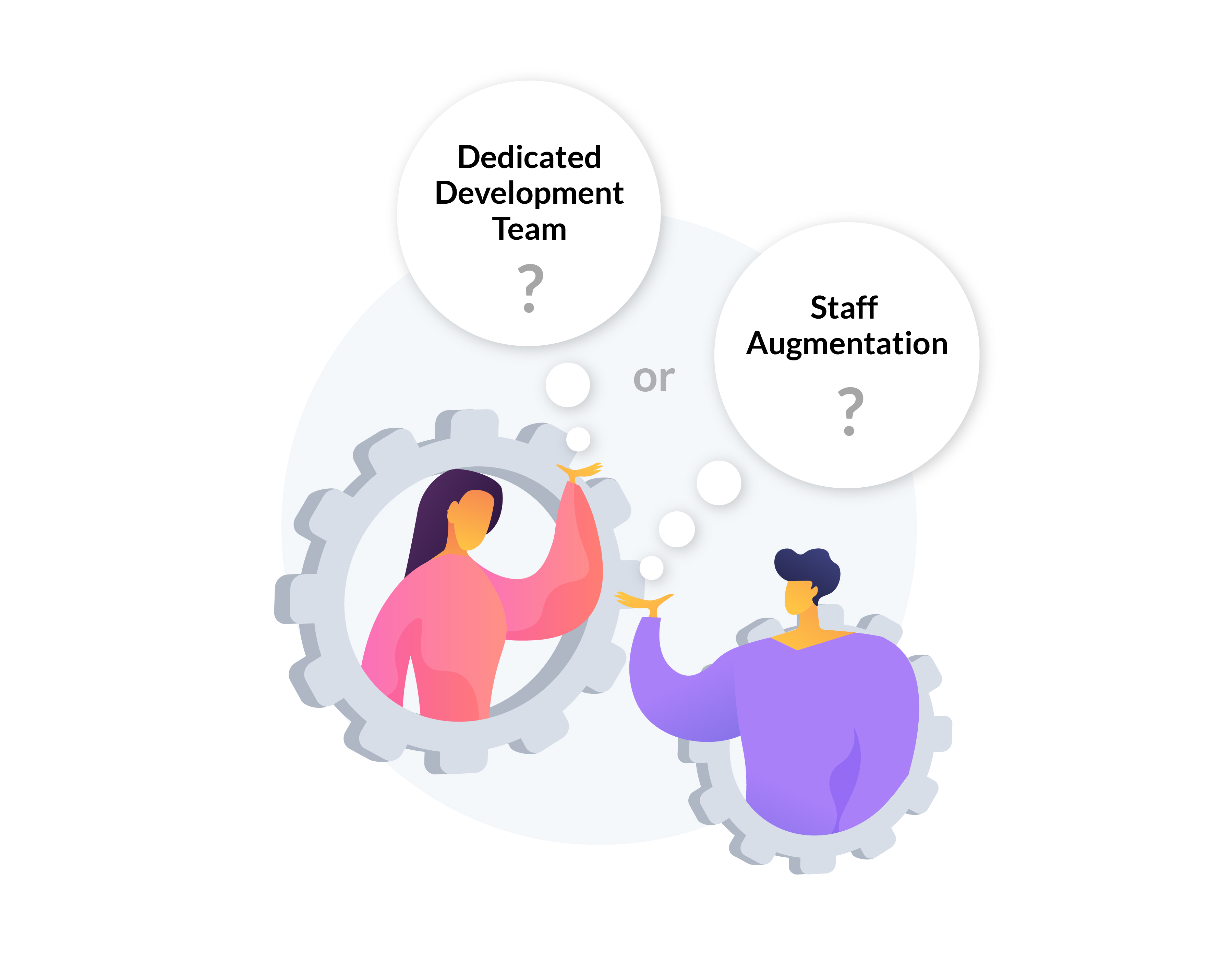 While choosing between these two hiring approaches, consider the following comparison:
A dedicated software development team is the best option if your company lacks technical skills or needs people for a big project.
Staff augmentation is a great way to quickly fill in for people who aren't available for an already underway project.
Large projects necessitate a dedicated IT team because staff augmentation can be costly.
When the scope of your project changes or people quit, you may need to hire new software developers quickly. When you require extra help, that's when staff augmentation comes in handy.
Communication is an additional advantage of a dedicated in-house team. It's easier to deal with people you already know.
Staff augmentation is the best option when you already have staff set up and need to fill in some competency gaps.
What Makes Quintagroup the Best Outstaffing Partner?
The point is that you must collaborate with a staffing partner who meets your company's particular hiring needs. Quintagroup provides a variety of professional development talents, including staff augmentation. We specialize in Python, Django, AWS, React, and Vue.js. We smoothen software development based on agile technology, security, and a thorough testing process. Following delivery times, we provide maintenance services for your outsourced solution. Our services are provided by skilled experts who will help you succeed in your business objectives. We are used to outsourcing adjustments and are well-equipped to handle the unique requirements.
Contact us to ask your question and discover more.