A designer's love for producing aesthetically beautiful designs should be their top priority. You're good to go if a UX designer has a notion of what would catch the average person's attention, and they can combine that idea with your client's consistent style.
Choosing the perfect group of UI/UX designers necessitates effort and money. No longer! Quintagroup offers UI/UX designers who understand: the way users work along your product matters just as much as the visual part. Contact us for a consultation, and we will come up with a particular solution for your company: hiring a UX expert or a whole team of UI/UX designers.
The Reasons to Hire UI/UX designers
A designer can help with brand strategy and priority setting. It is very important for a UI UX designer to comprehend and articulate the desires and needs of a client. A UX UI designer is responsible for a variety of duties, included below:
Building screen flows, sitemaps, mockups, and flowcharts.
Conducting the product's usability testing.
Mastering web design tools such as Figma, Balsamiq, and so on.
Presenting the gained information to the key stakeholders.
Interacting with clients to learn about their objectives
Creating usage strategies and buyer personas.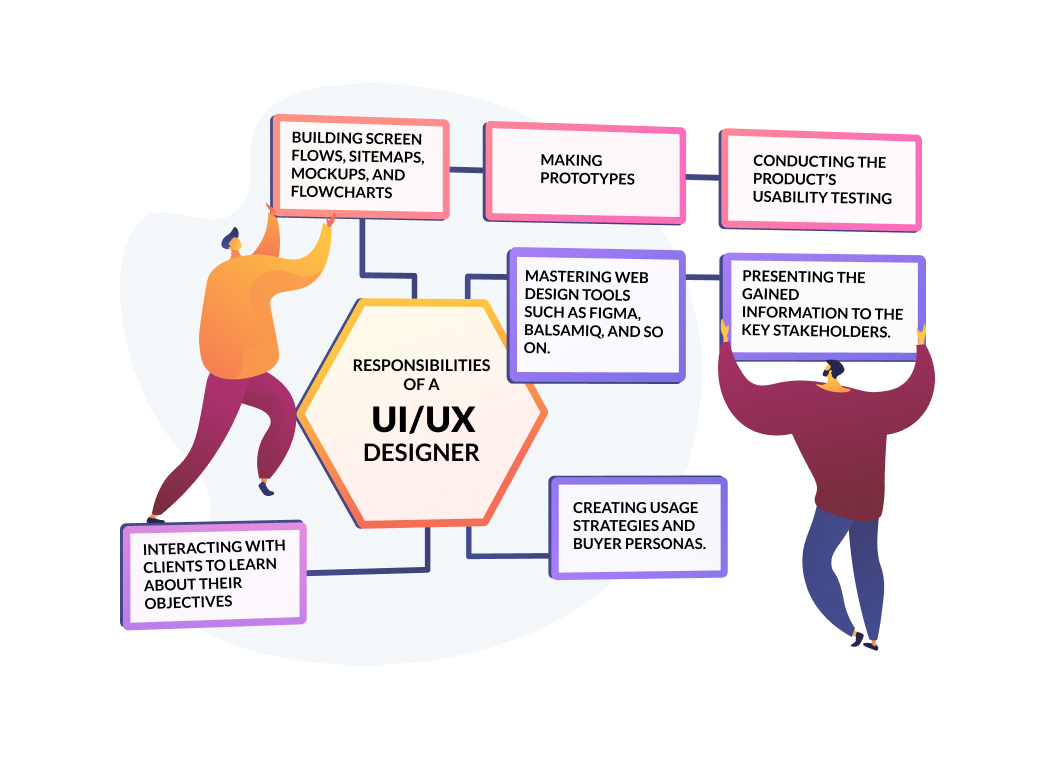 Figma VS Balsamiq
Figma
Figma is a powerful tool for designing and prototyping UI/UX designs. It integrates the best features of Photoshop and Sketch with a live collaborative environment. Because it's in the cloud, it allows you to work with your design team anywhere in the world at any time. The Figma file can be viewed on any device or browser without installing software, so you can easily see changes or updates as they are made.
Using Figma, you can share projects with stakeholders for review, or prototype a new design for your product or service. The key is that you can send the URL to any browser (or mobile device), and anyone will be able to monitor how your UI UX expert makes even the smallest changes to the design.
The browser is the primary platform for Figma. As a result, you may actually design whenever and wherever you choose and manage your project from any platform. Additionally, there is no need to purchase several licenses in order to set up the software.
If you're creating anything from a small business to an enterprise-level app or product, Figma can help you get there faster. Every aspect of this tool was designed to be easy and intuitive, without losing any power or flexibility.
Balsamiq
Balsamiq is good for creating wireframes, mockups, and prototypes. Whether your team is big or small, it was designed to be an easy-to-use tool that helps you create quickly. This software allows working on a single page at a time, and using the elements on that page to create your structures of all levels: headers, colons and footers as well as reusable components.
Unlike other similar platforms, Balsamiq does not allow you to create interactive prototypes, but it is a good tool for creating a schematic prototype, so you can work on the design later in another application.
Therefore, if you want to quickly outline the UX for clients so that they understand what functional parts the application will consist of, then Balsamiq is more suitable. Choosing between Balsamiq and Figma depends on for what purpose you use it.
When Is It Better to Hire a UX/UI Designer?
A UX/UI designer is the right person if you require both UI and UX expertise.
The reasons for hiring UX/UI designers include:
You decided on rebranding and redesigning the website.
Your website has undergone a complete redesign, and as a result, there are fewer visitors and a lower conversion rate.
When developing a new application, you may not have a clear idea of how it should seem or may require assistance in visualizing this idea.
If you require a UI/UX specialist to conduct an audit and provide suggestions to enhance the UX of the app because your project has been ongoing for several months with minor updates and there is an issue with user interaction – then you are at the right place. Quintagroup can help you hire the best UI/UX professionals.
When developing an application, it's important to consider the level of user-friendliness during the discovery phase. You can create a clickable prototype even before the program is initialized.
You might need a clickable application prototype to survey potential users about if such an application is necessary, whether it is the proper idea to create it, and if the application fulfils users' expectations.
Although it's frequently preferable to employ UX/UI designers, one of whom is stronger at UI and the other at UX, if resources allow. They'll be a true software design vigor, ready to handle more work.
Differentiating a UI Designer from a UX Designer
UI, or user interface, mostly refers to the menus, icons, sliders, checkboxes, and other graphic cues that users interact with when browsing a website or an application on devices (both PCs and portable gadgets). UX describes how a person interacts with a product, including the feelings they experience about it.
It's important for UX designers to grasp the target user's thoughts and impressions and approach design from that point of view. When designing a webpage or app, UI designers must be inventive. In contrast to UI, which makes a product appealing and dynamic, UX focuses on keeping it useful and worthwhile. When hiring a UI UX designer, take these factors into consideration.
What Defines Good User Experience?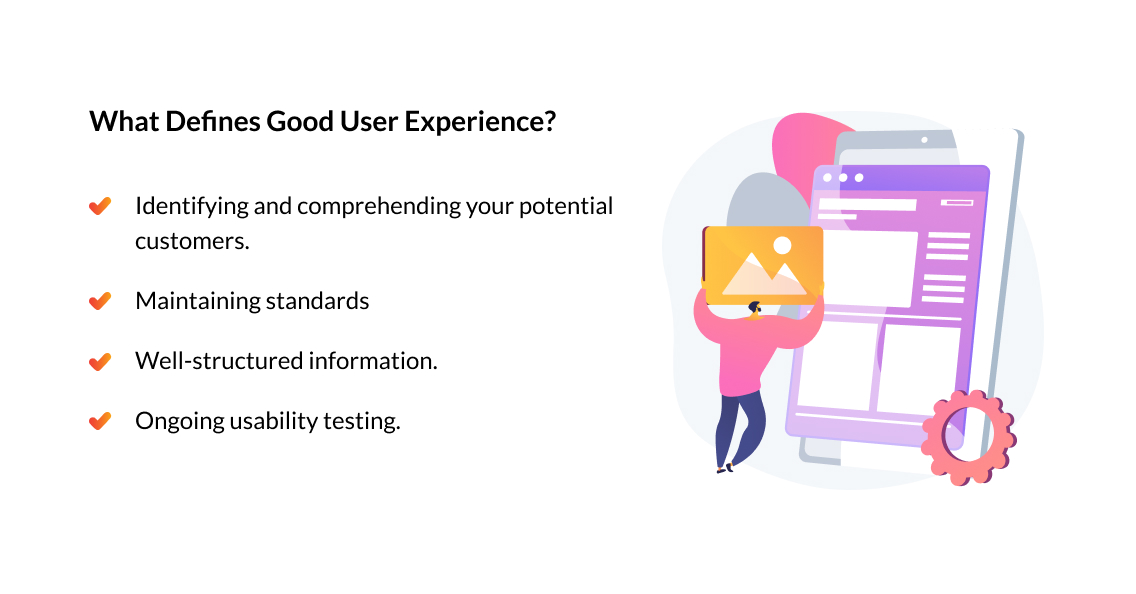 1. Identifying and comprehending your potential customers.
Regardless of what you're creating or designing, it's crucial to prioritize your audience. The best digital goods are those that satisfy the needs and desires of your clients. User research is a technique used in UX design that is extremely helpful in creating a great, increased user experience.
2. Maintaining standards
In some situations, it's great to think creatively, but in others, it's best to stick to the common norm. The main aim is to fit users' expectations and wants in the context of UX design.
Stick to the most recent trends and make the most of them. That is crucial for success in any field, but especially in one that closely monitors consumer needs, which serve as the cornerstone of your company.
3. Well-structured information.
A website's or app's information architecture illustrates how the material is organized. It ought to be as explicit as possible. Users are likely to become irritated and quit the website or app without returning if the navigation is difficult, complicated, or takes too long. Therefore, make your projects organized and user-friendly, in addition to being easily usable. No need for additional instructions means satisfied users.
4. Ongoing usability testing.
A nice user experience cannot be created without usability tests. All the time and energy you invest into the user research and design process will be for naught if you view the project as a one-time activity and never check back on it after it is finished.
What Is Good UI Design?
User Interface coherence.
Any discipline that deals with design needs to be consistent. The major goal is to make the smooth user's experience while navigating the interface. Users can become comfortable with the interface more quickly and readily when it has a uniform format, which improves the user experience.
Full responsiveness is a key to success.
Users will access your digital product on different devices. Ensure the interface you create looks and functions equally well on each. A seamless customer experience across devices and platforms will increase users' satisfaction as well as your image and credibility.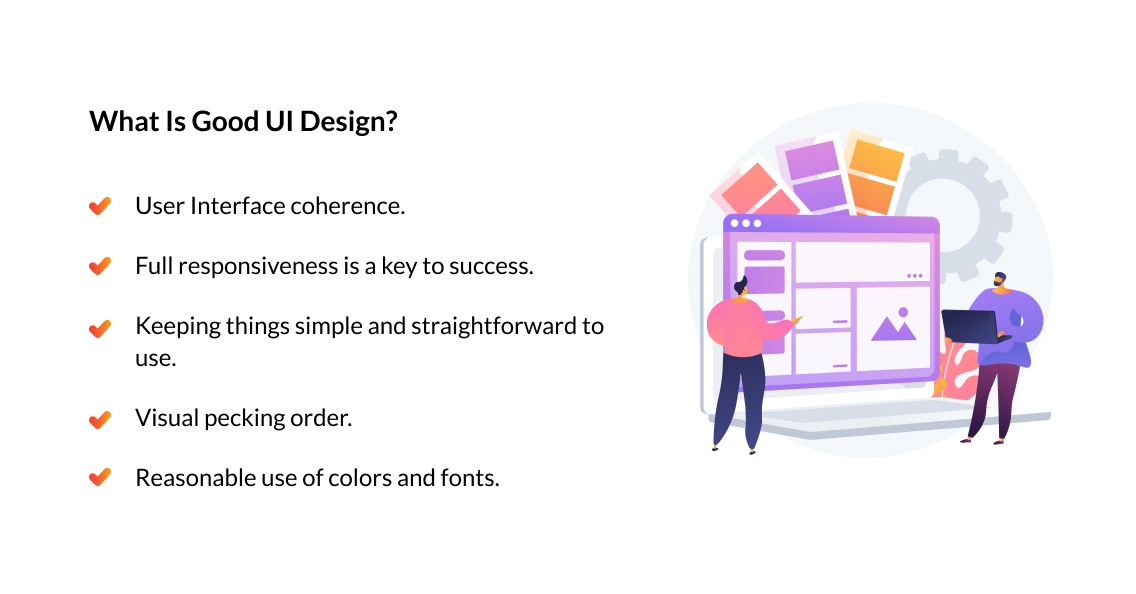 Keeping things simple and straightforward to use.
Less is better when considering user interface design. The problem with overloaded user interfaces goes beyond the potential for user misunderstanding and annoyance. Deployment is another issue; the more sophisticated the interface design, the harder it is to implement. Long-term, you lose time, money, and resources if you do that.
Visual pecking order.
The hierarchy of the elements in UI design and information architecture go hand in hand. In essence, it entails sorting the design components according to how you want people to see and interpret them. By controlling elements' size, color combinations, brightness, etc., you can grab consumers' attention and make them aware of the significance of each one. This way, it is easier for them to navigate and feel comfortable with the product.
Reasonable use of colors and fonts.
Colors and fonts are two of an interface's most important design components. Typography in user interface design relates to the aesthetic of the written content on the interface, including text size, thickness & manner, line spacing, etc.
It is easy to understand why typography is so essential because so much information is available online in written form. Your digital product can express a certain idea and emotion thanks to the way you employ color and font. It represents the brand. Therefore, the typography should be logically organized and simple to read.
The conclusion
Providing customers with highly functional, aesthetically beautiful, intuitive interfaces and the optimal user experience is always the goal of high-quality UI/UX design. It undoubtedly requires time, commitment, and work, but the benefits are enormous. Just always bear in mind to prioritize users and follow the most recent trends.
Contact us if you have any inquiries or require UI/UX design services. Quintagroup, a software development outsourcing company, can assist you in hiring UI/UX designers who will help to attract users and encourage them to become clients.