Open Source Technology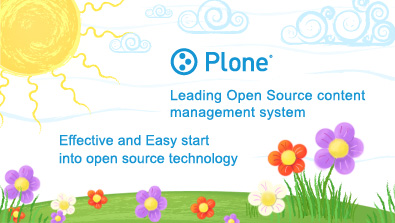 Plone is a popular Open Source Content Management System based on the Zope application framework. It is licensed under the GNU General Public License, which gives you the right to use Plone without a license fee, and to improve upon the product.
Open Source Development
Open source code is made available free of charge to the general public. The rationale for this is that a large community of developers who are not concerned with proprietary ownership will produce more useful and bug-free product for everyone's benefit.
The open source concept relies on community members to find and eliminate bugs in the program code, a process which commercially developed and packaged programs do not utilize. The process of eliminating bugs and improving the software happens at much quicker rate than through the traditional development channels of commercial software. The information is shared within open source community and does not originate or channel through a corporation's research and development department.
Plone is constantly being developed and enhanced by thousands of developers worldwide.  Apart from deploying new features for Plone, they provide its customization and support. If talking about the core of Plone, we can undoubtedly say that Plone is one of those CMSs that have very big number of core developers (over 350 core committers), spread so wide with no real single point of failure.
Transparency
Open Source technology makes business sense. Apart from being free and of very high quality, it is often more powerful than most commercially available products. This is because its shared development harnesses the benevolent brilliance of thousands around the world who are continually developing, improving, and evolving its core. It's a worldwide community, getting together to build something awesome, regardless of distance, language, and culture.
That's why openness is one of our core values. Open communication enables learning, which leads to knowledge and empowers people. We empower clients by making project progress, problems, and pricing completely transparent. We use open source software extensively since it empowers us to get in-depth knowledge about how an application is constructed, and to fix it or enhance it when needed.
Open Source Business Community
Plone  is a unique system in terms of its comprehensive support. It is backed by hundreds of companies around the world rather than one company owning all its rights. When looking for a Plone provider you can go to any of hundreds of companies worldwide that offer Plone deployment, customization and extension services. You can receive technical support and consulting from any Plone provider, basing on its regional location or your personal likes. Taking all the aforementioned into consideration, Plone can undoubtedly be called a 'business community'-backed CMS.
With Plone you can not worry about situations when one company, governing the system development process, is purchased by a bigger organizations; as a result of which the system is eliminated. Plone Foundation, owning the code and trademarks of Plone, is a non-profit organization, it can not be purchased, so you should not worry about Plone's ever going to go away.
Quintagroup is one of Plone open source CMS services vendors, offering full range of Plone-related services. Our company employs open source technology for enterprise solutions, IT outsourcing and  consulting services to source, manage and deliver IT projects effectively and efficiently.
Working with Open Source technology is not easy, though, and we leverage Open Source technology to a degree that is still very uncommon. But this dependency is our strength, because we're backed by the thousands of people who have engineered the software we use. We are indebted to them, and do our part to contribute back to the Open Source communities.