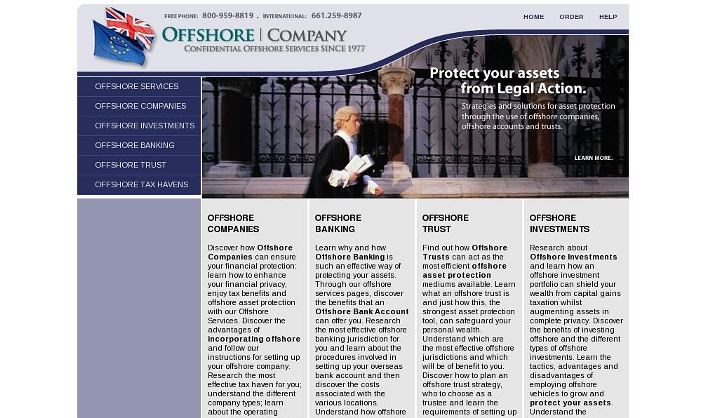 Offshore Companies are businesses that have been registered or incorporated outside of the country of residence. Incorporating offshore is a straight-forward process in all of the popular offshore financial centers and tax havens and can provide a wide range of benefits to the company and company principals.
Our client - Offshore Company UK provides offshore incorporation, banking and trust services to a global market, specializing in the services for United Kingdom clientele. Consulting for asset protection, financial privacy and lawsuit protection through a personalized service. In business since 1977, Offshore Company provides complete legal document preparation and filing with government offices in all strategic jurisdictions. Offshore Company UK offers such services as: Offshore Business Incorporation, Offshore Company Formation, Offshore Bank Account, and Offshore Trust.
Business Challenge
The client decided to build their website on the Plone Content Management System and Quintagroup was selected to provide the right web solution. In addition to a brand new look, the site features a lot of useful information, tips and advice to ensure a successful and smooth move. The client was highly concerned about optimizing the content of web pages for the search engines.
Project Outline
To assist the company with their need and requirements for the new website, Quintagroup carried out the following tasks.
HTML Code Clearance
Due to the fact that Plone site HTML code is not always clear, it includes lots of blank lines, gabs, unnecessary tags etc. Quintagroup has developed a special product that clears site html code. It decreases size of html file, makes it more friendly for search engines.
Navigation
qSiloGroup was used to generate custom navigation titles. This product has such features, that allows creating navigation menu titles different from documents titles, that is especially important due to the following reasons: navigation titles should be short and clear so that a visitor could easily navigate on site, find necessary information, while documents titles are usually long and informative one. Those items that are to be displayed in the navigation are selected in the left column, in the right column navigation titles are written, different from page titles (in the left column).
This site breadcrumbs functionality is different from what default Plone site possesses. qVarbreadcrumbs product was used here, that enabled customizing breadcrumb generation. Such kind of breadcrumbing can be used in those situation where site structure is different from the structure by folders. Such customized breadcrumbs gives us a clear display of how to get to a certain page, even though it is not displayed in the navigation menu. Thus, not to get lost on site, breadcrumbs can be really helpful, providing a clear picture of the way we get to a page. qVarbearcrumbs generate breadcrumbs titles on the basis of Navigation titles.
Front Page
CompositePack product was used for organizing and editing text on a home page. Offshore Company UK home page is subdivided into 4 equal blocks of text, that is realized with help of CompositePack. This product allows a Plone manager to build such kind of composite pages. When CompositePack product is installed to the site, a special tab design appears in the taskbar and a composite page is edited with its help. Each part can be edited separately, each possessing a special green drop-down menu, which makes possible one column edit.
SEO Issues
qSEOptimizer product was used for metatags editing, that is one more ingredient to site optimization for search engines. SEO properties tab is added to a taskbar. When editing SEO properties, we can change page title tag, meta description tag, meta keywords tag that all together contribute to improving site visibility in search engine result pages.