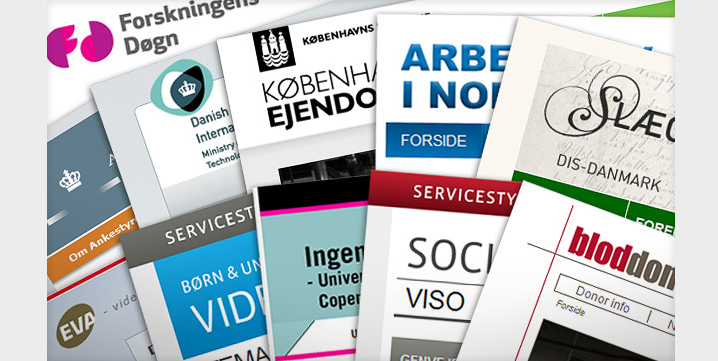 Danish provider of intranet and internet portals based on the internationally well reputed Plone CMS - Headnet targets the public institutions as well as the private sector. The company has been in business since 2000. The Headnet company was originally founded by key persons from the network "Workshop" - a creative network, founded in Copenhagen in the late 90s. They have always used Zope and later Plone as a starting point for their projects. Today they are the company in Scandinavia that has delivered the largest amount of Zope/Plone solutions.
Cooperation: Headnet & Quintagroup
Headnet company and Quintagroup are partners in the delivery of various custom Plone Development solutions. Thanks to cooperation with Headnet, Quinatgroup took part in the realization of the following projects:

http://www.fivu.dk/
Website for the Danish Ministry of Science, Innovation and Higher Education gives access to information concerning education and research institutions, as well as activity of the Ministry. Its primary purpose is to strengthen relations between industry and research centers, as well as coordinate their policies.
Quintagroup developed Plone Theme for this site, based on Plone 4.3. These theme features a multilevel drop-down menu for navigation between web content. Carousel banner allows moving between different news articles with ease. Also, this site is bilingual and it is easy to choose either Danish or English version.

http://www.tilbudsportalen.dk/
Quintagroup developed a Plone Theme for Tilbudportalen, based on Plone 4.2. The main highlight of the theme is its interactive carousel slider, specially designed and developed by Quintagroup's team of web designers and coders. 
Integrated carousel allows visitors to see several content items at a time and all that in a stylish way. There are three different buttons, each with a unique hovering effect that highlights the specific area of the background image. Upon clicking, the portlet pops up, followed by other effects. There are also three portlets, each corresponding to a button: the first two contain static information and the third one provides a login box. 

http://www.slaegtogdata.dk
Quintagroup developed a Plone Theme for DIS Denmark association, based on Plone 3.3.5. The main features of the provided theme: a) Default location of portlet managers were changed: both portlet columns are displayed on the right to the content area. We also added portlets below the content area with the help of the ContentWellPortlets product. b) 'Personal page' portlet was developed that allows users to log in or register (for non-logged-in users) and bookmark site pages (for logged-in users). c) Custom 'eventmap' content type (event with maps support) was extended with the 'regions' field that allows sorting events by their regions in the 'Arrangementer' portlet. d) Subsite support was enabled with collective.lineage package that allows the site's subfolders to behave as autonomous Plone sites. We extended that package with the ability to set a color scheme and add logo for each subsite (see screenshots of subsites 1, 2, 3, 4).
http://www.arbeidslivinorden.org
Website about Nordic Labour where news and articles about working life in a Nordic perspective are published. The site highlights questions affecting the Minister of Labour law and the relationship between the Nordic and EU.
Quintagroup developed a Plone theme, based on Plone 3.1.7. The theme features: a) many types of portlets: FeedMixer portlet (displays content feeds aggregated in a single portlet); extended Plone default collection portlet (with collective.porltet.ngcollection add-on) that allowed assigning different views for each newly created portlet through its edit form; 2 additional portlet managers were added under the content area. b) Cloud view with alphabetical listing was developed for one site section. This view is available as one of the folder views and displays contained items as a cloud. c) We implemented functionality that allows attaching multiple pictures articles, that users can leaf through: Article content type was turned to folderish content type for adding images; new content type ArticleImage was created that represents image attached to article; article_view template was changed so that it is possible to switch between attached images; kss was added for image switch.

http://kejd.dk
Website for 'Copenhagen Properties' that deals with hiring municipal buildings, property management, constructing and restoring tasks, maintenance and cleaning service.
Quintagroup developed a Plone Theme, based on Plone 4.0. The theme features: a) carousel banner displayed on the site's front page, implemented with Products.Carousel; b) several custom styles were added to TinyMCE editor to enable required text styles; c) accordion (advanced collection listing), rich (portlets with images with transparent background and arrow) and cumulus (tag cloud) portlets. Custom content type Lease (with maps support) with a special view for lease and lease listing was developed.

http://en.iu.dk
Website for the Danish Agency for International Education - authority within the Danish Ministry of Science, Technology, and Innovation responsible for supporting the internationalization of education and training in Australia.
Quintagroup developed Plone 3 -based theme. Article content type was greatly extended with: a) possibility to add 10 pars of fields that might be displayed as accordion (consisting of headlines and associated content); b) an image that might display above the content area; c) a list of "related items" (implemented as DataGridFields). Custom view for rich portlet with an image displayed on the upper edge of the portlet.

http://www.ast.dk
Intranet for Appeals Board. Quintagroup developed a Plone Theme, based on Plone 4.0. The theme features: a) carousel banner on the site's front page, implemented with collective.carousel; b) extended Plone default collection portlet (with collective.porltet.ngcollection add-on) that allowed assigning different views for each newly created portlet through it's edit form; c) 2-level navigation tabs, implemented with quintagroup.dropdownmenu package; d) site's front page is built with help of portlet page that allows adding portlets within content area.

http://www.bloddonor.dk
The national blood-donor association in Denmark is a non-profit national association working independently of governmental authorities and of the Red Cross. The main aim of the association is to secure a sufficient number of blood-donors anywhere in the country anytime. Quintagroup developed a Plone Theme, based on Plone 3. The theme features: a) carousel banner implemented with Products.Carousel b) an additional portlet manager that allows portlets adding under the banner c) local donor corps portlet, displaying a clickable map of Denmark, with each region linked with the corresponding section; d) subsite theming - young blood donors section has a different design than the rest site.

http://www.servicestyrelsen.dk
Website for the Services Agency (Denmark Ministry of Social Affairs) that solves social tasks in the areas of children and adolescents, disabled, vulnerable and mature.
Quintagroup developed a Plone 4 theme with the following features:
a) Colored navigation menu items - there is a 'Set Style' option for every folder that allows specifying what color it will have. In case this option is enabled and the color is set - the folder will appear in the 2nd navigation menu. The same color will be used for inner navigation items on the left portlet. b) collective.carousel was used for implementing a rotating carousel banner on the home page. c) Information about the publication date, last modification date, and the author is displayed under pages content. d) An additional portlet manager was added to manage a big number of bottom portlets. These portlets are displayed by one or several per line. The portlets used on this site are the following: ngcollection portlet, portlet shelf, rich portlet, static stylish portlet, generic HTML portlet. e) Subfolders view was developed for folders to display the contained folders by 3 in a row. f) Subsites Theming.

http://eva.dk
Website for the Danish Evaluation Institute that explores and develops the quality of day care for children, schools, and education. They provide the knowledge used at all levels - from institutions and schools to municipalities and ministries.
Quintagroup initially developed a Plone theme for Danish Evaluation Institute, based on Plone 3. Later on, we upgraded the theme to Plone 4. The theme features: a) colored global navigation tabs, displayed on the upper and bottom site areas; b) many custom styled portlets of different colors throughout the whole site: collection, reference, and static portlets; c) customized portlet page for site's front page display; d) special view for subsections displaying 5 collection portlets in a row; e) random image on the top area on front page and inner site pages; f) drop-down box portlet that navigates site visitor to the selected item.

http://studyindenmark.dk
StudyInDenmark is the official government site for advice on study in Denmark, hosted and updated by The Danish Agency for International Education.
For this project, Quintagroup developed a Plone Theme, based on Plone 4.0. The provided theme includes rich functionality and many eye-catching features: a) Content on the front page is divided into portlets: there are 2 rows on portlets that are managed via portlet-page and the last (3rd) portlet row is managed via additional footer portlet manager. b) Plone bookmarklets were added to internal site pages to allow easy content sharing in social networks. c) A customized carousel or banner can be displayed on the site's front page. Implemented carousel has more features than default Products.Carousel brings: it was enhanced by 4 views for displaying carousel items (with/without header, description or text). It was also enhanced by the possibility to add a video file as one of the rotating carousel objects. The carousel can be replaced with a banner: we provided 6 banner styles and 2 size variants. d) Multi-level global navigation was enabled by the quintagroup.dropdown menu product. e) twitter and facebook portlets displaying a defined number of last tweets. f) Custom portlet displaying the last 3 members that joined my.studyindenmark.dk network as well as the recent blog post.

http://www.sbi.dk/
The website for the Danish Building Research Institute Research. The Danish Building Research Institute (SBi), Aalborg University is the Danish national building research institute and develops research-based knowledge to improve buildings and the built environment.
Quintagroup developed a responsive theme for Plone 4, which means the website works seamlessly on mobile phones and tablets. The design instantly adapts to the size of the device and content blocks automatically stack, so that all content is visible and accessible without any zooming or horizontal scrolling. Similar to a mobile version only that it naturally adjusts to the device screen size without additional third-party scripts thus maximizing compatibility.

http://www.socialstyrelsen.dk/
The website for The National Board of Health and Welfare (Socialstyrelsen). The National Board of Health and Welfare is a government agency under the Ministry of Health and Social Affairs, with a very wide range of activities and many different duties within the fields of social services, health and medical services, environmental health, communicable disease prevention, and epidemiology.
Quintagroup developed a responsive theme for Plone 4 that adapts to the device screen size and resolution. It improves the usability and overall browsing experience for mobile and tablet users.

http://www.ihk.dk
Website for the Copenhagen University College of Engineering, which aim is to create an education and a learning environment that attracts dedicated students.
Quintagroup developed a Plone skin for Copenhagen University College of Engineering, based on Plone 2.5.3. Plone Drop Down Menu Product was used for generating a multilevel drop down navigation menu for this site.
http://vidensportalen.servicestyrelsen.dk
This is a knowledge portal aimed to help municipalities find current best knowledge and making this knowledge useful in interventions for vulnerable children and young people.
Quintagroup developed a Plone Theme, based on Plone 4.0.

http://www.forskningensdoegn.dk, http://forsk.dk
Website about The Festival of Research - an annual national event intended to arouse public interest in and enhance public understanding of the methods, processes, and outcome of research and science.

http://www.fi.dk
Website for Research and Innovation Agency of the Danish Ministry of Science. It's responsible for research and innovation policy and secretariat services and oversees the independent counsel.

http://www.hoereforeningen.dk
Website for Hearing Association that works to improve living conditions for people with hearing loss. This is a disability organization representing 800,000 Danes' interest in the hearing area.

http://www.herlevbibliotek.dk
Website for Herlev and Hjortspring online Library that offers self-service solutions and library services on the Web.

http://www.it-borger.dk
This website is an IT and Telecom Agency's citizen-oriented theme portal with information on IT and telecommunications for all citizens.

http://polarfocus.dk
This is a website for Danish polar research in the international polar year.





http://vtu.dk
Website for Denmark Ministry of Science Technology and Development, responsible for university education, research, innovation, information technology, and telecommunications.

http://slv.dk
Website for Statens Luftfartsvæsen (SLV) - Danish Aviation agency under the Ministry of Transport. They handle a number of responsibilities in regulating the exercise of civil aviation in Denmark compared to the aviation industry, passengers and other stakeholders.

http://sm.dk
The website of the Ministry of Children, Gender Equality, Integration and Social Affairs of Denmark. The Ministry is responsible for the organization and financing of the social system in relation to disadvantaged children, elderly and disabled people, marginalized groups such as homeless people, people with mental disorders and drug addicts.

http://euraxess.dkEURAXESS Denmark provides access to a complete range of online information and practical assistance for researchers wishing to pursue their research careers in Denmark. It is a part of EURAXESS - Researchers in Motion initiative and gives researchers coming to Denmark all possible support, including face-to-face contact with the researchers and/or their families.
http://ufm.dk
This is the joint website for the Danish Ministry of Higher Education and Science (formerly known as fivu.dk). The website includes the Ministry/the Department, the Danish Agency for Science, Technology and Innovation, the Danish Agency for Higher Education and the IT Department of the Ministry of Higher Education and Science.

<http://www.dukh.dk
DUKH - The Impartial Consultative Service for People with Disabilities (Den Uvildige Konsulentordning på Handicapområdet) is an independent institution that offers counseling and promotes the legal status of disabled people. DUKH provides impartial advice to people with disabilities and their families concerning Danish legislation and legal rights, services, appeal rights, and case processing.

http://www.fuglsangcentret.dk
Fuglsangcentret is a four-star course and conference center located in Fredericia that accommodates various sizes of meeting and conference rooms, restaurants, and 60 rooms each with a private terrace. Their hallmark is hospitality, intimacy, and warmth.