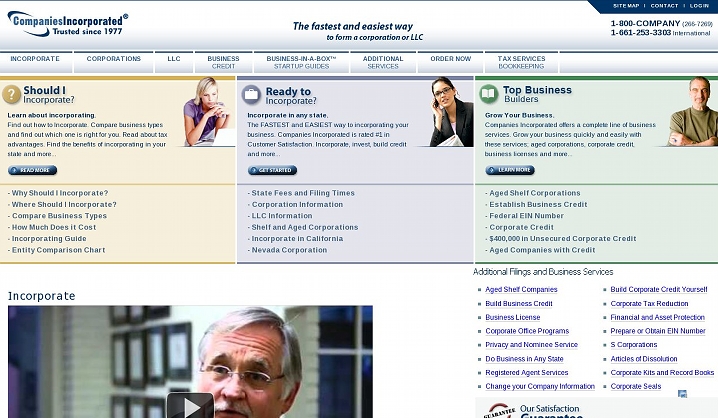 Our client Companies Incorporated company has been in business since 1977, providing small business filing and business formation services with tax form support for any entity type, assistance with managing corporate records and offer business development tools such as corporate credit programs, aged company and shelf corporation packages.
Companies Incorporated and its family of companies have served thousands of business people, attorneys, accountants, physicians and others. Companies Incorporated is committed to the bedrock values of Honesty, Integrity, Quality Service and Customer Satisfaction. CompaniesInc provide the following services: Incorporate Online, Shelf Corporation and Aged Company, Corporate Credit, Nevada Corporation, Incorporate in California.
Business Challenge
Companies Incorporated addressed Quintagroup to help their company to have a sophisticated and informative bilingual website. Selecting Plone CMS as a base for their future website, CompaniesInc expected to upscale their positioning online. New design and new features planned to be impelented were supposed to increase number of site visitors, and as a result - increase number of company clients.
Project Outline
Quintagroup provided CompaniesInc with a new Plone 2.5.3-based website. We managed to build multilingual website featuring rich functionality.
SEO Issue
To optimize this site for the search engines, i.e. to increase site visibility in search engine result pages, qSEOptimizer product was used. After its installation, SEO properties tab was added to a taskbar, allowing to set necessary meta tags for every site entry. Editing SEO properties made it possible to change page title tag, meta description tag, meta keywords tag, etc.
Note: Even though this site is built on top of Plone CMS, most site pages go with extension .asp (e.g. http://www.companiesinc.com/incorporate/index.asp). This can be explained by the attempt to keep site value with Search Engines. Since old site pages had .asp extension, they were not changed during migration into Plone; and remained the same on the new site version due to SEO purposes.
Performance
Site's load speed was improved by clearing pages HTML code. For that purpose we used a special tool that allows to decrease HTML size of pages, making them more friendly for the search engines. With its help we got rid of blank lines, gabs, unnecessary tags etc. As a result HTML code was cleared and now it contains no useless tags.
Navigation
Navigation titles were generated with the help of qSiloGroup. This Plone product allows making titles at a navigation menu different from page titles. SiloNavigation tab opens a window, in which we can select those items that are to be displayed in the navigation (left column), navigation titles are written in the right column.
qVarbreadcrumbs product was used to generate breadcrumbs in a special way, different from default Plone breadcrumb formation. It was used in several situation where site structure was different from the structure by folders (three pages Where to incorporate (1), Incorporate in Any State (2), Incorporate in Nebraska (3) are all in one folder Incorporate, but to get to Incorporate in Nebraska you have initially to visit 1 and 2 pages). Such customized breadcrumbs shows clearly how to get to a certain page, even though navigation menu lacks such information. Breadcrumbs can be really helpful, providing a clear picture of the way we get to a page, and helping not to get lost on the site. qVarbearcrumbs product uses Navigation titles to generate breadcrumbs titles.
With the help of qPloneTabs it was easy to manage the tabs according to the client's needs and wants. A special issue appeared in a list of Add-on Product Configuration. This product allows to create, edit and delete tabs. It also lets us change tabs order by simply drag-and-drop.
Multilingualism
Plone bilingualism was achieved with the help of LinguaPlone product. LinguaPlone enables easy translation of the content and its effective management. LinguaPlone makes it possible to navigate through different language versions of the same content. When pages and folders are copied, connection between documents in different languages is not lost. Thus, users can easily shift between languages through a drop-down menu. Initially CompaniesInc was created in English, but then it bacame bilingual: English-Spanish.
English version was in the root of the site - http://www.companiesinc.com/
Then we created a folder Espanol (/es) - a Spanish version of the site - http://www.companiesinc.com/es/.
We translated all the content one by one into that folder: the button 

translate into

appeared on the toolbar, clicking on it we chose 'Espanol'.
The content translated into Spanish was all pasted into

Espanol

folder. So, every page in English, for example, http://www.companiesinc.com/folder/page.html has its translated into Spanish equivalent in

Espanol

folder http://www.companiesinc.com/es/folder/page.html
Thus, all the pages, Navigation menu, breadcrumbs, tabs and portlets were translated. A special drop-down menu appeared on every translated page in English version and the Spanish one to shift between languages.
More information about managing multilingual web-site can be found in Multilingual Plone Site article.
Front Page
CompositePack product was used for organizing and editing text on a home page. Companies Incorporated home page is subdivided into several sections. CompositePack product allows a Plone manager to build such a kind of composite page. Thus, when CompositePack product is installed to the site, a special tab design appears in the taskbar and a composite page is edited with its help. Each part of this page can be edited separately, each possessing a special green edit drop-down menu, which makes possible one section edit. When you click 'edit' item, select edit and the section you are editing spreads to the whole window width. This is a field where you can make any edits to the section by editing its HTML code. Besides, there is an add item drop-down menu near every section, so that we could add either a title for a section or a piece of content (HTML code), i.e. create a new section.
Site Theme
Quintagroup used tableless layout for CompaniesInc Plone skin development. We've paid much attention to make HTML code valid and semantically-correct. CompaniesInc theme features:
Front page has a special block developed to be displayed under site global navigation. This block contains person's photo and personal data (this is one of random sets that changes with every page refresh). There is also a text of different styles added with a guarantee label at the bottom.
Above-footer set of portlets is added to all site inner pages, including 3 static text portlets. This is a right column of portlets displayed under the content area, which can be managed as usual portlets in Plone.
Contact form block was added to site subsections (e.g. Incorporate section), containing a form, created with PloneFormMailer product. The form was nicely designed to be subdivided into 2 columns. Form description is context-sensitive (compare Incorporate and Limited Liability Company sections). Each site section can have different text  displayed as form description.
Database Manager
Companies Incorporated provides the finest Corporations, Limited Liability Companies, Limited Partnership and Trusts. There is a list of all  companies that a customer can acquire at Shelf Corporations & Aged Corporations page. Apart from Corporate company name, this list includes information about State/Country in which a company is situated, its creation date, age, price and status (available, reserved, or sold). Information about all companies is stored in MySQL database. Z MySQL database adapter product (ZMySQLDA) was used for connection with MySQL database.
A visitor can sort the companies in the list according to any category simply by pressing the corresponding column title. These pre-established shelf corporations that CompaniesInc provides can be ordered by the telephone call to CompaniesInc Call Center. Call center consultants change company's status immediately after it is sold or reserved at Database Manage page so that customers have up-to-the-moment information at their disposal.
Apart from status change, Quintagroup developed a possibility for CompaniesInc Database Manager to edit this table in a simple way. Each line of the table has edit link for editing information about one company. Besides, there are actions buttons that enable to edit several items all together. This is how database manager can change companies' status to available, sold, or reserved; and edit price. Add new button allows to add 3 new companies to the list at the same time.