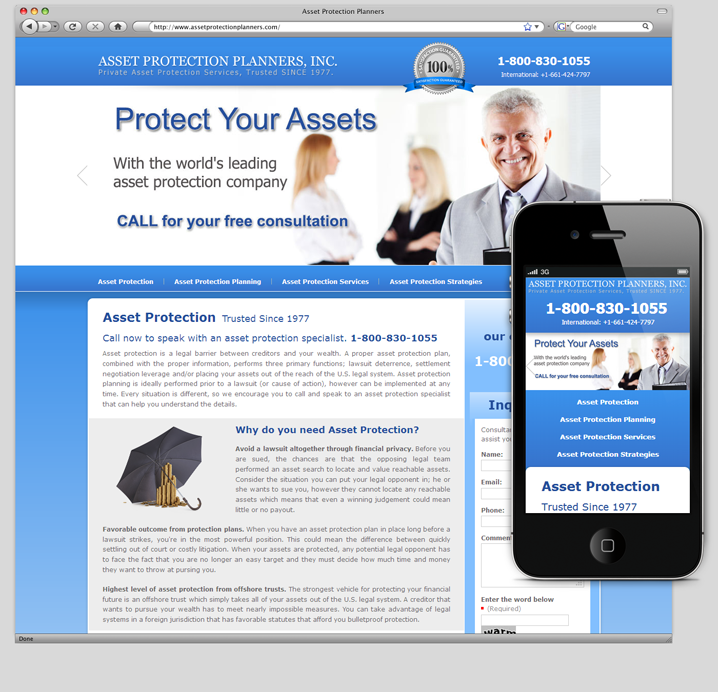 Our client Asset Protection Planners provides asset protection services for businesses and individuals utilizing resources and legal tools around the world. It is a division of Companies Incorporated that has been in business since 1977 offering incorporation and offshore services for the purposes of asset protection, financial privacy and lawsuit protection. Asset Protection Planners also specialize in strategies from simple to bulletproof and offer personalized consulting and planning based on your specific scenario.
Asset Protection Planners, Inc is the highest rated provider of private asset services. The company provides hands on consulting and professional services to assist in the development of plans, strategies and services to a global audience. Asset Protection Planners, Inc. works with government offices all over the world to establish legal structures, private financial accounts and companies quickly, legally and easy for clients. Asset Protection Planners provides the following services: Asset Protection, Asset Protection Plans, and Asset Protection Strategies.
Business Challenge
Asset Protection Planners, Inc. needed a modern corporate Plone theme that would showcase their recent work, list the services company provides - all in a nice and clear way. The future site was expected to be easily editable so that site administrators and responsible people could have full control over site content management.
Project Outline
The  Asset Protection Planners website relies on Plone for its security, user functionality  and performance since 2007, when APP migrated  on Plone 2.1.2. Recently Quintagroup designed and developed a new  theme for Plone 4.2.  Great attention was  paid to site's visibility for Search Engines, thus, a lot of work was done in terms of SEO. We used quite a bunch of Plone add-ons to allowing necessary site functionality.
Responsive Plone Theme

After considerable planning and analysis, Quintagroup has developed  the APP  theme for Plone 4.2.1, fully responsive theme that  adjusts its design, so the website will display beautifully and intuitively no matter what type of device it is browsed with.
Plone Upgrade & Content Migration
The website with all its content was migrated from Plone 2.1 on the Plone 4.2. The process included a complete replication of the website structure with all its folders and pages, portlets, contact forms, as well as APP's blog.
SEO Issues
Content's title tag, meta description tag, and meta keywords tag are key aspects that contribute to improving site's visibility in search engine result pages. That is why we used Plone SEO product to set such meta tags & keywords that could make this site more visible. All content meta tags become easily editable in SEO properties window for separately each content item.
We used Plone Google Sitemaps to create nice site's Sitemap with complete listing of website content URLs that are supposed to be indexed. This allows us to control which element to include/exclude from Google index.
Note: Even though this site is built on top of Plone CMS, most site pages go with the extension .asp (e.g. http://www.assetprotectionplanners.com/strategies/index.asp). This can be explained by the attempt to keep site value with Search Engines. Since old site pages had .asp extension, they were not changed during migration into Plone; and remained the same on the new site version due to SEO purpose
Navigation
Custom navigation titles are used on this website: site's folders' titles are not used in the global navigation. The reason for custom titles usage is that navigation items should be short and clear so that a visitor could easily navigate on site, find necessary information, while page titles are usually long and informative. To make navigation clear and usable every folder can have special title set to be displayed in the navigation. This functionality came with qSiloGroup product that enables creating navigation titles different from documents' titles. This product also allows to select items (which a folder contains) to be displayed in the navigation. In the left column of SiloNavigation table select elements to be displayed in the navigation, in the right column change navigation titles.
Online Forms
There are several online forms on this website aimed to let site visitors contact site's administration and company members. To validate human input in these forms and prevent them from being submitted automatically we used Plone Captchas product that adds captcha to all Plone forms.
Interested in learning more?

Quintagroup is a seasoned provider of web solutions and can give expert advice to assist your business or organisation online. Contact us today to learn more.