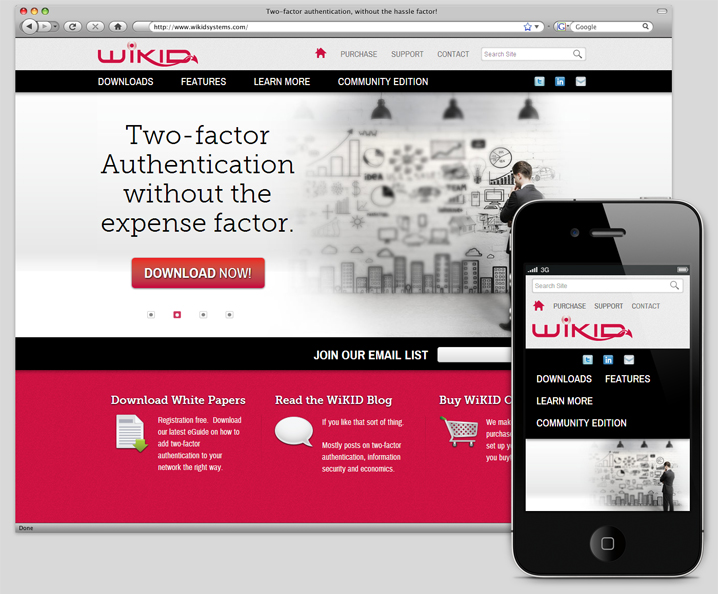 WiKID Systems, Inc. is an Atlanta-based technology company working in the field of  Computer & Network Security. Its main focus is put on helping companies and organizations reduce their dependence on passwords by making two-factor authentication simple and accessible.
Client Objectives
Modern, contemporary web theme with the user-friendly interface reflecting the solid brand
Seamless experience for mobile and tablet users
Payment by Credit Cards Online
Secure Shopping Cart
Social Media Integration
Solution
After considerable planning and analysis, Quintagroup has developed  the WiKID theme for Plone 4.2.4, fully responsive theme that  adjusts its design, so the website will display beautifully and intuitively no matter what type of device it is browsed with.
One of the main goals was to provide a customer interface that would simplify the process of finding the right information in a few clicks that is why all the content is well-structured and delivered in a touch-enabled slider form.
The next challenge was posed by integrating a reliable e-commerce solution. Quintagroup opted for Simple Cart Item, an open-source secure shopping cart for Plone. The shopping cart accepts credit cards and  payments by integrating with Google Wallet  payment gateway. This way WiKID Systems are able to reach out also to their mobile and tablet users.
Mobile e-commerce and mobile user experience were at the top of priority list for the client, as many of you know, not catering for mobile customers is cutting in half  your business clientele. Quintagroup ensured that WiKID Systems could handle online payments on mobile devices and tablets, so the users would conduct transactions from the device of their choice – at any moment and wherever they are.
Finally, today's business has long as entered the era where purchasing behavior is most influenced by a recommendation from a trusted friend, which creates the need for social sharing features in the e-commerce website. The Wikid theme has integrated social media to connect the customers to the WiKID Systems business profiles on Linkedin and Twitter.
Successful outcome
The new website reflects the style, size and positioning of WiKID Systems. The Plone theme is contemporary and uncluttered, despite the enormity of the information presented; the  website architecture is intuitive and logical, and particularly rewarding to use. Combined with the backend e-commerce integration, the website squarely positions WiKID Systems as the leading company in  two-factor authentication.
Interested in learning more?
Quintagroup is a seasoned provider of web solutions and can give expert advice to assist your business or organisation online. Contact us today to learn more.