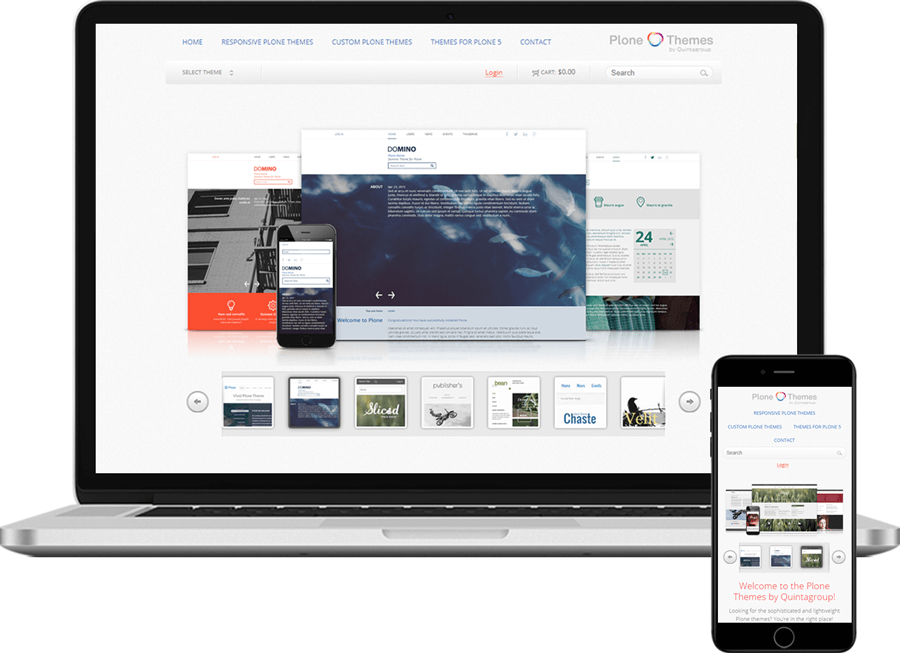 Quintagroup provides website development and integration services based on such efficient and advanced open source tools as Plone, Zope, and Python.  Plone themes by Quintagroup is a web store that hosts free and premium Plone themes, designed and developed solely by Quintagroup team.
Objectives
Modern, contemporary, branded web theme with the user-friendly interface
Payment by Credit Cards Online
Secure Shopping Cart
A seamless experience for mobile and tablet users 
Solution
The Plone Themes web store was built on LFS, an open-source e-commerce solution. LFS is based on widely-used software: Python, Django, and jQuery. It's free,  easy to use, secure, and fast. With LFS you can easily create your own fully-customized site, using secure, reliable e-commerce technology. Building on LFS means building your own e-commerce site, with your own brand. You decide on the look, style, and features for your site.
Responsive Diazo Theme
It's very important when building the e-commerce website to craft customer experience. Today's consumers are constantly connected, moving from a smartphone, to a computer, to TV, to tablet, back to the smartphone. They may be moving from device to device but their intentions don't change. And regardless of which device they use or how they move across the device spectrum, they expect you to deliver a consistent, seamless experience. Following Diazo practice Quintagroup developed a responsive theme - Quintagroup customized and branded every step of its customers' experience—from the homepage to the product pages to the shopping cart.
Custom Carousel slider
LFS lets you create a storefront that showcases your products exactly how you want. Quintagroup chose to display its Plone themes in a carousel. The home page features a custom carousel slider with all the Plone themes available. It's a circular, responsive carousel extension, built using the jQuery library. The carousel slider can scroll items automatically rotating them every few seconds or by user interaction.
Custom Checkout
Many sellers increase conversion by letting customers pay with the payment system they are already using (PayPal, Amazon). Others prefer to brand their checkout as their own. Quintagroup chose LFS  as it allows either choice. It's prepared for payment via cash on delivery, bank account, PayPal and credit card. This e-commerce solution is flexible enough to allow a pluggable backend.
Successful outcome
Opting for LFS as an e-commerce solution for Plone themes web store was the right choice. LFS gives you everything you need to get your message out. As an e-commerce system, it provides all the capabilities and merchandising features you need to market your products effectively, backed by the security and reliability of Django and Python-based technologies. The new web store reflects the brand and business values Quintagroup carries over 11 years. The design is contemporary and uncluttered, despite the enormity of the information presented; the design and website architecture is intuitive and logical, and particularly rewarding to use 
Want to build your online business with the power of LFS?
Quintagroup is a seasoned provider of e-commerce solutions and can give expert advice to assist your business or organization online.  Contact us today to learn more.