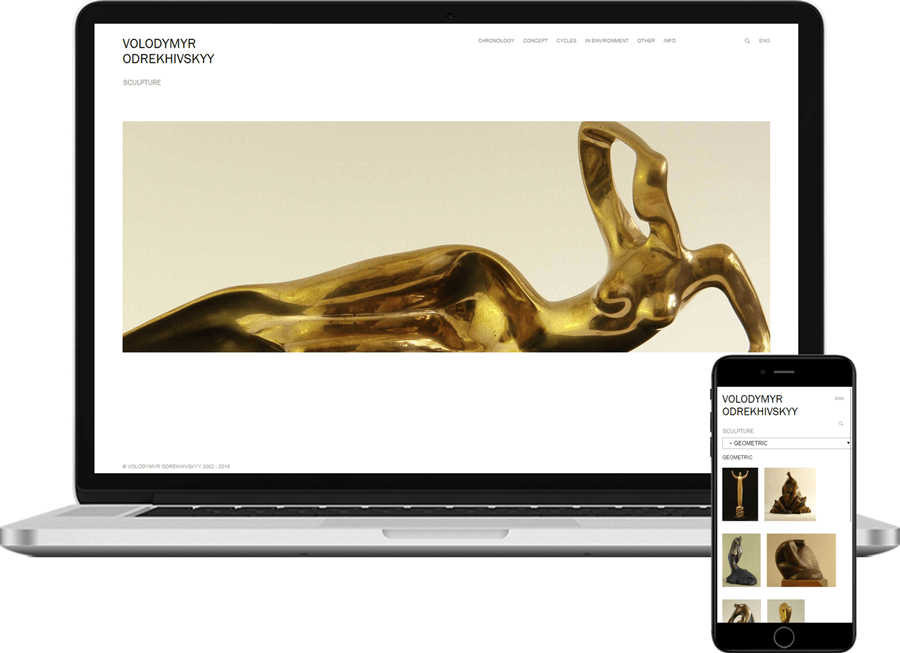 Volodymyr Odrekhivskyy is a renowned Ukrainian sculptor. He created some of the most unique masterpieces of contemporary sculpture.  His main muse has always been the female form with its beautiful curves and flowing lines.
Client Objectives
Modern, contemporary, ultra-clean portfolio Plone theme with the user-friendly interface
A seamless experience for mobile and tablet users
Multilingual Support
Quintagroup Solution
After considerable planning and analysis, Quintagroup has developed the Odre theme for Plone 4.2, a fully responsive theme.
Responsive Diazo Theme
It's very important when building the portfolio website to craft a visitor's experience and portray the artist's works in the best way possible without any distracting functionality.  People today are constantly connected, moving from mobile,  to tablet, to PC. They may be moving from device to device but their intentions don't change. And regardless of which device they use or how they move across the device spectrum, they expect you to deliver a consistent, seamless experience. Following Diazo practice Quintagroup developed a responsive theme that adjusts its design, so the website will display beautifully and intuitively no matter what type of device it is browsed with.
Custom Carousel slider
Plone lets you create a front that showcases your creations exactly how you want. The client chose to display his masterpieces in a carousel. The home page features a custom carousel slider with all the sculptures. It's a circular, responsive carousel extension, built using the jQuery library. The carousel slider can scroll items automatically rotating them every few seconds or by user interaction.
Mobile-first top navigation
Device-native, interactive interface for more accessible navigation. A smart select box takes up minimum space on mobile phones, while tablet users are presented with a glorious multi-level navigation menu.
Multilingual Website
Since Phone's interface and all the standard functionality is already translated into more than 50 languages, the main concern is to translate the content. With the help of LinguaPlone, the product specifically designed for translating and managing multilingual websites Quintagroup delivered a bilingual website for the client.  We have enabled two languages - Ukrainian (customer's native language) and English.
Successful outcome
The new website reflects the style and artistic values, carried by Volodymyr Odrekhivskyy. The design is contemporary and uncluttered, so that visitor's attention is immediately focused on the images of beautiful sculptures.
Interested in learning more?
Quintagroup is a seasoned provider of web solutions and can give expert advice to assist your business or organization online. Contact us today to learn more.