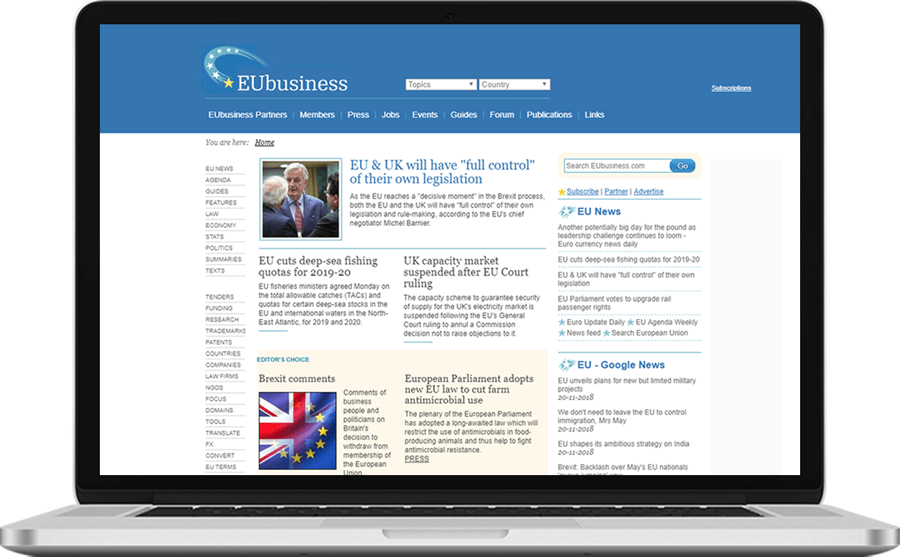 The EUbusiness web site is Europe's leading independent online business information service about the European Union. Founded in Luxembourg in 1997 by Managing Director Nick Prag, with the help of former Europe Online colleague and editor Wendy Jones, the site is managed and owned by EUbusiness Ltd in the United Kingdom.
EUbusiness journalists provide daily-updated news and information about EU policy, legislation, economic data and opportunities to a fast-growing membership of over 65,000 business professionals, of which more than 30,000 receive the weekly email newsletter EUbusiness Week.
Project Outline
With a fast-growing current average of 730,000 page views per month, the EUbusiness aim is to become the premier business information source about the European Union. For this, they needed to make their online presentation highly-performed. Originally based upon Plone 2.5, the website was successfully migrated to the later Plone version.
Content Migration
Quintagroup carried out the migration of EUbusiness website from the Plone 2.5 version to the latest Plone 3.3 (Release candidate 2). EUbusiness website features hundreds of pages with text content and the challenge was to migrate all those content to the new site version without any losses.
Products Migration
The old website had a special  EUbusiness product which added several custom content types. Quintagroup successfully migrated all custom content types to Plone 3.3. All old-styled Plone products were replaced for newer improved ones, compatible with Plone 3. The whole site Zope instance is now buildout-based instance, which allows easier instance management.
Site Theme
Quintagroup designer took an active part in creating new EUbusiness design. Our CSS/HTML coders team implemented a new site design into Plone.