Starting a software project may be a daunting cycle full of choices outside one's area of expertise. Although certain corporations are lucky with IT divisions that manage all product creation efficiently, the expenses that arise from this ideal scenario make it difficult for today's overwhelming majority of firms.
Instead, businesses are pushed towards two key alternatives: outsourcing or recruiting temporary employees, a method that we tend to term "outstaffing." For whatever reason, outstaffing is often confused with outsourcing, although the outstaffing model is not new in the business practice. Let's have a closer look at what is outstaffing and how it works to know the distinction.
How outstaffing works
The term outstaffing may not be common for you. But the very process of outstaffing might be known to you like the process of hiring a contractor. For that reason, outstaffing is commonly referred to as 'contracting' in the New World.
Outstaffing presupposes extending your in-house team with the remote workers with the help of a third-party vendor company. Using this strategy, businesses may recruit individual highly talented developers from external vendors to briefly expand their in-house departments over a project period. With an organization dedicated to having a robust range of tech technologies, Quintagroup also provides this model of cooperation.
You should keep in mind that there are two types of IT outstaffing:
Leasing staff. Contractual arrangements occur over a period of more than three months between the contracting agency and the executing organization.
Temporary staff. The requirement for additional personnel occurs where an additional project involves intervals of 1 week to 3 months. Also, a temporary replacement for a full-time employee might be required.
An example of an outstaffing agreement: a US-based online auction company delivering platform services and consulting to its users already employs the most effective technology stack available. They have their own squad of digital gurus. Nonetheless, they require two or more developers to support their specific technology solutions - Python and JS. Eventually, they switch to a tech firm in Europe to outstaff the talents they need.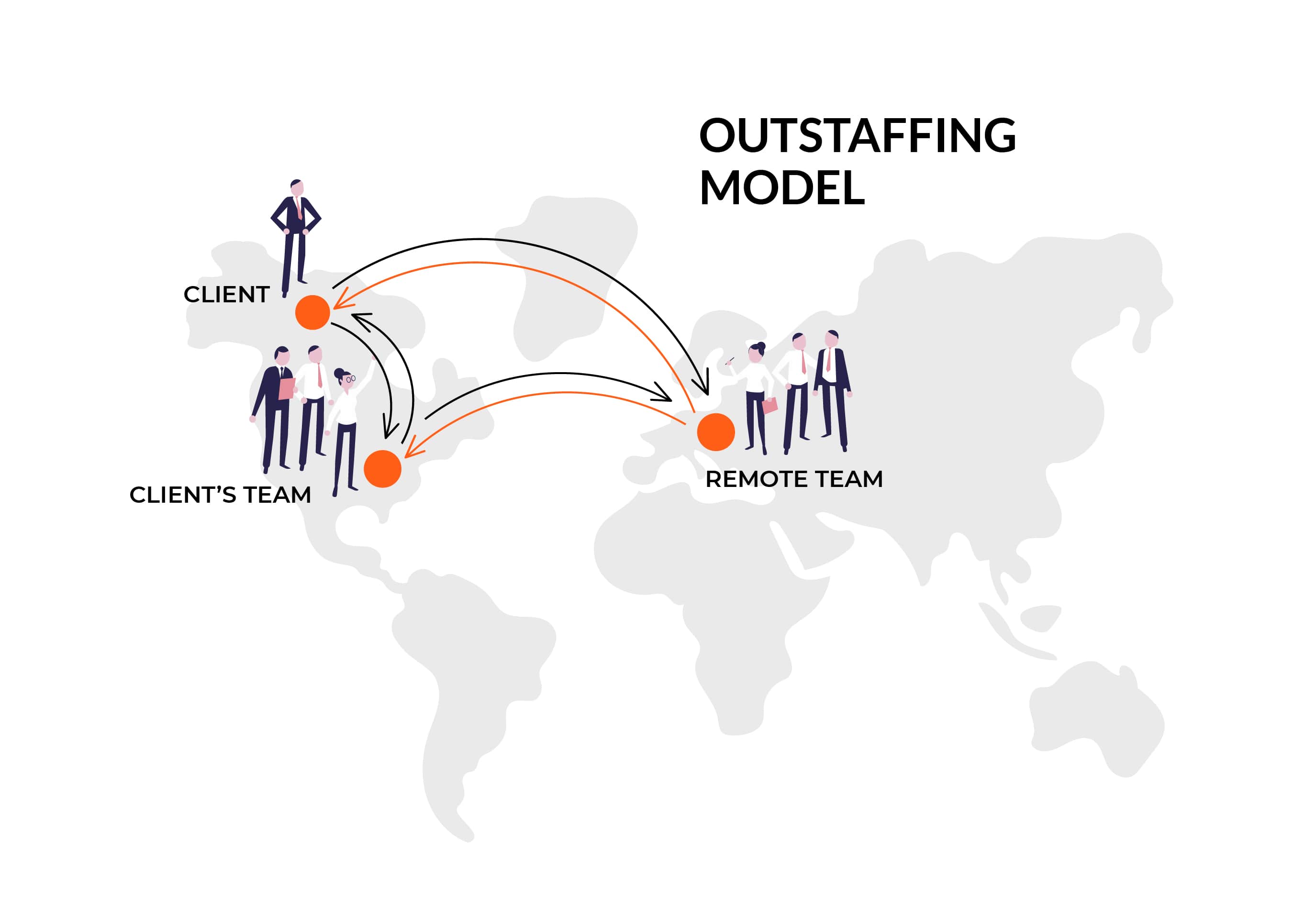 Outstaff developers become a fully-fledged part of your team after being hired. They collaborate with an in-house project manager and other developers right away. They will attend online standups and meetings just like the other developers and even post funny (or not) memes to the Slack channels of the project.
Outstaffing is no different from remote employment for any actual reason. It is a model that works well for fully remote companies including GitLab and Basecamp. What do they find so useful in outstaffing?
Why do some companies choose an IT outstaffing model?
As we already know, the IT outstaffing model comes into use when you need to hire remote talents. But what can be the situations that lead to the need for such a model? Here is the list.
The amount of employees is restricted due to any possible reasons (lack of free room in the office, or quarantine issues) so you can not expand your in-house team.
There is a task or project, at the end of which the remote employee's services would no longer be needed.
An employee who has gone on long-term leave (for example, maternity leave or vacation leave) desperately needs to be substituted by a superhero software developer.
The procurement agency needs to reduce the overhead costs of the work of the recruitment service, as well as the costs of estimating and charging wages..
Benefits of the outstaffing model
One of the biggest benefits of outstaffing is that it will counter the growing lack of expert resources that is threatening the software sector. Outstaff leaves no room to fear, finding the best developers that are committed to satisfying clients to the maximum level possible and therefore allowing you to concentrate on other business decisions and challenges. The other advantages of outstaffing are here:
Optimization of the development cost. While tech development prices in Western Europe and the U.S. have risen, outstaffing is a perfect place to arbitrate budgets. Outstaffing is more cost-effective than outsourcing because you run the workforce management yourself. The strategy frequently aims to reduce personnel expenses and overheads.
Better control over team management. You have full influence over the consistency and tempo of the project, with clear access to every part of the team. 
Faster launching of the project. As in the case of outsourcing, once you switch to outstaffers, you might start quicker as tech developers already have engineers accessible right away.
A more thorough process of recruitment. You need to devote some time in the recruiting process to select the right applicants. Along with retained HR advisors, you should be able to review the potential candidatures and negotiate with them in advance. That is distinct from the conventional forms of outsourcing, where individuals are literally given to you.
Outstaffing vs Outsourcing
The major difference between outstaffing and outsourcing is who handles the team (or an individual) management. 
In the case of outsourcing, typically it is a contracted team project manager (outside the company) who guides and manages the full scope of the job. What concerns outstaffing, clients actually handle their entire staff themselves.
Let us compare these two IT models of software development in more detail:
Outstaffing
 
Outsourcing

Very often a client explicitly oversees and monitors their entire staff.
In the outstaffing arrangement, developers earn a regular wage.
You become more interested in the cycle of outstaffing and meet all of the developers in person, and you can establish long-term relationships with them. 
Usually, outstaff experts are hired for a particular task that cannot be performed by the client's team.

 

Customers sometimes have no clear link to their team; contact is established by a project manager.
In the outsourcing arrangement, revenue is provided once the job is completed or per milestone basis.
You don't have enough time and resources for in-person communication. You usually connect with developers through a project manager.
A company most often entrusts the whole project to the outsourcing agency from beginning to the end.
The choice is yours
When you feel that outstaffing is the right thing for you, then finding a vendor must be your next step. It is a vital move that needs to be done properly. The choice is yours! And Quintagroup is always ready to get you covered. We have a professional opinion both on the outsourcing and outstaffing needs of the product development you require.
We cooperate with our clients according to three main cooperation models. Choose one that suits you the most and be the next client of Quintagroup with just one click.
our Cooperation models