Being a leading contributor to wide range of services in the area of content management, Quintagroup develops different products. We offer various content management solutions, such as Plone-based Real Estate system.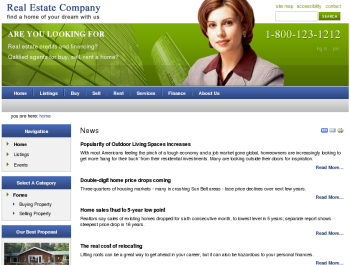 All agents know that the vast majority of housebuyers use the web for research. Most of agents will waffle about all the directories and search engines their listings appear on, and how they monitor clickthroughs to gauge interest from buyers.
The property buying public is clued up to the Internet now and any agent who cannot demonstrate effective online marketing is sure to fall by the wayside. But does this mean that all agents must invest tens of thousands on their sites? Not necessarily! Understanding our clients' financial, economic, development and public objectives, we made them key points of our work, thus succeeding in delivering quality service. The features, customization, and competitive pricing that we provide allow any company the opportunity to deal with real estate property online - quickly, easily and profitably. Easy to use real estate content management solution was designed to run your own online Real Estate Agency. This is a perfect tool for managing large amount of property online.
By creating a new website for your company using our Real Estate content management solution you can easily add the features you need to your website. This means your web-site can develop along with your business. Below there are some of the special Real Estate features that come as standard with your website ensuring you get the most out of your online Property ventures.
What we offer
Quintagroup Real Estate products package is a complete Real Estate content management solution for small and medium-sized businesses. A customer purchases a package of products and after its installation he'll get a Plone CMS, Plone skin, and tools necessary for building and managing online property business.
Property Publishing
Easily create high quality, informative descriptions for your properties at the click of a button. The property descriptions can be as detailed as you wish and are published onto your website instantly. You can log on to your site and edit property descriptions at any point:
Easy to use text editor for property descriptions
Add as many images (and descriptions to them) per property as you wish
Features
Demo
See Real Estate Demo.
What It Costs
The price is 347USD. You can order Real Estate Plone Theme here. It will be sent to you after you buy it at 2CheckOut, Inc.
Custom Property Management solution
Quintagroup developed and designed sophisticated Property Management Solution for Lviv Apartments agency. Provided Property Management Solution was developed as a customizable structure that completely satisfied clients' demands.
Plone hosting at Quintagroup
Quintagroup offers plone-based e-commerce content management solution hosting as a part of our Plone hosting service. No need to worry about the installation or configuration. We will install all required products. Price is $25 USD per month.
Plone hosting at your server
In case you are using another Plone hosting provider, we can offer products archive and data.fs with database. You will  install them on your server by yourself. Procedure is the same as installation of Zope/Plone with third party products.
How to Get Started
Interested in our Real Estate Content Management Solution? Have any additional requirements? Feel free to contact Quintagroup, send us an email containing a brief description of your current situation and your future desired situation. We will get in touch with you soon after we receive it.