There are several content types in Plone, used for posting certain kind of content to the web.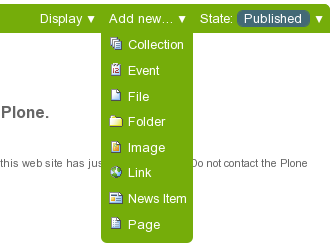 New content can be added to Plone via Add new... menu that is available throughout Plone site. Navigate to the place where you want to add new object(s) to and press Add new... drop-down to select the necessary content type.
The following are standard content types that come with Plone 4 (listed in alphabetical order).
Collection

Collection is an always-updated saved search that can be used to display items matching criteria you specify. They are used to group and display content items by certain set of criteria.

Event

Event is a content type, used for posting information about an event (e.g. conference, meeting, etc). Events are shown in calendar portlet and can be added to desktop calendars (e.g. Google Calendar, Outlook, Sunbird, etc.) with iCal or vCal standard.

File

File content type - allows uploading files to the site, such as .pdf, .doc, .zip, etc. Site visitors will be able to download them.

Folder

Plone folders can be used to organize site content, and to give a navigation structure to a Plone site.

Image

Image content type is used for uploading image files (.jpg, .png, .gif, etc.) that might be inserted to pages or be displayed in albums.

Link

Link to internal resource or external website. This is a special content type that would include a link to some external/internal resource.

News Item

An announcement that would show up in news listing. This content type is used fro posting news, it allows to attach a thumbnail image, which will appear in folder summary views next to the summary of the News Item.

Page

A Page is one of the most simple Plone content types, used for creating webpages with different content.
Other Content Types
In case you use additional add-on products in Plone - you might see more options in the Add New . . . drop-down menu than appear here. These might be forms, forums, polls, etc.