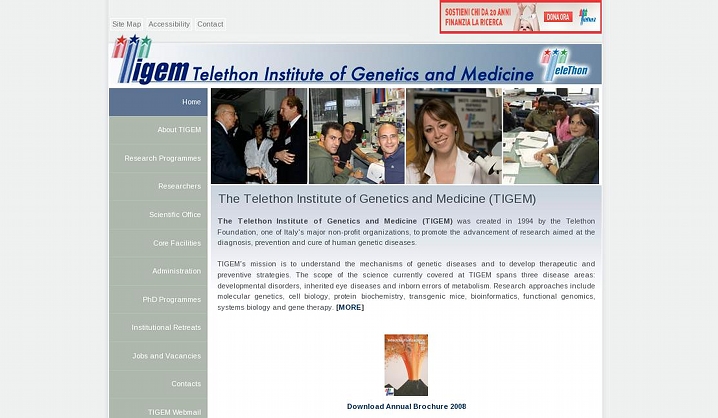 The Telethon Institute of Genetics and Medicine (TIGEM) was created in 1994 by the Telethon Foundation, one of Italy's major non-profit organizations, to promote the advancement of research aimed at the diagnosis, prevention and cure of human genetic diseases.
TIGEM's mission is to understand the mechanisms of genetic diseases and to develop therapeutic and preventive strategies. The scope of the science currently covered at TIGEM spans three disease areas: developmental disorders, inherited eye diseases and inborn errors of metabolism. Research approaches include molecular genetics, cell biology, protein biochemistry, transgenic mice, bioinformatics, functional genomics, systems biology and gene therapy.
Project Outline
Quintagroup took active part in developing Plone 3.3.1 - based website for Telethon Institute of Genetics and Medicine, providing TIGEM's Plone Theme development and some other custom development issues.
Portlets Customization
According to the design requirements some manipulations were done to portlet managers:
Second portlet column moved down to be displayed under the content area. This portlet manager is used for the site's front page. There are 3 portlets in this portlet manager: Tigem Research (static text portlet with custom style added for displaying contained items in a table), Upcoming Events (customized Plone's standard events portlet) and Relative Events (customized collection portlet)
Additional portlet manager was added that is displayed as a portlet column to the right of the content area. This portlet manager is used for adding portlets on inner site pages. Special style was added to Kupu WYSIWYG editor that is used on such portlets - Tigem Research style - to display research table on a grey background.
Custom Image Viewlet
Random images viewlet was implemented to display 4 images on all site pages: they are big on the home page and smaller on inner pages in a random order. All the images used for this viewlet are grouped into 4 folders, and each folder correspond to the image position in the line (1st, 2nd, 3rd, or 4th). Images for each position are taken from one folder and are displayed in a random order. There are two types of images in those folders - images that ends with letter s (s.jpg) are displayed on site inner pages, the rest ones (.jpg) - are displayed on the front page.
Navigation
Plone's default navigation portlet was extended by custom styles that make navigation 2nd level stand out against the navigation 1st level items.