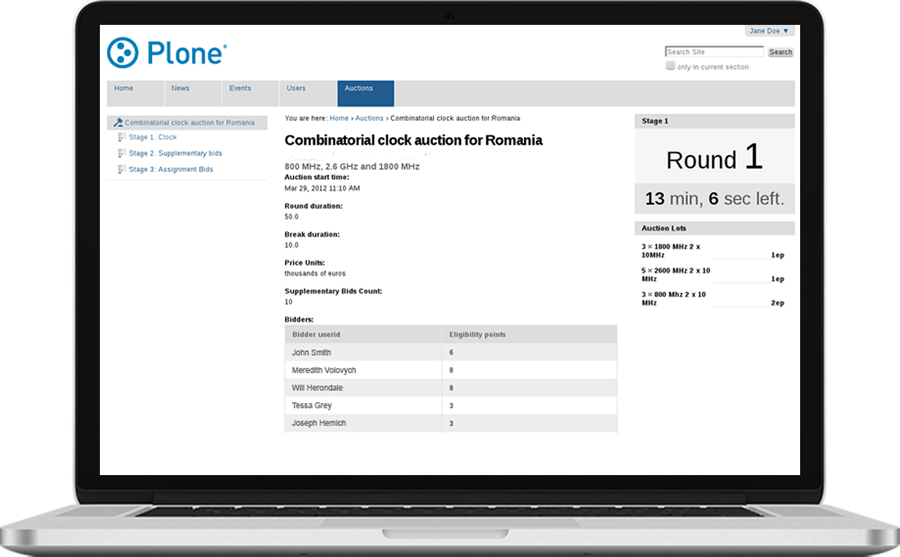 PolicyTracker is the only newsletter devoted exclusively to spectrum management and policy. It organizes training events on all aspects of spectrum management, from specific issues to general courses covering the latest developments in the field.
Challenge
Quintagroup had previously worked with PolicyTracker on its business website, and due to the successful management of this initiative, it was offered to undertake the development of an online auction training system. PT Publishing operations requirements for this new project involved a very specific set of criteria.
Overall, PT Publishing required a complete training platform that could be integrated into its website and would recreate the auction workflow for its subscribers. It was necessary to implement a web-based auction training system with the capability to cope with rapid bidding and changes in the price of the lots presented, while at the same time being maintainable and reusable.
Solution
Quintagroup provided full-cycle services to deliver a secure training system that accepts auction bids and publishes auction results. Tight collaboration with the client has resulted in a foundation being built to support other types of the auction training system in the future.
With over 5 years of experience working with PT Publishing and a few previous successful projects, Quintagroup's approach to finding the optimum solution involved conducting a range of usability sessions, whereby the results were incorporated into PT Publishing's full list of functional requirements. From here it was concluded that the most appropriate all-encompassing solution came in the form of the powerfully minimalistic Plone CMS workflow engine as a base platform.
An online auction is held in a real-time environment, specially configured for this very purpose. The auction employs a sealed bid combinatorial clock mechanism. Selected subscribers log into the system in order to take part in the bidding.
Benefits
Quintagroup exceeded PT Publishing expectations by creating a system that was unrivaled, meeting all of PT Publishing goals.
Using the Plone workflow engine allows for the system to be quickly adapted to different auction strategies, formats, and rules, including simultaneous multiple-round auctions (SMRAs), ascending or descending clock auctions, sealed bid combinatorial auctions and multiple-round combinatorial auctions including the combinatorial clock auction (CCA). The auction training tool can be deployed over the Internet or private networks. It provides auction bidders with a rich dynamic interface for monitoring multiple-round auctions and making bids that can be accessed using a standard web-browser. It provides real-time updates for bidders and handles all aspects of rules implementation and auction management. Having Plone as a core provided the proper security needed for high-value auctions.
The developed online auction system can be used to:
prototype and test auction formats
test auction bid strategies
train auction bidders.
The new system was designed to provide the security, reliability and training capabilities:
bidder experience
The auction training application helps bidders manage the complexity of bidding in sealed combinatorial clock auctions and minimize the risk of mistakes that could disrupt an auction.
managing and controlling the auction
The auction process is typically managed from an auctioneer interface that provides a number of administrative functions. The auctioneer can block access to the system for the bidders, schedule rounds, etc.
bid tracking
The system provides a full history of all decisions submitted during the auction.
PolicyTracker online auction software
The next project Quintagroup worked on for the PolicyTracker was software for the online auction flexible enough to deal with many different scenarios. We helped to provide a stable and user-friendly platform for conducting several types of commercial auction:
Combinatorial Clock Auctions,

Simultaneous Multiple Round Auctions,

Ascending Clock Auctions,

Ascending clock auctions with exit bids.
Recently PolicyTracker online auction was successfully employed by the Nigerian regulator, the NCC, to sell 2.3 GHz spectrum license for 23 mln USD.
Should you wish to discuss how Quintagroup could assist your company or organization with e-commerce development, feel free to contact us anytime.