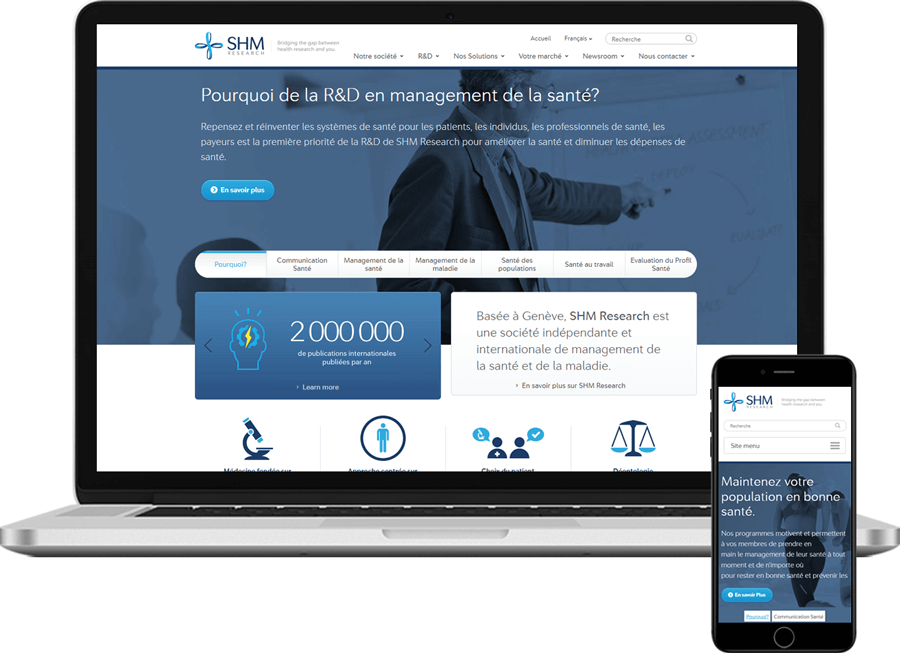 SHM Research is an independent global health and disease management company based in Geneva. It concentrates on connecting with clinical and health research those who produce health and medical knowledge with those who need it every day. SHM Research provides research and development of innovative products and solutions that serve to make better-informed and trusted decisions and to take evidence-based action.
SHM Research's innovative health and disease solutions improve the quality of healthcare, influence health outcomes of individuals and populations, reduce healthcare costs, enhance productivity and allow to obtain a positive return on investment.
Project Outline
Quintagroup had a task to develop a Plone theme that will correspond to the SHM Research's demands, test a multilingual functionality of the website and design styles for the blog. In order to make this site user-friendly, easily accessible and manageable several Plone add-ons were used.
Solution
Responsive Plone Theme
Quintagroup has developed the SHMresearch Theme for Plone 4.3.1 that is fully responsive. Theme's behavior adjusts to the device the website is viewed on, display and alignment are automatically corrected to suit any screen size. Since the diversity of devices demands flexibility from the developers, this theme's design will be displayed smoothly on any type of device.
Language
The SHMResearch website had to be multilingual and easy in content management at the same time. In order to manage multilingual content, we used such a Plone product as plone.app.multilingual. This add-on facilitates adding and manipulating translations and in keeping logical connections among all of the languages of the websites.
plone.app.multilingual gives the opportunity to select languages that will be used and creates root folders for each of them, as well as a shared folder for data that is not language specific. SHM Research website features three languages (with recognizable shortnames that appear in the respective URL): English (en), French (fr), German (de). plone.app.multilingual offers a simple way of adding new content and translating it to the other language, editing it using a babel (parallel) view. Also, it provides a Translation map that helps to monitor translation progress for each language.
Custom View
We applied a simple yet powerful solution for the website's design. For the home page, we created a beautiful and functional carousel using collective.portlet.carousel, customized portlet, and new content type. Additional customized folder view for several site sections was provided. Most of the pages have a top image and icon, for the correct display of which we used Dexterity. Since a lot of information on the website is stable and wouldn't be changed too often, it is efficient to put it into the static text portlets, specifically customized for different pages. For the FAQ section, we created pop-ups that will show information without the need to move to other pages.
Interested in learning more?
Quintagroup is a seasoned provider of web solutions and can give expert advice to assist your business or organization online. Contact us today to learn more.