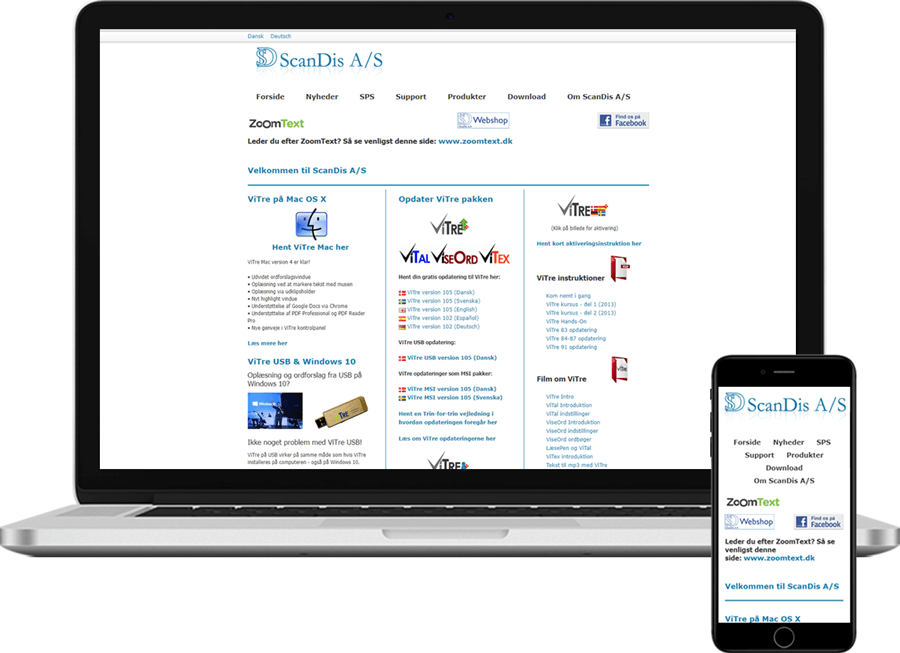 Our client is Scandis A/S that is concerned with the IT solutions for people with disabilities. Located in Herning, Denmark, since 1993 it is focused on software primarily for individuals who have a learning disability. Scandis A/S is a trusted supplier of SPS systems (Special Educational Support) for students who need an IT-based special educational assistance.
After the invention of the first synthetic speech synthesizers for Windows in 1995, Scandis A/S began to develop of what today is Vitre suite, which is now the standard solution for people with literacy problems not only in Denmark but also in Sweden and other European countries.
Vitre is the dynamic IT solution for the reading and writing process used by schools, businesses, communities, and individuals. It provides capabilities to read electronic texts from Word, Internet, emails, Facebook, scanned printed text and PDF files, etc. with an extensive choice of languages​​ and easy-to-understand voices.
Client Objectives
Modern web theme with the user-friendly and accessible interface

A seamless experience for users on any device

Reliable technology and an opportunity to add new features
Quintagroup Solution
The website for Scandis A/S was delivered on time and satisfied all the client's requirements. Quintagroup developed Responsive Plone Theme for the project, upgraded Plone to the newer version and migrated content, made the website multilingual, provided capabilities for Mailchimp integration and custom order form creation.
Responsive Plone Theme
To ensure accessibility and user-friendly interface of the Scandis A/S website we developed a responsive Plone theme that automatically adjusts its design and alignment depending on the size and type of the device it is browsed with. Since the diversity of devices demands flexibility from the developers, this theme's design will be displayed smoothly on any modern device. This Plone Theme has a special style for content added to the page that divides all the content area into several columns if needed. Also, it provides an improved thumbnail display view and customized image carousel for the content that needs to be highlighted.
Plone Upgrade
Recently the website was migrated from Plone 2.1 to the Plone 4.2. Previous CMS version was based on Archetypes. We decided to migrate the website to Plone 4.2 that can use Dexterity - a new content type framework for CMF applications, that is more light-weight and modular. Dexterity aims at making things more controlled and diverse, but easier at the same time. Moreover, it will be easier to upgrade the website in the future.
Multilingualism
To provide Plone multilingual service we used plone.app.multilingual. This package represents the next generation Plone multilingual engine and provides unified user-friendly UI for content translation management. It is simple with this product to navigate and manage translations of the content. Currently, there are two languages for the Scandis A/S website: Danish and German, though Plone is not limited by a number of translations applied. plone.app.multilingual offers a simple way of adding new content, translating it to the other language, and editing it using a babel view. Also, it provides a Translation map that helps to monitor translation progress for each language.
Successful outcome
The new website satisfies all the requirements of the client. The Plone theme is responsive with intuitive and logical architecture. Quintagroup prepared and conducted the upgrade of the Scandis A/S website with multilingual support.
Interested in learning more?
Quintagroup is a seasoned provider of web solutions and can give expert advice to assist your business or organization online. Contact us today to learn more.