With React becoming the go-to framework for web development, more and more businesses are looking to incorporate this technology into their websites. As a result, React has been gaining popularity among developers, from big enterprises to fledgling startups. Let's consider some examples.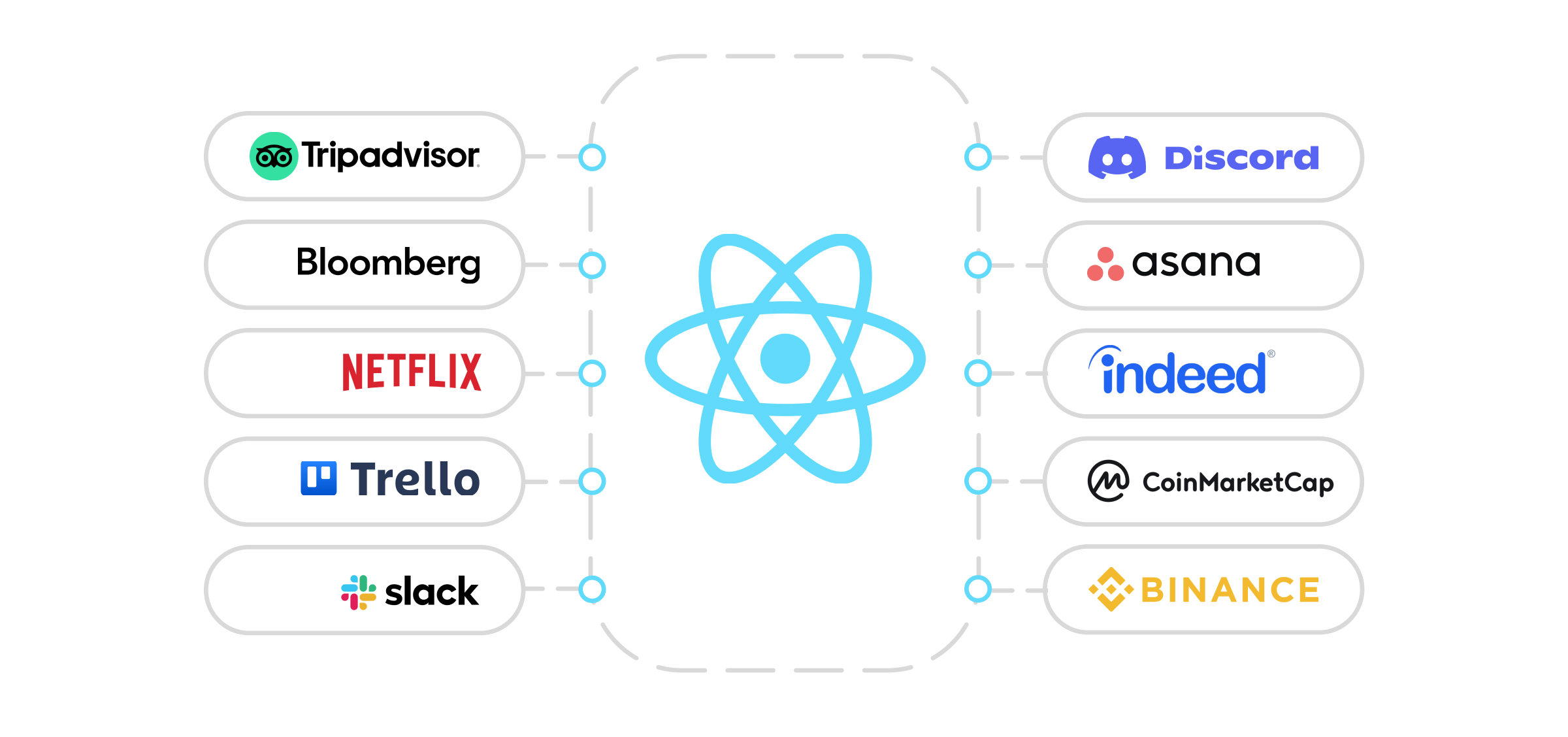 First up is TripAdvisor – a travel website with which every tourist is acquainted. TripAdvisor employs React to help create a unified user interface that is simple to browse. This way, users can quickly find the information they seek. In addition, TripAdvisor's React components make it easy for the site to suit different devices, ensuring a great user experience across various screen sizes. Being a tourist, you often search for a "must visit" piece of advice; React elements are there to ensure your pleasant experience.
Bloomberg is another significant business that has embraced React. React ensures that scrolling the news on a visually satisfying website is a pleasure. The financial news site uses this framework to power its front-end development. This way, Bloomberg can deliver a great user experience to its millions of readers. 
Netflix sounds familiar? It has made the switch to React. This platform uses React to create its user interface, allowing viewers to search for and browse their favorite shows easily. React's component-based architecture also makes it easy for Netflix to customize the user interface for different devices. 
React is used by the well-known project management app Trello to keep users organized. Use the React components provided by Trello to personalize your routine using boards and lists. They make it easy for you to launch your project. By customizing your boards and lists with drag and drop, you can quickly transfer tasks from one list to another. For your website, check out these React services.
Slack, as a popular business tool, relies on React. This library helps build its UI, allowing users to quickly and easily access their messages and search for information. To further personalize their experience, Slack offers a vast library of third-party applications, many of which are driven by React. This way, working and maintaining relationships with coworkers is an agreeable experience.
With Discord, you can swiftly create and personalize chat rooms, thanks to React, which enhances visitor satisfaction. React components simplify the way chat rooms appear and function. Users can customize their chat rooms to their preferences by changing the background and theme and adding emojis and reactions. Design the ideal chatroom with Discord for any purpose they have: gaming, chatting with friends, or discussing topics with others.
Asana, as a project management tool, uses React to design an efficient and user-friendly interface, allowing users to find the information they require quickly. With React, Asana is a streamlined platform where users can easily navigate their projects, assign tasks, and track progress. 
Indeed makes it easier for job seekers to locate job postings quickly. React helps smooth the user interface, allowing users to search for and find postings rapidly. It also aids Indeed in providing users with personalized job recommendations to ensure jobseekers find the job postings that best match their skills and qualifications.
For those interested in investing in or learning more about cryptocurrencies, Coin Market Cap is a website that uses React to present the most recent market data in an approachable way. Thanks to its quick and dependable performance, it's easy to understand why React is growing in popularity in web development. A fantastic illustration of how React can be used to build a robust and functional web application is Coin Market Cap.
Starting off the list is Binance – a cryptocurrency exchange. Binance's website is built using React, and the platform uses the React component library for its user-interface design. Binance has become one of the world's largest cryptocurrency exchanges, and its use of React helps to create a great user experience. Their website is easy to navigate, appealingly looking, and fully functional. Because of it, even a crypto beginner can learn everything in practice.
Wrapping Up
These top 10 websites are just a few examples of businesses using React to create a great user experience. React is the common choice for web development because it enables websites' rapid, effective, and reliable creation. Consider our React Development Services, contact Quintagroup, and we will build a top-notch website for your business.