Over the last few years, the use of online payment methods is gaining popularity. Integrating payment methods into various online businesses became more common nowadays as the need for accepting online payments for products and services is constantly increasing. In this article, we will compare 7 widely used payment systems for e-commerce. 
1. PayPal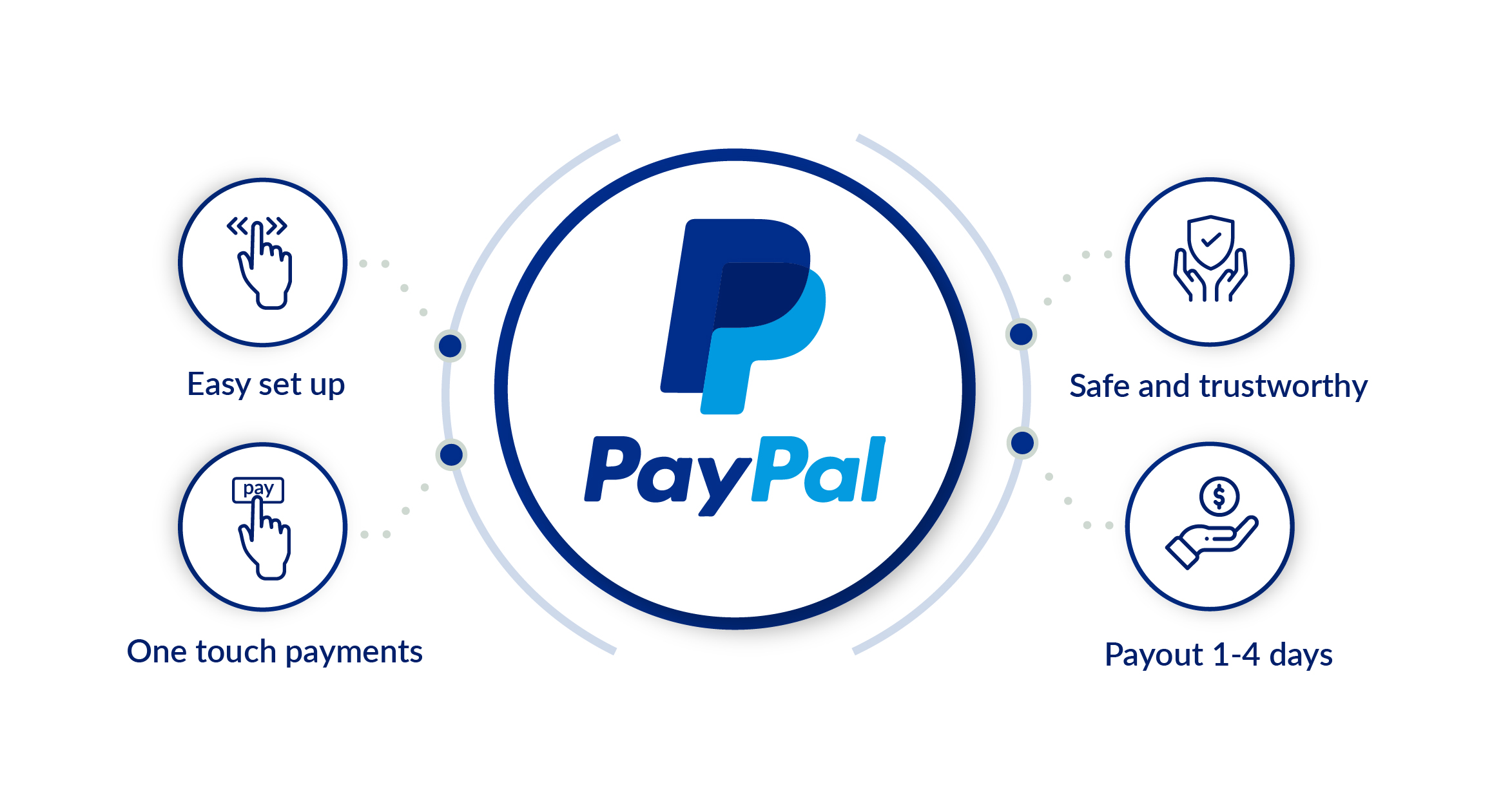 PayPal is known for its reliability, security, and ease of use. With this online payment gateway, you can pay for your purchases faster than before by only typing a password instead of long account numbers. Customers are more willing to buy when they see a well-known online payment system, and this is what PayPal will help you with.
Pros
3 plans (Payments Standard, Express Checkout, Payments Pro)
200+ countries
Freedom from most of the PCI DSS requirements
Adaptive Payments API for merchants
No set-up fees
No long-term commitment necessary
Cons
The limit of $2,000 for subscriptions
A non-customizable checkout that moves users to the main PayPal's site
After canceling the usage of PayPal you can't take your data back with you
Security
In PayPal, you add the card number to your account only once and therefore you don't have to show your cards' numbers to sellers. Every transaction via this online payment gateway is encrypted. Users pay using only their email address and password. A PayPal Purchase Protection helps users in case of a problem with payment. PayPal's data servers continually scan users' browsers to make sure it uses up-to-date data encryption technology.
2. Google Pay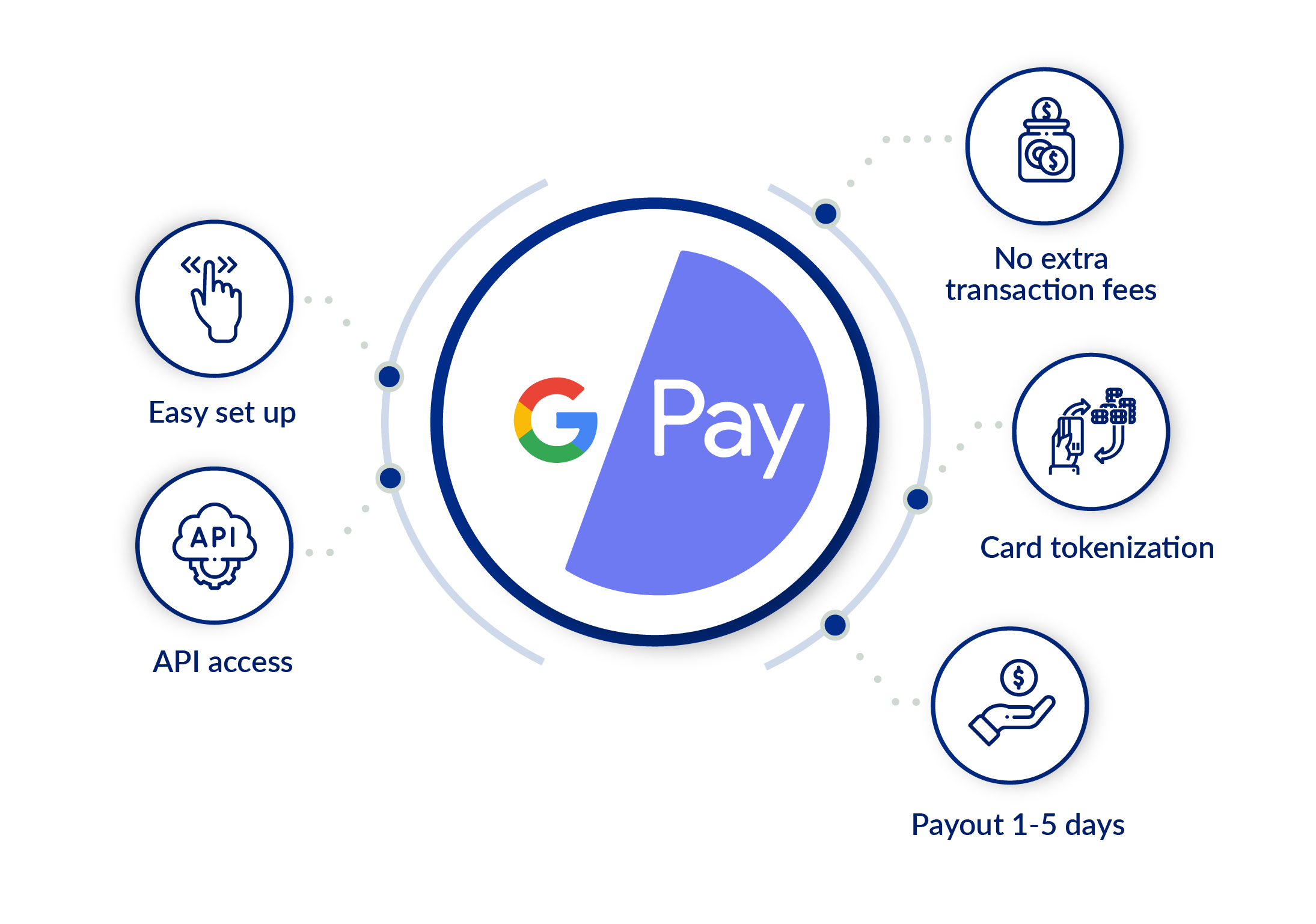 Google Pay is an online payment method by a famous company Google. It is developed for mobile applications, e-commerce shops, and in-person checkouts. A lot of huge companies out there have already added Google Pay as their payment gateways. This global payment system can be easily integrated into your e-commerce platform. 
Pros
Simple online integration with Google Pay API
No set-up fees
No long-term commitment necessary
28 countries  
No transaction limit (if not set by merchants)
Cons
Uses NFC technology only
Not all Google Pay features work in all 28 countries
All transactions are linked to a device (users won't be able to make a transaction if they don't have access to their device)
Security
All payment information is stored on protected servers. Passkeys and encryption are handling the safety of financial information. During in-store purchases, Google makes a temporary different virtual account number that merchants receive instead of the real information.
3. Apple Pay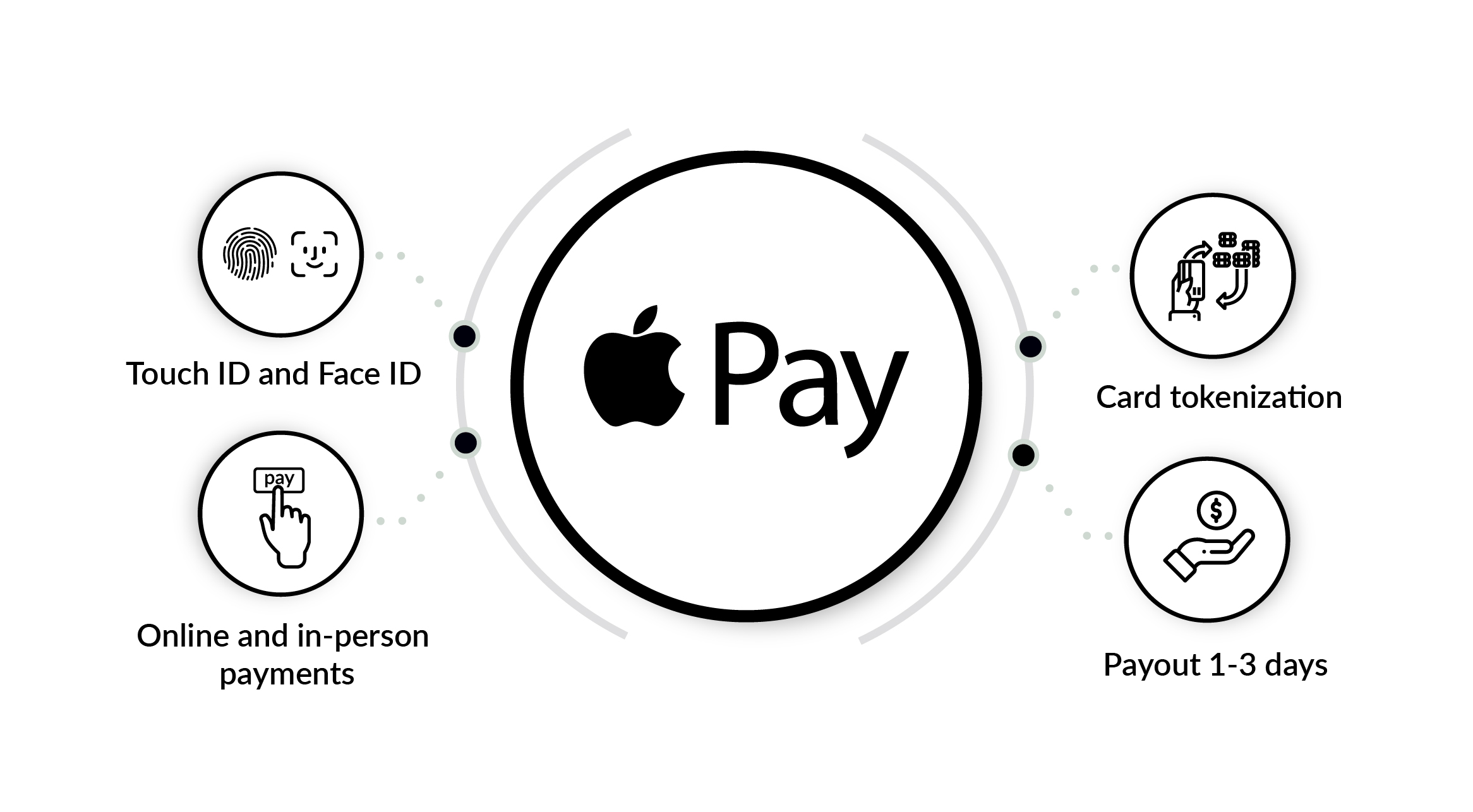 Apple Pay is used as a digital payment system for Apple users. And for the record, in 2020 in the United States, 45.3% of people are using IOS. More than 250 million people in the world use Apple technology. This fact is worth considering when choosing a payment system for your project. The ease of usage will make this payment method a great choice as the Touch ID and Face ID for payments are enjoyed by users. 
Pros
61+ countries
No set-up fees
No long-term commitment necessary
No extra fees for merchants during the usage
Reduced fraud and, in case of emergency, cards can be removed immediately
Cons
Difficult for setting up as the requirement for shoppers is to have at least an iPhone 6 and for merchants to support NFC terminals
Apple supports mobile shopping and yet not online shopping
Security
Apple Pay has got the latest technology for encryption and protection of online payments. After putting a card in a digital wallet, Apple creates a DAN (Device Account Number). After that, the real card number is deleted from the database, and DAN will be used for purchases in the future. Device Account Number is formed using tokenization, so it is not an actual card number. Even if the DAN is stolen, it can't be used without the owner's fingerprint or face identification. 
4. Amazon Pay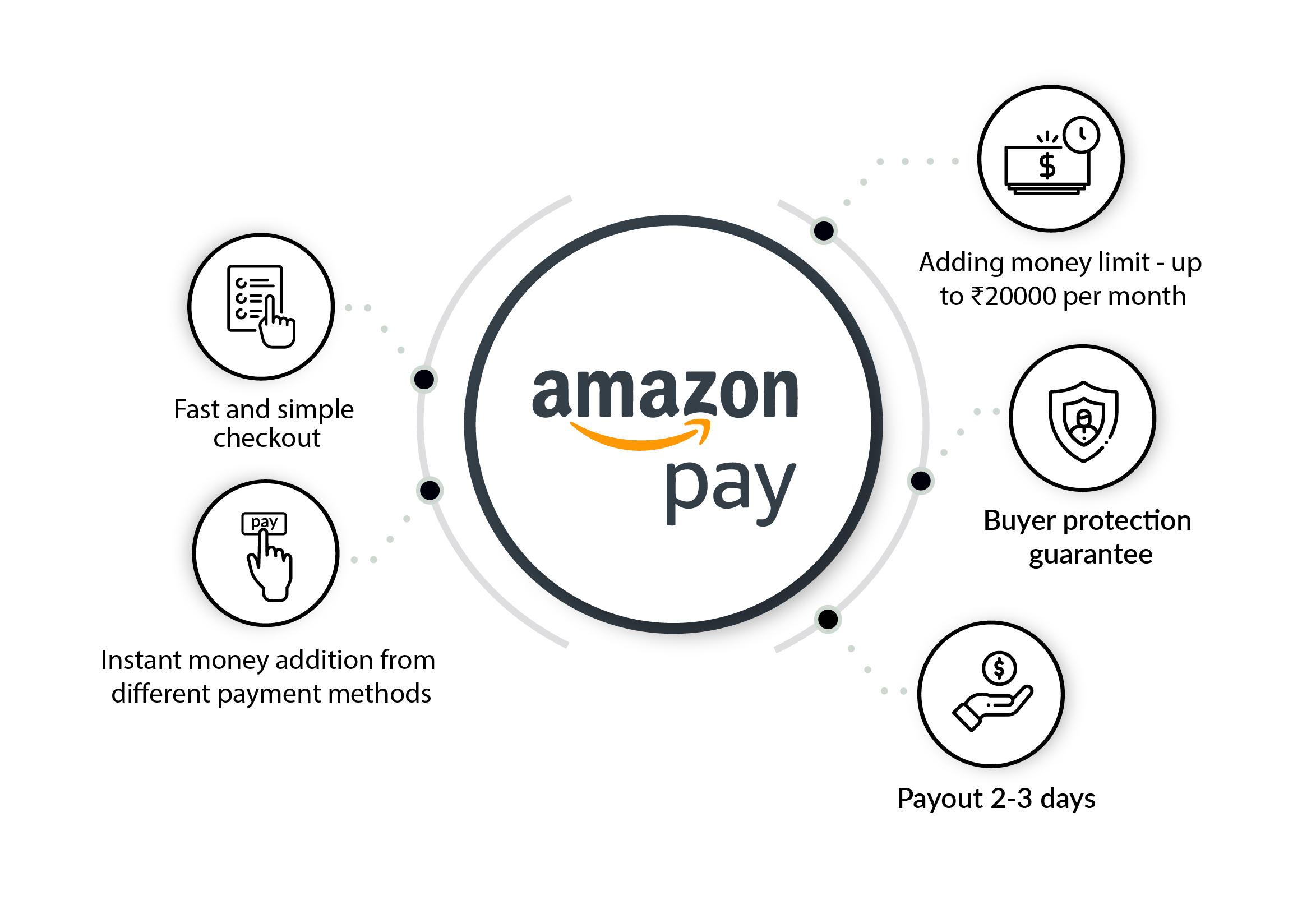 Amazon created its own digital wallet - Amazon Pay. Using Amazon Pay for checkouts will boost the chance of transactions and reduce online cart abandonment. Thi online payment gateway guarantees great buyer protection. Amazon Pay can be used by a lot of people who already have their Amazon account, and that is approximately 197 million users worldwide, among whom 150 million people are Amazon Prime subscribers. 
Pros
No set-up fees
No long-term commitment necessary
Omnichannel payments
Amazon Alexa for purchases
18+ countries
Cons
Amazon Pay processing fees are a little bit higher than in other online payment systems
Security
Amazon Pay uses TLS/SSL certificates to ensure the safety of transactions. A unique password with strict requirements protects the account as well. Multi-Factor Authentication (a two-step authentication) helps to protect the user account on a new level. 
5. MasterPass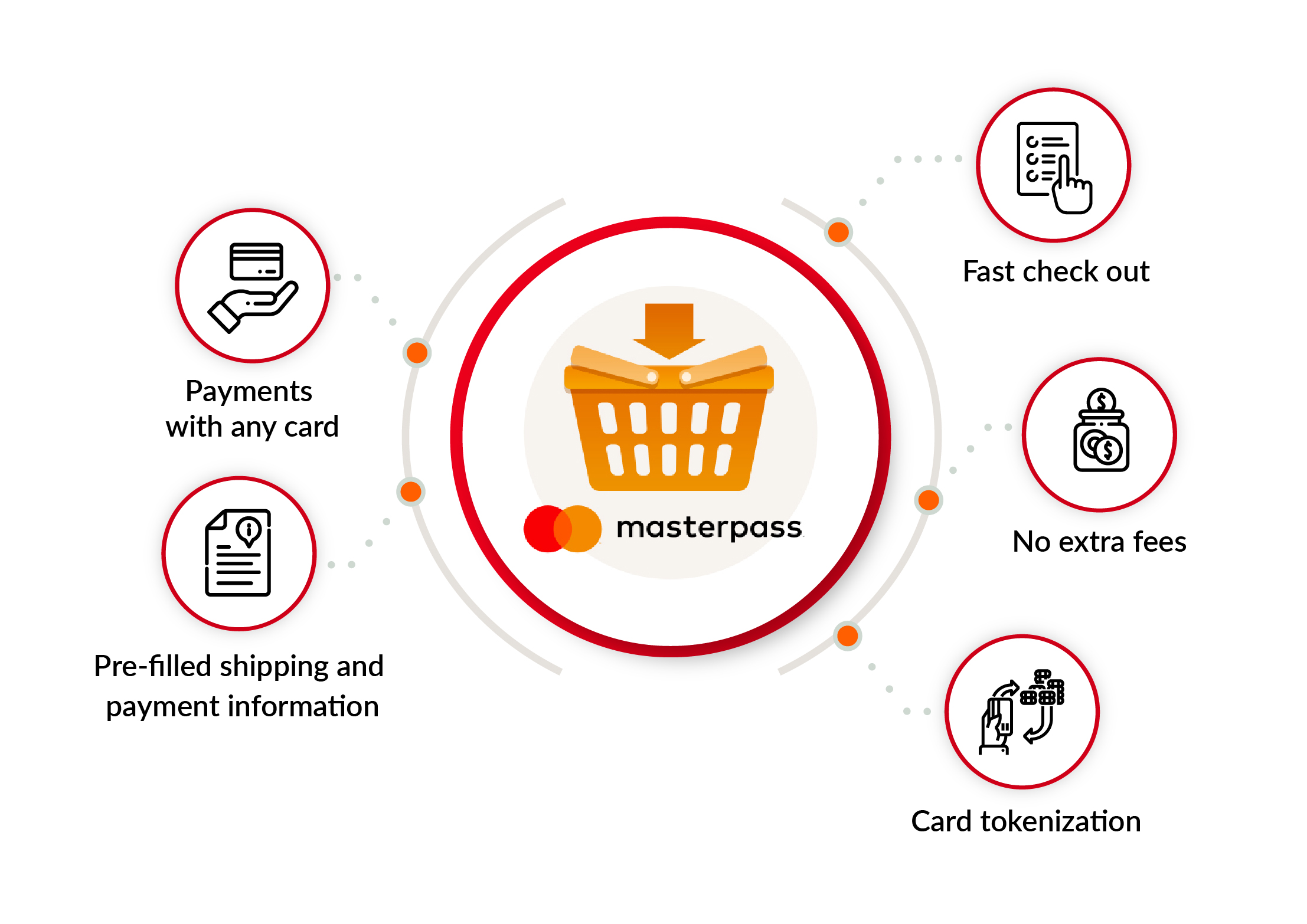 MasterPass is a digital payment system, created by MasterCard. This new payment method has come to MasterCard users' liking as, with its NFC technology, it saves a lot of time and effort to make online payments. One-off registration and multi-level security of MasterPass are perfect components for quick and safe purchases from your website.
Pros
A simplified SecureCode (3-D Secure) process 
Extra perks for renting cars or when traveling 
24+ countries
Cons
A limit to certain banks that can use Mastercard over other payment methods
Security
Additional layers of security protect every purchase. While putting in purchase details users can receive a one-time-use verification message with a code. MasterPass has got multi-tiered security from MasterCard, so the data is sent to the seller over a highly-secured, multi-layer channel. 
6. VISA Checkout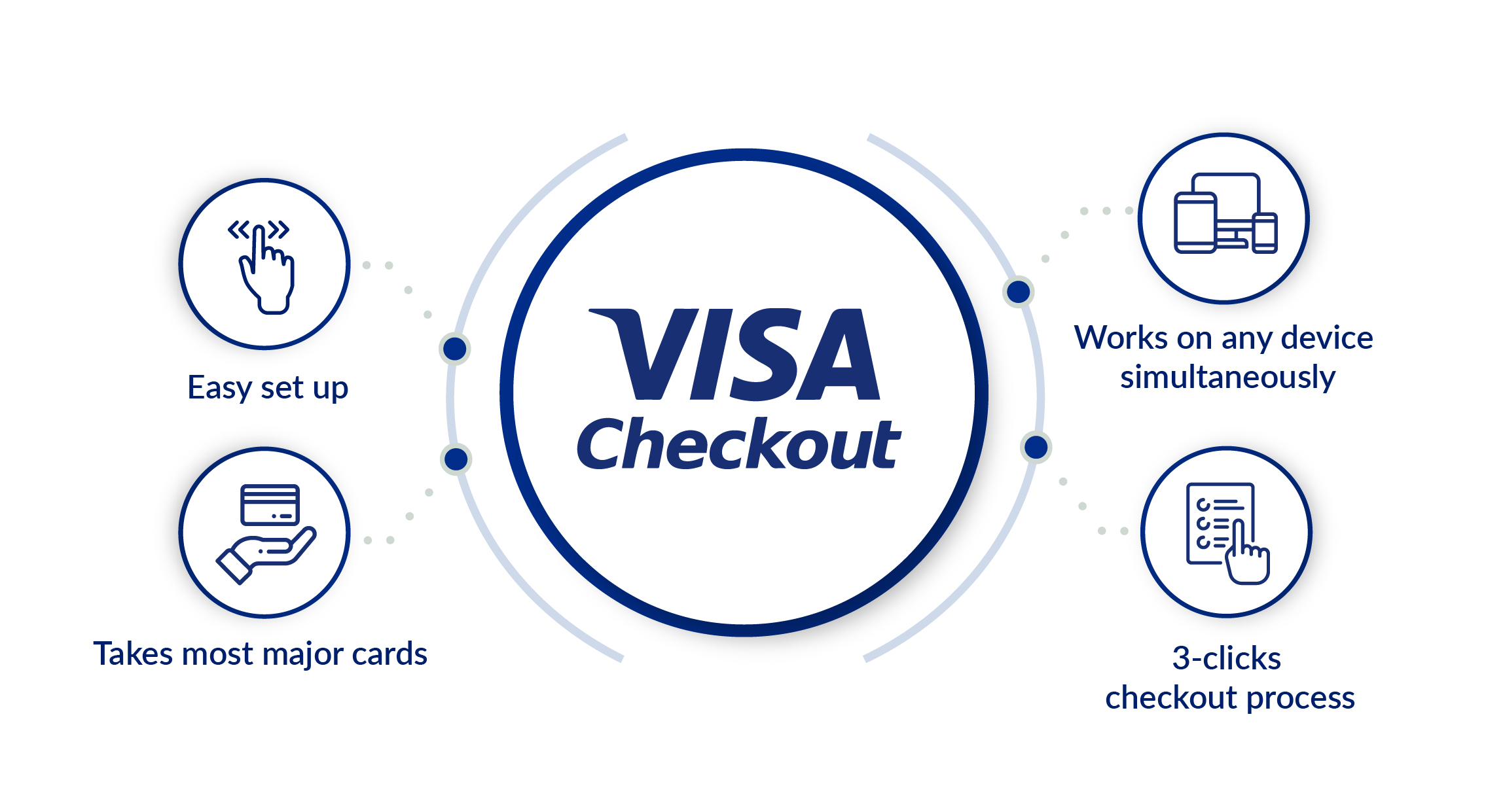 VISA Checkout online payment system helps VISA cardholders with quick and easy online purchases. VISA users can check out on your website and skip inserting payment information. More than 2 million people are using VISA Checkout currently, so that will make the checkout process easier for a great part of your customers. 
Pros
VISA allows adding cards to VISA Checkout through any partnering site
Extra coverage protection during a car rental and more
Emergency assistance when traveling
Long warranties
25+ countries
Cons
A limited number of shopping carts with VISA Checkout native support
Security 
Device fingerprinting and authentication cuts the possibility of fraud in transactions and maintains an advanced security. VISA Checkout uses a fraud monitoring system as well as encrypted tokens (with SHA256 hash algorithms) to protect payment information. 
7. Stripe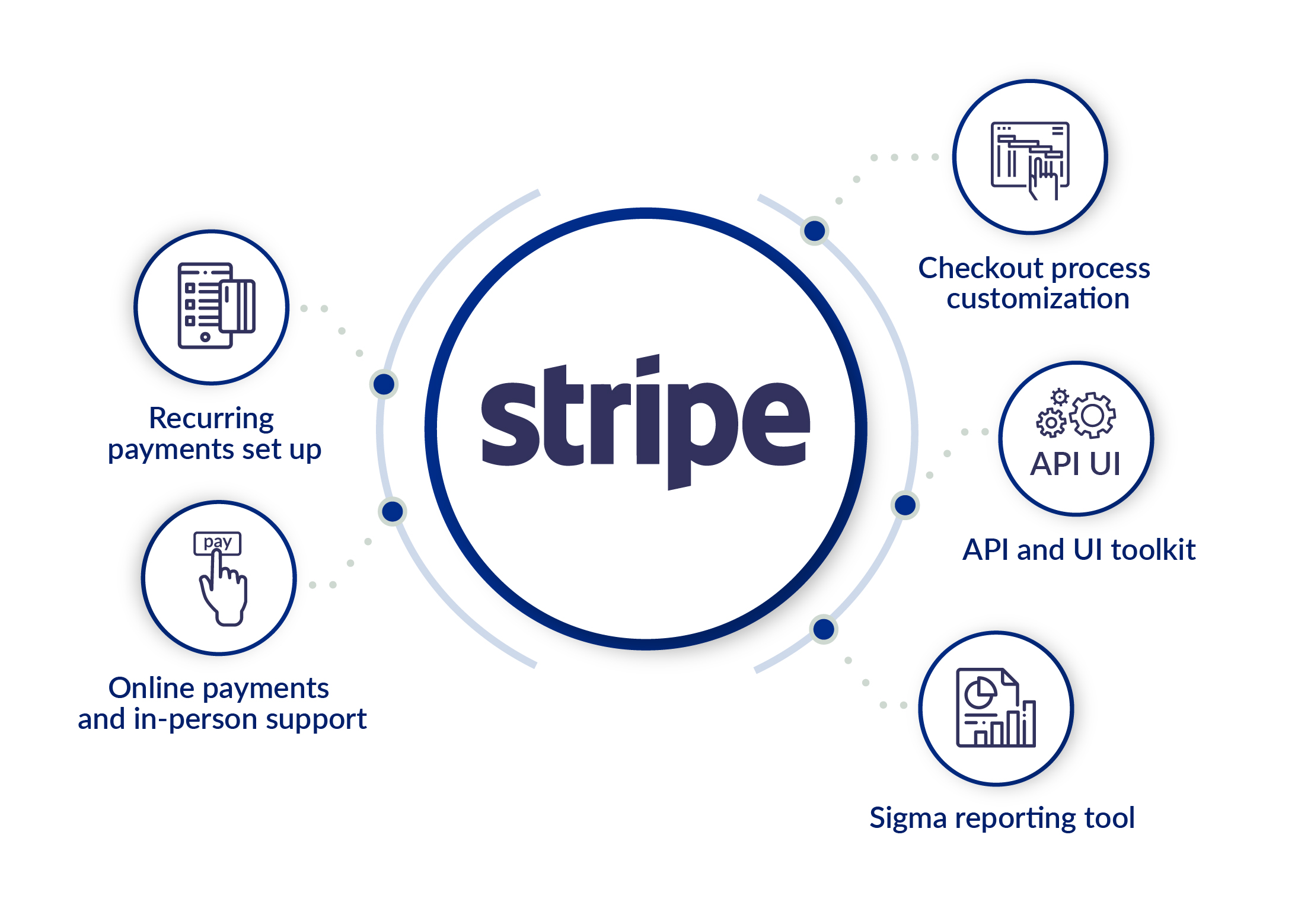 Stripe is a very adjustable payment system that is popular on the market. It is good for usage in on-demand marketplaces, e-commerce shops, and subscription services. Stripe is a wonderful choice for web developers that plan to combine an e-commerce payment system with their projects. If you add Stripe to your e-commerce business, it will boost your optimization rates and help you reach a wider audience.
Pros
25 countries
Stripe Connect toolkit for e-commerce
You can remove your user data from Stripe after termination
Transfer - 2 days (Australia and the US), 4 days (New Zealand)
Cons
Transfer - approximately 7 days for other countries
May require long-term commitment (typically 1-3 years)
Beforehand termination fees
Security
Stripe uses HTTPS and HSTS for safe connections. Card numbers in Stripe are encrypted at rest with AES-256. Decryption keys are kept on various machines. Internal servers and daemons do not acquire plaintext card numbers. 
Your e-commerce payment system
Your e-commerce website would be ineffective without an online payment system. For boosting conversion rates you need to give your customers as many payment options as possible. Online payment methods mentioned above aren't the only ones out there, but they are surely among the best global payment systems out there. Of course, you may not only make your decision about one option, the more - the better. It just requires the understanding of your customers and what payment systems they prefer to use. The more payment systems are chosen by you for your e-commerce - the better it will be for you in the future. If you need help figuring out what online payment is the most suitable for your business, talk to us! Not only will we help you with the right decision, but also we can help with the setup and managing.