Gaining extreme popularity in today's world, IoT smoothly becomes a major part of our lives. Nowadays people are able to control, monitor, and do a lot more from a remote distance. This is done by connecting various objects reducing physical distance. IoT is the connectivity of various objects with network connectivity. Many times these systems are battery operated and need a high battery backup. These systems require a technology that consumes less power and also covers long distances. But many technologies such as Zig-Bee, Wi-Fi, Bluetooth popularly used at present consumes high power and is not suitable for battery-operated systems. LoRa is a newfound technology that is emerging rapidly. The LoRa technology addresses these needs of a battery-operated embedded device.
LoRa and LoRaWAN
Wireless Communication is the secret of how all the IoT solutions work. The technology of Wireless Sensor Networks makes all the devices and objects smart. From that point, LoRa serves as a Long Range low power wireless technology platform that helps us to connect and integrate objects of the physical world with the digital world and cyberspace.
The specification of LoRaWAN lies in a Low Power Wide Area (LPWA) network. It was designed to connect a 'thing' - physical object that has a unique identifier, an embedded system and the ability to transfer data over the network - to the internet without wires in regional, national or global networks, and targets key Internet of Things (IoT) requirements such as bi-directional communication, end-to-end security, mobility and localization services.
Smart parking with LoRa. How it works.
A city's parking management system often have to resist enormous pressure on the side of high and insatiable demand for efficient parking services. Our solution for such an issue is an installation of LoRa sensors. More detailed instructions are provided below.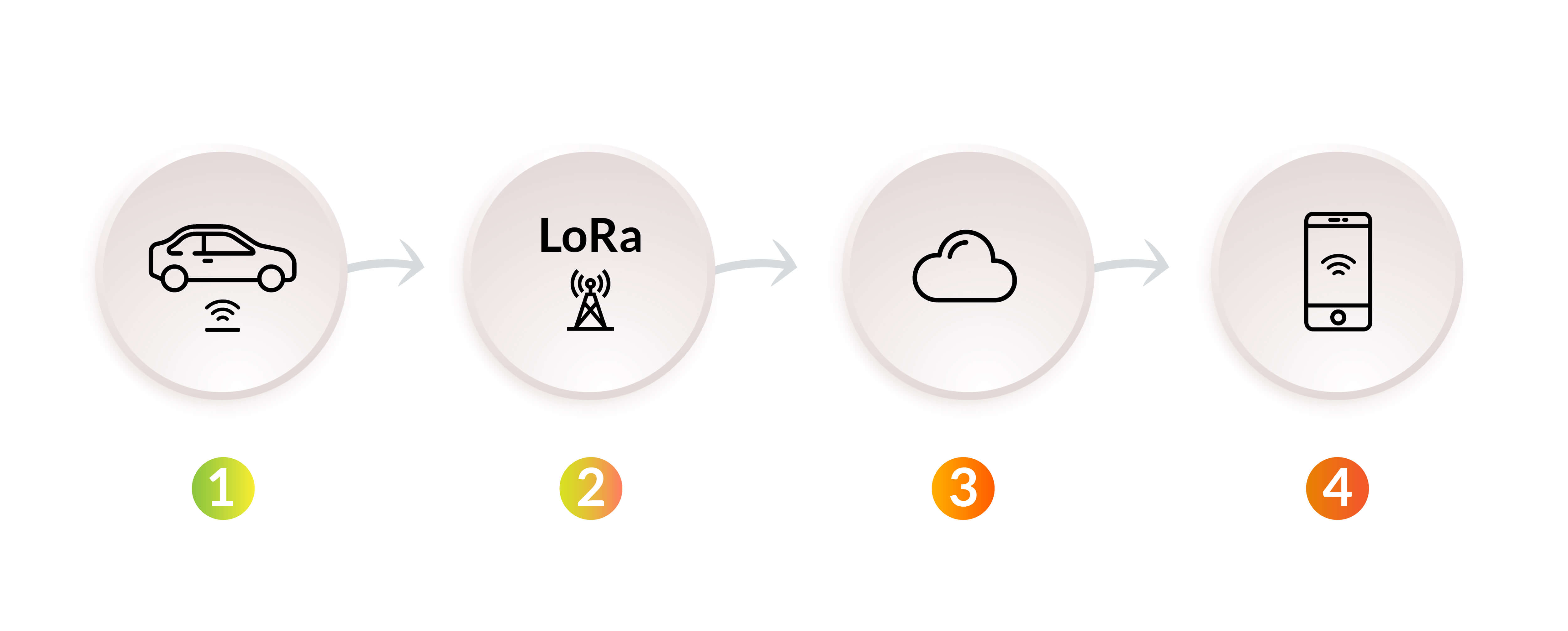 Action #1. In order to detect the absence, arrival, presence, and departure of a vehicle a battery-powered occupancy sensor is installed in each parking space. Their low-power design allows the units to run up to 5 years and require no external wiring to install.
Action #2. When a vehicle activity is detected an occupancy sensor with an embedded LoRa transceiver sends a short data packet containing the change in status to any wireless Internet gateway within its range.
Action #3. For now, users can securely use your smartphone for smart parking payment or finding a free parking spot.
Action #4. The gateways forward the packets to a Cloud-based or dedicated server. By the way, don't hesitate to consider AWS as a service provider for your cloud computing. It provisions organizations with computing power, databases, storage, and other resources in minutes and provides the flexibility to choose the development platform or programming model that will benefit each particular project.
Action #5. Over some period, data are sent to the city planning officials and parking management institutions.
Smart parking use cases
Using smart parking sensors with LoRaWAN and well-connected control systems allow us to differentiate among the following possible use cases:
Smart free parking spots
GPS parking directions and parking reservations are now not the products of your imagination. Using LoRa-enabled parking sensors, drivers can be notified on how to get to a free parking spot or even to reserve a place in the future.
Smart payment methods
Security and reliability of LoRa-based technologies ensure the seamless credit-card transactions and an overall increase in parking payment. Since it's much easier to pay with their smartphones drivers don't forget to make payment and do it more frequently.
Smart parking metering
As it turns out, not only drivers benefit from the innovative IoT solutions. We already know that the data collected from the LoRa-embedded sensors can be used for tracking the availability of a parking spot. The meter's payment information is verified in case the place is occupied. If the meter is not paid, enforcement officers can immediately issue a ticket.
Smart parking monitoring
In order to think over new improvements for a parking service, the city officials must posses the data gathered from the LoRa devices. After that the data can be analyzed to track the frequency of payment violations, spaces that are used the most or off-hour usage, therefore serving as a useful tool for parking officers and local authorities.
LoRaWAN parking benefits
All in all, smart parking services with LoRaWAN have following advantages:
Minimizing time drivers spend while looking for free space.
Improving parking experience and maximizing the usage rate of parking space.
Reducing the need for deputing large manpower.
Integration with Payment Gateway for cashless transactions.
Eliciting energy waste and toxic emissions.
In a nutshell
Regarding smart city connectivity, LoRa technology is one of the most discussed IoT innovations. The LoRaWAN protocol definitely distinguishes itself from the variety of IoT connectivity protocols. All over the world, they're recognized as perfect connectivity technologies for various use cases related to traffic and fleet control, smart waste management, environmental and parking monitoring. Feel free to contact Quintagroup to find out more about the best solution for your IoT project.