Some companies think outsourcing is all about saving money. The basic component of outsourcing, though, is the addition of new talents. On the other hand, you might get the experience of cooperation with a variety of talented individuals, which will give you a new outlook.
It can be difficult for companies searching for a software testing outsourcing company to pick the one that best fulfills their unique requirements, provides the finest degree of software quality assurance services, and can quickly dispatch the required experts.
The need for software testing specialists is rising, and many businesses are experiencing a significant lack of them, thus the need to find one is pressing.
However, you will not run into such an obstacle with Quintagroup as we can help you hire professional testers promptly and efficiently. Contact us for an immediate solution. Over the course of many years in the IT outsourcing sector, we've learned how to provide our clients with professional workers according to project and company demands.
Simple Advice on Picking the Suitable Software Testing Outsourcing Company
Which Sort of Partnership Are You Seeking?
You might be looking to add to your team, entirely outsource all your testing, or engage a tester or several ones for a brief, one-time job. The length of the possible relationship will vary depending on each of these selections. Some software testing organizations are accustomed to working on quick assignments for one-time clients, while others will be pickier and typically avoid taking on brief projects.
Do you require automated or manual testing? What size team should you have? How long will the project last? You can create criteria to assist you to choose the best provider by using all of these questions. What kind of services are you looking for? How many specialists are you interested in hiring? Do you anticipate that they will work full-time? You can determine the best type of partnership by responding to these questions. Some of the most popular engagements are enumerated and described below: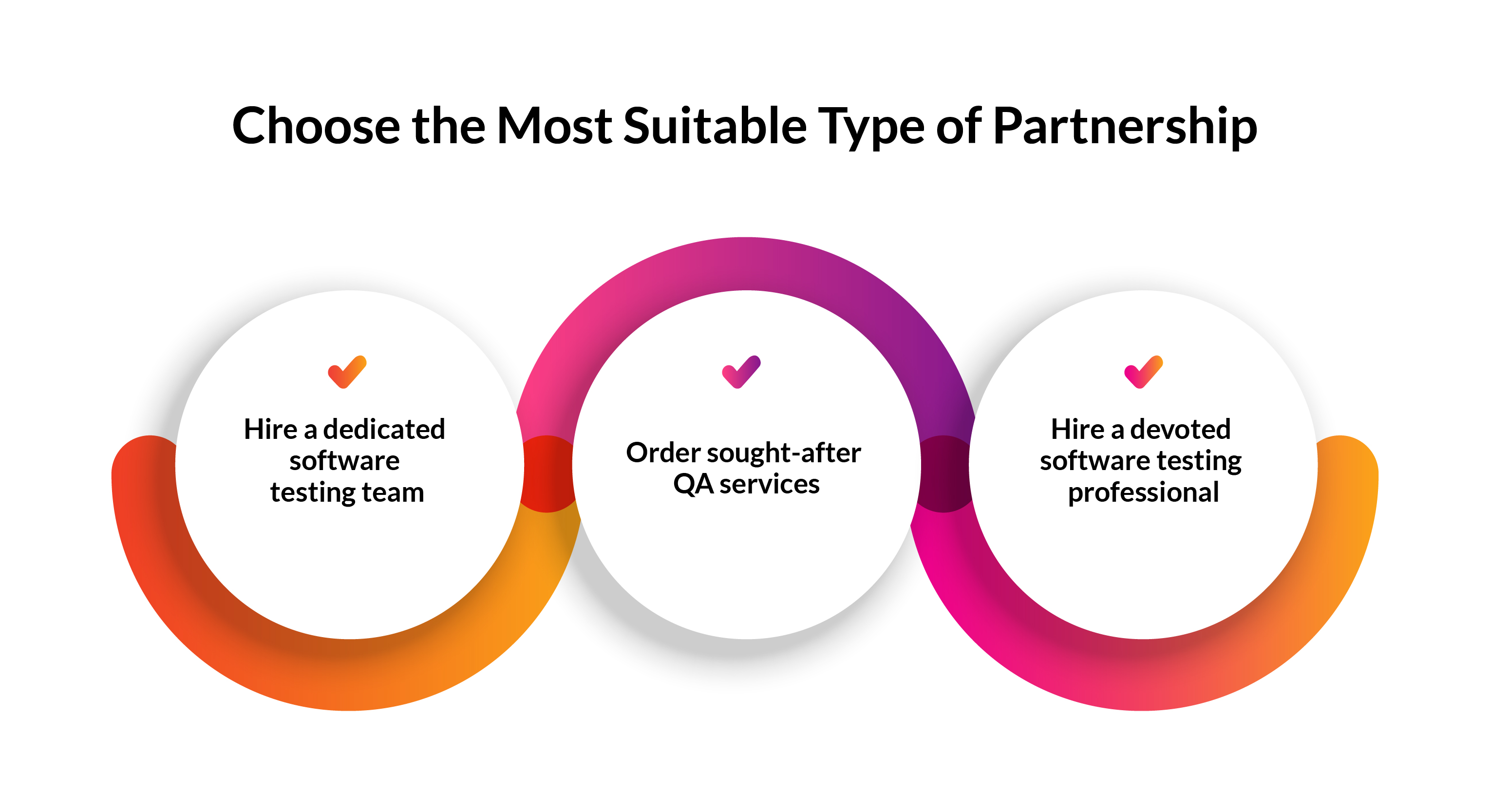 Hire a dedicated software testing team. The team is in charge of the testing and has a complete commitment to the project. The team can be scaled to fit your demands at any given time. Since you can budget for lasting initiatives, a dedicated QA crew is more effective.
Order sought-after QA services. Such testers participate in the software testing process to a limited extent and work on projects with other colleagues. The engagement model aids in breaking the project down into manageable components. The approach for on-demand testers allows you greater flexibility in how much time experts devote to your project.
Hire a devoted software testing professional. Some initiatives may call for a long-term assignment and a full-time commitment. If you need new talent in your company or a fresh point of view from the outside, a full-time tester might be helpful in this situation.
Which Services Does Your Project Require?
Let's suggest several examples of why you should know exactly what your project requires. There is always an opportunity to contact us and get a consultation about the choice of service.
There are mostly ordered types of services, discover them below.
E2E testing: the Definition
End-to-end testing is a method that verifies that the program lifecycle functions as expected by evaluating the full software product from start to finish. It specifies the system dependencies for the product and guarantees that all interconnected parts function as intended.
End-to-end (E2E) testing's primary goal is to simulate what a real user scenario looks like from start to finish.
Modern software systems are intricately integrated, with many subsystems. The entire software system may crash if one of the components malfunctions. End-to-end testing can help you escape this significant danger.
E2E Testing in Detail
Selenium is typically used in an application to run E2E testing.
Includes end-to-end coverage of several program flows in a simulated environment, which is utilized for automated regression testing prior to release.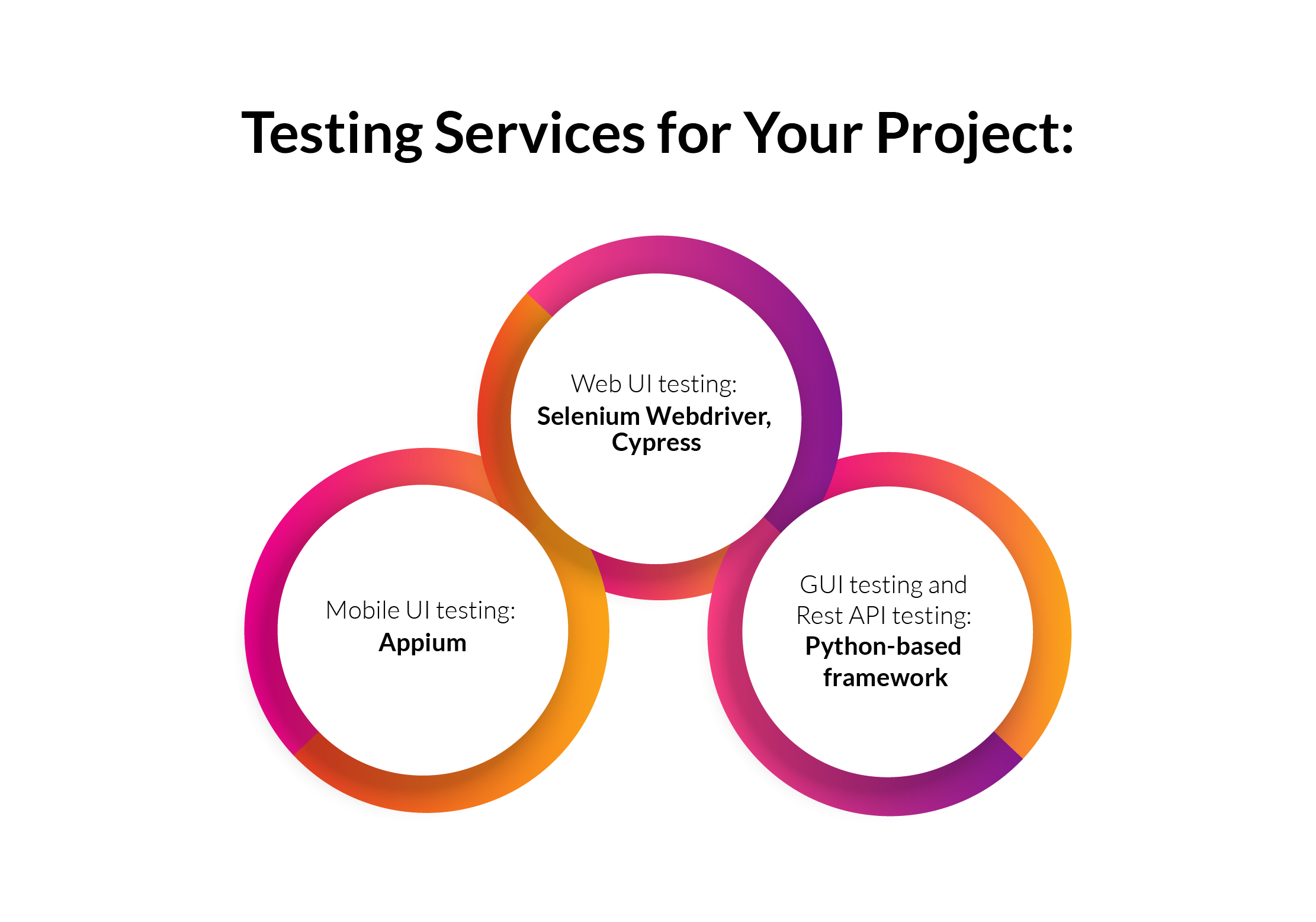 A team of quality analysts (QA) write and run E2E tests, and if any problems arise, they are documented as bugs.
Let's try to define the optimal JS-based E2E frameworks.
Web UI testing: Selenium Webdriver, Cypress
Mobile UI testing: Appium
GUI testing and Rest API testing: Python-based framework
API Testing: the Definition and Main Features
An application's various components or levels are connected by APIs, or application programming interfaces. Data, service (API), and presentation (UI) levels are the common three layers seen in applications. The business logic of an application—the guidelines for how users can engage with its services, information, or features—is contained in the API layer. The API or service layer presents the sweet spot of continuous testing for QA and Development teams since it directly interacts with both the data layer and the display layer. While UI testing has always been the main emphasis of testing, API testing is starting to gain popularity.
Although API test automation has various features, in general, it is sending queries to one or more API endpoints and evaluating the responses for performance, security, operational correctness, or even just a status check. API testing places a lot more emphasis on the testing of business logic, data replies and security, and performance bottlenecks than UI testing, which may focus on verifying the look and feel of a web interface or that a certain payment button functions.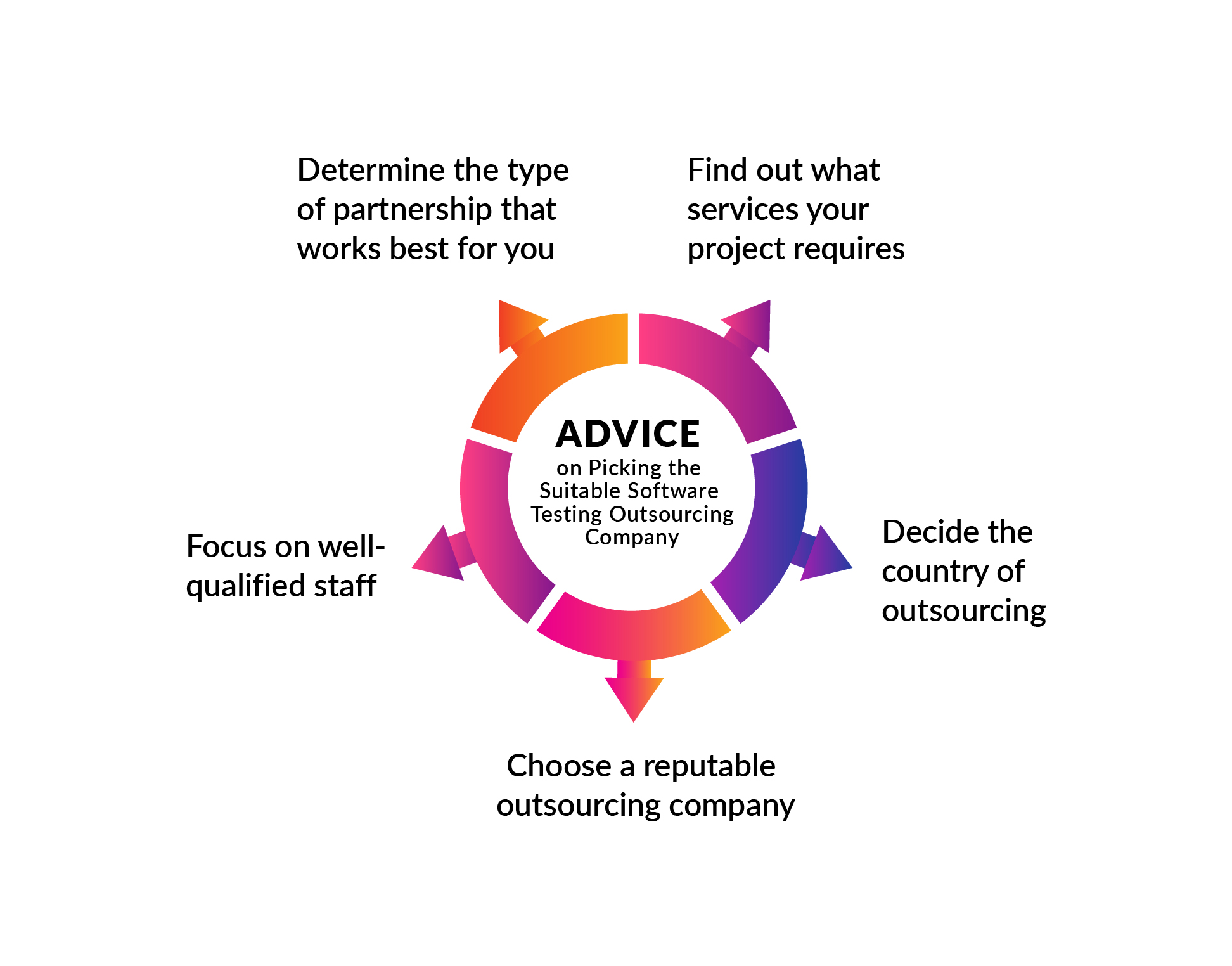 Decide the country for outsourcing
There are many countries that outsource their IT workers, including such continents as South America, Asia, and Eastern Europe. However, we would definitely recommend you a Ukrainian automated software testing engineer. In Ukraine, one of the most important strategic industries is information technology. The country was additionally recognized by the Global Sourcing Association as the "Offshoring Destination of the Year" (GSA).
It should come as no surprise that the nation has more than 1,500 IT service companies, with the majority of them providing testing services. Additionally, 20% of Ukrainian IT specialists have more than ten years of expertise, and 25% of them are QA/testers. Furthermore, by employing a Ukrainian at the very moment, you may help Ukraine.
Quality Boosting
Your main goal as a client is to use a software testing outsourcing company to achieve a noticeable quality increase. The working procedures and methodology dramatically improve as a contract age. You need to understand how the finished product has been improved. When you can outsource the greatest software testing, there is no point in including bad testing.
The outsourcing team must remain intact at all times. If you decide to outsource, make sure the team is only interested in increasing the product's quality through testing. Things could get out of control if the software developers and the outsourcing testing team work together.
Сhoosing well-qualified staff
A group of managers, engineers, and technical employees must be extremely productive. The outsourced group should moreover have administration and software testing expertise. It is both your basic right and responsibility to be aware of how well and accurately the work is being done. You have the power to hold interviews on a frequent basis if you are new to outsourcing.
You must be absolutely open and honest in your communications with the offshore outsourced software testing business. Each party will benefit from effective interaction between the two sides.
Additional Features for a Testing Company
In a reputable testing company, keep an eye out for the following extra qualities:
Locations in numerous places;
Pretty advanced and careful hiring process;
Self-development opportunities;
Variety of testing technologies, the best suited for a certain project, ex. Cypress or Robot Framework;
Ability to conduct an audit and provide testing recommendations;
Possibility to integrate automated testing process in CI/CD;
Encouragement for professional development and career.
Summary
Most projects now include software testing as a standard procedure. Generally speaking, the first step in doing the assignment in one go is to establish good contact with key software testing outsourcing organizations. Outsourcing software testing is primarily concerned with increasing product quality while substantially reducing costs.
Additionally, doing so would enable the corporation to concentrate on meeting the needs of its established business models. There are numerous outsourcing firms for software development, and they concentrate on services including software development and software testing. You must give it considerable study and attention before delegating the important project to new people.
Quintagroup is one of the leading companies in software testing and development outsourcing in Ukraine. Please feel free to use this contact form if you need to schedule a consultation with one of our experts.