Quintagroup can effectively hire top-notch Hotjar experts for your company to help you understand how visitors interact with your website, what prevents them from taking action, and in what way you can enhance organic web traffic.
Let's look together at this business tool that will help you understand your clients' thoughts.
Why Use Hotjar?
If you are seeking to improve the performance of a website, you will likely find advantages in Hotjar because:
WordPress and other CMS are compatible with it.
It is a reasonably priced service.
It is easy to install.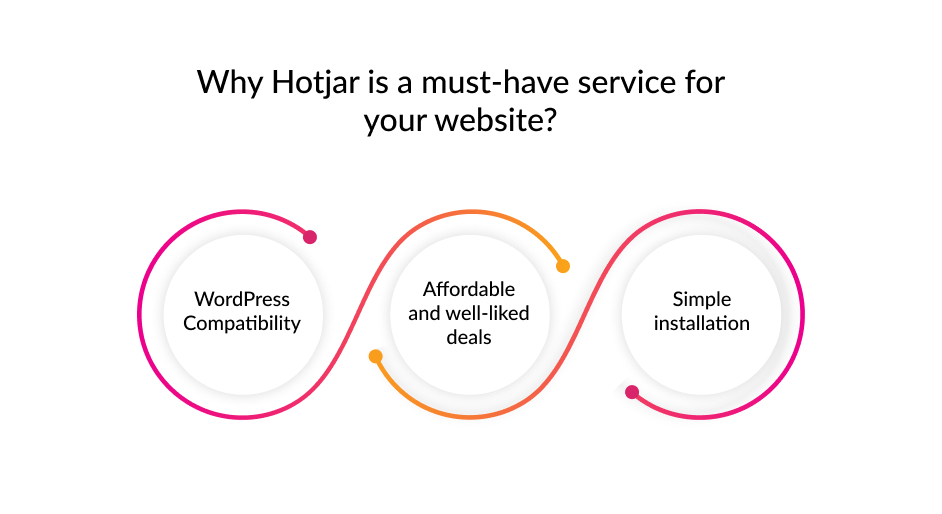 Hotjar carries out each of the listed tasks. Let's dig into the benefits of this marketing tool and go through each point:
WordPress Compatibility
A tool must include a plugin or integration that is compatible with a CMS and the most significant of them, WordPress, as these two platforms host the majority of websites. Hotjar's integration with the former is indeed suitable and very simple.
Affordable and well-liked deals
The fundamental benefit of Hotjar is that it replaces multiple (often expensive) tools that were previously required by combining them into a software program.
This is a crucial point to underline because far too many expensive solutions fall short when it comes to helping their customers. Therefore, the high level of customer support provided by Hotjar (independent of subscription) is much valued.
Installing is simple
Installation must be straightforward. The tracking code just needs to be set up on the sites that will be monitored. Using Hotjar is simple because installation takes only a few minutes on WordPress and other platforms.
Hotjar's Two Objectives
Enhancing UX
You may quickly identify the interface elements or parts that failed to persuade website surfers by using click analytics, scroll, or clickstream recording features. With this information, you can easily make your website pages more appealing by:
Changing a call-to-action button;
Text repositioning;
Adjusting the interface to the most used device.
Boosting Traffic and Conversions
By moving some items around and enhancing the user experience, you can improve the chances that visitors will read the content which is important to them and hit the hyperlinks. It will raise your conversion rate and, ultimately, your profit.
Top 5 Hotjar Features
Hotjar adds a great deal of value to your business by giving you extensive data and analytics on the customer experience. The following section discusses some of the main causes and advantages of using Hotjar for your company.
Heatmaps
Heatmaps give you a visual representation of how your website visitors interact with different website elements. They might pay more attention to selecting a few elements while ignoring others. You gain a thorough awareness of the aspects of your website that require change and can take prompt preventive action to achieve the same. It will assist you in improving and adapting your website to the wants and demands of your end consumers.
Visitor Recordings
Referring to visitor recordings will help you understand more about the actual issues users are having when trying to access and use your website. You may watch how users scroll their cursors, and use various website functions. Similarly, by looking at the user activity records, you can learn more about the experiences visitors have on your website. Placing yourself in their position gives you a deeper understanding of the problems that the end users of your website encounter. This way, you can improve the UX and boost organic web traffic.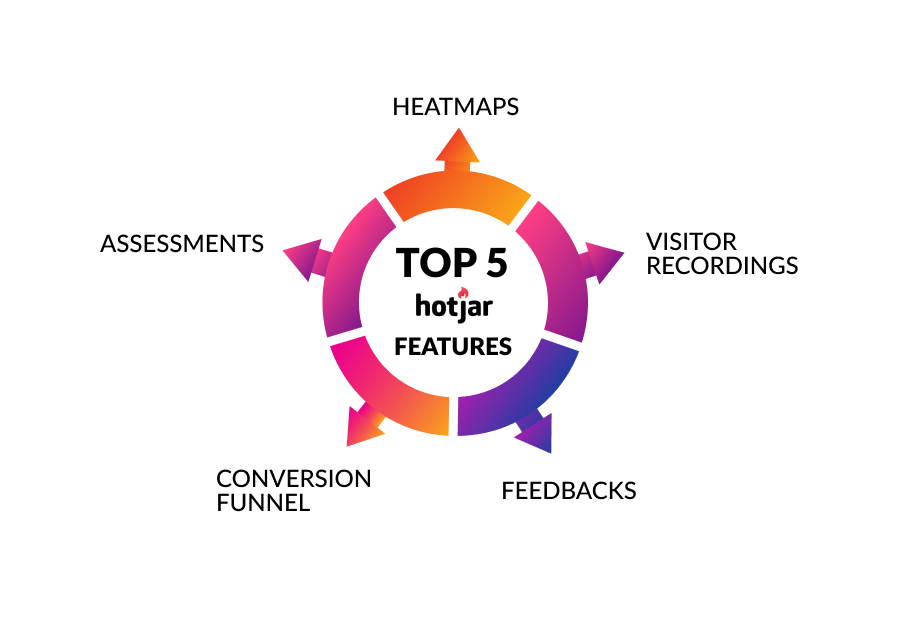 Feedbacks
Hotjar offers the ability to generate feedback polls, which are crucial tools for gathering valuable user input. By adding tabs or widgets to your website, you can collect their input. Clicking on them allows users to comment. This is a terrific opportunity for your customers to provide you with open and frank feedback, which will help you understand the problems they encountered while using your website and allow you to take timely corrective action.
Conversion Funnel
The conversion funnel offered by Hotjar is a great feature that gives you knowledge of where and why your customers are leaving before converting. Due to a variety of factors, users may abandon their decision in the middle of the payment process. They might encounter issues and a bad UX, which might prevent them from completing the payment. The sales funnel will enable you to identify the issues causing clients to leave in the middle and create preventive tactics.
Assessments
Use Hotjar to create surveys and collect insightful user feedback. Additionally, it is a non-irritating way of getting their opinion. The invites from Hotjar are quite user-friendly, and you can utilize their analytics tools to monitor how your end consumers respond to them. These surveys are really helpful for your company because they let you know what problems people are having.
Last but not least
Hotjar is a program that enhances your marketing approach and, due to a variety of features, ensures comprehension of user behavior on your website and modifies the UX to raise conversion rates. With Hotjar, you can easily understand your consumers without having to analyze figures.
Quintagroup, as an outsourcing company, will help form a team that will help monitor user behavior on the site. Contact us for more information.